Meghan McCain is known by many as the daughter of the deeply admired late senator of Arizona, John McCain. John was considered a hero in more ways than one.
Commended for his service to his country and to the state he served, he cemented his legacy as a hometown hero and native son of America long before his passing in 2018.
Simply by extension, Meghan became Arizona's favorite daughter and a symbol for a more modern and sensible republican ideology.
The McCain family has become a political dynasty, in large part because of the seven children John left behind. For those who follow the family, you get the sense that each sibling takes pride in the McCain legacy and has done everything they can to honor that legacy.
So join us while we do a deeper dive into their family while we rank Meghan's siblings from oldest to youngest!
8. Jack McCain
Information on the personal and professional life of Jack McCain is unknown, but based on the family trend of political involvement, we can only assume Jack has taken a similar path.
Did You Know?
Jack is the brother of Meghan McCain.
---
7. Douglas McCain (October 4, 1959 – Present)
Age (as of July 15, 2022): 62
Occupation: Navy Pilot, American Airlines Captain
Douglas McCain is the eldest of the McCain siblings at 62-years-old. He's the son of former political aide and event planner Carol McCain. After she and John married, Douglas was adopted and welcomed as an official member of the distinguished McCain family.
Doug added another page to their proud legacy of military service and joined the United States Navy as a pilot. After his service, he took those skills and became a captain for American Airlines.
Did You Know?
Upon John's passing, American Airlines left a moving tribute to honor his life and offer condolences to the family.
"Senator McCain will be sorely missed but his impact lives on. We will not forget his shining example of patriotism based on the ideals of freedom and equality for all and global leadership by the United States in support of those ideals."
---
6. Andrew McCain (May 12, 1962 – Present)
Age (as of July 15, 2022): 60
Occupation: COO of Hensley Beverage Company
Like Douglas, Andrew McCain is the 60-year-old son of Carol McCain and was adopted after her marriage to John. Though Andrew is one of the few siblings that deviated from political involvement, that didn't mean he wasn't involved in another interest of his father's – beer!
Andy works for the Hensley Beverage Company as president and COO. The company was founded in 1955 by Cindy's father, Jim Hensley.
Did You Know?
Andrew McCain graduated from Vanderbilt University with an MBA (1986) and a Bachelor of Arts in Mathematics (1984). Hensley has become one of the largest privately owned companies in Arizona and a close partner of Anheuser-Busch.
---
5. Sidney McCain (September 2, 1966 – Present)
Age (as of July 15, 2022): 55
Occupation: Music Executive
Sidney McCain is the daughter of Carol and John McCain. Unlike the rest of her conservative-inclined family, Sidney may stand alone as the lone Democrat.
However, that hasn't stopped her from unconditionally loving and admiring her late father as someone with boundless energy and convictions. She described herself as the "boundary pusher" in the family.
"In high school I was very rebellious. I needed to look at all sides. At least he would hear me out," she said in a 2007 interview.
Though they didn't share common ground politically, she supported him throughout his campaign for president, and their bond formed through music, baseball, and a sense of adventure.
Did You Know?
Sidney's earliest memory of her father was at six years old after he'd been released from a prison camp in Vietnam. She was born one year before his plane was shot down and was just 9-months-old when he was captured as a prisoner of war.
"I didn't really have a father to miss because I didn't know what a father was," she shared with the New York Times. "I remember my dad just squeezing me and not wanting to let me go. It was very overwhelming at the time."
---
4. Meghan McCain (October 23, 1984 – Present)
Age (as of July 15, 2022): 37
Born: Phoenix, Arizona
Occupation: Author, Television Personality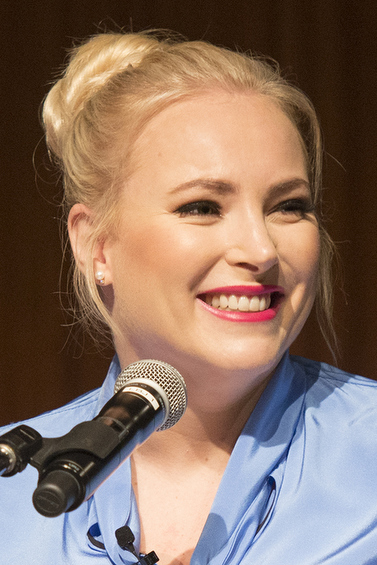 photo source: commons.wikimedia.org
Meghan McCain is the face of this family ensemble, thanks to her often opposing viewpoints as a co-host of the daytime television show The View, which centers around discussing topical social and political issues facing America. She's John's first child with his second wife, Cindy McCain.
She's also been the face of a more reasonable, approachable form of conservative politics, which she felt was missing in the political landscape. Her contributions to ideologically competing networks like Fox News, ABC News, and MSNBC did help build a bridge between both parties.
She's described herself as "a woman who despises labels and boxes and stereotypes," but Meghan is no stranger to political pushback for being someone who is liberal on social issues but conservative on financial ones.
Did You Know?
Meghan and her father shared an inseparable bond. In her public eulogy at the Washington National Cathedral, she revered her father as a shining example of America's best qualities.
In a post she shared on Twitter on the day he passed, she wrote, "I take comfort in this: John McCain, hero of the republic and to his little girl, wakes today to something more glorious than anything on this earth."
---
3. John Sidney McCain IV (May 2, 1986 – Present)
Age (as of July 15, 2022): 36
Born: Phoenix, Arizona
Occupation: Navy Helicopter Pilot
View this post on Instagram
John McCain IV, commonly known as Jack, is the son of John and Cindy McCain. Some might say that of all of John's children, John IV was the most influenced by his father's image and inspired to walk the same path.
When he graduated high school, the Naval Academy was the only place he applied. He stated in an interview, "I want to be a part of our family legacy."
Jack lived up to his dad's ideals and wrote another chapter in the family legacy of service to its country as an MH-60 Seahawk helicopter pilot.
Did You Know?
John IV is married to Renee Swift McCain, a former Air Force Reserve captain.
Following his father's passing, he wrote on his social media, "It is not the man that was great, but instead it was his desire to serve a cause greater than himself that defined his life. To me, he was a giant, but to him he was an imperfect servant of the nation he loved deeply."
---
2. James McCain (May 21, 1988 – Present)
Age (as of July 15, 2022): 34
Born: Phoenix, Arizona
Occupation: United States Marine
View this post on Instagram
James McCain is the youngest boy in the McCain family at 34-years-old. He's the son of John and Cindy and, like his siblings before him, also paid his dues in the form of service time to the United States.
He enlisted in the Marines at 17-years-old and served with the 1st Battalion as an infantry rifleman in Iraq.
At his funeral, James read his father's favorite poem – Requiem by Robert Louis Stevenson.
Did You Know?
James is on Instagram and posts photos of his life with family and friends.
---
1. Bridget McCain (July 21, 1991 – Present)
Age (as of July 15, 2022): 30
Born: Bangladesh
Occupation: N/A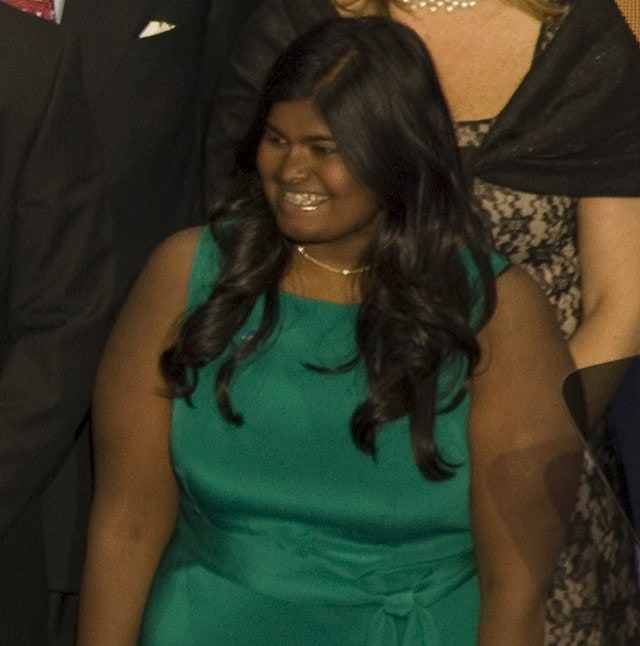 photo source: commons.wikimedia.org
Bridget McCain is the youngest McCain sibling at 30-years-old!
Bridget is the adopted daughter of John and Cindy, whom Cindy met in 1991 in an orphanage during her humanitarian work in Bangladesh. When she found her, she suffered from a cleft palate and a congenital heart condition.
Cindy (without telling John) made it her mission to bring her back to America for medical treatment.
Did You Know?
In an interview with People, a family friend recounted the experience of Cindy adopting a child overseas, and when asked why she did it, Cindy simply said she couldn't leave without her.
OTHER POSTS YOU MAY BE INTERESTED IN