Meghan Markle is a name better associated with the British Royal Family than her previous occupation as an actress of modest success. Her name permeated the airwaves and magazines of every publication with her marriage to Prince Harry on May 19, 2018.
But in 2020, Prince Harry and the Duchess of Sussex decided to step away as senior members of the Royal Family after years of highly publicized internal conflict.
Since then, Meghan again became the subject of fascination in the U.S and the U.K., and the consequences of those actions left a rift between her and her two siblings.
So join us as we learn more about Meghan, her brother, her sister, and their intricate family web of drama as we rank the Markle siblings from oldest to youngest!
3. Samantha Markle (November 24, 1964 – Present)
Age (as of October 2022): 57 years, 10 months, 16 days
Born: Los Angeles, California
Occupation: Mental Health Counselor
Known For: Sister of Meghan Markle
Samantha Markle is the oldest half-sister of the Duchess of Sussex. She is the daughter of Thomas Markle Sr. and Roslyn Markle.
Life for Samantha hasn't been that of the charmed life of her younger sister. She's suffered from mental health issues, partially stemming from a fall from a rope swing that left severe injuries like paralysis of her left side and blindness in one eye. At just 44-years-old, Samantha was diagnosed with multiple sclerosis.
Despite her unfortunate circumstances, she excelled in academics and achieved her master's degree in mental health and vocational rehabilitation counseling before working as a mental health counselor.
Samantha's relationship with Meghan has been strained for quite a while, even before Meghan's bombshell interview with Oprah, which led to a defamation lawsuit against her sister.
According to Samantha, their strife began when she accused Meghan of not supporting their father financially when he was declared bankrupt. In an interview with The Sun, she described her sister as a "shallow social climber," and she wasn't "befitting of a royal family member."
Unfortunately, the sisterly dynamic between the two estranged siblings only gets worse. In 2018, Samantha was placed on a watch list at the Fixated Threat Assessment Centre after presenting signs of dangerous infatuation with the Royal Family.
Samantha denied the claims and stated it was "a British media attempt at silencing me." It's safe to say, at least for now, it doesn't look like auntie Samantha will be at the next Harry & Meghan family Christmas.
Did You Know?
In March 2022, Samantha Markle stoked the fire and ignited headlines once again by filing a defamation lawsuit in Florida against her sister after the interview she conducted with Oprah, citing false claims that were meant to shame her. She's seeking $75,000 in compensatory damages.
---
2. Thomas Markle Jr. (September 17, 1966 – Present)
Age (as of October 2022): 56 years, 23 days
Born: Los Angeles, California
Occupation: Window Fitter
Known For: Brother of Meghan Markle
Thomas Markle Jr. is similarly distant from Meghan.
Thomas and his first wife, Tracy Dooley, have two sons. He's currently engaged to Darlene Blount.
Information on his personal and professional life is relatively unknown. Unfortunately, much of what the public knows about Thomas Jr. is centered around the drama stirred by his rocky relationship with his little sister.
Like Samantha, Thomas wasn't invited to the royal wedding. Before the wedding, in 2018, he hadn't seen his sister for roughly seven years.
Frustrated with his treatment, he spoke with the Daily Mirror and attacked Meghan, claiming she "turned into a different person" and that she had "forgotten her roots and her family."
He even sent Prince Harry a letter imploring him to call off the wedding, saying it would be a huge mistake while airing out all his grievances with his sister's alleged treatment of their father until he went bankrupt.
He did follow up with another letter apologizing for venting his frustrations and wished them a happy life together.
Did You Know?
Thomas Markle Jr. appeared on Big Brother VIP, which he claimed was a soul-cleansing experience for the 55-year-old. He credits the show as having inspired him to write the apology letter to Harry and Meghan.
---
1. Meghan Markle (August 4, 1981 – Present)
Age (as of October 2022): 41 years, 2 months, 6 days
Born: Los Angeles, California
Occupation: Actress, Member of Royal Family
Known For: Duchess of Sussex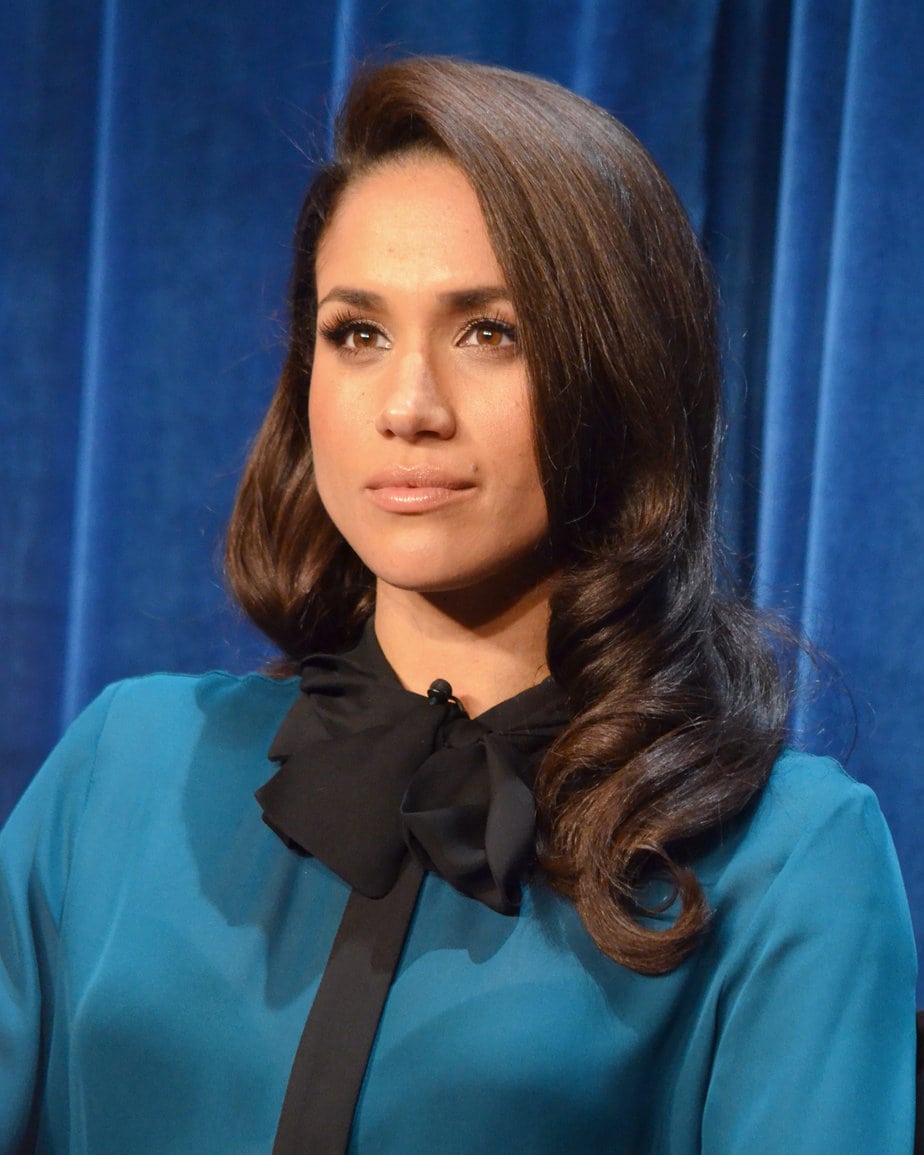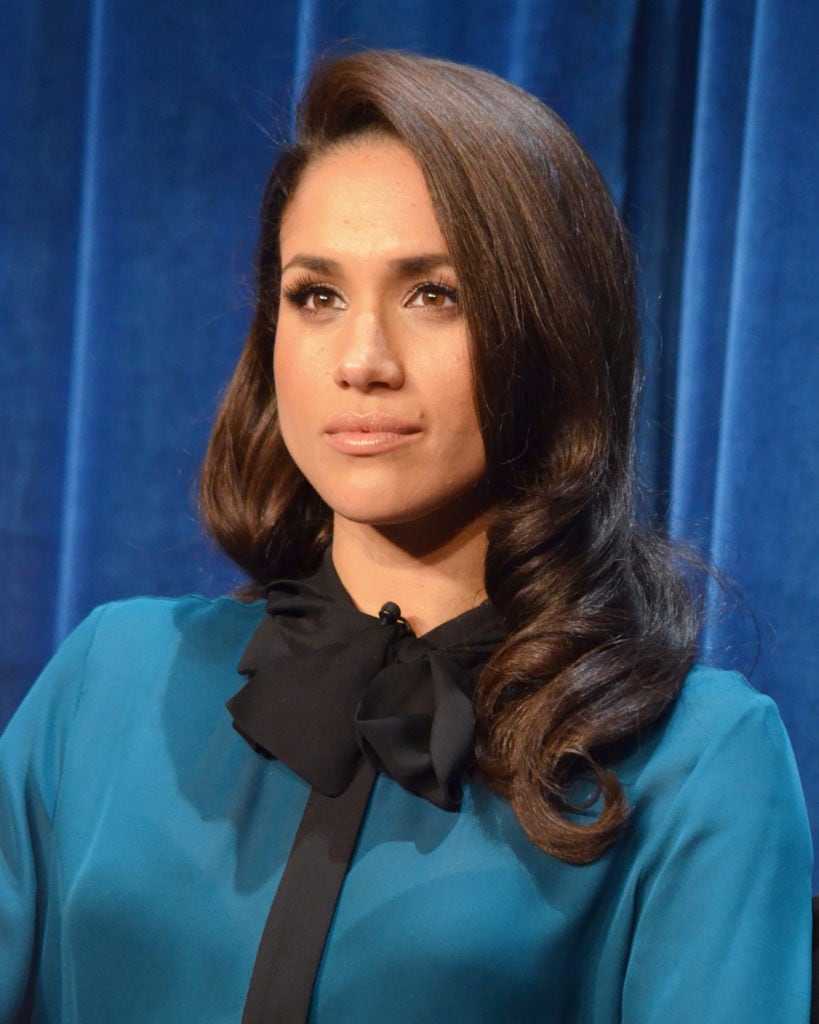 photo source: commons.wikimedia.org
Meghan Markle is the youngest of the Markle siblings at 41-years-old! Meghan is the daughter of Thomas Markle Sr. and Doria Ragland.
Though she's estranged from her father and siblings, her career as an actor began with her visits on the set of Married… with Children, on which her dad was director of photography and lighting.
She maintains a close relationship with her mother, Doria Ragland, a former makeup artist, yoga instructor, and social worker.
Her first on-screen appearance came on the soap opera General Hospital, which her father also worked on as lighting director.
Meghan has been vocal about how difficult it was for her to land roles early in her career due to her mixed-race identity, referring to herself as "ethnically ambiguous." She once said, "I wasn't black enough for the black roles, and I wasn't white enough for the white ones."
Despite her difficulties breaking into the industry, even with a father in the business, she stayed diligent and found roles on shows like Century City, The War at Home, and CSI: NY.
Before meeting Prince Harry, Duke of Sussex, she was briefly married to American film producer Trevor Engelson. They married in 2011 and separated nearly two years later, citing irreconcilable differences.
In July 2016, she began a relationship with Prince Harry. Their engagement and marriage were welcomed by the British populace and media with open arms, expressing their joy at having someone of mixed race added to the royal family, which would serve as representation for the habitually underrepresented.
Meghan announced her retirement from acting following their marriage.
In a practically unprecedented move from two figures who ranked in the Royal Family as highly as they did, Meghan and Harry decided to step down from their duties as senior members. Speculation and rumors ran rampant following their decision to relieve themselves of their royal responsibilities, and stories of bad blood between the family, unresolved personal issues, and mistreatment of Meghan began to emerge.
Harry told The Late Late Show hosted by James Corden that he needed to "get his family out of here." He continued, "We all know what the British press can be like, and it was destroying my mental health." In an interview with Oprah shortly after, Meghan and Harry also claimed that racism drove them away from the Royal Family.
Did You Know?
Despite their official duties as members of the Royal Family ended, Meghan and Harry are committed to public service. Markle is an ambassador for the Clean Water Campaign, Black Lives Matter, Stop Hate for Profit, and participated in the Baby2Baby organization, which distributes school supplies to students.
OTHER POSTS YOU MAY BE INTERESTED IN