Mariah Carey is considered one of the greatest singers of the last 100 years. Others say she is one of the few remaining divas in the music industry and encompasses all that comes with that conflicting title – the attitude, the ice cold demeanor, the high maintenance, and the undeniable talent.
She is a singer, songwriter, actress, and record producer that's moved and shaken the industry for decades, as relevant in 2022 as she was in the 80s.
Like so many families of celebrities, relationships can get a little rocky. Unfortunately, that stereotype applies to Mariah too.
Behind her professional success is a traumatic past full of toxic family dynamics. Specifically, the relationship with her two siblings, Alison and Morgan, spawning from the contents of the memoir Mariah Carey wrote, detailing the abuse she claims she suffered at the hands of an opportunistic family.
Today we'll learn more about Mariah and the siblings who, for better or for worse, helped shape the woman we know today as a pop icon, a best-selling recording artist, and a living legend in the industry. Join us while we rank the Carey siblings from oldest to youngest!
3. Morgan Carey (August 6, 1960 – Present)
Age (as of May 31, 2022): 61
Born: Long Island, New York
Occupation: Model, Entrepreneur, Record Producer
Business: Owner of Victorious Green
Morgan Carey is the oldest out of the three Carey siblings at 61-years-old. The only son of Patricia and Alfred, Morgan dealt with his own physical and emotional struggles in childhood, suffering from cerebral palsy, seizures, and an ugly divorce between his parents stemming from the discrimination they endured because of their mixed-race relationship.
Morgan forged a name for himself despite the many obstacles in front of him. He worked as a model at an Italian modeling agency, a fitness trainer featured in several Men's Fitness Magazine spreads and displayed some musical talent like his younger sister as a producer.
Dirty laundry between him and Mariah was out for public consumption when news broke that Morgan Carey was suing Mariah over claims made in her memoir, The Meaning of Mariah Carey.
Morgan said his reputation was ruined when she detailed a violent encounter between him, his father, and an attack on his mom.
She also insinuated that his abusive nature extended beyond the parents but to a young Mariah too, stating, "I felt I had to protect myself from him, and sometimes I would find myself protecting my mother from him too."
Morgan denies these allegations.
Did You Know?
Morgan is a devoted vegetarian thanks to an incident where his father brought home a deer from a hunting trip strapped to his station wagon. He vowed never to eat meat again as it left such an impression and internal rage within him at that moment.
That incident never left him even into adulthood. As a result, Morgan founded the company Victorious Green, which works with agricultural products and produce.
Morgan lives in Florence, Italy, with his wife, actress Ilaria Negrini.
---
2. Alison Carey (August 7, 1962 – Present)
Age (as of May 31, 2022): 59
Born: Long Island, New York
Occupation: N/A
Business: N/A
Alison Carey has lived a difficult life – the complete polar opposite of the success her younger sister has enjoyed. Following the divorce between their parents, an 11-year-old Alison was sent to live with her dad while Mariah stayed with her mom.
In hindsight, the separation in these formative years of her childhood was a recipe for disaster. At 15, she married a man named Richard McDonald and became pregnant.
When her son Shawn was born, she was forced to drop out of high school. Without an education, she turned to life on the streets and became a prostitute. One divorce and remarriage later, her son Michael was born in 1987.
A year later, she was diagnosed with HIV, and her life only continued to spiral out of control. With the considerable amount of resources and connections Mariah had at her disposal, she tried several times to have her sister put into rehab, dating back to the 90s.
Alison currently lives in New York. According to The Sun, she has been sober for a few years now.
Did You Know?
In Mariah's memoir, she says that at 12-years-old, Alison introduced her to drugs and street life. "When I was 12 years old, my sister drugged me with Valium, offered me a pinky nail full of cocaine, inflicted me with third-degree-burns, and tried to sell me out to a pimp. Something in me was arrested by all that trauma."
Those claims landed her in court with a lawsuit brought by Alison to the tune of $1.25 million. Morgan decided to follow up with a lawsuit against Mariah, citing "defamation and the intentional infliction of emotional distress."
---
1. Mariah Carey (March 27, 1969 – Present)
Age (as of May 31, 2022): 53
Born: Long Island, New York
Occupation: Singer, Songwriter, Actress, Record Producer
Business: Entertainer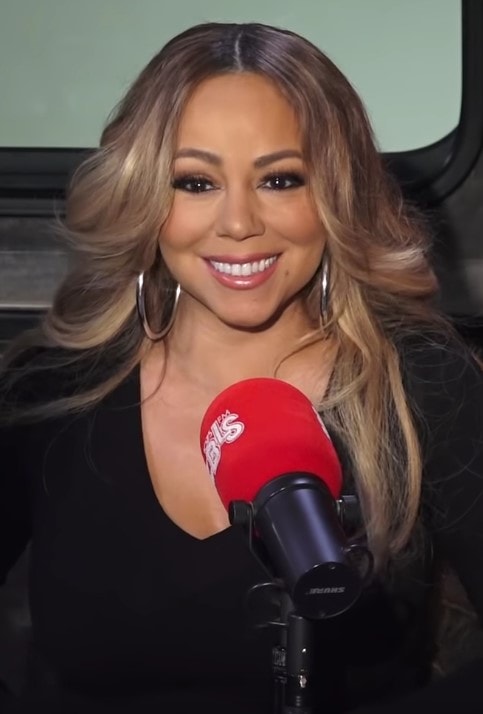 photo source: commons.wikimedia.org
Mariah Carey is the youngest of the Carey siblings at 53-years-old!
Whether you like it or not, come Christmas time, we all get to be reminded of Mariah Carey and her iconic Christmas jingles while we walk the aisles of our grocery stores in search of the egg nog and other holiday delights. But if you ask us, there are far worse things to be listening to than her silky smooth vocals and signature whistle register courtesy of her five-octave vocal range.
She experienced worldwide success with her albums Merry Christmas, Daydream, and Music Box, all coming between 1993 and 1995. Three hit R&B/Pop albums in two years is an impossible feat for anyone, but for Mariah, she met the challenge and handled it with grace.
It earned her the right to call herself one of the best-selling music ever, selling over 220 million records worldwide. She's also credited as one of the first to inject hip-hop into pop music.
Carey has five Grammy Awards, nineteen World Music Awards, ten American Music Awards, and fifteen Billboard Music Awards, earning her a home in the Songwriters Hall of Fame.
Did You Know?
For all the turmoil she faced in her personal life, the accusations of a bratty attitude, or a reputation as being difficult to work with, it hasn't taken her passion for philanthropic missions. Her involvement in youth programs has been a primary focus, co-founding the Fresh Air Fund (previously known as Camp Mariah), which offers free summer vacations in the country to low-income New York City children.
OTHER POSTS YOU MAY BE INTERESTED IN