Kobe Bryant is among an exclusive fraternity of Laker legends as its shining star. According to fellow Laker great Magic Johnson, Kobe Bryant is the greatest among these NBA titans for his awe-inspiring play on the court and his efforts outside the game.
Throughout his 20-year career in LA, he's entertained and broken the hearts of millions of basketball enthusiasts with jaw-dropping buzzer beaters and superhuman athletic feats. There's no quantifying how big of an impact he's had on that young boy or girl up in the nosebleed section who came to see Kobe.
Current NBA stars reference Kobe as their generations Michael Jordan. That's no surprise since he was the closest thing we have had to Michael since he retired in 2001. Whether in an NBA arena or on a cement court in Chicago, we feel the ripples of his game-winning battle cries and the chants screaming his name.
When a kid shouts "Kobe!" before hoisting a three-point shot, we reflect on how thankful we are as basketball fans for the unforgettable moments he gave us.
Join us while we look at the life of Kobe as we rank him and his siblings from oldest to youngest!
3. Sharia Washington (March 19, 1976 – Present)
Age (as of August 25, 2022): 46
Born: Philadelphia, Pennsylvania
Occupation: Businesswoman
Known For: Sister of Kobe Bryant
View this post on Instagram
Sharia Bryant is the eldest daughter of former NBA player Joe Bryant and Pamela Bryant. Information on her personal and professional life is largely unknown to the public, apart from an occasional post Kobe would share of his big sister on the volleyball court, bragging about how his trademark "mamba genes" run through the rest of the family.
Bryant is described as a socialite, fitness guru, and businesswoman. She is a mother to three with entrepreneur Jerrod Washington.
She's also the director of corporate sales and partnerships at Sun50 – a company that provides UV-protective clothing in the form of hats, face masks, sleeves, and swimwear.
Like her brother, she has that same relentlessly competitive spirit that consumed Kobe to such a degree that he needed to create a nickname for it! Sharia was a Division One NCAA athlete while playing Volleyball at Temple University.
Post-volleyball career, she earned her title as a National Academy of Sports Medicine certified personal trainer and currently trains at Las Vegas Fit Body Boot Camp.
---
2. Shaya Bryant (July 30, 1977 – Present)
Age (as of August 25, 2022): 45
Born: Philadelphia, Pennsylvania
Occupation: Businesswoman
Known For: Sister of Kobe Bryant
View this post on Instagram
Shaya Bryant is the youngest daughter of Joe and Pamela Bryant. Like her big sister, she is also a successful businesswoman and a director at Invest Hospitality, a revenue management company in Las Vegas.
Those "mamba genetics" didn't discriminate against the three Bryant siblings. While majoring in International Business at La Salle University, she was a star volleyball player between 2002 and 2003. She averaged 0.88 blocks per set and an impressive 42 solo blocks. Bryant lives in Las Vegas with her three children and husband, Michael Tabb.
Did You Know?
Shaya has decades of experience in the hospitality industry. Beginning from the ground floor as a restaurant hostess, she learned about the complexities of an incredibly competitive industry until she became a revenue manager for a steakhouse and casino at the MGM Grand Hotel & Casino.
---
1. Kobe Bryant (August 23, 1978 – January 26, 2020)
Age: 41
Born: Philadelphia, Pennsylvania
Occupation: NBA Player
Known For: Shooting Guard for Los Angeles Lakers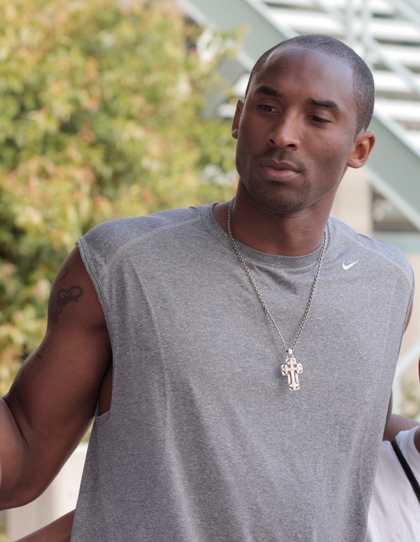 photo source: commons.wikimedia.org
Unless you've been living under a rock, Kobe Bean Bryant needs no poetic introduction. But given how profound his contributions to the game and the city of Los Angeles have been, he's more than deserving of one!
Kobe, a 17-year-old kid out of Lower Merion High School in Pennsylvania, rose to the challenge of being on an iconic team and excelled in an arena with the brightest lights, in front of millions of fans and celebrities, who sat court-side to see the boy expected to continue the legacy of the "Showtime Lakers."
Fast forward 20 seasons later, and Kobe met and exceeded the world's expectations. He became the all-time leading scorer in Lakers history and the first guard in NBA history to play 20 seasons. And his legacy was further cemented as one of the rarities in the NBA who spent his entire career with one team, turning him into the undisputed darling of Los Angeles.
Kobe received the same treatment a young LeBron James did in high school, with expert pundits and mainstream media calling him the next best thing since sliced bread. His career at Lower Merion high school in Philadelphia was so superb. He became a top prospect and a lock in the 1996 NBA draft.
Foregoing college, Bryant went 13th in the first round of the 96' NBA Draft, which means there are 12 teams that likely still haven't gotten over the heartbreak of passing up on the once-in-a-generation talent.
That's especially true for the Charlotte Hornets, who acquired him in the draft but let him go in what's now considered one of the most tragic mistakes in NBA history next to the Portland Trailblazers passing up on Michael Jordan.
The Black Mamba appeared as an All-Star 18 times, the second most all time, and has the most consecutive appearances as a starter. He is a 5x NBA champion, a 2x Finals MVP, an NBA MVP (2008), an Olympic gold medal winner, and has his #8 and #24 jerseys retired by the Lakers.
Bryant and Shaquille O'Neal are considered the most dominant one-two punch the league has ever had the displeasure of competing against.
On January 26, 2020, Kobe, his daughter Gianna, and seven other passengers boarded his private helicopter set to arrive at Kobe's Mamba Sports Academy for his daughter's basketball game. Due to poor weather conditions and dense fog, Los Angeles Police helicopters and other air traffic stayed grounded. This didn't deter their flight plan, and at 9:45 a.m., they crashed into the side of a mountain in Calabasas.
Tributes poured in from millions of fans worldwide, the media, and his NBA peers. A celebration for Kobe, Gianna, and all the lives lost took place at Staples Center shortly after the tragedy. Shaq and Michael Jordan delivered heartwarming personal accounts of their relationship with their beloved brother, as did his wife, Vanessa.
He's survived by Vanessa and three daughters – Natalia, Bianka, and Capri Bryant.
Did You Know?
Kobe's transition into life post-career couldn't have gone smoother. In addition to spending more time at home as a father to his girls, he became the first African-American to win the Academy Award for Best Animated Short Film and the first former professional athlete to be nominated and win the Oscar in any category for his film Dear Basketball.
OTHER POSTS YOU MAY BE INTERESTED IN