JonBenét Ramsey was a famous child beauty queen. Unfortunately, she was brutally killed at the age of six years old. Her murder got media attention, but the killer has never been found.
JonBenét was born in 1990 to Patricia Ramsey and her husband, John Bennett Ramsey. Her father was a businessman who served as president of a computer software company known as Access Graphics. JonBenét's mother was the one who often brought her daughter to child beauty pageants.
Thanks to her work, JonBenét was elected America's Royal Miss, Little Miss Charlevoix, and National Tiny Miss Beauty.
Unfortunately, Patricia Ramsey died of ovarian cancer when she was only 49 years old in 2006. JonBenét's parents chose her name by combining her father's first and middle names. The young beauty queen attended kindergarten at High Peaks Elementary School in Colorado when she was brutally assassinated.
She grew up with her brother and had three step-siblings from her father's first wedding. While his brother was one of the suspects for years, her step-siblings were never accused of such brutality.
If you're interested in knowing more about this family, keep reading. Below you will find a list of JonBenét Ramsey's siblings ranked oldest to youngest.
To see pictures of the Ramsey Family, click here.
5. Elizabeth Pasch Ramsey (July 15, 1969 – January 8, 1992)
Age at Time of Death: 22 years, 5 months, 24 days
Birthplace: Olongapo, Zambales Province, Central Luzon, Philippines
Profession: Cocktail Waitress
Elizabeth Pasch Ramsey was JonBenét's oldest sibling. She was born in 1969 and tragically passed away in a car accident in 1992 at 22 years old.
She was the first daughter of Lucinda Lou Pasch and John Ramsey and came to the world in Olongapo, in the Philippines.
Elizabeth worked as an airline stewardess. Unfortunately, she passed away when her boyfriend's BMW collided with a bakery truck during a storm. The accident occurred near Chicago, and her partner, Matthew Derrington, also lost his life in the tragedy.
Elizabeth is now buried in Saint James Episcopal Cemetery in Georgia.
Did You Know?
Elizabeth's grave bears the inscription "Beloved daughter. Beautiful sister. Loyal friend. Gone before us in life's journey. Now guide us to our eternal reunion."
---
4. Melinda Ramsey (1972 – present)
Current Age (as of February 2023): c. 50/51 Years Old
Birthplace: Unknown
Profession: Nurse
Melinda was one of John Ramsey's daughters from his first marriage. She was born in 1972 and is now 50 years old.
Melinda studied at the Medical College of Georgia and now works as a nurse in Atlanta. On November 14, 1998, she tied the knot with Dr. Stewart McLendon Long at Marietta's First Presbyterian Church. Stewart is also in the medical field and works as a thoracic surgeon.
Did You Know?
Melinda and her husband studied at the same university.
---
3. John Andrew Ramsey (1973 – present)
Current Age (as of February 2023): c.49/50 Years Old
John Andrew Ramsey was JonBenét's oldest brother. He was born in 1973. At the time of his step-sister's murder, he was 23 years old. John was in Atlanta for the holidays when his father found the body. This is why he was never suspected of the murder.
John has spent most of his life fighting for his sister's justice and pushing the police to pursue DNA testing. In an interview with The Sun, he declared, "I've had a handful of meetings that I've requested over the years (…) The purpose was to encourage them to pursue DNA testing, but it's a one-sided relationship. (…) They don't say anything to me. They just say it's an ongoing investigation."
Even though the case is still open, John still believes one day, the murderer will be found. "I don't care who it is, whether it's someone inside Boulder police or someone else. I just want someone to get to a podium and say we have our guy," said John.
Outside of finding justice for his sister, John's personal life details are unknown.
Did You Know?
According to John, the killer is still alive and decided to murder his sister for a 'fantasy.'
---
2. Burke Ramsey (January 27, 1987 – present)
Current Age (as of February 2023): 36 years, 12 days
Birthplace: Atlanta, Georgia, USA
Profession: Software Engineer
Burke Ramsey was born in 1987. Unfortunately, despite his young age, he was also suspected of his sister's death in 1996. Burke was cleared only in 2008 after the FBI analyzed three pieces of male DNA on JonBenét's clothes.
Despite this, a few productions proposed Burke was the actual murderer. For instance, a CBS mini-series suggested that he was the real killer. Investigators interviewed for the program claimed he was so jealous of his sister's fame that he decided to smear poop on her Christmas presents.
Burke was extremely offended by the accusations and decided to sue CBS for defamation bringing the case to court.
But this was not the only time Burke went to court. He also sued Dr. Werned Spitz for having accused him of being responsible for his sister's murder in the CBS documentary The Case Of JonBenét Ramsey.
Burke also declared multiple times that he believed his parents were innocent. In the US talk show Dr. Phil, talking about his mother, he stated: "Not to say she never got upset, but nothing near laying a finger on us, let alone killing her child."
In the same interview, Dr. Phil asked Burke whether it had ever occurred to him that his parents thought he was the actual murderer but did not want to ask him as they did not want to know for certain. Burke replied, "I know people think I did it, that my parents did it. I know that we were suspects. (…) I remember my mom searching my room that night saying, 'Where's my baby? Where's my baby?'"
Did You Know?
Following the interview with Burke, Dr. Phil said his interviewee was socially awkward and stated: "This is anxiety. He's socially uncomfortable, I've seen it a lot." Other people also criticized Burke, saying his body language during the interview was 'creepy.'
---
1. JonBenét Ramsey (August 6, 1990 – December 26, 1996)
Age at Time of Death: 6 years, 4 months, 20 days
Birthplace: Atlanta, Georgia, USA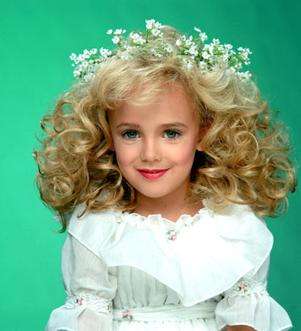 photo source: wikipedia.org
JonBenét Ramsey was the youngest member of her family. She was born in August 1990 and was brutally killed at the young age of six.
Her father found her roughly seven hours after she was reported missing. She had a broken skull and had been strangled. JonBenét had a garrote tied around her neck, and her mouth was covered in duct tape.
At the scene of the murder, in the basement of their house, her parents also found a ransom handwritten note. The crime has never been fully resolved and remains open to investigations.
At first, the police thought that her parents were responsible for the murder and that they had written the letter to cover up for their actions. In 2003, traces of DNA were taken from the victim's clothes, after which the police started to believe that an intruder had committed the murder.
In fact, none of the family's DNA matched the traces. However, only in 2008 the family received an official apology and was completely cleared, thanks to the DNA results. Because of this, most family members filed defamation suits against several media organizations.
Not many people know that in 2006, Alexis Valoran Reich falsely confessed to having murdered JonBenét. The 41-year-old school teacher said he had dragged, sexually assaulted, and accidentally killed his victim.
However, authorities couldn't find any evidence suggesting these claims were true. In fact, Alexis couldn't provide any detail, and his DNA didn't match one of the victim's clothes.
Did You Know?
One of John Ramsey's friends was also temporarily accused of the murder. His name was Rod Westmoreland, and he filed a defamation suit against an anonymous web surfer who had implied his involvement in the assassination.
OTHER POSTS YOU MAY BE INTERESTED IN