At its core, Down Syndrome is a chromosomal disorder.
Affecting about 1 in 700 babies in the United States (or 6,000 babies) each year, Down Syndrome occurs when abnormal cell division causes extra genetic material from chromosome 21. This results in several distinct physical and mental characteristics, such as certain facial appearance, intellectual disability, and developmental delays.
People with Down Syndrome are often at risk for developing other serious health conditions in life, such as thyroid problems or heart disease. For these reasons, the average life expectancy for those with Down Syndrome is 47 years — a number which has improved dramatically since 1960, when the first people with the condition lived to just ten years of age.
Today, we'll be exploring some of the oldest people ever to have lived with Down Syndrome. Let's get started!
9. Matt Cobrink
Year born: 1965
Currently living?: Unknown
Current age (or age at death): 56
Location: Los Angeles, CA (United States)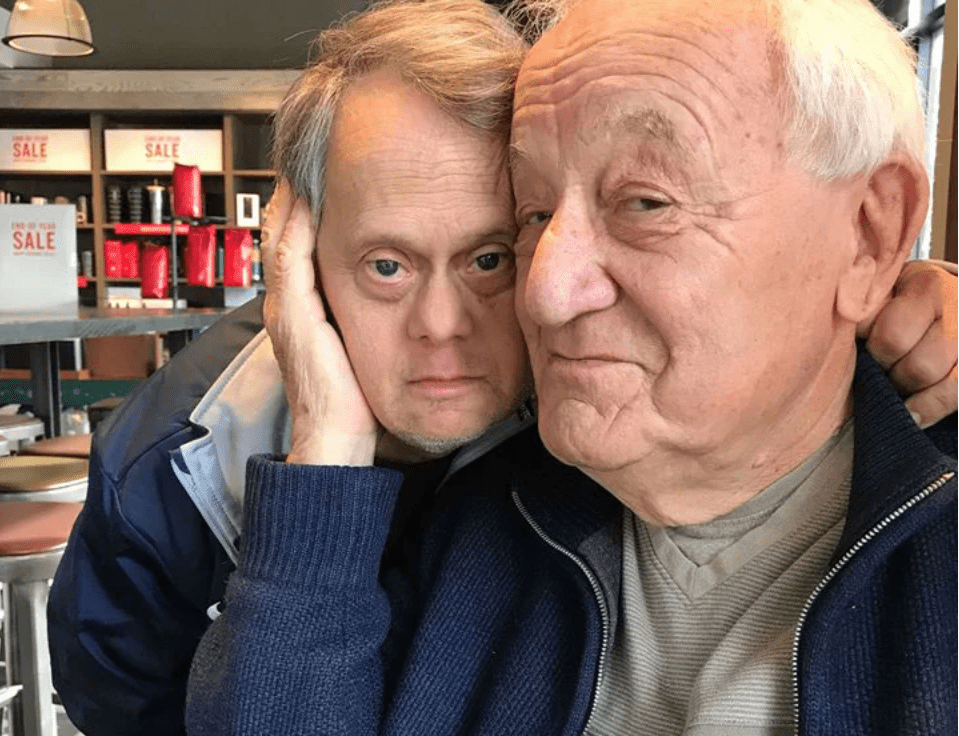 photo source: People
Matt Cobrink is now a 56-year-old man with Down Syndrome who made the news back in 2018 for his heartwarming reunion with his father – even after just five days!
Cobrink had flown across the country to meet his favorite New York Yankees baseball player, Aaron Judge. While this was a special treat for Cobrink, it also meant he would be away from his father for the first time in 25 years. It was the longest period of separation between the two since Cobrink's mother passed decades earlier.
Upon Cobrink's joyful reunion with his father, he showered him with kisses as soon as he saw him at the airport. This heartwarming story of middle-aged Matt Cobrink made several popular news outlets, and even went viral on social media.
Did You Know?
In keeping with this heartwarming story, Cobrink's sister said in an interview with People, "…we call it 'Up Syndrome,' because my brother has brought so much joy into everybody's life that he comes in contact with."
---
8. Ricky Hull
Year born: 1960
Currently living?: Yes
Current age (or age at death): 61
Location: Indiana, USA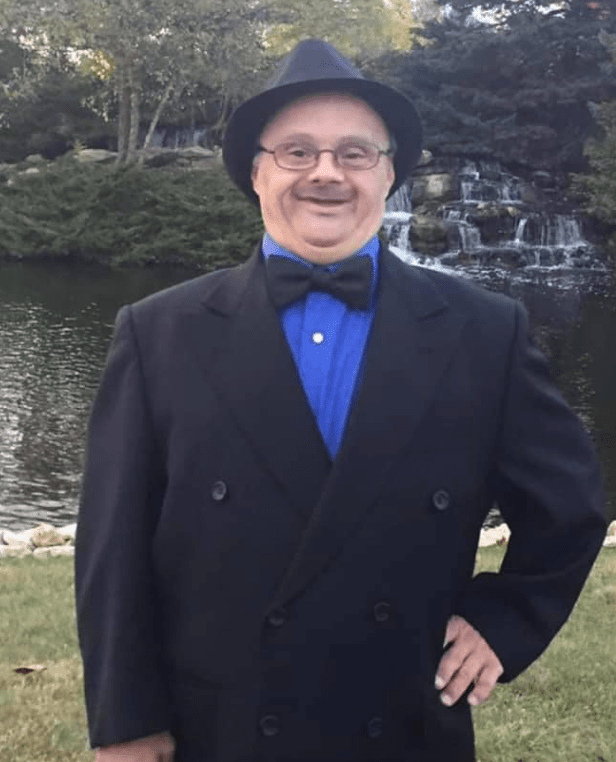 photo source: Facebook
Ricky Hull, aged 61, has Down Syndrome, and is an active part of the fundraising organization, "Ricky's Walking Warriors" for Down Syndrome.
In September of 2021, Ricky and many others participated in a major procession through Times Square in New York, where they were displayed on two Jumbotron screens at the famed "crossroads of the world."
"Ricky's Walking Warriors" acknowledges on their Facebook page that at the time of Ricky's birth (1960), people with Down Syndrome were not expected to live past their tenth birthday. The fundraising group celebrates how much progress has been made since those days to improve the lives of those with the condition.
Did You Know?
Ricky's 61st birthday was celebrated in August of 2021, with "Ricky's Walking Warriors" posting on social media that he had "officially surpassed the life expectancy of age 60 currently set for individuals with Down Syndrome."
---
7. Roger LaPlume
Year born: 1953
Currently living?: Yes
Current age (or age at death): 68
Location: Spencer, MA (United States)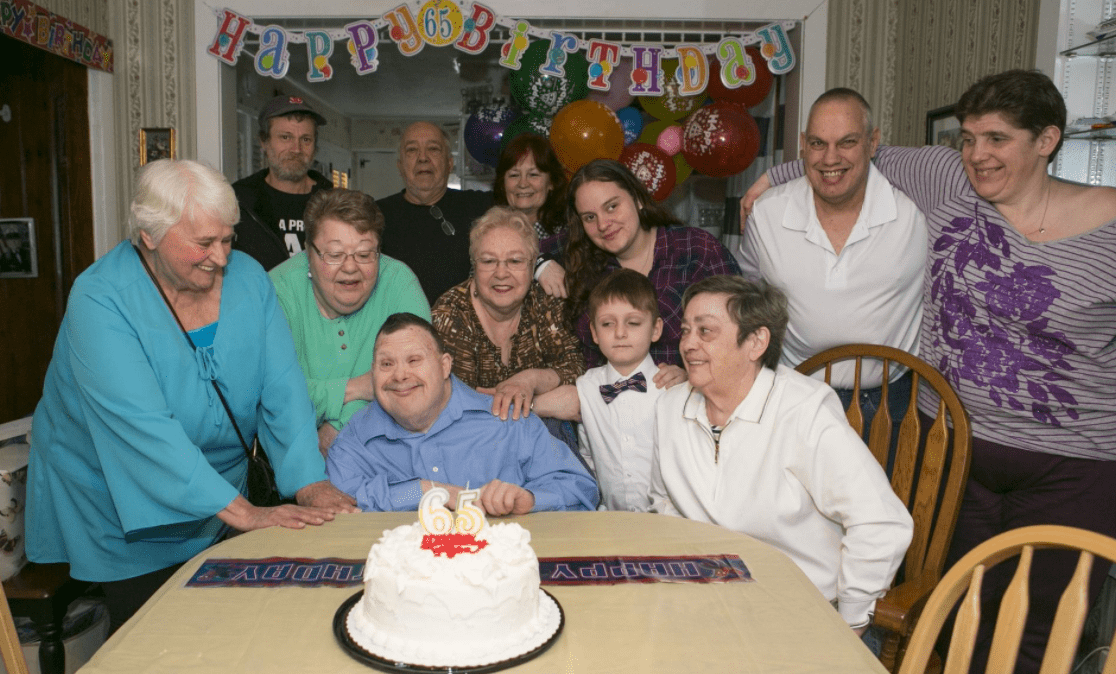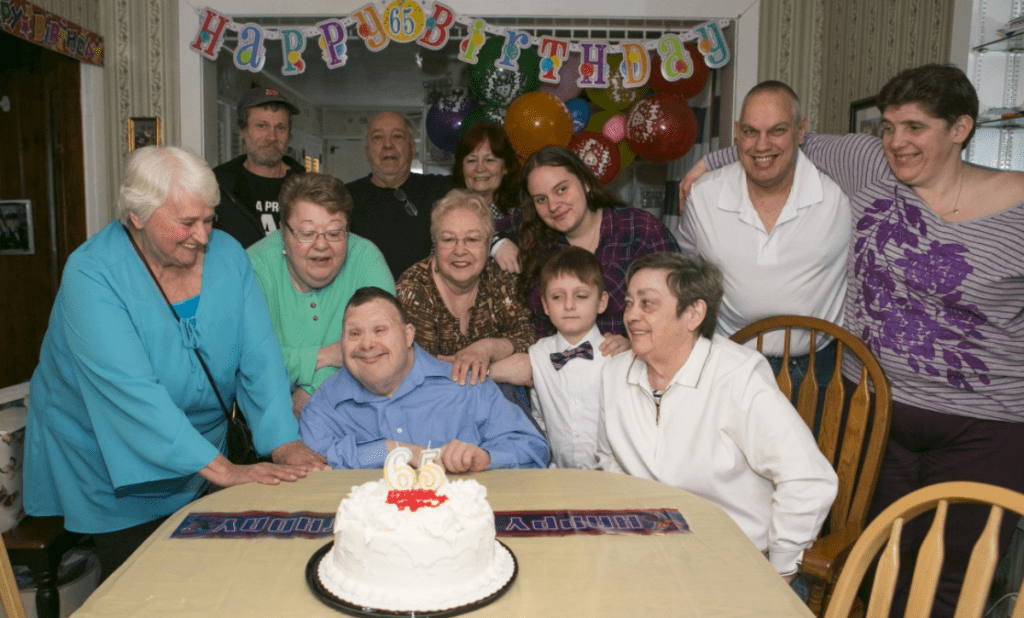 photo source: Telegram
Roger LaPlume celebrated his 65th birthday in 2018, and though no current information is available, it is presumed that he is still living.
LaPlume, a United States citizen and a resident of Spencer, Massachusetts, was dubbed "one of the oldest people in the U.S. with Down Syndrome." For this monumental birthday and milestone, LaPlume received dollar bills, white ice cream, and pretty girls – all of his favorite things!
LaPlume has lived at the BAMSI rehabilitation center for seventeen years at this point, enjoying time with his closest friends and becoming a type of "family member" of the community. Everyone at the facility considers themselves fortunate to know the kind of love that LaPlume brings to their life.
Did You Know?
In fall of 2020, a respiratory illness sent LaPlume to the hospital, where doctors were concerned that he would not recover. Still, he beat the odds, and though he still uses a wheelchair as a consequence of the illness, he's back to his old self!
---
6. Frances Gillett
Year born: 1941
Currently living?: Unknown
Current age (or age at death): 75>
Location: Derbyshire, UK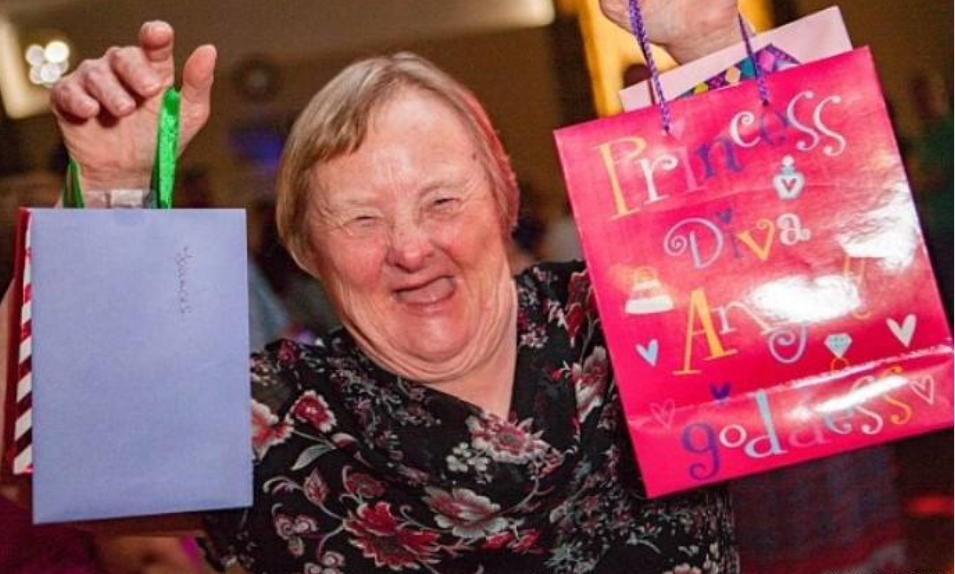 photo source: Deseret
Five years ago in 2016, Frances Gillett was deemed the oldest woman in the world to have Down Syndrome.
Gillett's 75th birthday (pictured above) was an incredibly proud and moving moment for many who know her, as Gillett was not expected to live past her 20s when she was born in 1941. She is truly an example of what it means to beat the odds!
Though no new information is available about Gillett's current health, there is a chance that she is still alive to this day. She celebrated her 75th birthday with a colorful cake, and many gifts from her closest friends.
Did You Know?
Gillett's life is particularly remarkable because, in addition to having Down Syndrome, she has also successfully battled breast cancer and tuberculosis in the latter half of her life.
---
5. Robin Smith
Year born: 1941
Currently living?: No
Current age (or age at death): 78
Location: Kettering, UK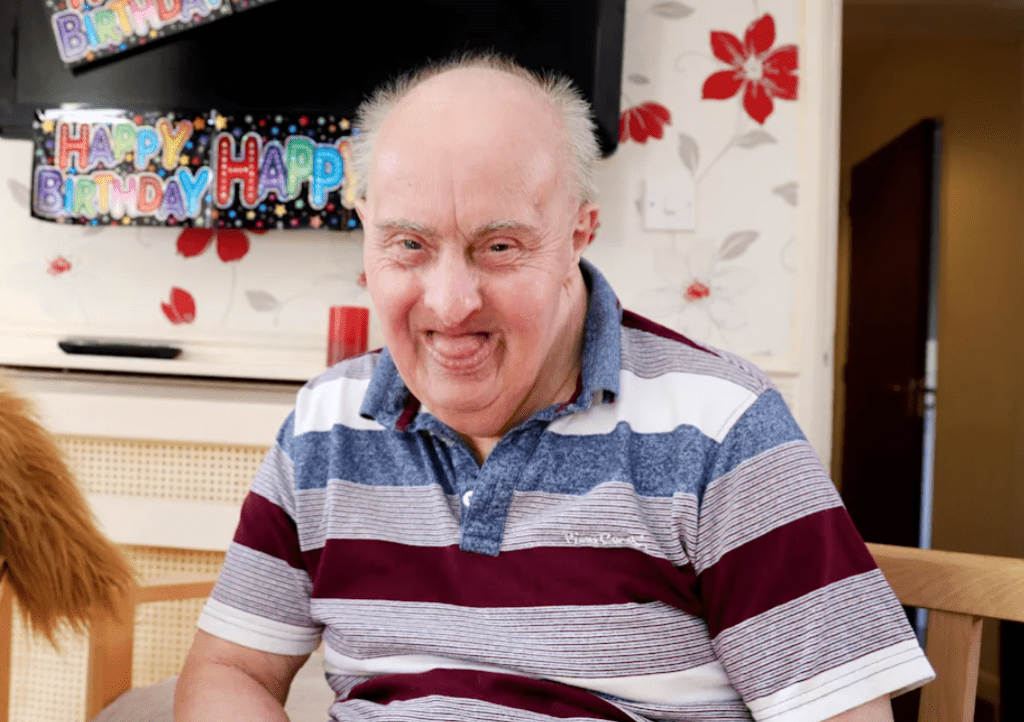 photo source: Yahoo
Robin Smith passed away just days before his 79th birthday in Northleigh Residential Home in Kettering, England.
Smith was known as the oldest person in the U.K. with Down Syndrome, setting a record when he turned 78 in 2019. Upon his death, the facility where he lived was flooded with tributes. Many said that Smith touched their lives in a special way, with an infectious laugh and a positive spirit that uplifted all who knew him.
Smith had lived in Northleigh Residential Home since 1986, which was where he was happiest and had many close friends. He allegedly loved cuddles, karaoke, hoovering, watching soap operas, and cheesecake. He is also on record for having said, "I like to do a bit of dancing whenever I can."
Did You Know?
On what would have been Smith's 79th birthday (October 9, 2020), Northleigh threw a "night to remember" for all residents in celebration of his life. The staff served his favorite cake and snacks, and everyone gathered to share their fondest memories of Smith.
---
4. Georgie Wildgust
Year born: 1942
Currently living?: Yes
Current age (or age at death): 79
Location: Nottingham, UK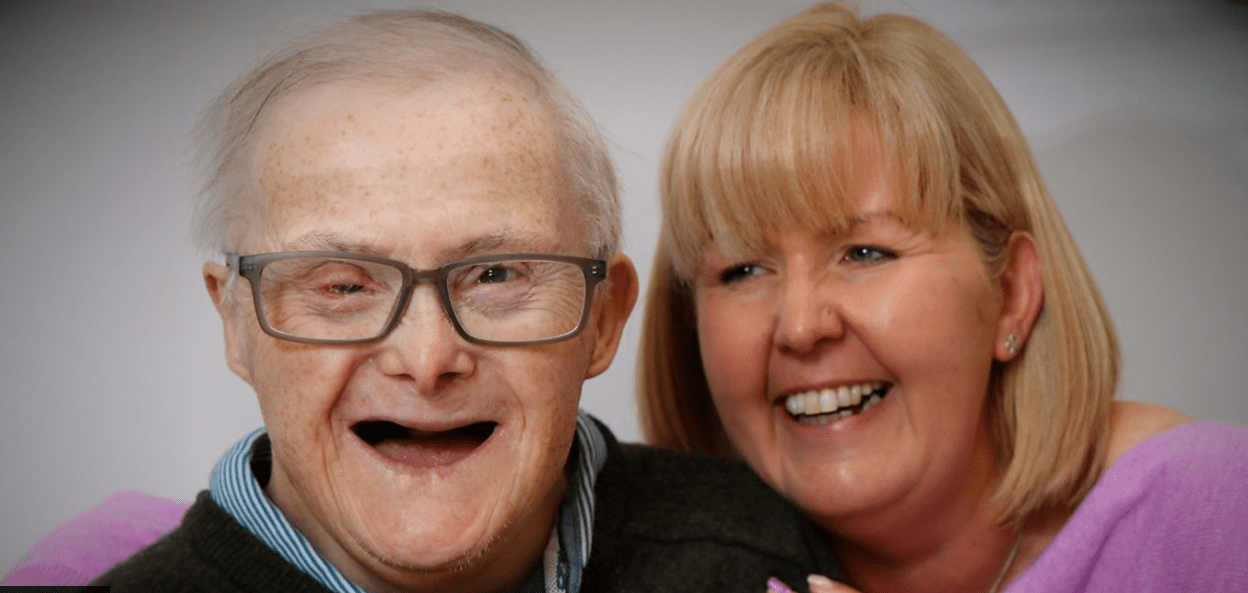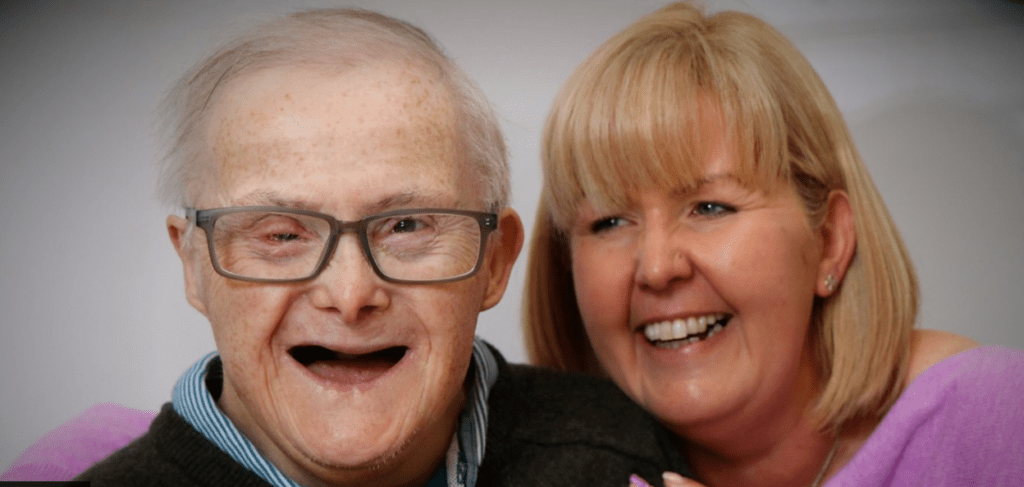 photo source: BBC
Georgie Wildgust swears that it's dancing that keeps him young!
The British citizen, now 79 years old, has been lighting up rooms with his smile and positive attitude since 1942, when his life expectancy was only 10. 69 years past that projection, Wildgust is still enjoying life to the fullest – a few of his favorite things are watching "Strictly Come Dancing" and dancing around the Nottingham facility where he lives.
Georgie Wildgust is now not only the oldest U.K. citizen with Down Syndrome, but is believed to be one of the oldest in the world. He attributes his longevity to a zest for life, as well as an active social life.
Did You Know?
Wildgust surpassed previously-mentioned Robin Smith as the oldest U.K. citizen to have had Down Syndrome. Smith was days away from his 79th birthday – which would have made him Wildgust's age – when he passed.
---
3. Kenny Cridge
Year born: 1939
Currently living?: No
Current age (or age at death): 79
Location: Somerset, UK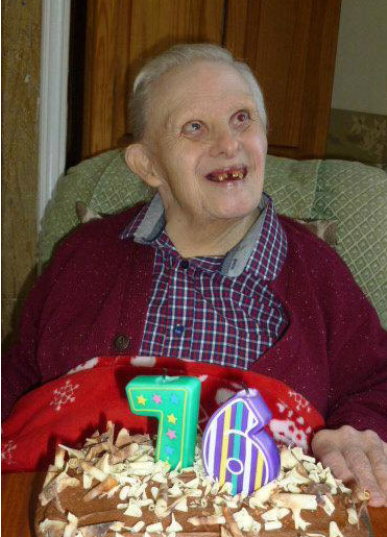 photo source: globaldownsyndrome.org
Kenny Cridge passed away at the age of 79 in April, 2019, in Somerset, England.
Two years earlier, Cridge was celebrating his 77th birthday at the Wisteria House care home, where he'd lived for five years. His hobbies included playing the harmonica, enjoying sweet treats, and sharing a good joke with the staff and fellow residents.
When Cridge was born in 1939, doctors did not expect him to live beyond 12 years old. To date, he is one of the oldest known people to have ever lived so long with Down Syndrome.
Did You Know?
Kenny Cridge was initially believed to have been stillborn. He was also a twin, which led to delivery complications for his mother, Iris, who had not known she was having twins. Doctors were successful in saving Cridge's life, despite the fact that he developed Down Syndrome from near-death experience.
---
2. Bert Holbrook
Year born: 1929
Currently living?: No
Current age (or age at death): 83
Location: Waseca, MN (United States)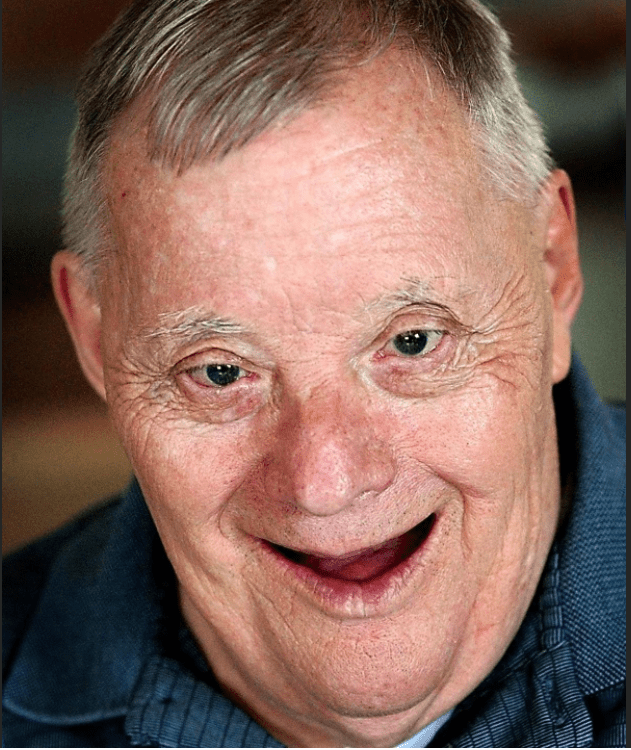 photo source: The Free Press
Bert Holbrook is one of the oldest people to have lived with Down Syndrome, surpassed only be one other (which we will discuss below). However, he is the oldest man to have ever lived with Down Syndrome.

Holbrook was a citizen of the United States and a Minnesotan, and passed away in 2014 from natural causes. He is in the Guinness Book of World Records as the "world's oldest man with Down Syndrome."
Many who knew Holbrook had only good things to say about him upon his passing, describing him as "charismatic" and constantly smiling. His longevity is primarily attributed to good genes – though he outlived his parents and his sister!
Did You Know?
When Holbrook turned 80, staff members at his care facility – Elm North Group Home – submitted his name to the Guinness Book of World Records. They were right on the money about his status as "oldest man with Down Syndrome"…and he lived another three years past his 80th birthday!
---
1. Joyce Greenman
Year born: 1925
Currently living?: No
Current age (or age at death): 87
Location: London, U.K.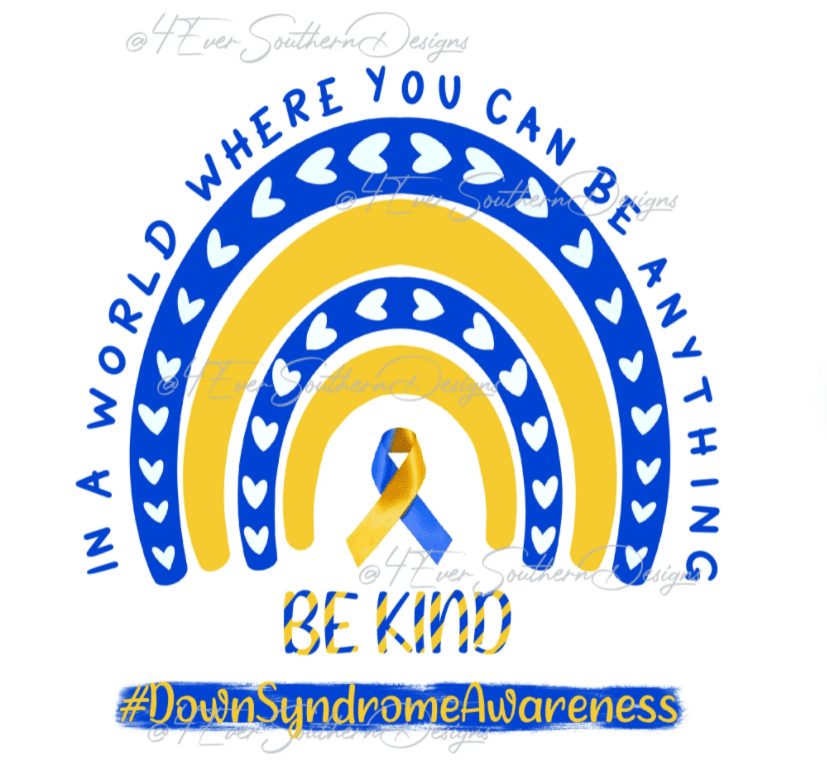 photo source: Etsy
Joyce Greenman is the oldest woman, and person, ever to live with Down Syndrome. Her name is recorded in the Guinness Book of World Records, and has been there since 2012.
Not much information is available about Greenman, but she resided in London, making her one of many on this list who were citizens of the U.K. and lived to an unusually old age with Down Syndrome.
Did You Know?
Many people with Down Syndrome also suffer from chronic neurodegenerative diseases, such as Alzheimer's. Those who live into their 40s and 50s commonly develop some form of dementia, especially as they continue to age.
OTHER POSTS YOU MAY BE INTERESTED IN