Diana Ross is on an exclusive list of entertainers that needs no introduction. Anyone involved in or a fan of the music industry knows that Diana was a pioneer of the soul era and one of Motown's shining beacons of light as the lead singer of The Supremes.
But their reach extended way beyond just Motown's label. They are still the best-charting female group of all time and one of the best-selling girl groups ever.
Her career post-Supremes continued the tradition of success she and her fans grew used to as she moved into a successful television and stage career. The superstar entertainer is accompanied by six other Ross siblings.
Some have carried that musical torch, and some have not. But what's true for all of them is how they will forever be remembered as members of the story of a prestigious legacy still being written by Diana.
So join us while we learn more about the Ross family as we rank Diana and her siblings from oldest to youngest!
6. Fred Ross Jr.
Personal and professional information about Fred Ross Jr. is unknown.
---
5. Barbara Ross Lee (June 1, 1942 – Present)
Age (as of October 2022): 80 years, 4 months, 9 days
Born: Detroit, Michigan
Occupation: Physician
Known For: Sister of Diana Ross
Barbara Ross is the oldest of Diana's two sisters. She is a renowned physician in osteopathic medicine.
Ross graduated with honors from Michigan State University College of Osteopathic Medicine and worked at her private practice in Detroit for ten years before being recruited to work for the United States Department of Health and Human Services.
She made history as the first Black woman to serve as the dean of any U.S. medical school at Ohio University Heritage College of Osteopathic Medicine from 1993 to 2001.
Did You Know?
Barbara Ross Lee is also the first osteopathic physician to participate in the Robert Wood Johnson Health Policy Fellowship. She was inducted into the Ohio Women's Hall of Fame in 1998.
---
4. Diana Ross (March 26, 1944 – Present)
Age (as of October 2022): 78 years, 6 months, 15 days
Born: Detroit, Michigan
Occupation: Singer, Actress
Known For: The Supremes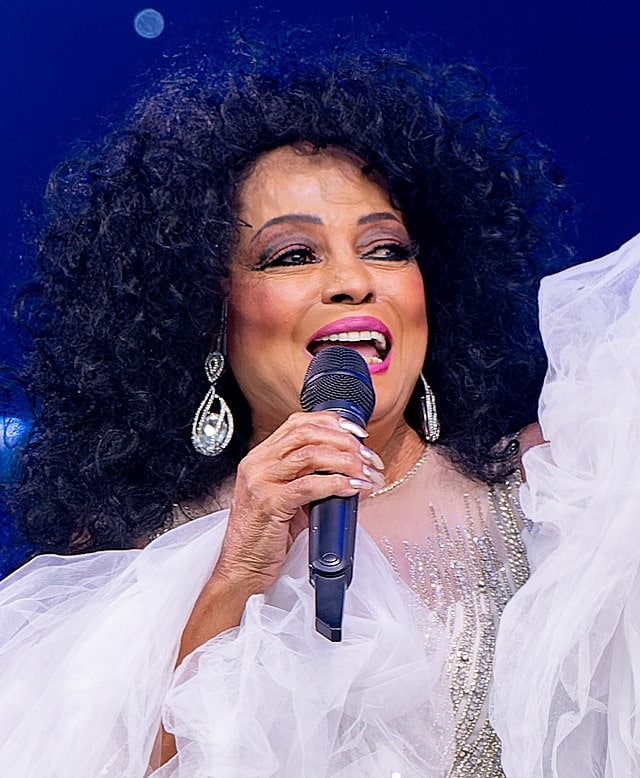 photo source: wikipedia.org
Diana Ross is the breadwinner and most recognizable member of the Ross siblings.
Following her ultra-successful run with The Supremes, she matched and even exceeded expectations with her debut solo album, which featured songs like "Reach Out and Touch (Somebody's Hand)" and "Ain't No Mountain High Enough."
The latter, which we're sure you heard the tune for vividly in your head upon reading the title, became her first number-one solo single and is still as popular today as it was in 1970.
In 1973, she had her second number-one hit with "Touch Me in the Morning." In 1980, she released Diana, which is still her most successful album. It featured eternal classics like "I'm Coming Out," "My Old Piano," and "Upside Down." The latter became her fifth chart-topping single in the United States!
In a bold move and an inevitable reality, Ross needed to leave Motown to evolve as an artist after over 20 years spent with the award-winning label. She signed with RCA in 1981 and released her album "Why Do Fools Fall in Love." It sold over one million copies.
Ross has been the influence of several transcendent superstars in the music industry. Madonna, Beyoncé, Mariah Carey, and Michael Jackson have all spoken highly of Diana as having paved the way for them to achieve their success.
It's no surprise Diana has been the recipient of too many awards and nominations to fit on the page. Some of her most notable achievements include the Presidential Medal of Freedom, a Golden Globe, a Tony, and a star on the Hollywood Walk of Fame.
Did You Know?
Outside of music, Diana Ross been successful as an actor. One of her most notable (and very first) roles was as Billie Holiday in the film Lady Sings the Blues (1972), which earned Ross a Golden Globe award and an Academy Award nomination.
---
3. Rita Ross (1946 – Present)
Age (as of October 2022): Approx. 76
Born: Detroit, Michigan
Occupation: Politician
Known For: Sister of Diana Ross
Personal and professional information about Rita Ross is mostly unknown.
Rita Ross made a run for office in her home state of Michigan's 5th district for a seat in the State House of Representatives.
Diana Ross took to social media to announce her sister's candidacy, saying on Twitter: "My sister Rita Ross is running for State Representative of the 5th District in Detroit, this is her calling. Please support!" She would end up losing her run for election and did not choose to re-enter the political arena since.
Did You Know?
Before her run for office, Rita Ross was one of the first women to test drive at General Motors Proving Grounds in Michigan, and was one of the first Black stewardesses to fly for Pan American International Airlines.
Her family calls her "Mother Theresa" for her dedication to helping thousands of foster kids through the Michigan Supreme Court Foster Care Review Board and for her efforts to aid impoverished families and families affected by AIDS.
---
2. Arthur Ross (February 28, 1949 – April 22, 1996)
Age (at time of death): 47 years, 1 months, 25 days
Born: Detroit, Michigan
Occupation: Singer, Songwriter
Known For: Brother of Diana Ross
Arthur "T-Boy" Ross was a singer and songwriter. Once Diana started to gain traction as a member of The Supremes, she recruited her younger brother to join Motown as a songwriter in 1972. While under the label, he collaborated with Leon Ware, which became a very productive endeavor.
The duo wrote songs for legends like Michael Jackson and Marvin Gaye.
After an internal conflict between Arthur and Ware surfaced while working on a Marvin Gaye album, he decided to leave the project and attempt to launch a solo career, which was unsuccessful. His first album, Changes, sold just 12,000 copies, leading Ross to retire from music in the 1980s and return to Detroit to live in seclusion.
Arthur and his wife were tragically murdered inside a basement of an abandoned home in a notoriously rough area of Detroit in 1996. Two men were charged that same year.
Did You Know?
Arthur Ross's Changes album contains a song called "To The Baby," which he wrote for his sister Diana as a tribute to her first two daughters, Rhonda and Tracee.
---
1. Chico Ross (1958 – Present)
Age (as of October 2022): Approx. 64
Born: Detroit, Michigan
Occupation: N/A
Known For: Brother of Diana Ross
Chico Ross is the youngest of the Ross siblings at approximately 64-years-old!
Personal and professional information about Chico Ross is mostly unknown.
However, we know that he struggled heavily with substance issues during the 1980s and lived primarily off Diana's finances. Eventually, she stopped enabling his addiction, which forced Chico onto the streets. Some reports say they've reconciled, but as of 2022, we're unsure of his whereabouts.
Did You Know?
Chico Ross was married to Canadian actress Tracy Tweed of Johnny Mnemonic and Live Wire fame. He's the son of Ernestine and Fred Ross Sr.
OTHER POSTS YOU MAY BE INTERESTED IN