Amongst the pantheon of greats, whether dead or alive, Chris Rock cemented his legacy as a once-in-a-generation talent with the likes of Dave Chapelle, Richard Pryor, and George Carlin.
Today we wanted to cover Chris Rock and the siblings that supported his ascent to the top of the comedic food chain. Join us while we rank the Rock siblings from oldest to youngest!
8. Charles Rock (1963 – February 2006)
Not very much is known about Charles Ledell Rock, but he was the oldest sibling in the Rock family.
Charles Rock tragically passed away due to pneumonia and complications stemming from alcoholism in February of 2006.
Did You Know?
At the time of his death, it was rumored he had been living in a homeless shelter. He is Chris's half-brother.
---
7. Chris Rock (February 7, 1965 – Present)
Age(as of May 18, 2022): 57
Born: Andrews, South Carolina
Occupation: Comedian, Actor
Achievement: No. 5 Rolling Stone's Best Stand-Up Comics of All Time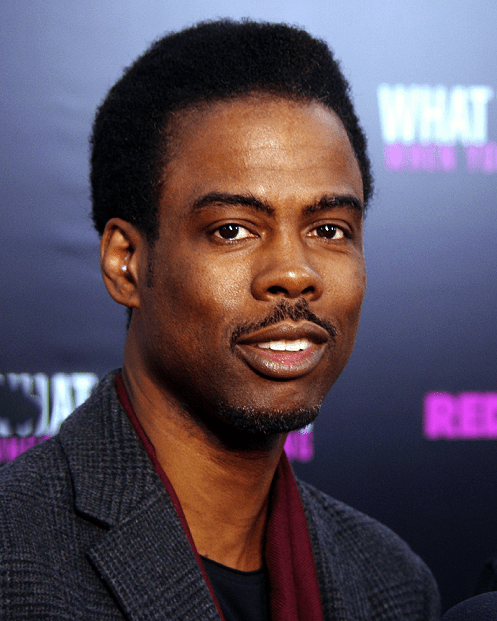 photo source: Wikimedia Commons
Chris Rock is the crown jewel of the Rock family. The 57-year-old veteran comedian has been blazing his way through the stand-up circuit since childhood.
By 1990, Mr. Rock found himself employed by Lorne Michaels (creator of SNL) as an official cast member of Saturday Night Live, catapulting his star power into a new galaxy, preparing him to become the most beloved comedian of the decade.
That infectious smile, contagious laugh, and observational style of comedy and commentary for everyday social situations struck a chord with the psyche of America, turning him into the voice for generations, young and old.
His celebrity grew further in 1996 with his now legendary special titled, Bring the Pain. His HBO comedy specials are praised by up-and-coming comics who point to Chris as one of the gold standards. The stand-up stage wasn't the only area in which Chris knew how to shine.
Rock is a successful writer, producer, and actor. He's starred in notable films like The Longest Yard, Head of State, Down to Earth, Madagascar, and the FX dark comedy/crime drama series Fargo.
Turning out consistently solid performances introduced Chris Rock to a new audience that recognizes him for his acting chops as much as they do his stand-up.
2022 has been a strange year, thanks to an increasingly divisive political climate, just as it has been for the last half-decade. Nothing could have exemplified the strangeness more than what happened on the Oscar's stage between Will Smith and Chris. We've all seen the video more times than we can count on our fingers, so we'll spare the recap.
For Chris, it once again catapulted him into the forefront of the national headlines, and his stand-up shows saw a massive uptick in attendance. We can only hope those ticket sales helped soften the blow. Sometimes there's beauty in the pain.
Did You Know?
Chris Rock began his stand-up career in 1984 in New York City's Catch a Rising Star. Fellow comedy legend, Eddie Murphy, demonstrated his keen eye for talent. After seeing his act at a nightclub, Murphy took Chris under his wing and mentored the young comic. It was Murphy that also introduced him to the silver screen, with a role in Beverly Hills Cop II.
---
6. Andre Rock (1967 – Present)
Age(as of May 18, 2022): 55
Born: South Carolina
Occupation: Businessman
Achievement: Julius Rock Trucking Inc.
Andre Rock stays away from the spotlight in favor of a more modest and private life.
We believe he does have a very close relationship with his family, once cited on Kenny Rock's Instagram during his birthday.
Did You Know?
The 55-year-old Rock sibling reportedly owns a trucking business named after his father – Julius Rock Trucking Inc.
---
5. Tony Rock (June 30, 1974 – Present)
Age(as of May 18, 2022): 47
Born: Brooklyn, New York
Occupation: Comedian
Achievement: Host of Can You Tell?
View this post on Instagram
Tony Rock has followed in his brother's footsteps as an actor, writer, and fellow stand-up comedian.
If you look at his material, you can tell he's been charmed with the gift of comedy and is definitely a Rock. His initial claim to fame came when he played Uncle Ryan on Everybody Hates Chris from 2008 to 2009.
Tony has also appeared in his made-for-TV sketch comedy series The Tony Rock Project from 2008 to 2009. As recent as 2022, he's appeared as a guest judge in the popular Netflix baking competition show, Is It Cake?
Did You Know?
Tony Rock has been an admirable vocal defender of his older brother Chris amidst the Academy Awards altercation controversy. In a stand-up performance post-incident, he took to the stage with the Tupac track "Ambitionz Az A Fighta" playing in the background, clearly signaling what kind of show this was.
---
4. Kenny Rock (April 16, 1979 – Present)
Age(as of May 18, 2022): 43
Born: Brooklyn, New York
Occupation: Actor
Achievement: Actor in Vesuvius
View this post on Instagram
Kenny Rock is the 43-year-old brother in the Rock sibling ensemble. Balancing life between entertainment and life removed from it, he's landed a few acting gigs in films like Vesuvius (2018) and Coincidental Killer (2016).
Kenny has used his Instagram to express his love for Chris and the family.
Did You Know?
Kenny opened up to The New York Times in a 2017 interview, talking about how his brother is the complete opposite of his onstage persona.
"Chris has a different, high-caliber circle of people around him, and he's very socially awkward." He continues, "When you're around him outside of work, you're not going to get many words out of him at all. He's very introverted."
---
3. Andi Rock (1985 – Present)
Age(as of May 18, 2022): 37
Occupation: Therapist
Achievement: Works with children
View this post on Instagram
Andi Rock is the only sister among the sea of male-dominated Rock siblings!
Andi is reportedly a licensed therapist who works with children with autism. It's no surprise that the whole family adores her and is so proud of what she chose as her mission in life.
Did You Know?
Andi might be the favorite in the family, which is important considering she's heavily outnumbered. She's referred to as "Lil sis" by Kenny Rock.
---
2. Brian Rock (Late 80s – Present)
Age(as of May 18, 2022): Unknown
Born: N/A
Occupation: Church Minister
Achievement: N/A
Brian Rock has removed himself from any of the public's crosshairs.
No social media accounts can be found of him either, opting for a quiet, hopefully, less stressful life than his brotherly counterparts!
Did You Know?
It's believed that Brian serves as a church minister.
---
1. Jordan Rock (1991 – Present)
Age(as of May 18, 2022): 31
Born: South Carolina
Occupation: Comedian, Actor
Achievement: Actor in Big Time Adolescence
View this post on Instagram
Jordan Rock is the youngest Rock sibling at 31-years-old!
Jordan Rock is the self-described "Solange" in the family, in reference to Beyonce's lesser known but equally talented sister.
Like his older brothers, he has chosen to carry the mantle alongside Chris and Tony as the third sibling to pursue comedy as a career. Thus far, it's certainly paid off. He's acted in projects like Love Life for HBO Max and Big Time Adolescence.
Did You Know?
Jordan dropped out of high school (similar to Chris), jumping in head-first without a life vest to focus his full attention on comedy. His brand of comedy is topical for today's millennial culture and shows promise.
OTHER POSTS YOU MAY BE INTERESTED IN