Bruno Mars is one of the most renowned singers on the scene. Known for songs such as When I Was Your Man, Uptown Funk, and The Lazy Song, this artist is known for his unique pop, funk, and soul style.
Born in Honolulu to Peter Hernandez and Bernadette San Pedro Bayot, Bruno Mars has five siblings. Most of them are still living in Hawaii and decided to pursue a similar career, getting into music. If you would like to know more, keep reading.
We created a list of Bruno Mars' siblings ranked oldest to youngest.
6. Eric Hernandez (September 9, 1976 – present)
Age (as of December 2022): 46 years, 3 months, 6 days
Birthplace: Brooklyn, New York
Profession: Drummer
View this post on Instagram
Eric Hernandez is Bruno Mars' oldest brother. He was born in 1976 and is currently 46 years old.
He started to play the drums when he was only four years old and began his professional career at the age of 10 in Hawaii.
When Eric grew up, he landed a stable job at The Lovenote Show, a program paying tribute to the music of the 50s, 60s, and 70s, for which he played six nights a week for eight years. Thanks to the show, Eric quickly gained popularity and became regarded as one of the best drummers in Hawaii.
In 1995, Eric was ready for a change and decided to move to Hollywood. He soon joined a group called Louie Says, with which he played alternative and pop music. The band was already signed to RCA records when Eric joined in.
But Eric did not stop there. He continued collaborating with several artists from Menudo, Travie Mc Coy, and The Smeezingtons, a Platinum producing team.
With time, Eric decided to work with his famous brother Bruno Mars, and he's currently his official drummer.
Did You Know?
At the moment, Eric is also playing for Taio Cruz.
---
5. Jaime Kailani (November 22, 1983 – present)
Age (as of December 2022): 39 years, 23 days
Birthplace: Unknown
Profession: Entrepreneur, singer, manager
View this post on Instagram
Jaime Kailani is Bruno Mars' oldest sister, as she came into the world in 1983 and is currently 38 years old.
Jaime was born to Bernadette San Pedro Bayot and Christopher Bayot. Not much information about her biological father is known, but we know that Peter Hernandez adopted and raised her as his child.
Despite this, Jaime has maintained a good relationship with her father, and the two seem to spend lots of time together.
Similarly to most members of her family, Jaime was very interested in music and decided to found the group The Lylas — an acronym for 'love you like a sister' — with her sisters. Together they made a few hits such as Come Back, Voices, and Headed Home, which helped them make an appearance as special guests on X-Factor.
The band was quite successful, and the sisters even managed to get their own reality tv show which aired in 2013 and followed young girls leaving their homes to follow their passions.
Later in her career, Jaime worked as a booking manager for her brother Bruno Mars and then decided to launch her organization, 4 Mama Earth. This foundation focuses on bringing positive change in the world thanks to the power of art, nature, and music!
4 Mama Earth has worked in over 40 countries empowering children and bringing positive change in several communities worldwide.
Did You Know?
Jaime is married to Jesse Johnson and has two kids. Her oldest son is called Marley Van Peebles, a name inspired by the king of reggae, Bob Marley. Her youngest son is Jamieson Johnson and he plays football for LA Galaxy Southbay.
---
4. Tiara Hernandez (September 26, 1984 – present)
Age (as of December 2022): 38 years, 2 months, 19 days
Birthplace: Hawaii
Profession: Musician, Producer
View this post on Instagram
Tiara Hernandez was born in 1984 and is currently 37 years old.
She started her music career with her siblings when she was young, singing in the Love Notes group and performing as part of her father's Las Vegas review show.
After school, she worked for some time as a preschool teacher but then decided to follow her dreams and, together with her sisters, founded the group The Lylas.
After The Lylas show, Tiara also worked for other productions such as Entertainment Tonight and Family Ingredients.
---
3. Bruno Mars (October 8, 1985 – present)
Age (as of December 2022): 37 years, 2 months, 7 days
Birthplace: Honolulu
Profession: Singer, Songwriter, Record Producer, Director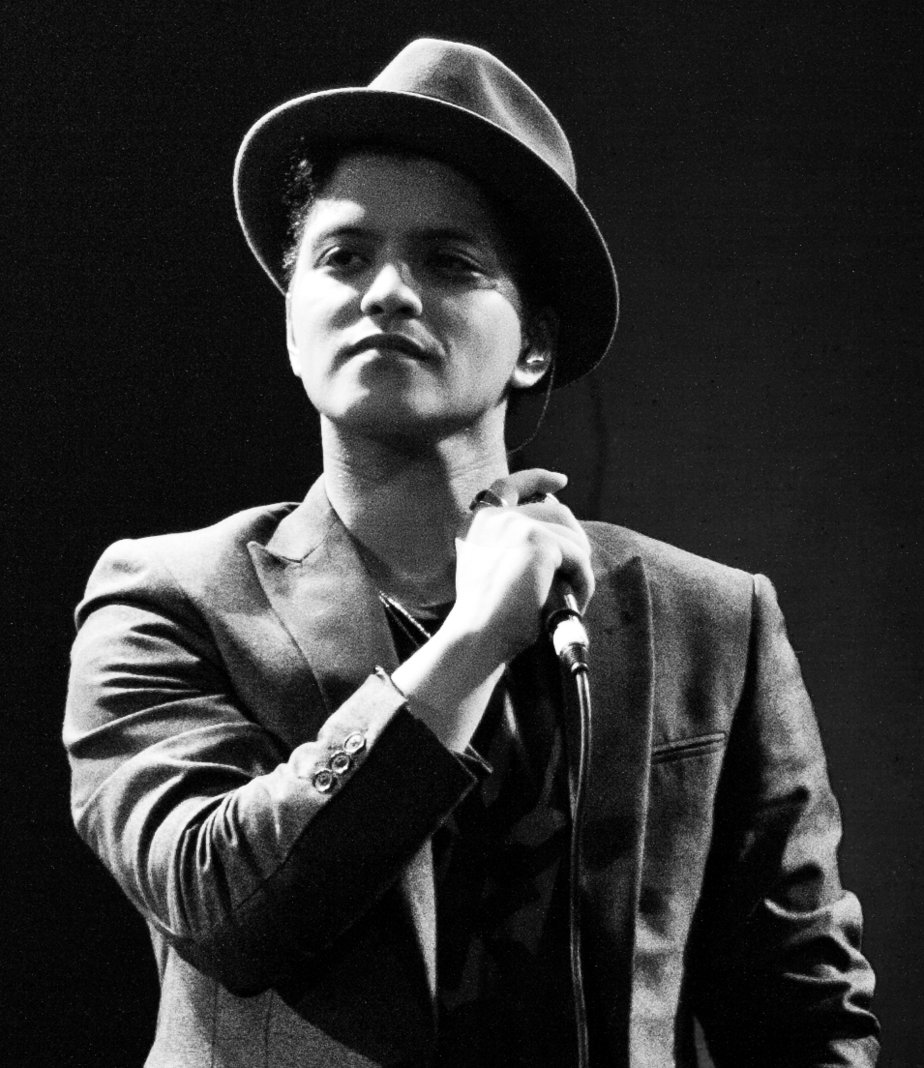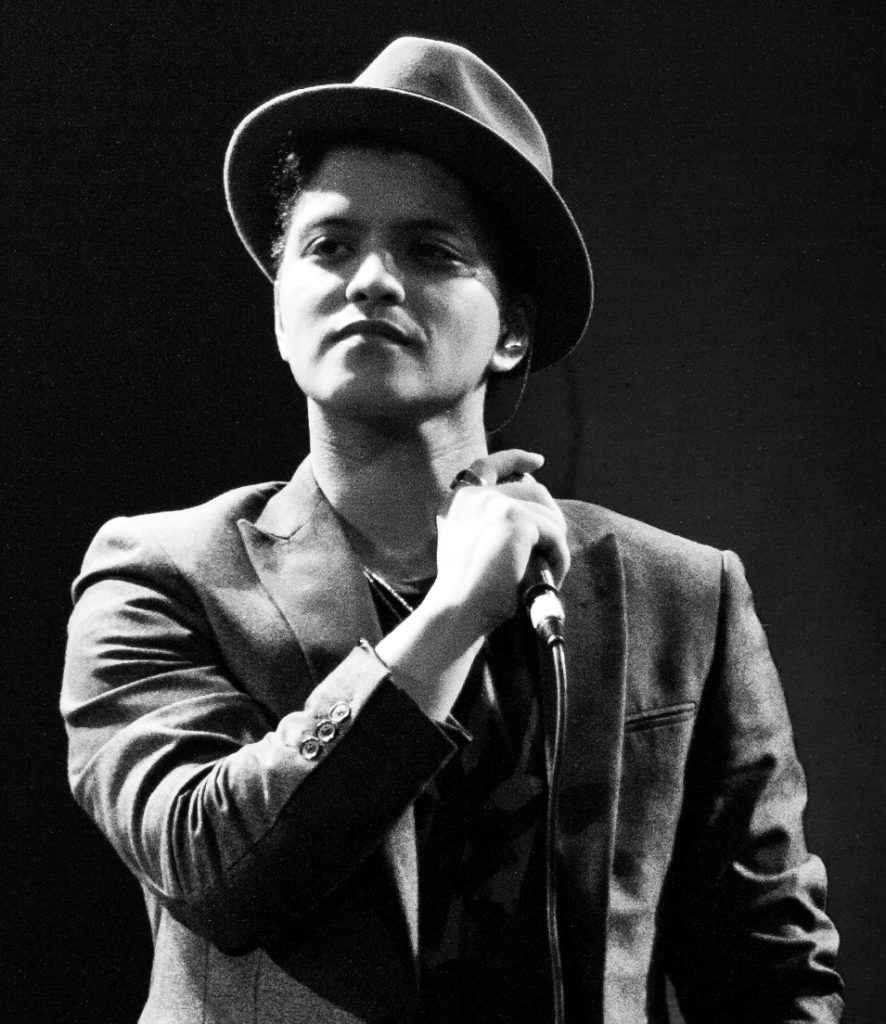 photo source: commons.wikimedia.org
Born in 1985 to Peter Hernandez and Bernadette San Pedro Bayot, Bruno Mars (Peter Gene Hernandez) is one of the most influential musicians of our times.
He was born in Honolulu, where he grew up with his five siblings, but in 2003 he decided to move to Los Angeles to pursue a music career. It took him a total of seven years to reach world fame. This happened in 2010 thanks to two singles, Nothin on You, in which he sings together with B.o.B and Billionaire by Travie McCoy.
The same year, Bruno Mars released his first studio album, Doo-Wops & Hooligans, containing world hits such as Grenade, Just The Way You Are, and The Lazy Song. In 2012, Bruno Mars published his second album, Unorthodox Jukebox, which arrived first on the Billboard 200.
In 2016, the famous artist released his third album, 24K Magic, which won many awards, including seven Grammys.
Bruno Mars has been awarded 15 Grammys, 11 American Music Awards, four Brit Awards, 13 Soul Train Awards, and three Guinness World Records throughout his career so far. This famous artist has sold 130 million records worldwide and is considered one of the best-selling musicians of all time.
---
2. Tahiti Hernandez (June 2, 1987 – present)
Age (as of December 2022): 35 years, 6 months, 13 days
Birthplace: Hawaii
Profession: Fitness teacher
View this post on Instagram
Tahiti Hernandez was born in 1987 and is now 35 years old.
Tahiti is married to Billy Kemper, a professional surfer and 3-times Peachi challenge champion. The two tied the knot in 2018 and now have two kids together. Their names are Lion Kemper and Hazey Kemper. Just like their father, the two enjoy surfing despite their young age.
Tahiti is a fitness teacher and has opened her fitness facility.
Did You Know?
Billy is Tahiti's second husband. She was once married to a Hawaiian DJ named Joshua Sojot, with whom she had two boys, Nyjah Music and Zyah Rhythm. Both her kids from her first marriage love music and may soon pursue a career in this field.
---
1. Presley Hernandez (July 23, 1990 – present)
Age (as of December 2022): 32 years, 4 months, 23 days
Birthplace: Hawaii
Profession: Unknown
View this post on Instagram

Presley Hernandez is Bruno Mars' youngest sibling, as she was born in 1990 and is currently 32 years old.
Not much is known about Presley except that she is married to Kealoha Mahone, a proud veteran who used to work for the United States Marines Corps.
The couple married in October 2016 and have two children, Selah Bernadette Malone and Kaia Kathleen Anelamaikalani. Selah was born in May 2016, while Kaia was born in October of the following year. (Ultram)