Justin Bieber is a name that practically needs no introduction. Then again, it's not every day a musician becomes so successful and recognized worldwide that they also become the face of pop music.
The face of anything is impressive, but perhaps even more impressive is the longevity he's demonstrated as a pop music superstar who many call the gold standard.
He's come a long way since his chart-topping single "Baby," and as he's shown time and time again, the best of Bieber is yet to come as he continues to evolve his sound and image.
We know about Justin, intimate details of his life, music, and love interests of the past and present, but not so much is known about the unbreakable bonds he shares with his beloved siblings. According to Justin, they are the ones that keep him grounded in the precarious world of a celebrity of his status.
Today we'll be looking at the siblings who represent the rocks in Justin's life and who have the privilege of calling each other brothers and sisters.
5. Justin Bieber (March 1, 1994 – Present)
Age (as of May 24, 2022): 28
Born: Ontario, Canada
Occupation: Singer, Songwriter, Musician
Zodiac Sign: Pisces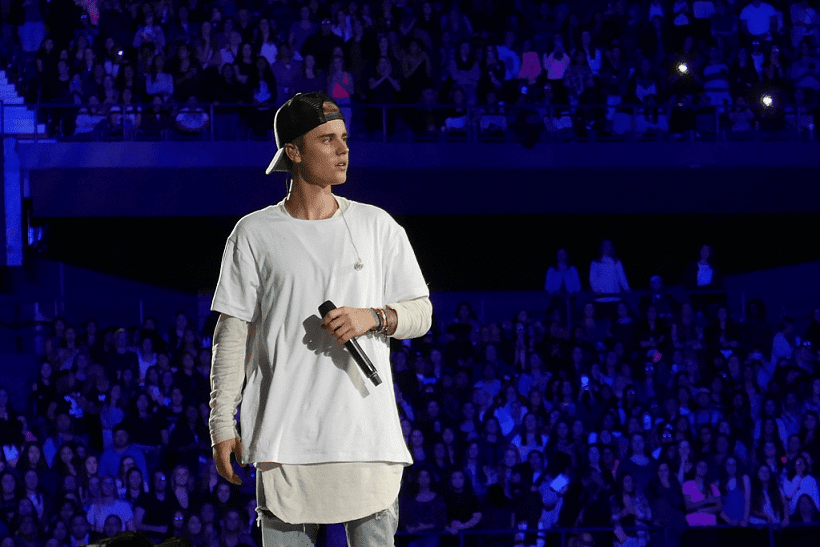 photo source: Flickr via Lou Stejskal
Justin Bieber is the oldest and most famous of the Bieber bunch! The 28-year-old pop icon found his introduction to showbiz through a new, up-and-coming platform called YouTube. He was praised for his incredible talent for genre-blending styles, musicianship, and buttery vocals. His style is pop, R&B, and EDM, infused to create a unique sound and style exclusive to Justin.
Discovered by record executive Scooter Braun and Usher, the three have been a part of very fruitful collaborations, beginning with his debut EP My World (2009). It was just the beginning stages in a career that would sweep millions worldwide off their feet.
Justin and his relationships have been put under the Petri dish for microscopic examination since he burst onto the scene at 13-years-old.
Unfortunately, that's par for the course when it comes to celebrities who live their lives in the physical and metaphorical spotlight. As a result, he's been vocal about his struggles with mental health issues like depression and anxiety.
Despite his struggles with fame and mental health, he's cultivated an impressive following and a diverse catalog of music that can be appreciated by individuals with tastes that might not align with the pop sound.
In 2010, he was awarded the MTV Award for Best New Artist in 2010. Eleven years later, he won the MTV Award for Artist of the Year, which goes to show how relevant he's stayed throughout the years.
Did You Know?
In February 2020, Justin Bieber released a YouTube docu-series titled Seasons. In it, he opened up about his battle with addiction and substance abuse, which consisted of drugs like lean, MDMA, mushrooms, etc.
---
4. Allie Bieber (April 7, 2007 – Present)
Age (as of May 24, 2022): 15
Born: Canada
Occupation: N/A
Zodiac Sign: Aries
View this post on Instagram
Allie Rebelo, or Allie Bieber, is Justin's half-sister and daughter of Jeremy Bieber and Chelsey Rebelo. Allie has been an important part of the Bieber crew, maintaining a close relationship with everyone in the family.
Unlike her older brother, Allie lives a life generally removed from the public attention, except for the occasional TikTok or appearance on her mother or brother's Instagram.
Did You Know?
In a viral TikTok video, Allie is seen dancing to Drake's "Tootsie Slide" with sisters Jazmyn and Bay Bieber, Justin, and wife Hailey Bieber.
---
3. Jazmyn Bieber (May 31, 2008 – Present)
Age (as of May 24, 2022): 13
Born: Canada
Occupation: N/A
Zodiac Sign: Gemini
View this post on Instagram
Jazmyn Bieber is the younger half-sister of Justin Bieber and the daughter of Jeremy and Erin Wagner. She grew up in Ontario but has been a huge supporter of her big brother and traveled around the world alongside him to offer the kind of comfort and stability that only a sister can give.
Apart from being known as just the sister of a famous older brother, she's amassed an impressive follower base of her own!
She operates a YouTube page under her name and touts over 1.6 million followers on Instagram. Her parents and management team operate the account, where you can see posts chronicling her daily life.
Did You Know?
Jazmyn and Justin shared the stage in an adorable duet when Jazmyn was only 4-years-old, who happened to know all the lyrics to her older brother's greatest hits.
---
2. Jaxon Bieber (November 20, 2009 – Present)
Age (as of May 24, 2022): 12
Born: Canada
Occupation: N/A
Zodiac Sign: Scorpio
View this post on Instagram
Jaxon Bieber, otherwise known as Little Bieber, is a half-brother to pop icon Justin Bieber. He's the son of Jeremy Bieber and Erin Wagner. Like his older sister Jazmyn, Jaxon has a substantial following of his own on social media, with over 1 million followers.
You can find him partaking in the same pleasures that every kid should get to enjoy, like playing video games, hanging out with his friends, traveling, and playing sports.
Did You Know?
Justin and Jaxon are extremely close, with many of Justin's fans taking an interest in Jaxon's life due to his many resemblances in appearance and attitude to his older brother. In 2016, he accompanied his big bro to the 2016 Grammy Awards ceremony and walked with him down the red carpet.
---
1. Bay Bieber (August 16, 2018 – Present)
Age (as of May 24, 2022): 3
Born: Canada
Occupation: N/A
Zodiac Sign: Leo
View this post on Instagram
Bay Bieber is the youngest sibling in the Bieber family at 3-years-old!
Bay Bieber is the daughter of Jeremy Bieber and Chelsey Rebelo. The adorable half-sister to Justin achieved instant fame and popularity when he shared a photo on Instagram that received over 8 million likes in 2020.
Not much is known about the young Bay Bieber, and as a 3-year-old, that's for good reason. What we know is she is adored by all her siblings and is proudly flaunted by Justin and company as an adorable member to round out this star-studded family.
Justin gave his little sister a shout-out with a photo and caption that read, "Meet the newest Bieber, my little sister Bay Bieber."
Did You Know?
For the Biebers, you're never too young to get into the business of cultivating a social media presence, and Bay Bieber is no exception. She's joined the ranks as another social media star with a following on Instagram that eclipses over 410k followers.
On her page, you can find adorable photos of Bay posted by her family and management team, which showcase different looks from her various travels and events she attends. At this rate, Bay is on pace to outshine her older brother in this never-ending popularity contest!
OTHER POSTS YOU MAY BE INTERESTED IN