The unmistakable, soulful, ethereal, angelic pop voice you've probably heard featured on the tracks of some of our favorite artists like J-Cole, Drake, Lana Del Rey, and Beyoncé belongs to the one and only Jhené Aiko.
Often the supporting vocalist in the background to the star, Jhené slowly but surely amassed a fanbase that recognized her talent as the type that needed a stage of its own.
Thankfully, the fans weren't the only group that recognized her star quality. Sony and Epic Records took notice of Aiko as a background vocalist for the R&B group B2K.
With B2K as the vehicle, both record labels started to push her image full-steam ahead. Like many aspiring artists looking to break into the industry, roadblocks and false starts were there to slow her down.
In 2003, Aiko was set to release her debut album, My Name is Jhené, but it fell through. In what some would say was a foolish decision to stifle all the momentum she had built until that point, Jhené decided to continue her education.
With the benefit of hindsight, we know things eventually worked out for the soon-to-be pop sensation, but what about the siblings that supported her rise in the industry?
For the Aiko family, there's plenty of talent to go around. We were pleased to see how Jhené isn't the only one who has gotten to enjoy her moment in the sun! So join me while we learn more about the siblings that make up this dynamic, talented bunch!
8. Miyoko Chilombo (March 30, 1981 – Present)
Age(as of May 20, 2022): 41
Born: Los Angeles, California
Occupation: Actress, Model
Zodiac Sign: Aries
View this post on Instagram
Miyoko Chilombo eldest of her fellow seven siblings. If you ever wondered who Jhené takes after, look no further than the image above! No matter how successful she becomes, Miyoko can say she did it first.
Miyoko began her career at just 9-years-old, appearing in the kid's media group Kidsongs.
From 1990 to 1993, she lent her vocal talents to the franchise, appearing in Kidsongs: Very Silly Songs. She was also one of the members of the 90s all-girl group Gyl. However, that's hardly the most impressive achievement since she's appeared in the music videos for legendary musicians like Prince and Michael Jackson.
Did You Know?
Miyoko now works as a model and actress. According to IMDb, she also appeared in Kidsongs: Play Along Songs and We Wish You a Merry Christmas.
---
7. Mila J (November 18, 1983 – Present)
Age(as of May 20, 2022): 39
Born: Los Angeles, California
Occupation: Singer, Rapper, Songwriter
Zodiac Sign: Scorpio
View this post on Instagram
Mila J is a 38-year-old rapper, singer, and songwriter. Of all her achievements and features on tracks with artists like Trey Songz and Omarion, appearing in Prince's video for Diamonds and Pearls has to be at the top of her proudest moments.
Mila was very active in the early 2000s, releasing several singles between 2006 and 2009. Perhaps burnt out from the demands and obligations of a blossoming superstar, she decided to step away from the stage before returning in 2012.
In 2013, Mila J signed to Motown Records, which is no stranger to representing transcendent musical talents.
She stayed with Motown for five years and released two EPs – Made in L.A and 213. At the end of her tenure in 2017, she released her debut album titled Dopamine. As far as we know, she's stayed independent since then.
Did You Know?
Mila J credits Janet Jackson as her primary inspiration. As far as women in the entertainment industry go, you really can't do much better than the woman considered by many to be the Queen of Pop.
"I just love how she entertains," Mila said of Janet. "You go to her shows, she's gon' have a million dancers – lights, camera, action. It was just cool to see a female dancing and singing."
---
6. Jahi Chilombo (July 4, 1984 – Present)
Age(as of May 20, 2022): 37
Born: Los Angeles, California
Occupation: Media Personality
Zodiac Sign: Cancer
View this post on Instagram
Jahi Chilombo is the first son and third child of Christina and Karamo Chilombo. Like Miyoko, Jahi began his professional career on the televising show Kidsongs.
Now 37-years-old, Jahi continues to flex his musical muscles as a DJ named DJ LA. The "LA" stands for "Lit Always."
Did You Know?
Jahi sports over 25k followers on Instagram. His bio states he's the CEO and Founder of EBF Inc/Records.
---
5. Miyagi Chilombo (July 7, 1986 – July 19, 2012)
Age(as of May 20, 2022): 26
Born: Los Angeles, California
Occupation: Media Personality
Zodiac Sign: Cancer
Miyagi Chilombo was the 26-year-old beloved son of the family. A media personality like his siblings, he had a deep connection and love for music, which at this point is a given with the Aiko's.
Miyagi tragically passed in 2012 after being diagnosed with an inoperable brain tumor in 2010.
The time of his passing coincided with Jhené's rise in popularity resulting from her collaborations with Lil Wayne and Big Sean called Beware. The timing of both these events was tragic and emotionally conflicting.
Did You Know?
Jhené Aiko stated, "I was in limbo. On one hand, I got to do so many things. But on the other, my brother, who I was the closest person to, wasn't there to experience it with me. He would've been on tour with me. He probably would've been DJing my sets. Mentally, I was lost."
---
4. Jhené Aiko (March 16, 1988 – Present)
Age(as of May 20, 2022): 34
Born: Los Angeles, California
Occupation: Singer, Songwriter
Zodiac Sign: Pisces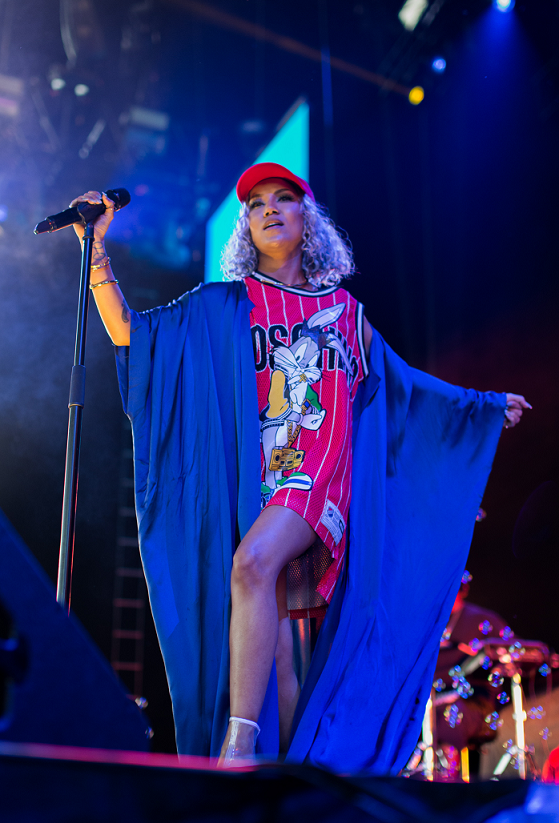 photo source: Wikimedia Commons
Jhené Aiko is the 34-year-old undisputed pop star in the Aiko family. Others have tried to replicate that angelic voice and unmistakable stage presence, but none can replicate the unique gifts she possesses as a performer and singer.
Aiko is the daughter of Christina Yamamoto and Karamo Chilombo, who is a pediatrician. Aiko was homeschooled until high school in the neighborhood she refers to as "Slauson Hills," located in Ladera Heights in California.
Did You Know?
Aiko credits Tupac as an influence on her image and music. She stated he is "a big inspiration for me just to stick to who I am and to actually stand for something through music." Musically, it's difficult to draw parallels in terms of style when it comes to these two juggernauts of the music industry, but the essence of being unapologetically authentic in their message remains true.
---
3. Marcia Chilombo (Unknown – Present)
Age(as of May 20, 2022): N/A
Born: N/A
Occupation: N/A
Zodiac Sign: N/A
Not much is known about Marcia Chilombo.
She maintains a private life off social media and away from unwanted attention.
---
2. Dio Chilombo (Unknown – Present)
Age(as of May 20, 2022): N/A
Born: N/A
Occupation: N/A
Zodiac Sign: N/A
Dio Chilombo is another Aiko sibling who remains a mystery.
As of 2022, there's no public social media presence for this member of the Aiko family.
---
1. Kareena Chilombo (August 16, 2000 – Present)
Age(as of May 20, 2022): 21
Born: N/A
Occupation: Artist
Zodiac Sign: Leo
View this post on Instagram
Kareena Chilombo is the youngest sibling of the family!
At 21-years-old, Kareena wins the highly coveted title of the baby of the family. That entitles her to special treatment no matter how famous her older sisters become!
She's close to her siblings, but most details of her personal life are private.
Did You Know?
Kareena does have an Instagram that touts over 12k followers, which also links to an art page.
OTHER POSTS YOU MAY BE INTERESTED IN