America attained its independence on the 4th of July, 1776, from Great Brain. That makes her 246 six years old today. Back then, America had only 2.5 million people occupying over 800,000 square miles of land across 13 colonies, which later became states. Today, America has over 330 million people occupying 50 states in 19,502 different cities.
Of course, all American cities have different populations,with a significant amount of both cultural and age diversity. Stay with us as we explore eight cities in America that boast the youngest populations, based on the median ages of men and women in these communities.
8. Des Moines, Iowa
Total Population: 215,636
Average age: 34.2
Land Area: 88.92 sq mi
Water Area: 1.73 sq mi
Date Founded: 1843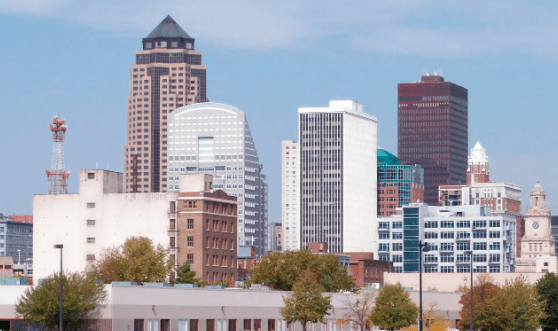 photo source: britannica.com
Des Moines is the current county seat of Polk County, and the capital city of Iowa State in the United States. It was officially named the capital city of Iowa in 1857, and is currently the largest and most populous metropolitan area in the state. In 2020, its population was 215,636, while the median age was 34.2.
Des Moines was named the number one insurance hub in America and the 3rd global insurance hub. Although it's only 234.9 km², Des Moines is the headquarters of top-leading world companies such as Ruan Transportation, Principal Financial Group, EMC Insurance Companies, and Wellmark Blue Cross Blue Shield.
In addition, Des Moines is the home to high-end and premium logistical and data-processing facilities by Facebook, Microsoft, and Hewlett-Packard.
Did You Know?
Des Moines' population is 50.8% female and 49.2% male, with the population's average age being 34. It is also the birth city of Brandon Routh, the man behind Superman's character in the movie Superman Returns.
---
7. Grand Rapids, MI
Total Population: 198,917
Average age: 31.4
Land Area: 44.40 sq mi
Water Area: 0.87 sq mi
Date Founded: 1826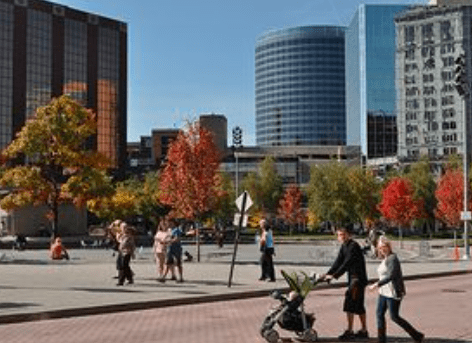 photo source: 10-Facts-about.com
Grand Rapids is Ken County's county seat and the second-most populous city in Michigan State. Its average median age is 31.4, making it one of the most youthful cities in America.
Grand Rapids has a population of 198,917, and sits on a 45-mile square of land in the western central area of Michigan. It was officially crowned a city in 1850 with a population of 2,686.
Gerald R. Ford, United States' 38th president, was born and raised in Grand Rapids. It is also home to Fredrick Meijer Gardens, one of the world's most visited art museums, and the Gerald R. Ford Presidential Museum – the burial site for Gerald Ford.
Did You Know?
The population density of Grand Rapids population is 4,550 residents per square mile, and the average household income is $65,615. This falls just slightly below America's median household income of $67,521, which may be reflective of the city's generally young population.
---
6. Syracuse, NY
Total Population: 142,874
Average age: 31.2
Land Area: 26 sq mi
Water Area: 0.6 sq mi
Date Founded: 1825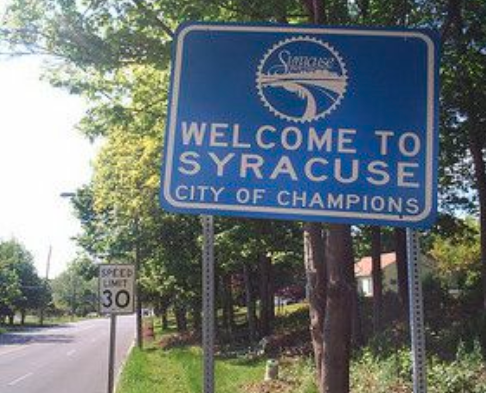 photo source: 10-Facts-About.com
Syracuse is Onondaga County's county seat, and the fifth-most populous city in New York State. In 2020, the city's population was 142,874, and the median age of inhabitants was 31.2.
Perhaps the city's young population can be attributed to its internationally recognized universities, including Upstate Medical University, Le Moyne College, and the SUNY College of Environmental Science.
The city of Syracuse was crowned Central New York's educational and economic hub by New York's Empire State Development.
Did You Know?
Syracuse experiences the biggest snowfall in the country, with an average of more than 110 inches annually. It also hosts the funniest and longest-running State Fair in the United States.
---
5. Tempe, Arizona
Total Population: 187,454
Average age: 29.5
Land Area: 40.1 sq mi
Water Area: 0.1 sq mi
Date Founded: 1894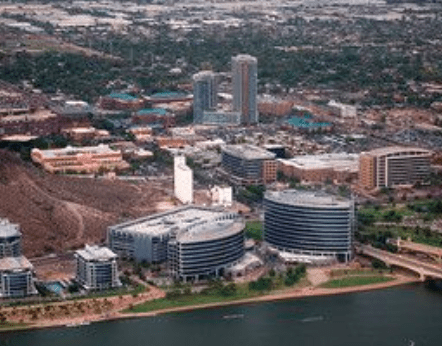 photo source: 10-Facts-About.com
Tempe, Arizona is a fast-growing city located southeast of Phoenix. It's a suburb of the bigger city, with a population of 187,454, and it's home to Arizona's number one university, Arizona State University. With a student body of nearly 75,000, it's little wonder that Tempe boasts one of the youngest demographics in the United States.
In Tempe, Arizona, the average age is 29.5. 4.6% speak Indo-European, 13.1% speak Spanish, while 5.2 speak Asian languages. The male population is 53%, and the female population is 47%.
Did You Know?
Of the 40.1 square miles making Tempe, Arizona, only 0.1 square miles is water, making it a landlocked city.
---
4. Denton, Texas
Total Population: 136,195
Average age: 29.4
Land Area: 87.952 sq mi
Water Area: 1.364 sq mi
Date Founded: 1846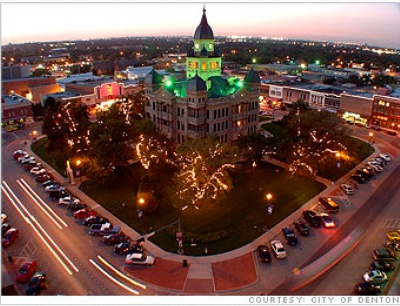 photo source: Localwiki.org/
Denton is the 27th most-populated city in Texas, and 197th most-populated in the U.S. Its current population is 136,195, with the average median age falling around 29.4. The average male population in Denton is 48.8%, while the female population is 51.2%.
Denton formally became a city in 1957. Over the course of its 160 years since establishment, it became widely known for its two leading universities – the University of North Texas and Texas Woman's University – as well as its spectacular live music scene, and great courthouse square.
According to recent studies, Denton city has a fast-growing population rate of 2.23 percent per year. This can likely be attributed to the city's overwhelmingly young population.
Did You Know?
The biggest Texas horse ranches are found in Denton city.
---
3. Columbia, MO
Total Population: 121,230
Average age: 28.5
Land Area: 63.08 sq mi
Water Area: 0.42 sq mi
Date Founded: 1821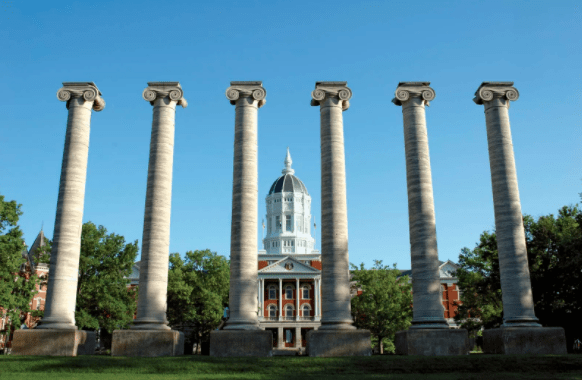 photo source: britannica.com
Columbia is in Boone County, Missouri. It is the capital and largest city of the Columbia Metropolitan Area, and is home to the University of Missouri, established in 1818. Its average age of inhabitants is approximately 28.5 years.
With over 120,248 people, Columbia is Missouri's fourth most populous city. Hundreds of people flock to the downtown area for the Twilight Festivals in June and September. Art in the Park and the Fall Festival of the Arts, both of which feature the work of local, county, and national artists, are also popular events.
The city's vibrancy is unrivaled, with a youthful generation and a plethora of attractions to discover and explore.
Did You Know?
90.95% percent of Columbia inhabitants were born in America, with native Missouri residents accounting for 57.13 percent. 6.04 percent of residents are not American-born.
---
2. Ann Arbor, Michigan
Total Population: 120,735
Average age: 27.5
Land Area: 27.83 sq mi
Water Area: 0.87 sq mi
Date Founded: 1824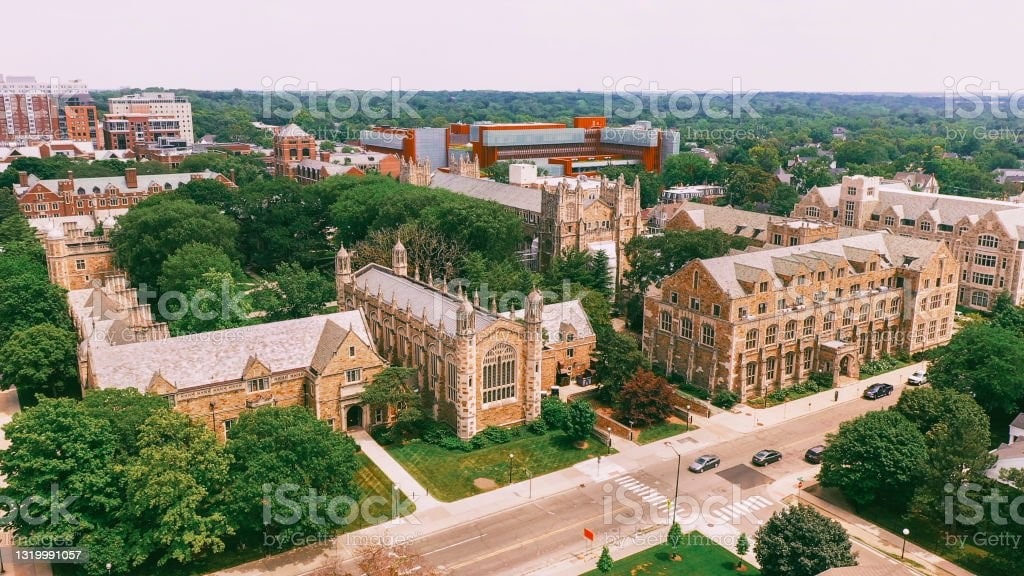 photo source: istockphoto.com
Ann Arbor is the central city of the Ann Arbor Metropolitan Statistical area. Based on the 2020 census, the city's population was 120,735, and the median age was 27.5.
Ann Arbor is home to the prestigious University of Michigan, with approximately 45,000 students and 30,000 employees. The economy of this city is dependent on its high technology, robust development infrastructure, and Michigan University's research.
Ann Arbor was founded in 1825. It is home to the second-largest stadium in the world, and the largest stadium in America. Constructed between the years 1926 to 1927, it can hold roughly 115,000 people.
Did You Know?
Ann Arbor is a major medical center, with a significant pharmaceutical research institute and many tech-savvy research and development companies.
---
1. Provo, Utah
Total Population: 116,403
Average age: 23.6
Land Area: 41.7 sq mi
Water Area: 2.5 sq mi
Date Founded: 1849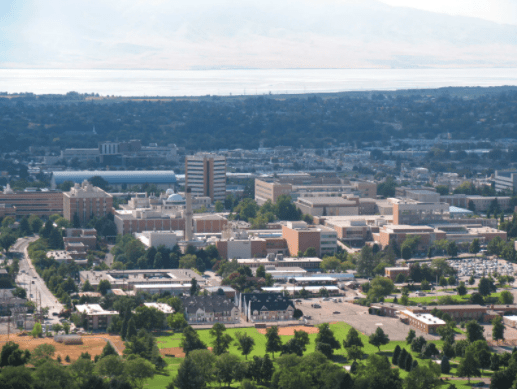 photo source: britannica.com
Provo, Utah, is America's youngest city by age, with a 23.6 year age average. It is also the 3rd largest city in Utah County.
Provo houses some of the world's most visited museums, as well as the famous Brigham Young University. It became a city in 1849, following the establishment of its first schoolhouse. It sits on a 41-square mile land area, making it the second-largest city in Utah.
Did You Know?
Provo City has 27 parks with 800 acres of developed parkland and 35 miles covering paved pathways. It is known as "The Garden City," thanks to its extensive fruit orchards, tress, and gardens.