Germany has a rich and complex history, dating all the way back to around 9 A.D. Its founding is actually attributed to Roman emperor Julius Caesar, who dubbed the unnamed region beyond the Rhine River Germania.
Since its beginnings, Germany has flourished as one of the major European centers of culture, the arts, education, and more. Having lived through major world wars, military conquests, revolutions, and many other historical events, some of its towns are among the oldest in Europe, and have seen and experienced many significant national events.
Today, we'll be exploring eight of the oldest towns in Germany, some of which have existed long before the official founding of Germany as a nation. Sit back and enjoy this fascinating history lesson and culture trip! …Bitte schön!
8. Bonn
Date founded: 1 B.C.
Founded by: The Romans
Region: North-Rhine Westphalia
Known for: German seat of government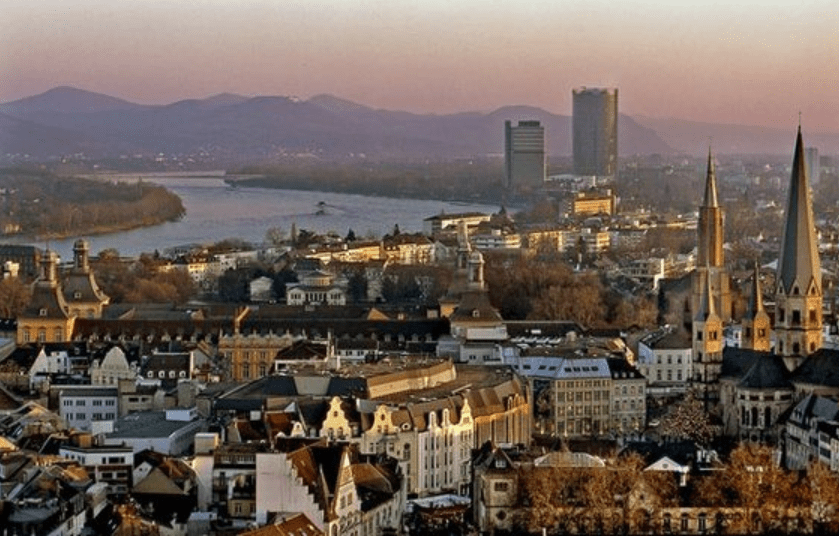 photo source: German Culture
Bonn is one of the oldest towns in Germany, and today serves as a political hub alongside Berlin. It is the second official seat and residence of both the President and Chancellor of Germany, and the first official seat and residence of six German federal ministries.
This relatively populous town's history extends as far back as 1 B.C., when it was founded by Roman legionnaires. Despite the fall of the Roman Empire, the town continued to flourish as a civilian settlement, and would become the Frankish town of Bonnburg by 9 A.D.
In addition to its political ties, Bonn is also known for its stunning Rococo architecture, as well as its Japanese cherry blossom trees lining the streets.
Did You Know?
Bonn is the birth city of famous German classical composer, Ludwig van Beethoven, born in 1770. In his honor, Bonn is home to the Ludwig van Beethoven Museum – one of the most popular music museums in the world.
---
7. Koblenz
Date founded: 9 BC
Founded by: The Romans
Region: Rhineland-Palatinate
Known for: Deutsches Eck or "German Corner"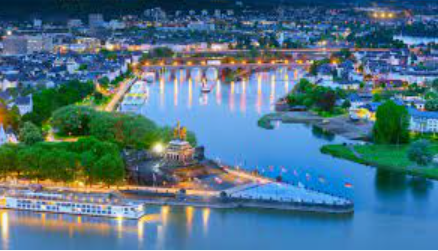 photo source: Germany.travel
Koblenz is one name you'll hear frequently among the most famous cities in Germany, and with good reason – the town is not only located in the scenic and preserved UNESCO-status Upper Middle Rhine Valley, but houses many historical, architectural, and religious gems.
Koblenz – spelled "Coblenz" prior to 1926 – was established as a Roman military post, presumably around 8 or 9 B.C. At this time, Romans were building fortifications and bridges along the Moselle and Rhine Rivers, making foot traffic possible between the early Koblenz and Andernach (another ancient Germany city).
Tourists visit the town today for its famed Deutsches Eck or "German Corner," which marks the confluence of the Moselle and the Rhine, as well as for the many medieval fortresses, cathedrals, and castles that Koblenz has to offer.
Did You Know?
Between Koblenz and the town of Bingen – situated just an hour north – there are more than 20 castles lining the river that were built hundreds of years ago. This is referred to as "The Rhine Castles Trail," which passes through three major wine-growing regions of Germany.
---
6. Andernach
Date founded: 12 BC
Founded by: The Romans
Region: Rhineland-Palatinate
Known for: Industrial plants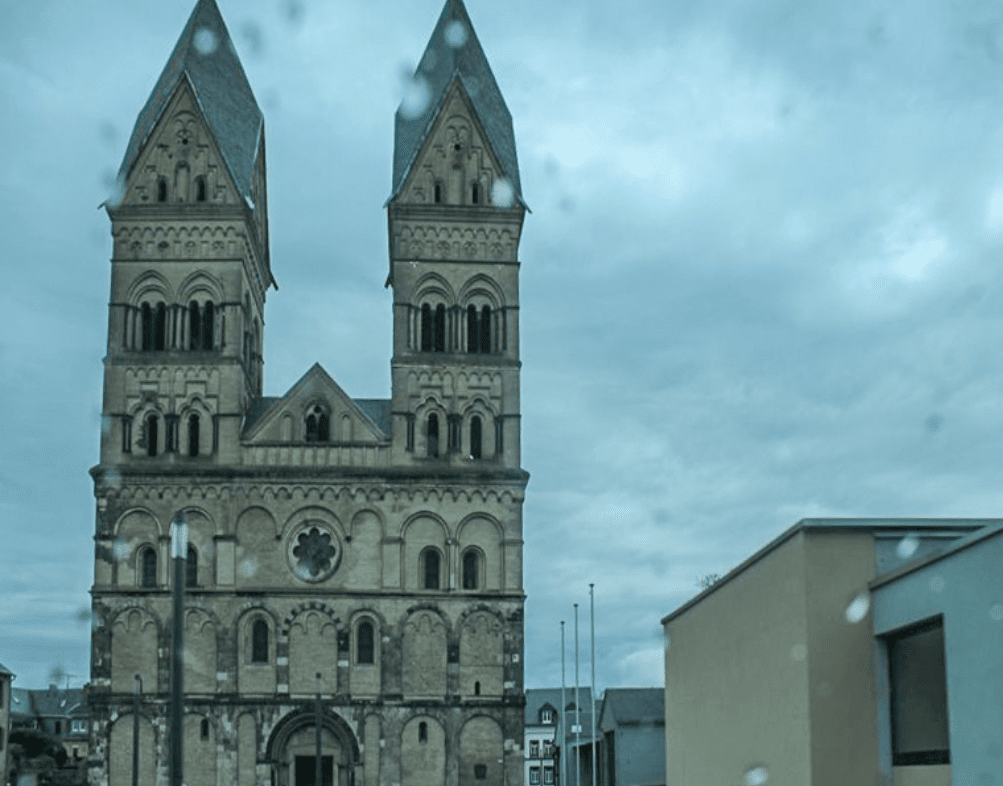 photo source: Reinisfischer.com
Nestled in the region of Rhineland-Palatine, Andernach – though you may not have heard of it before – is quite close to the large German cities of Cologne and Frankfurt. It was originally founded by the Romans in 12 B.C. on the site of an ancient Celtic settlement.
Though Andernach is not necessarily a popular tourist destination, it is a charming town that houses landmarks such as the 15th century Round Tower, Archiepiscopal castle ruins, and St. Mary's Cathedral, to name a few. The town is also recognized today as a major industrial center for Germany.
Did You Know?
Among Andernach's attractions is the world's highest cold-water geyser, Geyser Andernach. When it erupts, it reaches 210 ft. (64 m), and is driven by such force that it resembles a shaken bottle of table water.
---
5. Xanten
Date founded: 13-12 BC
Founded by: The Romans
Region: North-Rhine Westphalia
Known for: The Saga of the Nibelungs (Siegfried)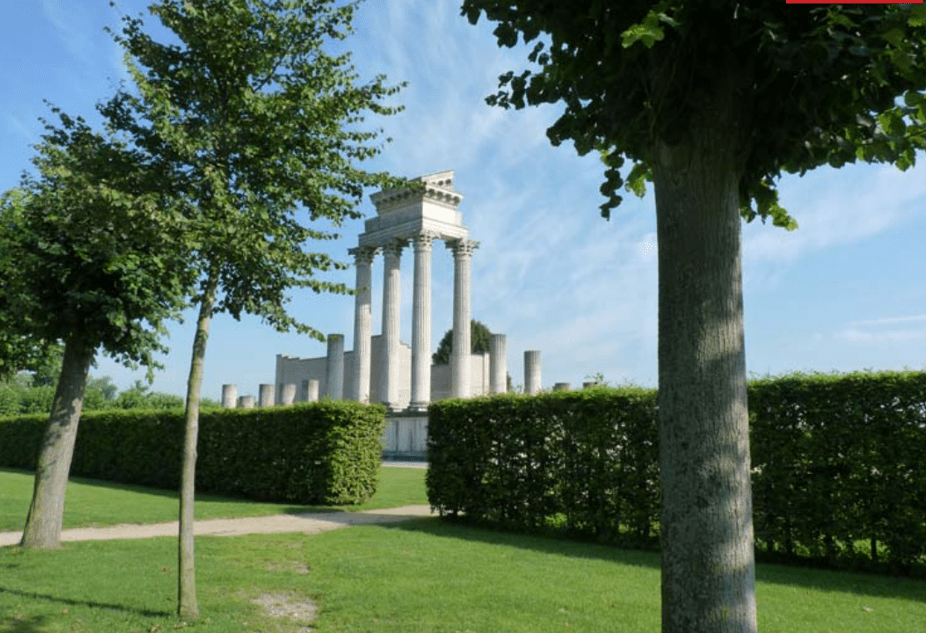 photo source: GoWorldTravel
Along with the other towns included on this list, ancient Xanten was founded by the Romans – presumably between 13-12 B.C. The Roman establishment of these early German cities has everything to do with how widespread their empire was at the time, encompassing vast territories across Europe and in today's western Germany.
Xanten specifically came to be from the Roman settlement Colonia Ulpia Traiana, close to the Roman legionary base Vetera. The city's ruins still stand today (pictured above), and are a popular tourist draw to this otherwise small German town.
In fact, Xanten is known primarily for its Archaeological Park, which is said to be one of the largest open-air archaeological museums in existence.
Did You Know?
The town of Xanten has only 22,000 or so inhabitants (as of 2010), but attracts approximately 800,000 tourists each year because of its rich history!
---
4. Worms
Date founded: Before 14 B.C.
Founded by: The Celts
Region: Rhineland-Palatinate
Known for: Song of Nibelungs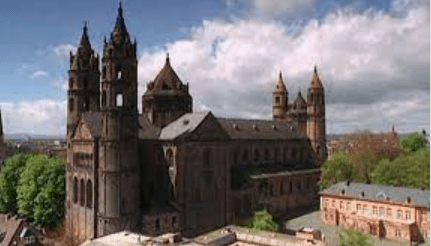 photo source: Britannica
Yes, you read the name of this German city correctly!
Founded around 14 B.C. or earlier, Worms is said to have been discovered by early Germanic tribes as well as the Celts, 5,000 years or so before the Romans conquered the city.
Worms is world-famous today for many reasons, among them the Edict of Worms, its beautiful and impressive Worms Cathedral, and the epic poem, Song of Nibelungs, which tells the story of Siegfried the Dragon-Slayer.
Tourists most commonly visit Worms for the above reasons, but can also enjoy the City of Worms Museum, the historic Luginsland site, and the Heylshof Museum and Gardens.
Did You Know?
What's in a name?
The city of Worms gets its moniker from the Latin "Vormatia," which translates to "settlement in a watery area." The German "W" syllable is also pronounced as a V in the language – so while you may think of the slithering creature when you read this town's name, it actually has nothing to do with invertebrates!
---
3. Neuss
Date founded: 16 B.C.
Founded by: The Romans
Region: North-Rhine Westphalia
Known for: Qurinus Munster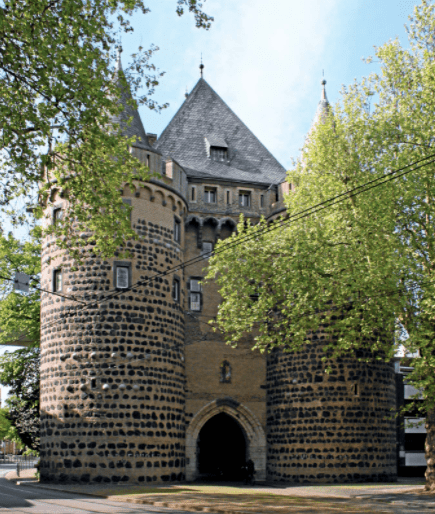 photo source: Britannica
Originally established as a (surprise, surprise) Roman military fortification, the town of Neuss today is probably best known for its close proximity to the city of Dusseldorf. It is one of the three oldest cities in Germany.
Neuss underwent a period of economic decline and damaged infrastructure resulting from a 15th century siege, following what had been a prosperous era during the Middle Ages. Still, the town rose back to a state of restored power when it became part of the Kingdom of Prussia in 1815.
Visitors are attracted to Neuss today for its elaborate basilicas and churches, festivals, and gardens.
Did You Know?
What's in a name?
Neuss hosts one of the largest annual marksmen's festivals in Germany, Neusser Burger-Schutzenfest, which takes place on the last weekend in August each year.
---
2. Trier
Date founded: 30-14 B.C.
Founded by: The Romans
Region: Rhineland-Palatine
Known for: Birthplace of Karl Marx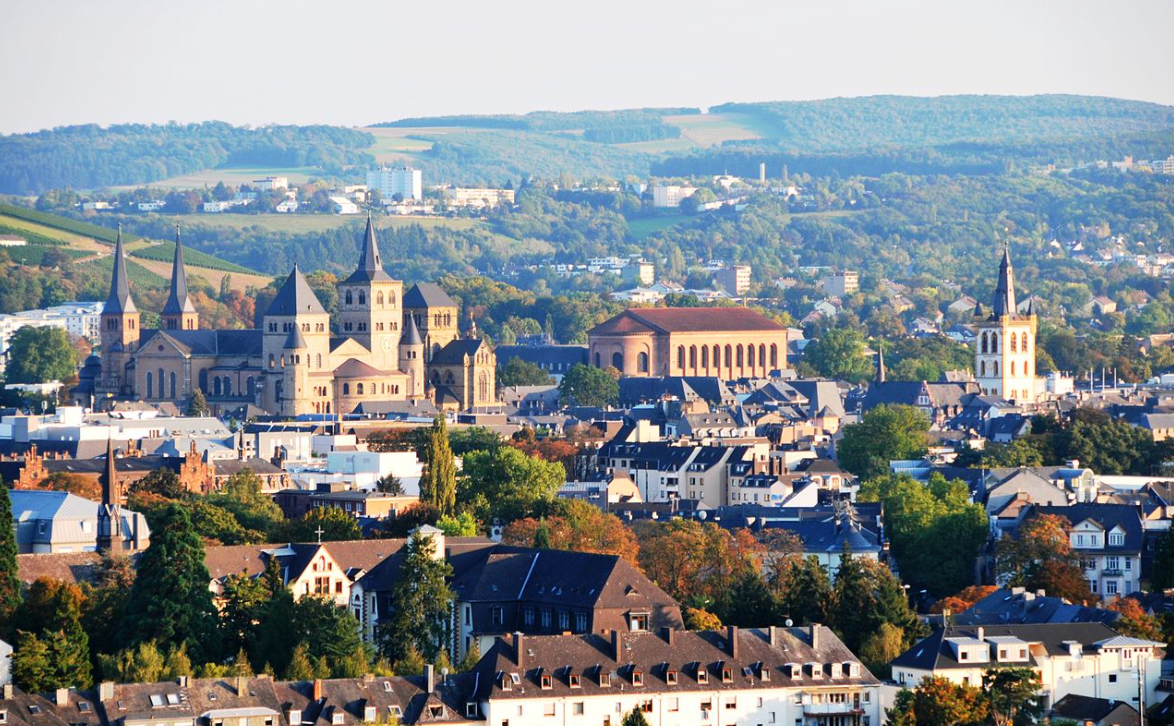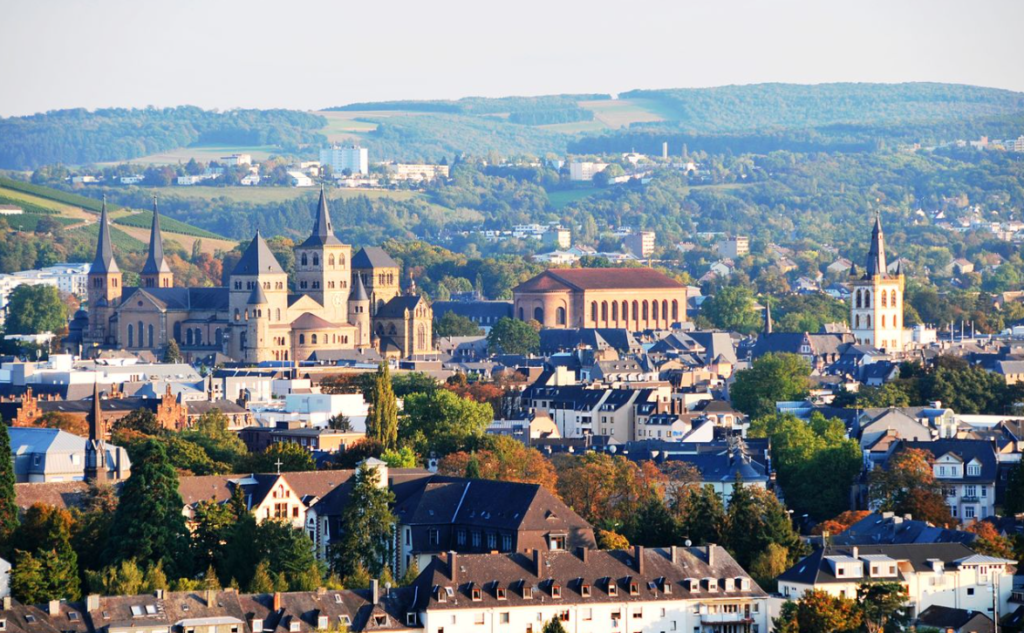 photo source: Wikipedia
Trier is undoubtedly one of the oldest cities in Germany, but despite the widespread belief that it is the oldest, research proves otherwise.
In fact, Trier is believed to have been established somewhere between 30-14 B.C. during the reign of Augustus, which is a pretty wide range; however, an exact date or year cannot be proven with certainty. Archaeologists can only guess at the date this city was founded thanks to ancient artifacts that have been discovered. Roman texts don't even begin mentioning the city until 1 A.D.
Today, Trier is a bustling and thriving city with a population of approximately 111,000. It's truly remarkable that a place could transition so flawlessly from ancient to modern while preserving its character and history over the course of a millennium!
Did You Know?
Trier houses more preserved artifacts than any other city in Germany. A few of these include the 2nd-century Porta Nigra, the ruins of 4th-century Roman baths, and the town's 25,000-seat amphitheater.
---
1. Cologne
Date founded: 38 B.C.
Founded by: The Ubii Germanic Tribe
Region: North-Rhine Westphalia
Known for: Creating the original "cologne" (eau de parfum)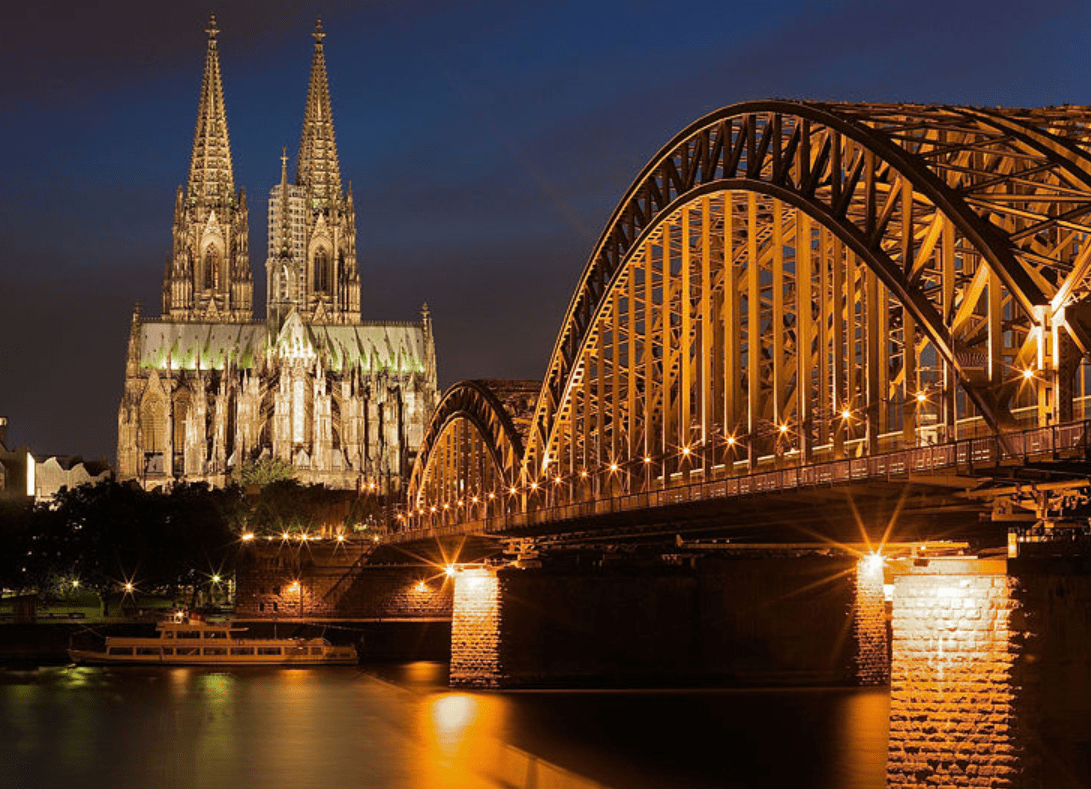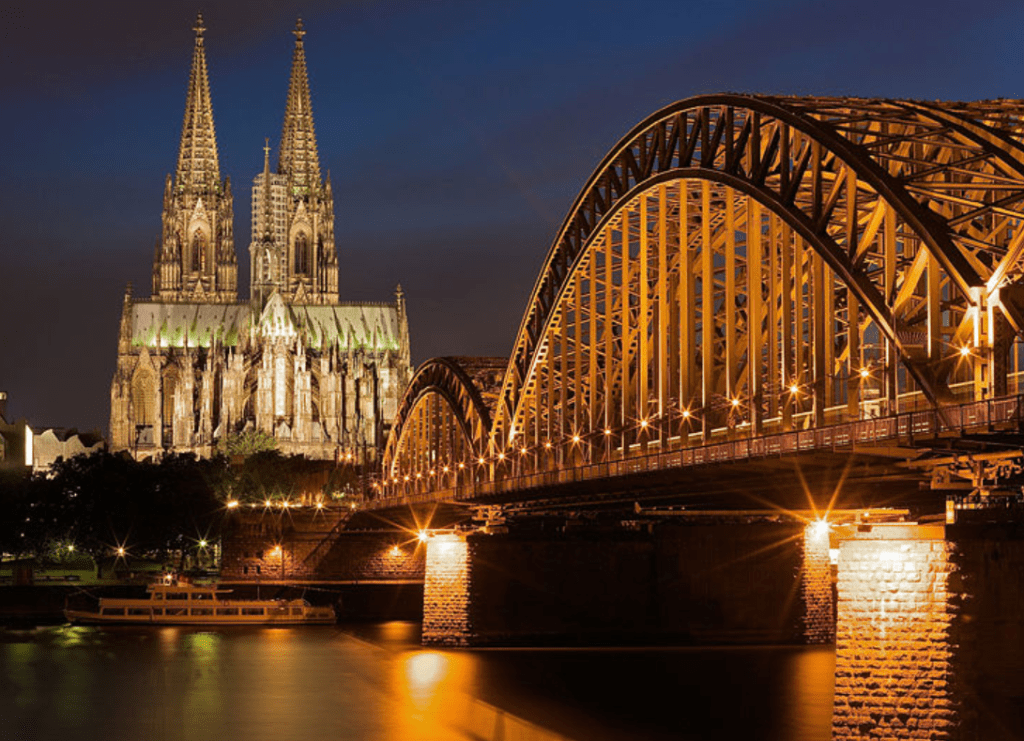 photo source: New World Encyclopedia
Cologne is the oldest town in Germany. With a history that dates back to 38 B.C., Cologne is perhaps best known for its invention of cologne perfume, though it is also famous for the Twelve Romanesque churches of Cologne and the Shrine of the Three Kings (a globally-recognized landmark).
It is believed that the Ubii Germanic Tribe founded Cologne before the Romans resettled these indigenous peoples. We attribute much of what we know of the city today to Roman influence, but the town did exist long before the Roman Empire came to power.
Today, Cologne is the fourth-largest city in Germany, and is home to a whopping 1,128,652 citizens.
Did You Know?
Colognians and those living near the city have their own language, referred to as Kolsch – a German dialect. It is actively spoken by around 250,000 people, or a quarter of the population.
OTHER POSTS YOU MAY BE INTERESTED IN