Boston is one of the oldest cities in the United States and is notable for playing a central role in early American history. It is the birthplace of the American Revolution as the Boston Tea Party took place in 1773.
Prior to the American Revolution, Boston and its surrounding areas were settled by the English Puritan colonists of the Massachusetts Bay Colony. All of the oldest parts of Boston on this list were founded one after the other around 1630. These historic areas have been well preserved over the years and provide a first hand look into America's past.
7. Jamaica Plain
Year Established: late 1630
Year Incorporated: 1851
Year Annexed by Boston: 1874
Notable Landmarks: Arnold Arboretum, Jamaica Pond, and Forest Hills Station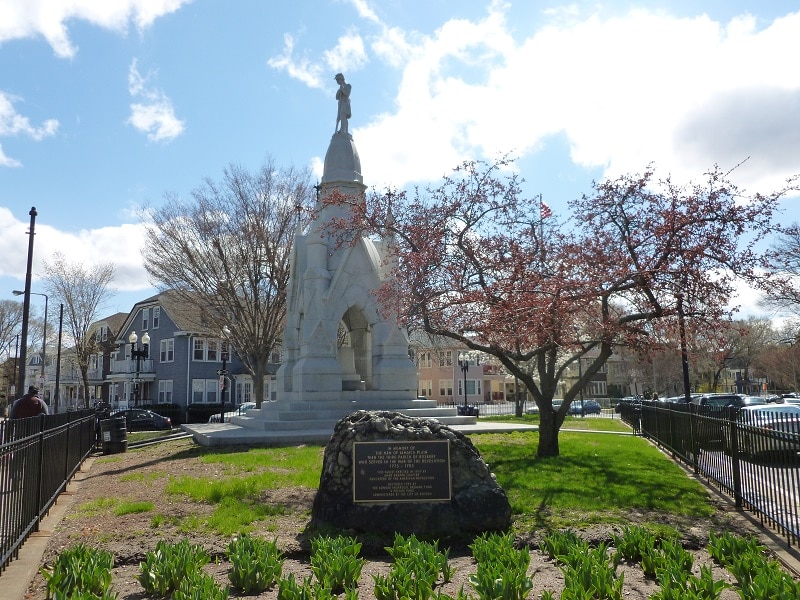 photo source: Wikimedia Commons
Jamaica Plain was settled by William Heath's family and a few other people after Boston and Roxbury were founded in 1630. The community was originally apart of Roxbury before it decided to secede with West Roxbury in 1851.
The area continued to grow and by the 19th century, Jamaica Plain became the first one of the first streetcar suburbs (a residential community whose growth and development was strongly shaped by the use of streetcar lines) in America.
The neighborhood is best known for the Arnold Arboretum of Harvard University, which was built in 1872 and designed by American landscape architect, Frederick Law Olmsted. The arboretum is the second largest part of Boston's "Emerald Necklace," a chain of parkways and waterways in Boston and Brookline.
---
6. Brighton
Year Established: 1630
Year Incorporated: 1807
Year Annexed by Boston: 1874
Notable Landmarks: The Chestnut Hill Resovoir, Everest Institute, and Saint John's Seminary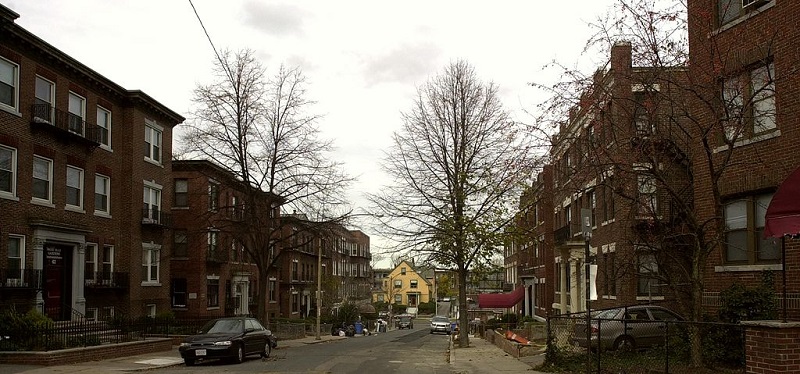 photo source: Wikimedia Commons
The first English colonists to settle in Brighton in 1630, crossed the Charles River from the larger town of Cambridge. They named this new settlement Little Cambridge, which was the area's name before it became an incorporated as its own town in 1807 following a dispute with Cambridge over a bridge.
During much of its early history, Brighton was a small, yet prosperous farming town. In 1775, a cattle market was established by the town to provide meat for the Continental Army during the American Revolutionary War. This turned the town into a major meat supplier and by 1866 there were 41 slaughterhouses that were eventually consolidated into the Brighton Stock Yards and Brighton Abattoir.
---
5. West Roxbury
Year Established: 1630
Year Incorporated: 1851
Year Annexed by Boston: 1874
Notable Landmarks: Brook Farm, Theodore Parker Church, The Roxbury Latin School, and Westerly Burial Ground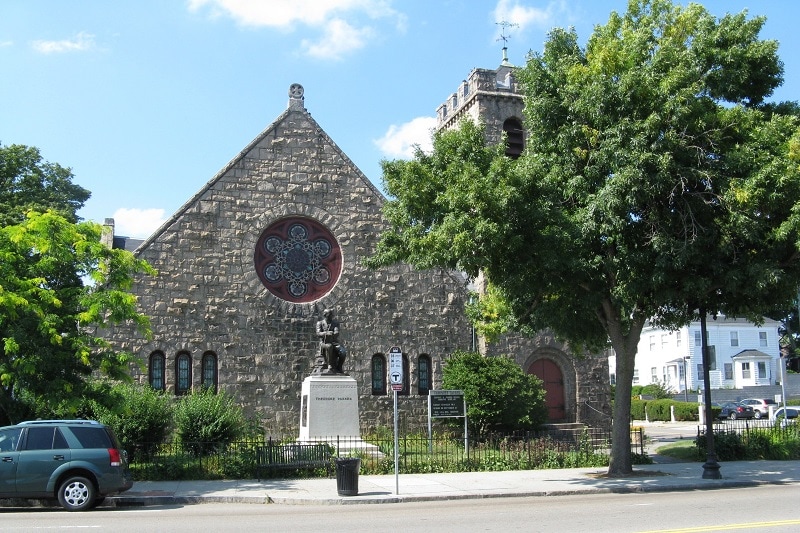 photo source: Wikimedia Commons
West Roxbury was initially part of Roxbury, which was founded in 1630, and primarily used as farmland during the colonial era. The town seceded from Roxbury in 1851 and today, is one of the 26 official neighborhoods of Boston.
West Roxbury is known for Brook Farm, an experimental Utopian community that was established in the 1840s. Brook Farm attracted several notable figures including American journalist Margaret Fuller and American novelist Nathaniel Hawthorne, whose novel The Blithedale Romance is based on his time at the farm.
One of the most famous buildings in West Roxbury is the Theodore Parker Church, which was designed by American architect and nephew of poet Henry Wadsworth Longfellow, Alexander Wadsworth Longfellow, in 1890.
---
4. Roxbury
Year Established: 1630
Year Incorporated: 1846
Year Annexed by Boston: 1868
Notable Landmarks: Dudley Square, Roxbury Center for the Arts, Grove Hall, and the Ferdinand building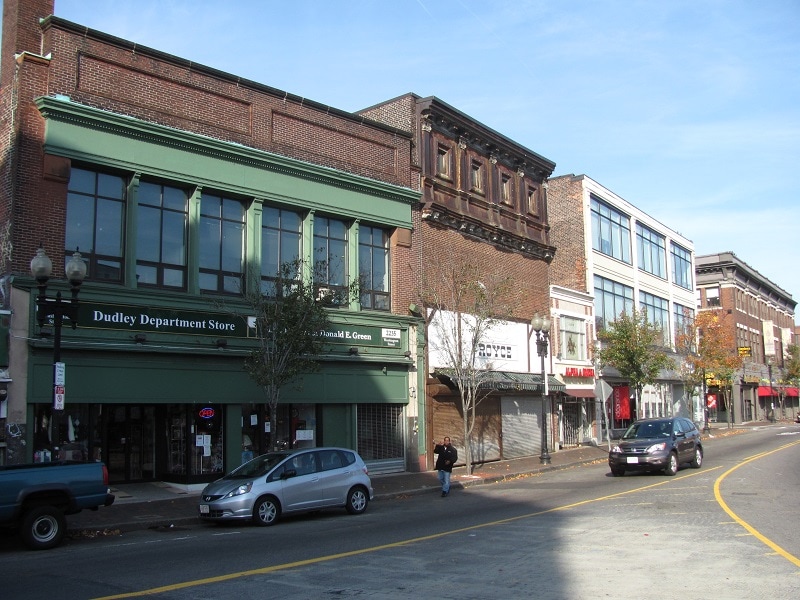 photo source: Wikimedia Commons
Roxbury was one of six towns founded by the Massachusetts Bay Colony in 1630 along with Boston and Cambridge. During the early colonial days, Roxbury was an important hub of transportation, trade, and prized resources such as timber, a source of water, potentially arable land, and a particular type of stone only found in the Boston basin.
As the colonists prospered in Roxbury, they began developing prized apple orchards and eventually cultivated the Roxburry Russet apple, which is believed to be the oldest apple cultivar bred in the U.S.
Since Roxbury is as old as Boston proper, it is home to many historic buildings including the Cedar Street Marble Row Houses, Abbotsford, Edward Everett Hale House, and First Church of Roxbury (the oldest wood frame church in Boston).
---
3. Historic Downtown Boston (Boston Proper)
Year Established: 1630
Year Incorporated: 1630
Year Annexed by Boston: N/A
Notable Landmarks: Haymarket, Faneuil Hall Marketplace, City Hall, Quincy Market, Old South Meeting House, Boston Common, and Park Street Church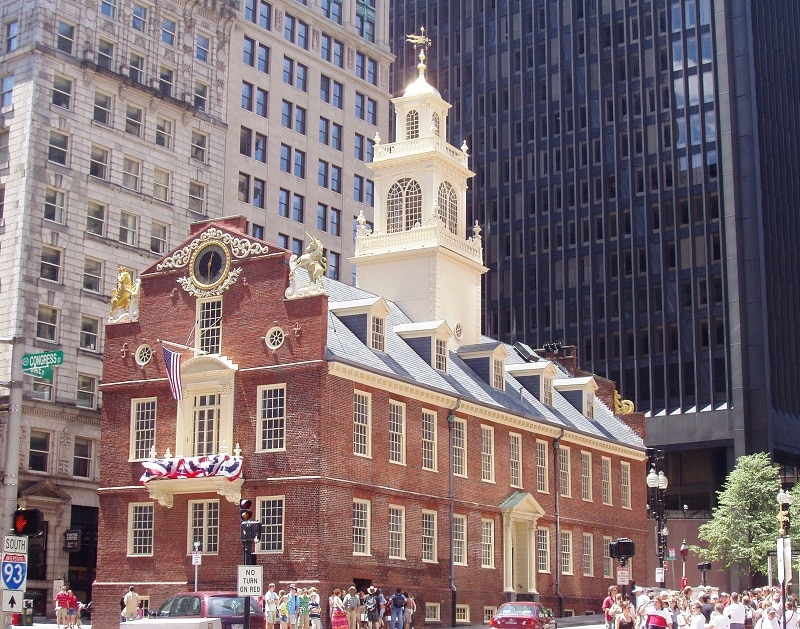 photo source: Wikimedia Commons
Boston was officially founded in 1630 and what is now the Downtown area made up most of the city proper prior to large expansions in the 1860s and 1870s. After the town of Boston was established by Puritan colonists from England, it soon became the political, commercial, financial, religious and educational center of New England.
Downtown is Boston's largest commercial district and due to its old age, it is home to many of Boston's historical landmarks and tourist attractions. Since the 1700s, Downtown has served as the major hub of Boston and today over 200,000 people work in that part of the city everyday.
---
2. Dorchester
Year Established: May 1630
Year Incorporated: June 1, 1630
Year Annexed by Boston: 1870
Notable Landmarks: Ashmont Station, Adams Village, James Blake House, and Upham's Corner Market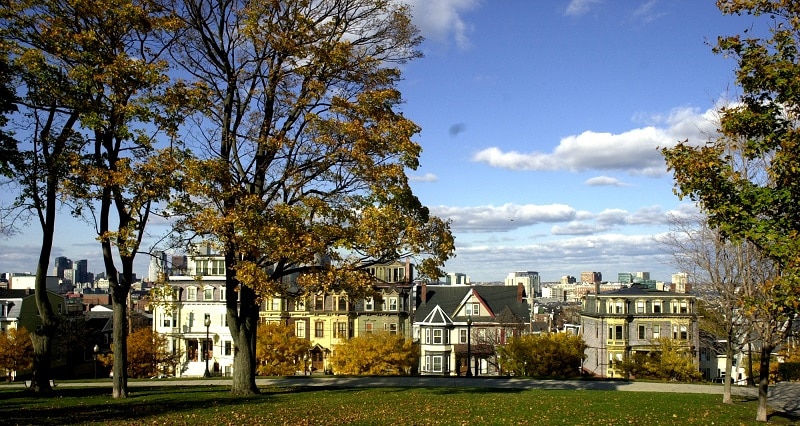 photo source: Wikimedia Commons
Dorchester was founded a few months before Boston in 1630. It was settled by a separate group of Puritan colonists from Dorchester, England. These first settlers landed on a narrow peninsula called Mattapan, which is now a separate neighborhood – their landing spot is now known as Columbia Point.
Dorchester is home to a number of buildings on the National Register of Historic Places including the James Blake House (the oldest still standing in Boston), the Clapp Houses, Dorchester North Burying Ground, and Pierce House.
Today, Dorchester is the largest neighborhood in Boston with a diverse population featuring a high concentration of African Americans, European Americans, Irish-American immigrants, Latinos, Asian Americans, and Caribbean Americans.
---
1. Charlestown
Year Established: 1629 (settled in 1628)
Year Incorporated: 1847
Year Annexed by Boston: 1874
Notable Landmarks: Bunker Hill Monument and Charlestown Navy Yard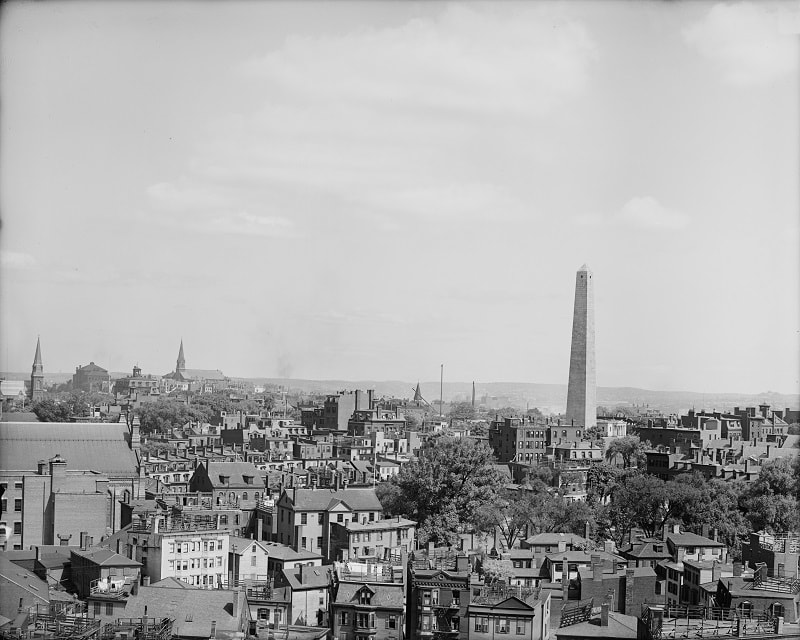 photo source: Wikimedia Commons
Charlestown is the oldest part of Boston and was founded a year before Boston was established as an official colonial town. It was officially settled in 1628 by English Puritan colonists — including Thomas Graves, William Sprague, and Increase Nowell— and incorporated as a town in 1629.
Two English settlers (Thomas and Jane Walford) had first come across the area, which was originally called Mishawaum by the Massachusett Native Americans, in 1624. The Massachusetts Bay Colony then sent a few men to lay out a settlement in the area and Charlestown became the first capital of the colony.
The neighborhood has a rich history and is notable for being the site of the Battle of Bunker Hill during the American Civil War on June 17, 1775.
OTHER POSTS YOU MAY BE INTERESTED IN