Connecticut, one of the smallest states in New England, is home to many interesting towns. Since Connecticut's towns date back to the earliest days of Dutch settlement in the state, there are many lovely old communities, containing some of America's most beautifully preserved buildings.
Connecticut has a wealth of history, from Native American tribes to colonial relics. There are a lot of interesting towns throughout the state.
The oldest towns in Connecticut are a valuable resource for historians, archeologists, and genealogists. These towns provide a wealth of information on the history of our state and its people. The oldest towns in Connecticut are often home to a variety of historical sites that can be explored by visitors throughout the year.
This article will explore the oldest towns still present in Connecticut today.
8. Stratford
Year Established: 1639
Original Name: Cupheag
Total Land Area: 45.6 km2
Population: 51,384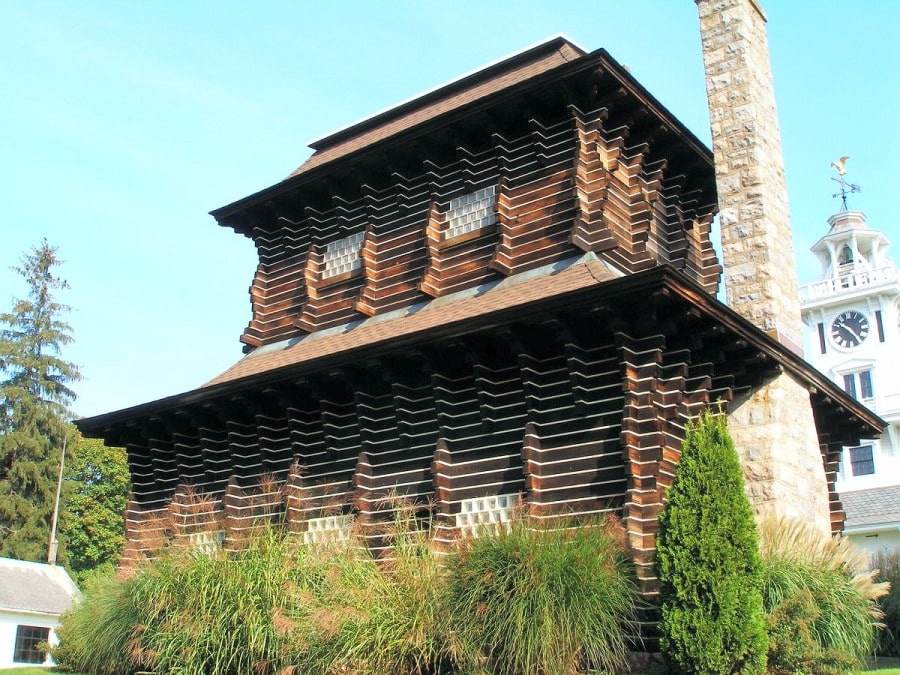 photo source: connecticuthistory.org
The town was named after Stratford-upon-Avon, England, the birthplace of William Shakespeare. The first residents arrived in 1639 and built their houses on the banks of the Housatonic River. It was named Stratford in 1643.
The town's first settlers were Puritans from Massachusetts, who established a settlement in 1639. They came to settle a new area that they believed would be free of Native Americans and other settlers.
From its first inhabitants to the courageous immigrants who came after them, from its glistening seaside to its rolling countryside, Stratford takes great pleasure in its legacy. It is steeped in history and rich in natural beauty. One of the few towns in the country that has its own forest proudly guards the majestic "Great Meadows," the last significant salt marsh in New England.
Did You Know?
The first Anglican church in Connecticut was established in Stratford in 1707 under the leadership of the Rev. Dr. Samuel Johnson.
---
7. Guilford
Year Established: 1639
Original Name: Menunkatuck
Total Land Area: 128.7 km2
Population: 22,031 (as of 2021)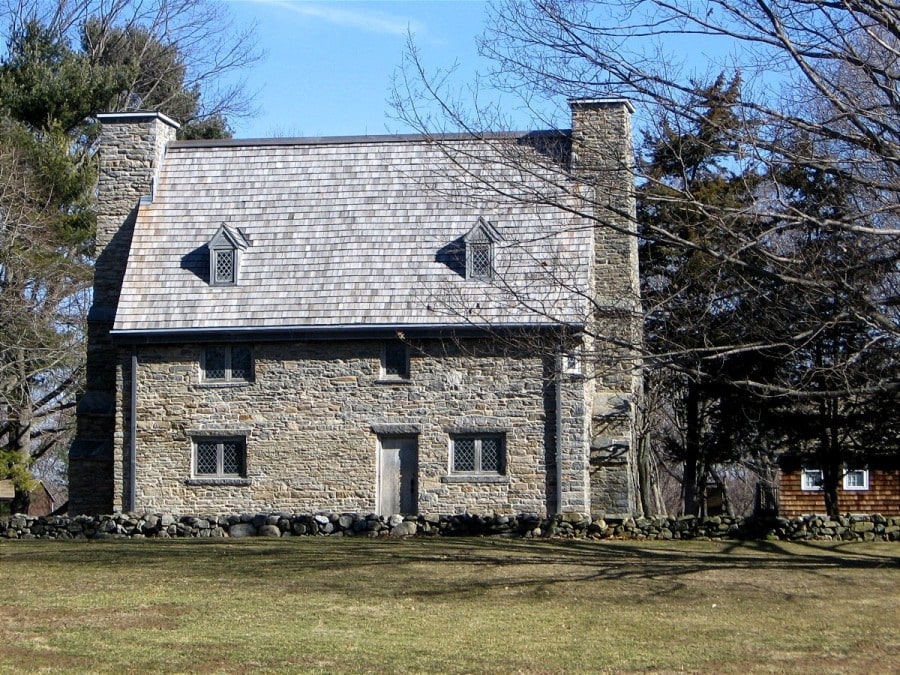 photo source: connecticuthistory.org
Guilford, Connecticut was founded in 1639 by settlers from the New Haven Colony. The town was named after Guilford parish in 1643.
Guilford has a long history of being an agricultural community. The town continued to grow as the agricultural industry boomed in Guilford and surrounding areas. In addition, Guilford became a center of manufacturing during World War II due to its proximity to Hartford and New Haven.
Today, Guilford, Connecticut is a thriving community with plenty of opportunities for business growth and population growth.
Did You Know?
The Town Green in Guilford, which has been named "Best in New England," is renowned for having the atmosphere of a traditional New England community and serving as the hub of several family-friendly events and activities as well as distinctive food and shopping options.
---
6. Milford
Year Established: 1639
Original Name: Wepawaug
Total Land Area: 65.09 km2
Population: 52,902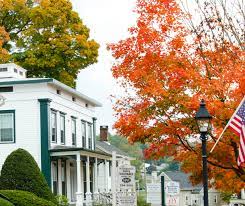 photo source: newmilford.org
The town of Milford is an old town in Connecticut that was founded in February 1639 by Henry and Elizabeth Botsford. The city was named after the English village of Milford Haven in Wales.
Soon after, settlers started to arrive, and they began to develop the town of Milford. Townspeople contributed to the growth of the United States. Adventurers from Milford reached out, established a number of other settlements, and traveled far. The town became an important center for iron production during the mid-19th century.
Today, Milford is known for its historic architecture and compelling natural features, including its winding riverfront walkways and beautiful scenery.
Milford also offers plenty of activities to keep residents entertained year-round, including hiking trails, shopping at local shops and restaurants.
Did You Know?
Candidates for the home had to provide documentation of their moral character and devotion to God. In order to assure the community that they would not become public burdens, they had to join the church and have a certain amount of property.
---
5. New Haven
Year Established: 1638
Original Name: Quinnipiac
Total Land Area: 52.15 km2
Population: 130,381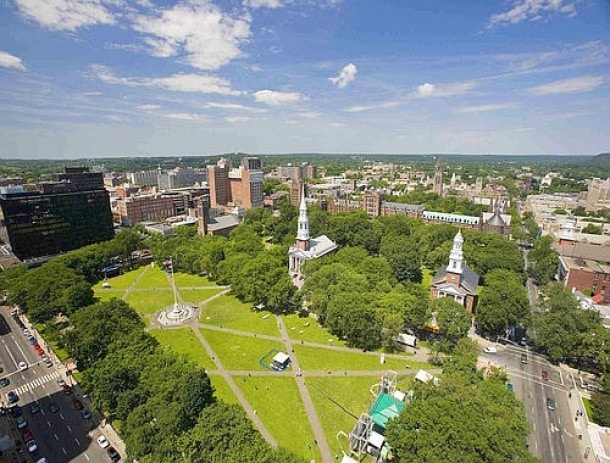 photo source: connecticuthistory.org
New Haven, Connecticut, is a city that has been known by many names: New Haven Colony, and now New Haven. It was first settled in 1638, at the height of the English Civil War, by Puritans from England.
Along the Long Island Sound in the southern section of the state's New Haven County is where you'll find the city of New Haven. The "Nine Square Plan," which was used to lay up the town by the English Puritans who established New Haven Colony in 1638, was a grid that allowed for future expansion.
The Puritans established New Haven as a haven for religious freedom, which gave them the advantage of being able to live without fear of persecution from other colonies. They also developed the area into one of the most prosperous cities in colonial America.
Thus, New Haven could be considered the country's first planned community.
When New Haven was first incorporated as a city in 1784, it was a prosperous port and commercial hub. The 19th century was dominated by industry. After the industrial downturn had significantly affected many communities by the mid-1900s,
New Haven assumed leadership in federal urban regeneration initiatives.
Did You Know?
New Haven is the third largest city in Connecticut and is the home of the prestigious Yale University.
---
4. Deep River
Year Established: 1635
Original Name: Pattaquasset
Total Land Area: 36.78 km2
Population: 4,466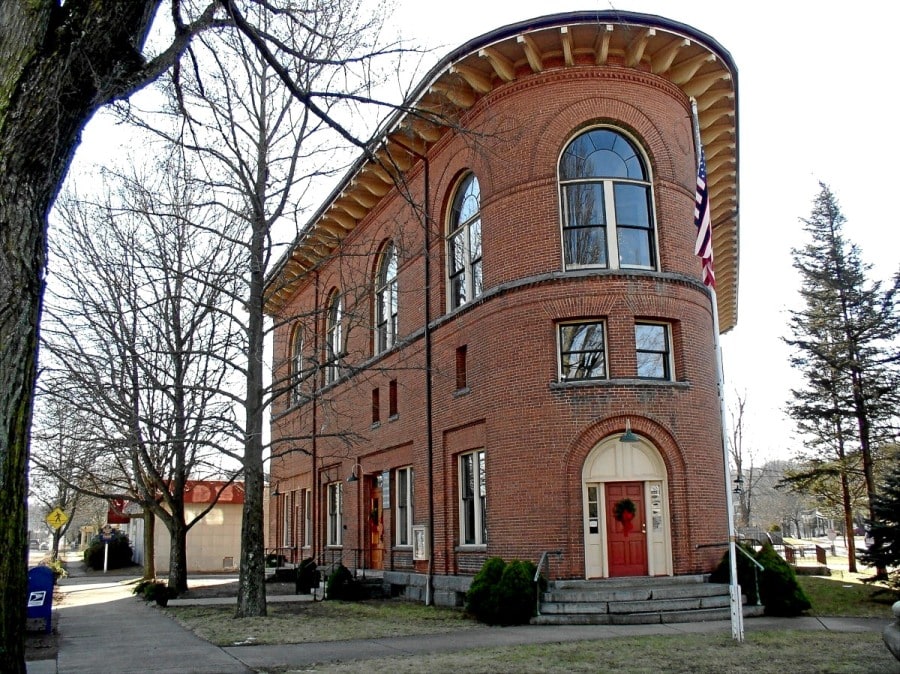 photo source: connecticuthistory.org
Deep River is located in the lower Connecticut River Valley in Middlesex County. It is situated along the Connecticut River in southern Connecticut. The region was formerly referred to as Eight Mile Meadow, or Potapaug Quarter, and was a part of the Saybrook Colony.
The town was originally settled in 1635. It was then established in 1859 under the name Saybrook and changed to Deep River in 1947. To its west is Winthrop Village, which is also part of the town. A town that was formerly known for its shipbuilding and quarries eventually produced wire products, lace, glass, ivory combs, and piano keys.
---
3. Hartford
Year Established: 1635
Original Name: Suckiag
Total Land Area: 46.50 km2
Population: 120,576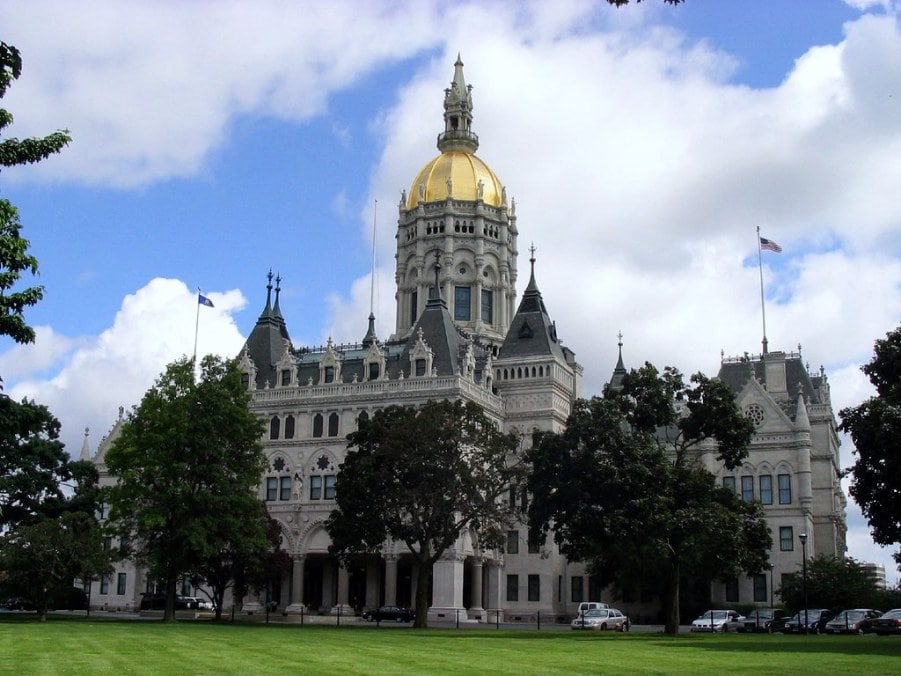 photo source: connecticuthistory.org
Hartford was founded in 1635 and became an official city in 1784. In 1875, Hartford was named the capital of Connecticut.
It was founded in 1635 by the Connecticut Colony as the capital of Connecticut. Hartford was one of the original colonies to be settled in 1633, and its residents were among the first to move there from London.
The town was originally named "Newtown" after Hartford, England.
One of the oldest settlements in the state, it was founded by Thomas Hooker, John Haynes, and a group of 100 followers from the Massachusetts Bay Colony. With time, Hartford became one of the wealthiest cities in the country, and by the late 19th century, it was the richest.
Today, Hartford is well-known for its connection to Mark Twain and the Stowe family, the Colt Manufacturing Company, and its pivotal role in the development of the state.
Hartford has a beautiful natural harbor on Long Island Sound—it is one of the most important ports in New England—and it has many historical landmarks, museums, and galleries.
Did You Know?
Hartford is known as "The Insurance Capital of the World".
---
2. Wethersfield
Year Established: 1634
Original Name: Pyquag
Total Land Area: 33.93 km2
Population: 27,124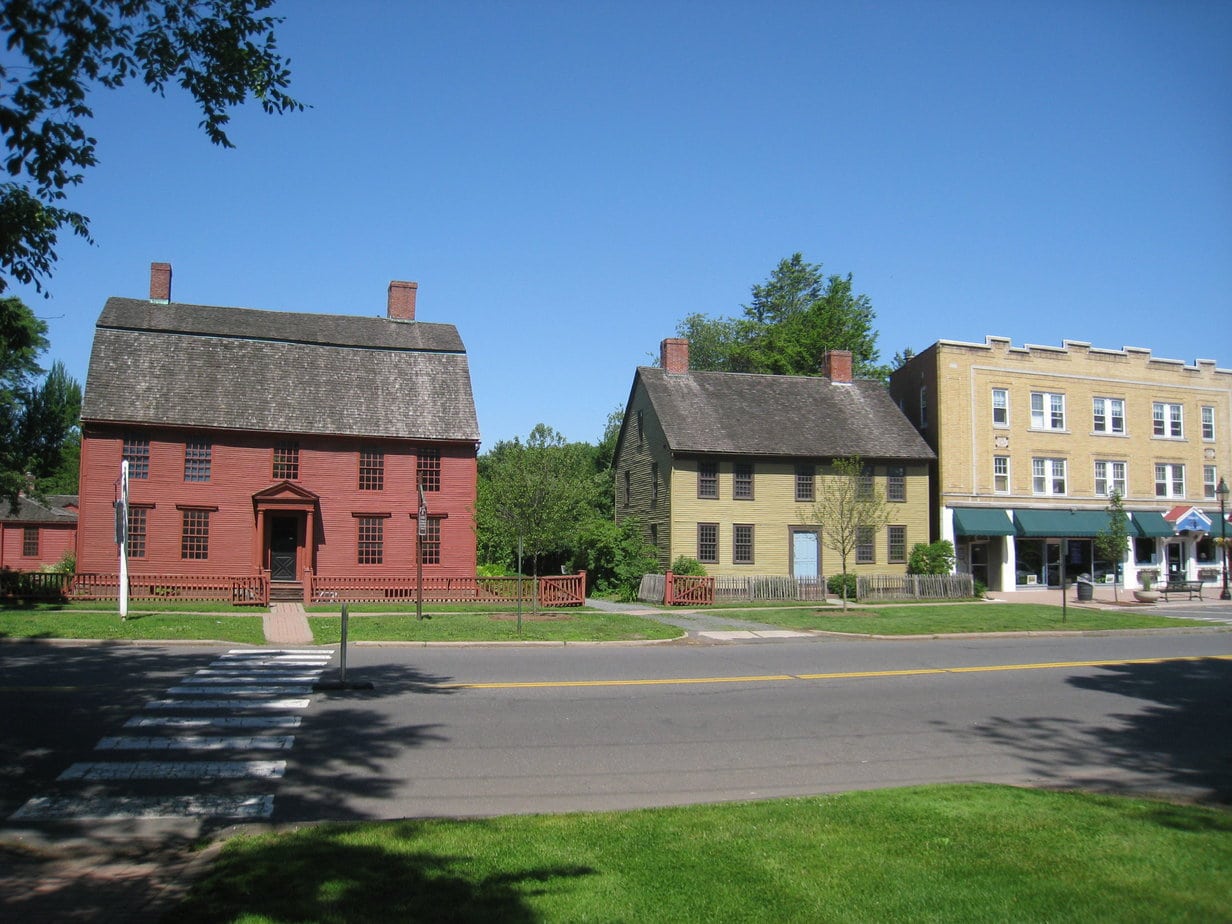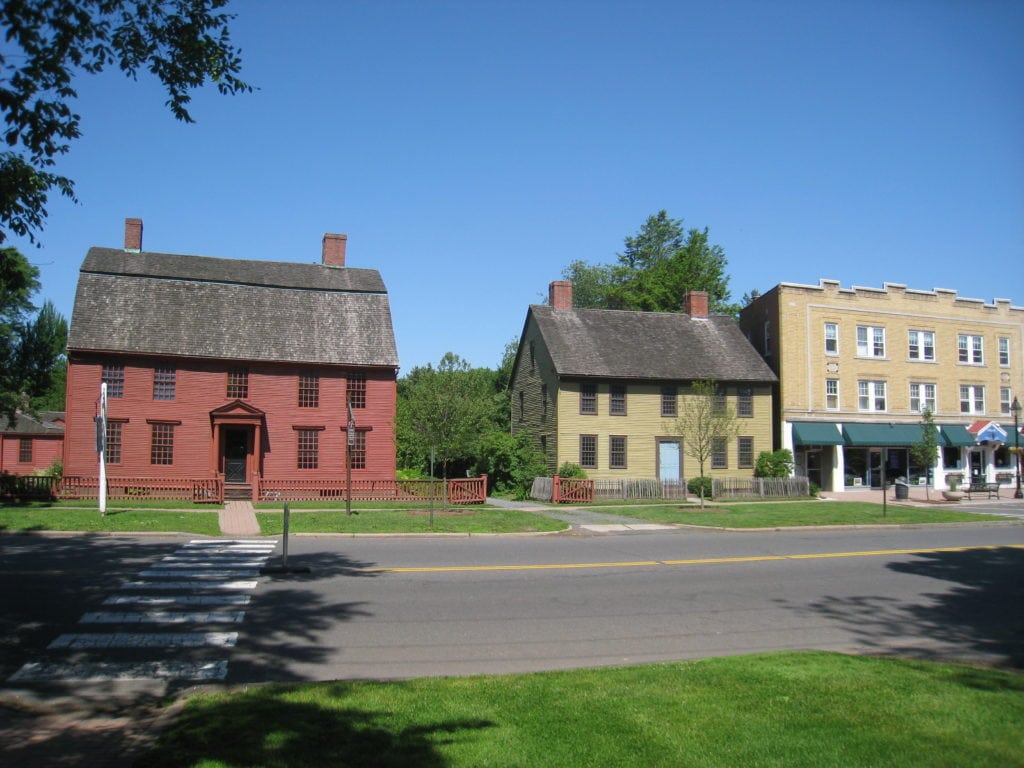 photo source: wikimedia.org
Wethersfield is a town in Connecticut that's known for its colonial history and well-preserved architecture. It was founded in 1637 and was called Watertown.The "10 Men," a Puritan settlement party that included John Oldham, Robert Seeley, Thomas Topping, and Nathaniel Foote, founded the town in 1634.
In addition to being an important location during colonial times, Wethersfield is also home to some of the oldest structures in Connecticut, including the Old State House (now a museum) and George Washington's home at Ferry Farm.
The town's economy has changed over time from agricultural to industrial and commercial, but it remains an agricultural area today with farms producing corn, soybeans, wheat, cattle, and sheep.
Did You Know?
The settlement of Wethersfield in the English county of Essex inspired the colonists to name the town after it.
---
1. Windsor
Year Established: 1633
Original Name: Matianuck
Total Land Area: 80.29 km2
Population: 29,376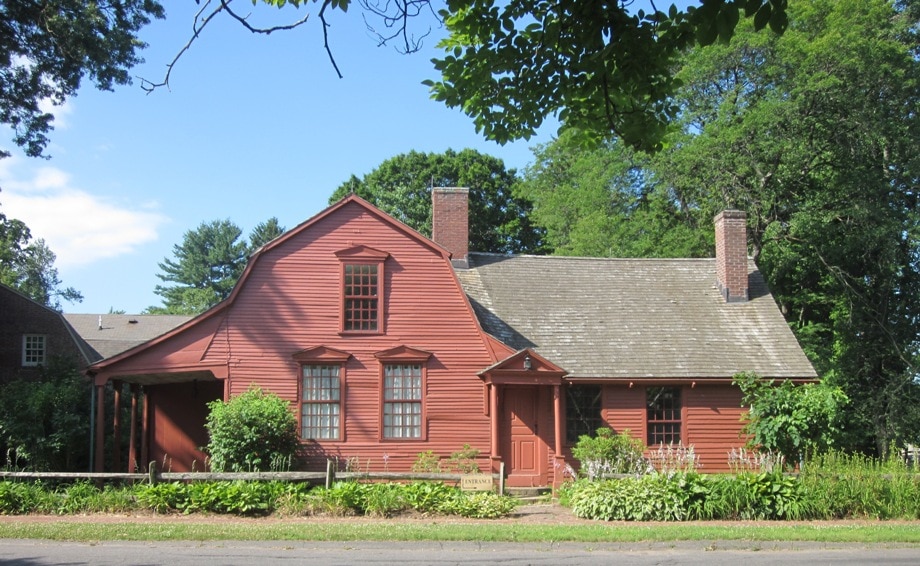 photo source: connecticuthistory.org
Of all the cities found in Connecticut, Windsor is the oldest and was founded in 1633. It was then known as Dorchester. The city has a rich history of industry and commerce, which can be seen in its architecture and landmarks.
Today, Windsor is a center for manufacturing and has a large number of businesses that serve local residents. The city also has a strong retail sector, which includes many national chains.
There are several specialty shops and stores that serve the local community, including several hardware stores, bookstores, clothing boutiques, banks, and insurance companies. Today, Windsor is renowned for its diversified corporate and technical businesses.
Did You Know?
Alse Young was the first person killed for witchcraft in Windsor. She was hanged on May 26, 1647, at Hartford's Meeting House Square, which is now the location of the Connecticut Old State House.