The name Pyrex has been synonymous with kitchen glass for over a century now. The Corning Company originally developed the borosilicate glass for use in the railroad industry but soon discovered that its durability and ability to withstand high temperatures made it ideal for kitchenware.
Originally, each piece was blown by hand and expensive. During the Great Depression, the company was forced to switch to automated manufacturing, which lowered the price significantly, enabling the Corning Company to survive and opening Pyrex up to new markets.
During the post-war boom of the 1950s, Corning began to produce Pyrex in new colors, patterns, and shapes. These quickly became popular with consumers and were an integral part of Corning's marketing strategy.
Today, Pyrex is still manufactured and still beloved by cooks all over the world. Following are some of the oldest known patterns that have made cooking fun for decades!
11. TERRA
Years manufactured: 1964–1965
Colors available: Maine
Pieces produced: a mixing bowl set; a Dutch oven round casserole dish; 12-inch dinner plate; handle-less mugs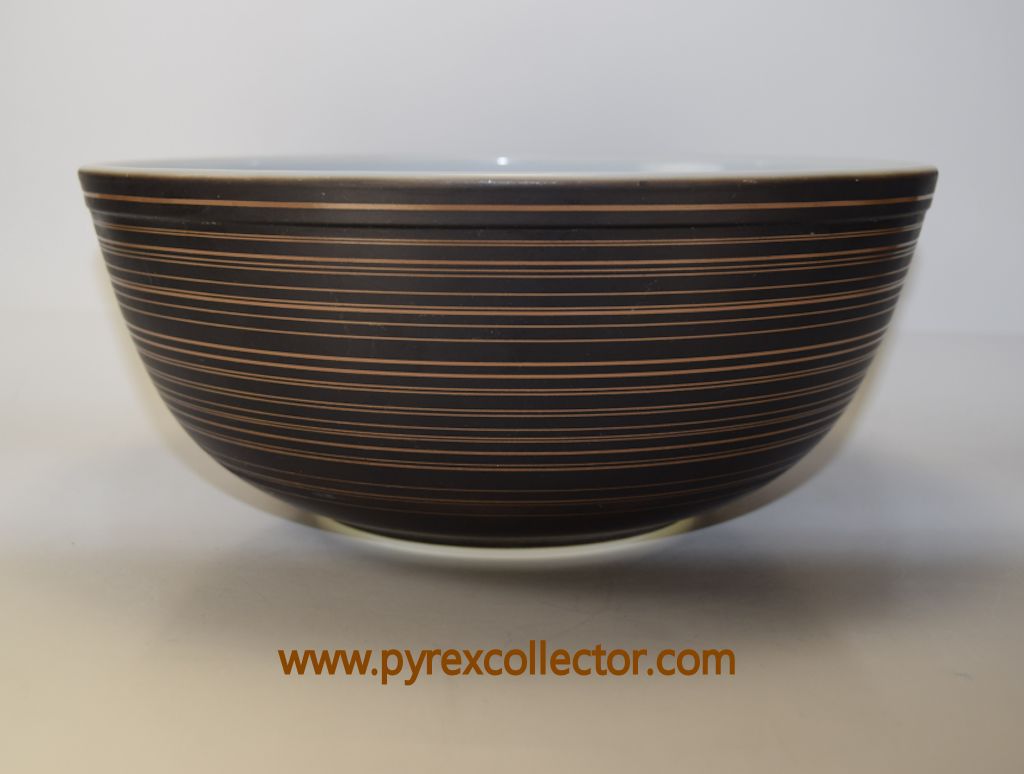 photo source: Pyrexcollector.com
Terra was a rather striking departure from Pyrex's typical colorful patterns and whimsical designs. Meant to evoke traditional earthenware, it was created with a layer of glossy brown paint covered with matte charcoal which was then scratched off in a spiral pattern. The result was reminiscent of a potter's hand-thrown bowl.
Although the designer, William Curtis, won an award for this unusual design, Terra didn't last long on the market. It was costlier to produce than earlier patterns, and its finish did not hold up well to wear. It was discontinued after only a year.
Did You Know?
Terra was the first pattern released on both ovenware and tableware.
---
10. ZODIAC
Years manufactured: 1960–1961
Colors available: forest green with gold-leaf pattern
Pieces produced: 1.5-quart round casserole; drinking glasses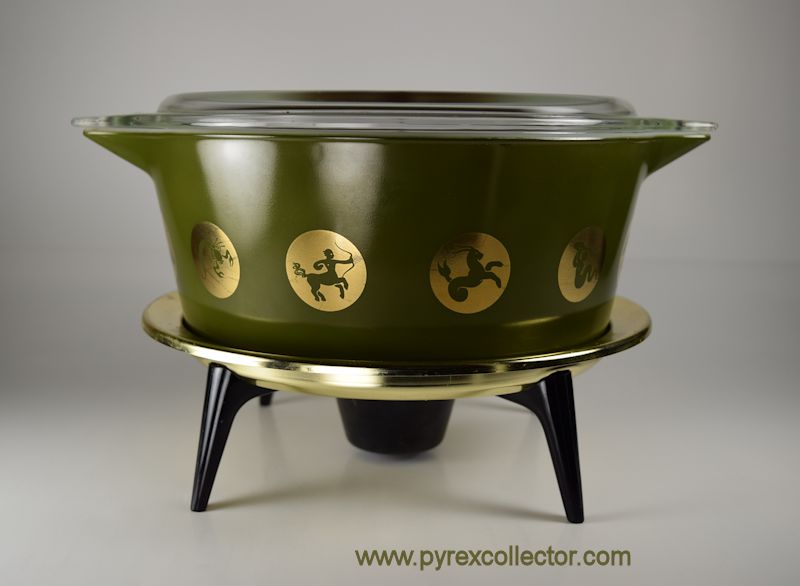 photo source:Pyrexcollector.com
Produced for the holiday season of 1960-61, this unusual casserole dish had all 12 zodiac symbols printed on it in gold, set off by dark green. The lid was clear glass with a gold compass rose printed on it. Matching glasses were sold in sets of 12, with a different zodiac sign on each glass.
The casserole was sold with a candle warmer that allowed the user to keep the dish warm while on the table.
Did You Know?
The gold leaf did not wear well, and it's unusual to find examples of this striking pattern in mint condition.
---
9. STARBURST
Years manufactured: 1960
Colors available: gold on black; gold on turquoise
Pieces produced: 2-quart square casserole with lid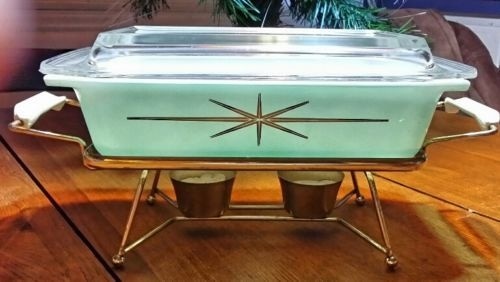 photo source: CollectorsWeekly.com
Officially known as the Cinderella Serving Casserole, this piece is more often referred to by its unofficial pattern name, Starburst. While the gold star on the turquoise background is more common, the casserole was also released in black with a gold star. Both versions came with a cradle and a double candle warmer.
Did You Know?
This pattern was produced for a year, or possibly less. As a result, there are relatively few pieces in this pattern available.
---
8. LUCKY IN LOVE
Years manufactured: 1959
Colors available: Green/pink on white
Pieces produced: 1-quart round casserole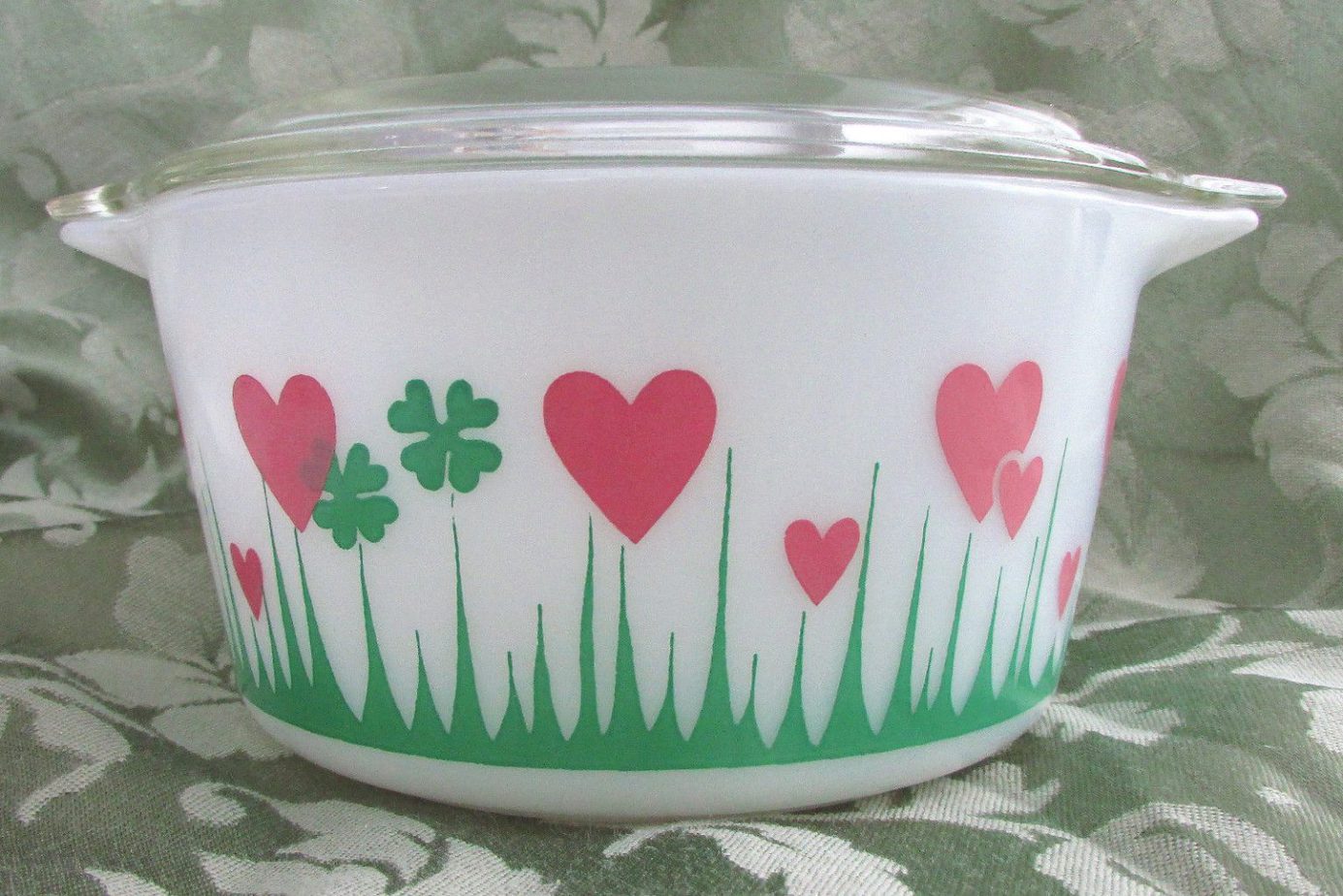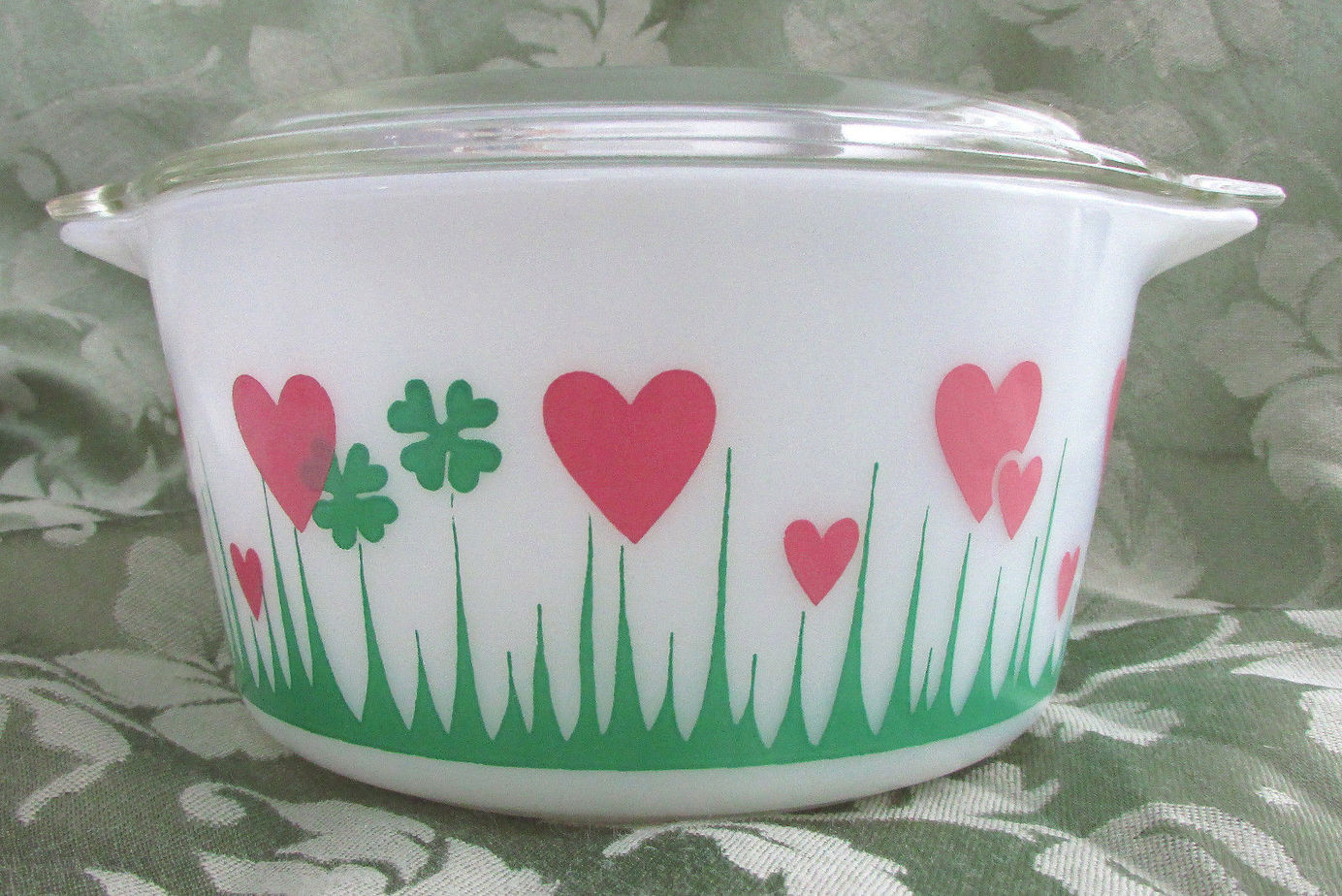 photo source: Wide-open Eats
This extremely rare pattern was available only in 1959. In fact, some Pyrex historians debate whether it was ever officially released at all; in tests, the green grass bled through the pink flowers and most were discarded. It is speculated that a few employees brought samples home and that these are the only surviving examples of this pattern.
Adding to its rarity is the fact that it was released with an opal glass lid; Pyrex lids were almost exclusively clear glass until the early 1970s.
Did You Know?
This pattern is exceptionally desirable to investors. A single piece may sell for several thousand dollars.
---
7. BALLOONS
Years manufactured: 1958
Colors available: white on turquoise
Pieces produced: large and small "Cinderella" bowls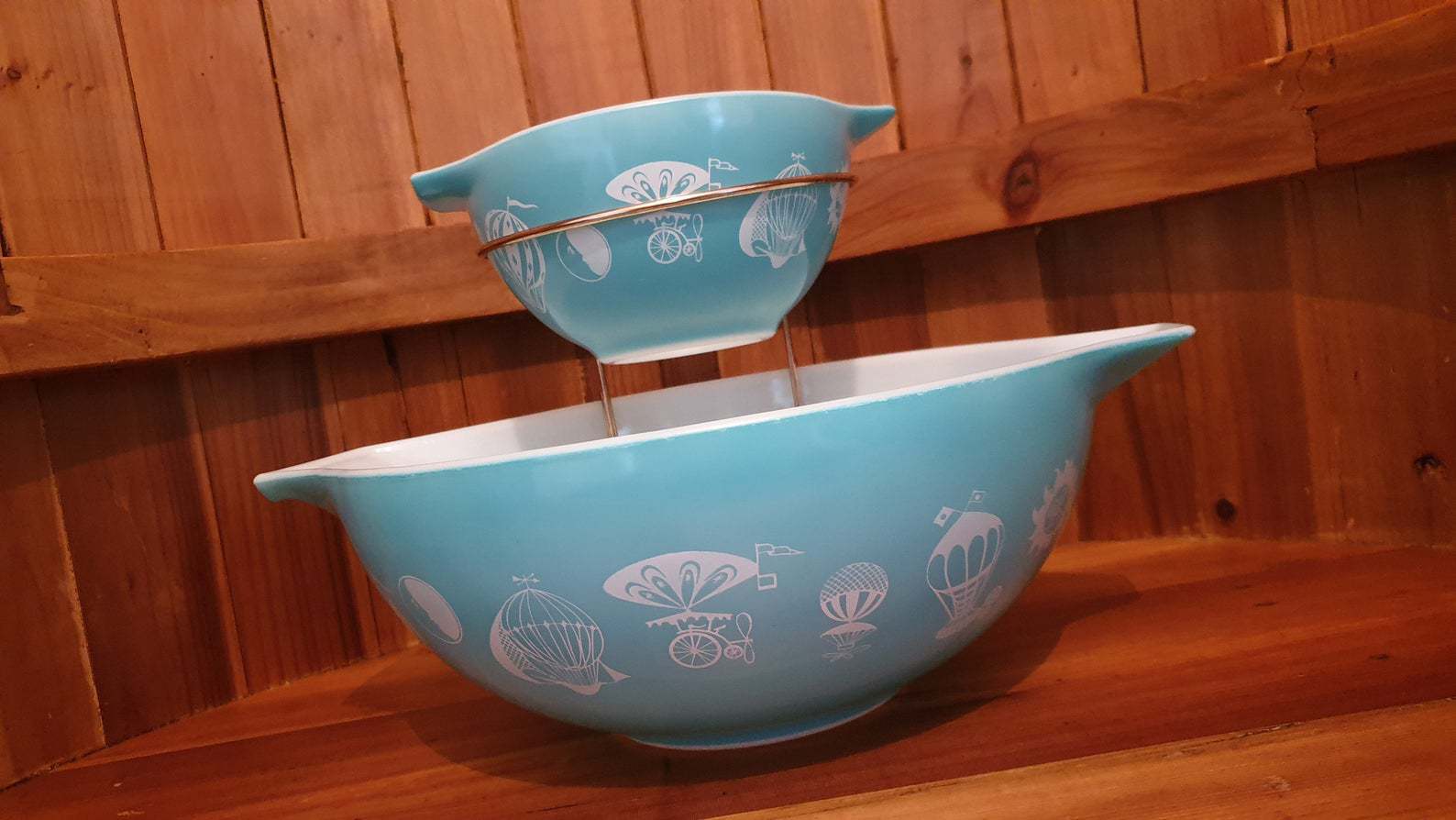 photo source: EstateSales.org
With its quaint hot air balloons and celestial symbols against a sky-blue background, it's no surprise that the "Balloons" pattern is a favorite with collectors. Like its predecessor, Atomic Eyes (below), Balloons was created as a chip and dip set, with a large and small bowl that could be attached by a metal bracket. Produced in the spring 1958 as a promotional item, "Balloons" quickly took off.
Did You Know?
The Balloons chip and dip set cost $3.95 when it was released in 1958.
---
6. GOOSEBERRY
Years manufactured: 1957–1966
Colors available: pink on white; black on yellow; black on white; and gold on beige
Pieces produced: four nesting "Cinderella" mixing bowls; 12-piece casserole set; 8-piece refrigerator set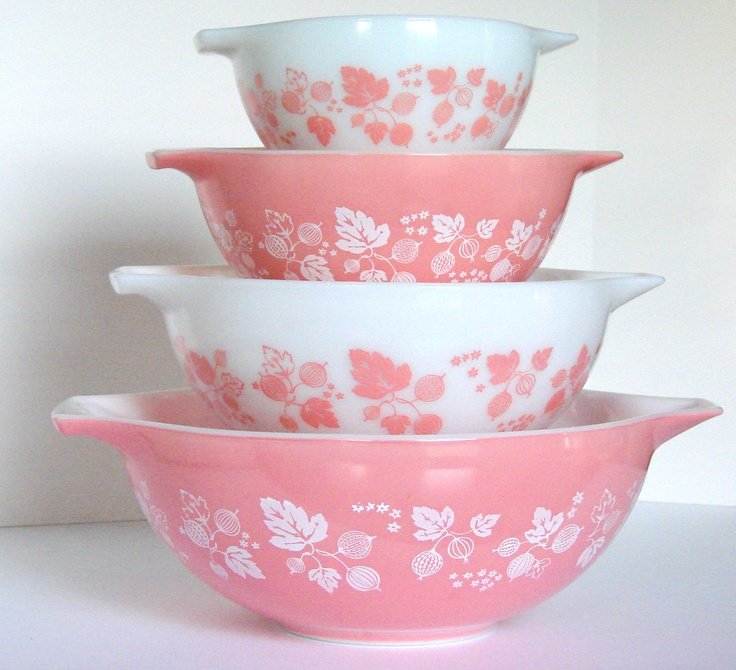 photo source: FlippingIncome.com
Following on the heels of the successful Pink Daises and Snowflakes (below), Pyrex quickly added Gooseberry and Butterprint (below). Branching out into a new shape, they also introduced the "Cinderella" bowls. This new style added a handle and pouring spout onto mixing bowls, making life a little easier for bakers who struggled to pour their batter into cake pans.
Gooseberries is most often seen as a white print on a pink background. A gold on beige pattern is known to exist but it is very rare.
Did You Know?
It is speculated that the style was called "Cinderella" because Corning was trying to capitalize on the recent release of Disney's Cinderella.
---
5. AMISH BUTTERPRINT
Years manufactured: 1957–1968
Colors available: orange on white; white on pink; pink and orange on white
Pieces produced: nested "Cinderella" mixing bowls; bake/serve/store casserole dishes; butter dish; refrigerator dishes.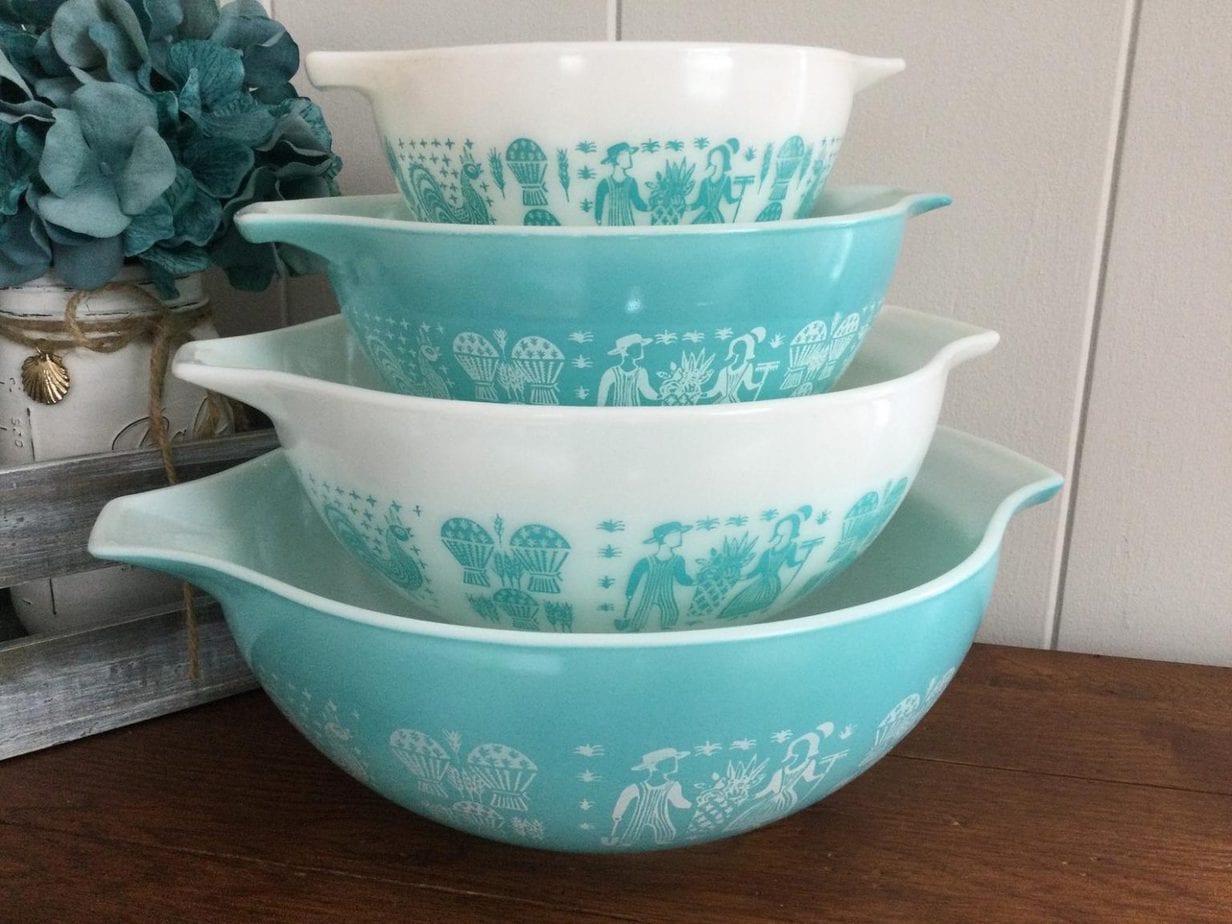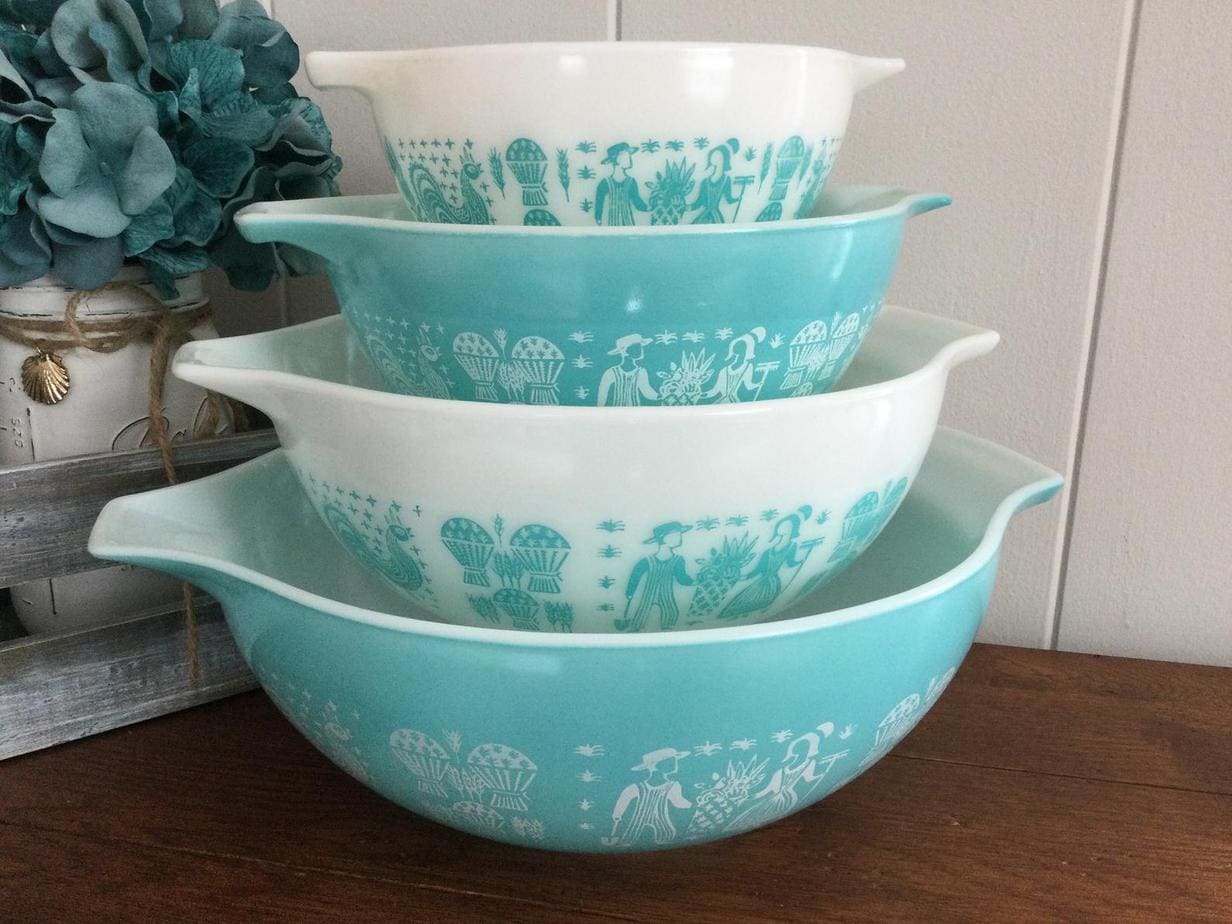 photo source: Shore Vintage Retro
Following up on the success of Pink Daisy and Snowflake (below), Corning produced Amish Butterprint, a charmingly rustic patterns showing a farmer, his wife, a rooster, and ears of corn. Like Gooseberry (above) it was printed on the new Cinderella bowls. Initially turquoise on white, the pattern was popular enough that new colors were added to the line a few years after its debut.
Did You Know?
This pattern is also known as Amish, Rooster, Farmer & Wife, or Rooster & Corn.
---
4. BLACK TULIP
Years manufactured: 1957
Colors available: Black on white opal glass
Pieces produced: 1.5-quart oval casserole

photo source: Corning Museum of Glass
By now, Corning Glass had realized that there was a huge market for limited edition gift sets, inexpensively produced using existing molds and decorated with creative patterns. This handsome casserole dish was one of the first promotional pieces to be produced specifically for the Christmas season. It was sold with a metal cradle and a clear divided lid that could do double duty as a serving dish if needed.
Did You Know?
This piece was originally released as the "Decorator Casserole," but has become known by collectors by the more specific "Black Tulip."
---
3. PINK DAISIES
Years manufactured: 1956–1962
Colors available: white on pink
Pieces produced: oval decorator casserole; space-saver casseroles; oval divided and non-divided (open baker) dishes.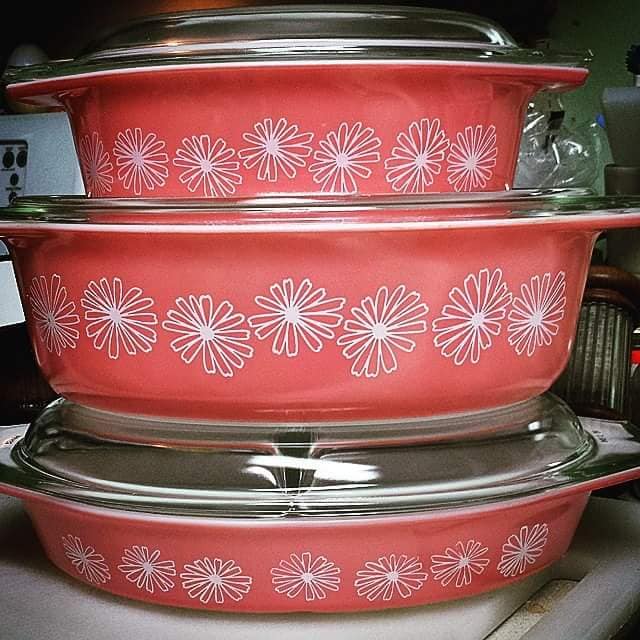 photo source: EstateSales.org
Along with the Snowflake pattern (below), the Pink Daisy pattern was the first opal ware to be released using a new screen-printing process. They became the first two of a long series of promotional patterns that would be advertised in the spring for Mother's Day and wedding gifts and in the fall as holiday gifts.
The innovative design of the space-saver casserole dishes, released for the first time in this pattern, enabled them to stack on top of each other, thus—as the name implies—saving space.
Did You Know?
This particular pattern was featured in the first episode of The Marvelous Mrs. Maisel.
---
2. SNOWFLAKE
Years manufactured: 1956–1967
Colors available: white on turquoise; turquoise on white; white on charcoal
Pieces produced: oval divided dish; oblong casserole; gravy boat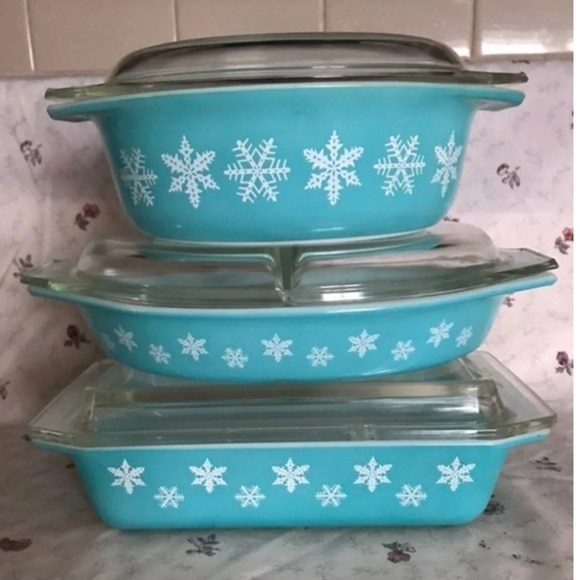 photo source: Poshmark.com
Like its "sister" pattern, Pink Daisy, Snowflake was an attempt—and a successful one, at that—to capture the promotional item market. The white on turquoise version was produced for more than 10 years, making it relatively easy to find these days. The turquoise on white was produced until 1963, and the charcoal version was produced only until 1960, making it the rarest of this pattern.
Both the Snowflake and Pink Daisy casserole dishes were released with clear covers. These were marketed as a multi-use item because of their ability to be used as additional serving dishes or trivets to protect the table as well as lids.
Did You Know?
The "Snowflakes" pattern is sometimes confused with Pyrex's "Snowflake Blue" pattern that was released in 1972.
---
1. ATOMIC EYES
Years manufactured: 1950–1959
Colors available: blue on white
Pieces produced: Small and large mixing bowls; juicer and coffee carafe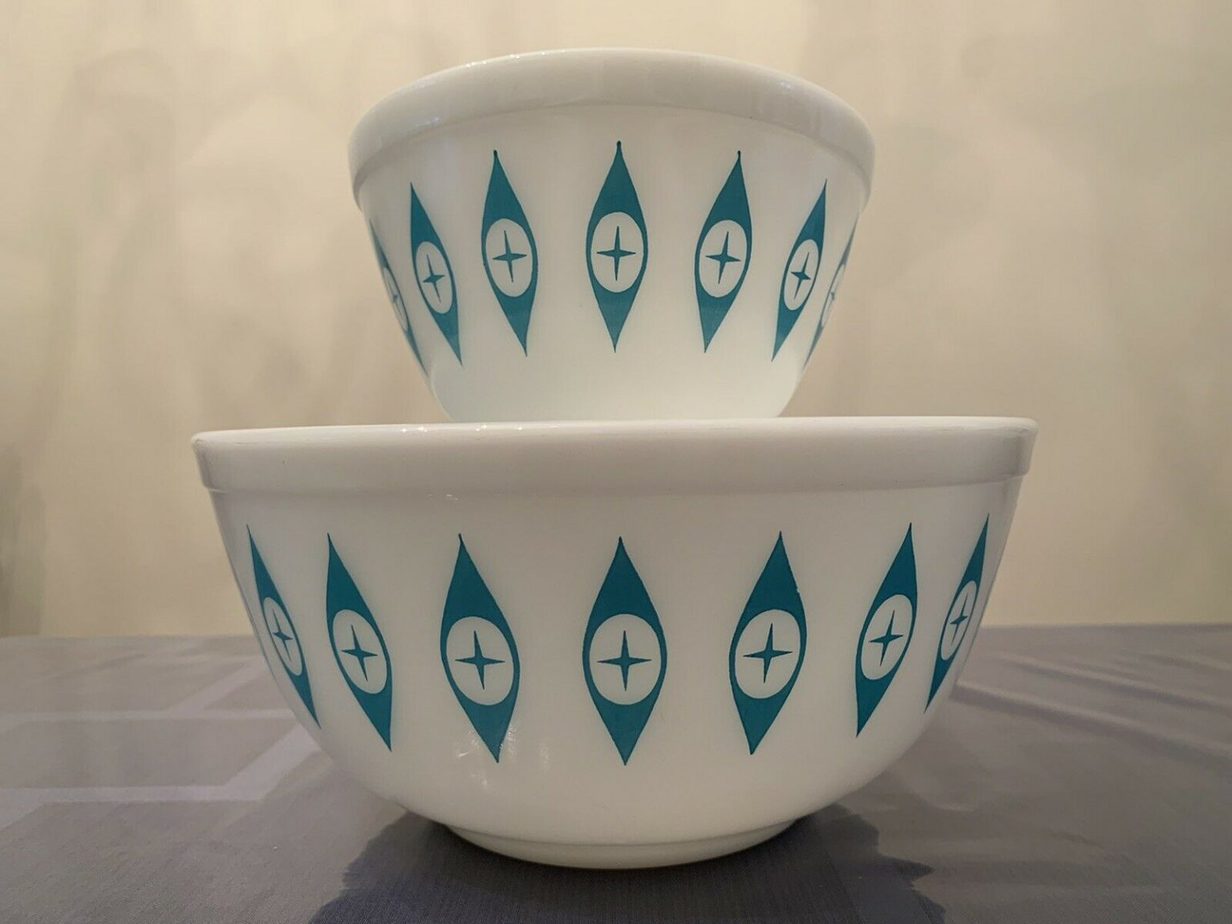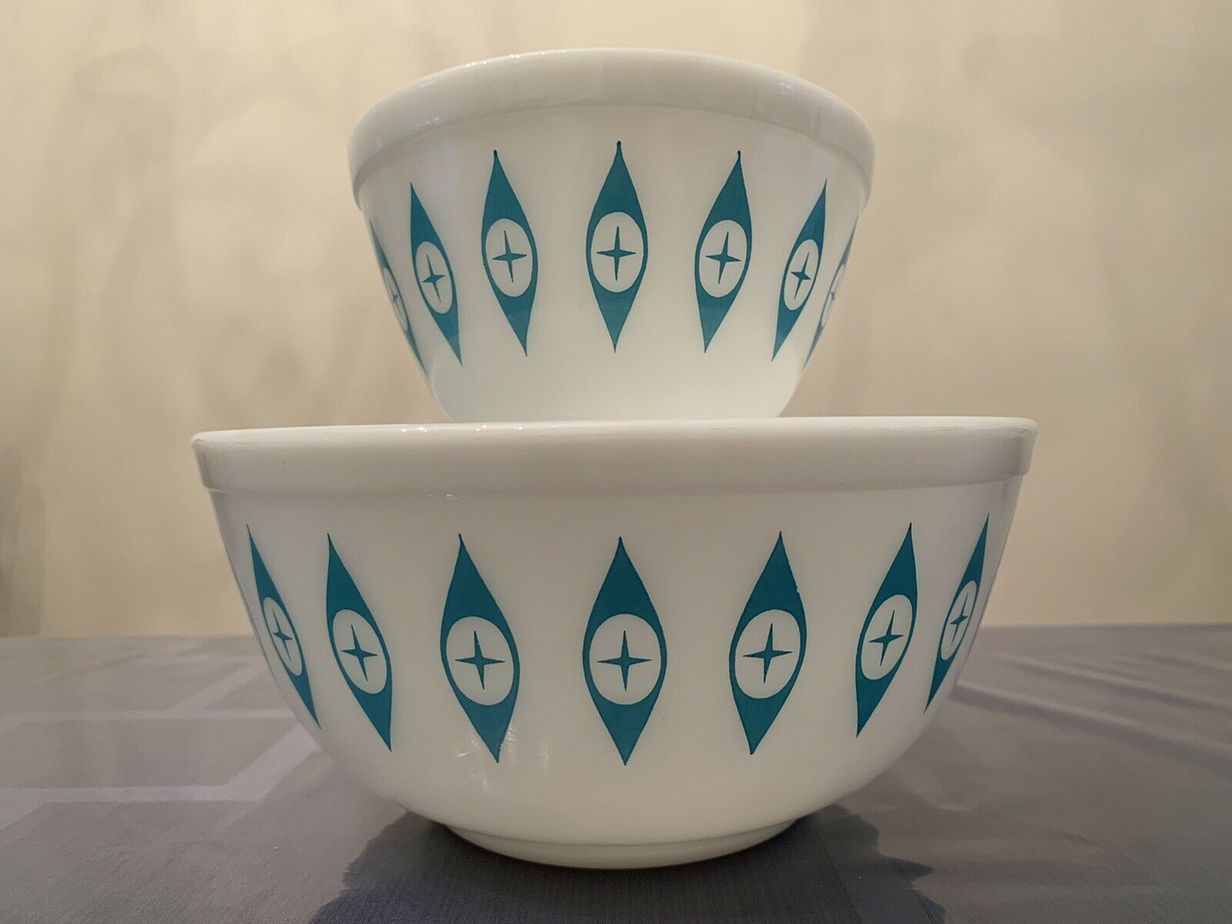 photo source: Ebay
Atomic Eyes is the oldest Pyrex pattern known to exist. Pyrex began manufacturing patterned sets in the 1950s. Most of these simply took existing Pyrex shapes and painted them with fanciful images. Originally released as the "Hot 'N' Cold Chip and Dip Set," this set was simply a large and small mixing bowl with a metal bracket that allowed the dip to be suspended over the bowl of chips.
Later the chip and dip set was joined by a coffee carafe printed with the "Atomic Eyes" pattern in gold and a clear one-quart juicer.
Did You Know?
Not all bowls in the "Atomic Eyes" pattern were stamped with the Pyrex mark, leading some collectors to speculate that Corning may have originally developed the set for a third party.
OTHER POSTS YOU MAY BE INTERESTED IN