Serene beaches, sizzling nightlife, diverse cultural ethos, and rich heritage– Florida has a lot to offer. The sunshine state was the first area of the continental US where Europeans came and settled.
The colonial history, together with the successive waves of migration, shapes the identity and culture of this state. This third-most populous state of the US boasts cultural diversity, which is reflected in its thriving culinary scene.
Here we list 9 of the oldest restaurants in the state that are operational and still going strong.
8. Jerry's Drive-In
Year Established: 1939
Location: 2815 E Cervantes St, Pensacola
Specializes in: Hamburger, Seafood, and local Southern cuisine
Operating Hours: Tuesday – Saturday 11am – 9.30pm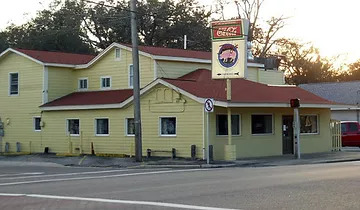 photo source: static.wixstatic.com
Jerry's Drive-In is an iconic dinner that has been in business since 1939. It is the oldest restaurant in Pensacola, founded by Jerry Glass.
At one point, the restaurant had a car-hop style service in the back, hence the name. The restaurant was handed over to Raymond "Grandpa" Wessel sometime around 1952-53. He ran the place with his son Bill for 45 years. The restaurant was sold to Jimmy and Pam Halsted in 1997, and it is still owned by them.
Jerry's Drive-In promotes itself as the home of the original bacon cheeseburger. The restaurant maintains an ambiance and menu that reflects its past. Recently, little renovations were made, keeping the spirit intact.
Did You Know?
Jerry's Drive-In still doesn't accept credit cards. So, if you want to have a culinary experience at this historical place, make sure you have the required cash on you.
---
7. No Name Pub
Year Established: 1936
Location: 30813 Watson Blvd, Big Pine Key
Specializes in: Pizza and sandwich
Operating Hours: Monday to Sunday 11am – 10pm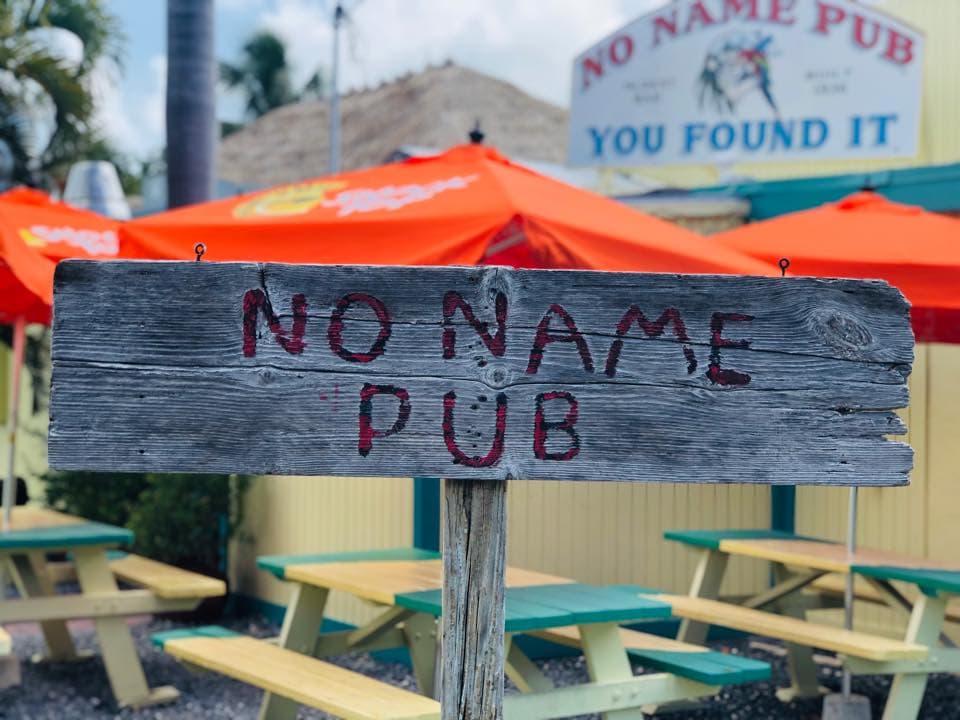 photo source: scontent.fblr2-1.fna.fbcdn.net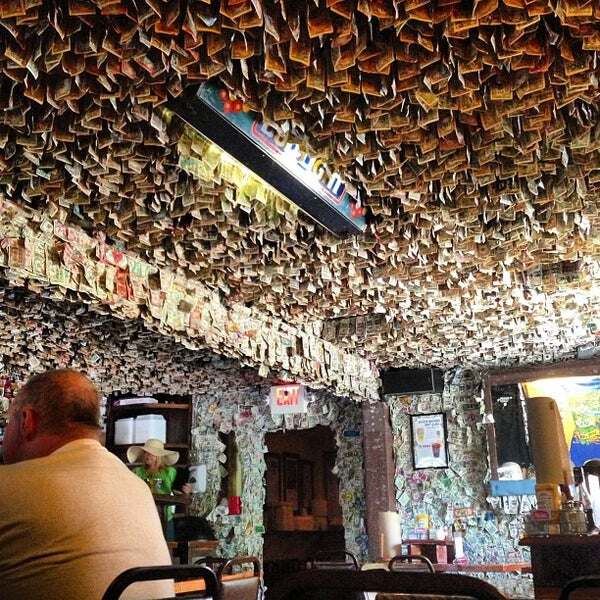 photo source: fastly.4sqi.net
No Name Pub began its journey as a general store and bait and tackle shop in 1931. In 1936, the owners added a small room to the building and opened an eatery and bar. Soon, the upstairs storage room was converted into a brothel to attract more customers. The brothel was closed down in the 1940s, and in the 1950s, the place turned into a 100% bar and restaurant.
During the 1970s and 80s, Keys experienced a rowdy time as it became a hub of marijuana smuggling. The restaurant website says, "There was a lot of illegal money passing through the Keys back then, and everyone loved to spend it. They had so much money in fact they started hanging it on our walls, and another tradition was born."
The interior of the pub is still covered with thousands of dollar bills decorated with messages, doodles, people's names, and initials.
Did You Know?
In the 1960s, two cooks from Italy joined the restaurant. They brought the recipe for pizza with them and wrote it on the kitchen wall. The restaurant still follows that sixty-year-old recipe for their pizza.
---
6. Cap's Place
Year Established: 1928
Location: 2980 Northeast 31st Avenue, Lighthouse Point
Specializes in: Seafood
Operating Hours: Wednesday, Thursday, and Sunday: 5:30 – 9.45pm; Friday and Saturday: 5.30 – 10.45pm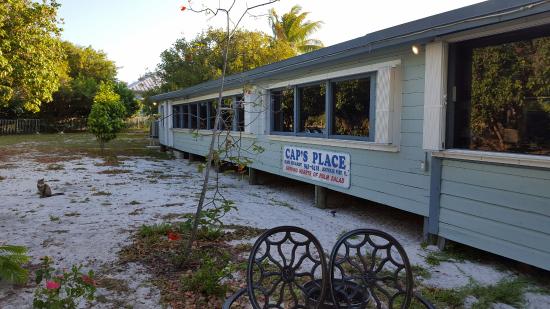 photo source: tripadvisor.com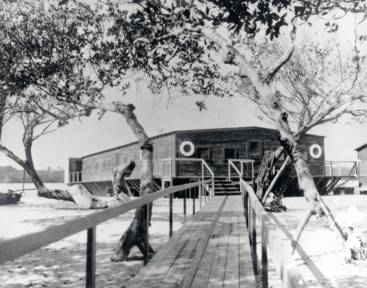 photo source: www.capsplace.com
Cap's Place is the oldest restaurant in Broadway County, established in 1928. It is also the oldest commercial enterprise in the city of Lighthouse Point. The place was started as a speakeasy, casino, and restaurant by Cap Knight, Lola Knight, and Al Hasis. Together they brought a bunch of wooden shacks attached to an old barge and opened the speakeasy.
Owners named it Club Unique. However, it has always been popularly called Cap' Place. The restaurant serves an extensive selection of fish and shellfish items, along with salad, steaks, and chops. The restaurant is famous for serving very fresh seafood and unusual dishes.
The buildings are rustic, with crooked floors and low ceilings. The current owners, who are the descendants of Al Hasis, want to preserve the history and are against any drastic renovations.
Did You Know?
German author Carmen McGarry described Cape's Place as, "A landmark comparable to no other in South Florida, it has withstood prohibition, mobsters, depression, wars, the ravages of nature, and many joyful and peaceful times for nearly a century."
---
5. Seminole Inn
Year Established: 1926
Location: 15885 SW Warfield Boulevard, Indiantown
Specializes in: Burger, Sandwich, and Fried Chicken
Operating Hours: Lunch– Wednesday to Saturday, 11am – 2pm, Dinner– Friday – Saturday: 5pm – 8.30pm, Brunch– Sunday 9am – 2pm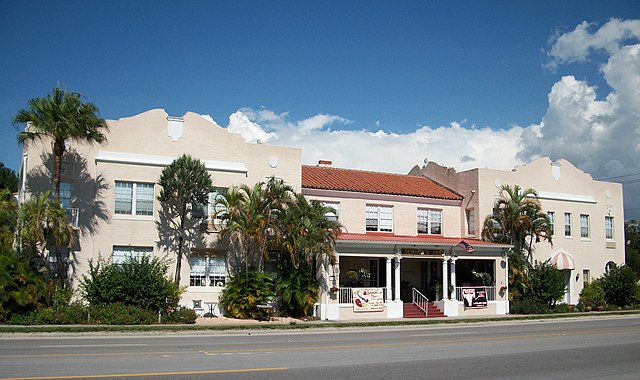 photo source: wikipedia.org
Seminole Inn is an iconic hotel located in Indiantown, Florida. The place is a little shy of 100 years old.
The hotel was built by S. Davies Warfield, a Baltimore banker who became the president of Seaboard Airline Railroad. Warfield envisioned Indiantown as a model city. He opened a school, laid out streets, and built buildings.
He opened the hotel with a dream to make it the focal point of the newly built community. Initially, the inn was used as accommodation for railroad dignitaries and Warfield's personal guests. A restaurant was also opened to offer food to the guests staying in the inn.
Currently, the place has two dining halls, the Windsor Room and the Foxgrape Café. The Windsor Room offers a historical dining experience at special events. The café, which is famous for Sunday brunch, is open to the general public. It also offers a lunch buffet and dinner on selected days.
Did You Know?
The place is currently run by Jonnie Wall. Her family bought this place three times. On and off, the place remained closed as the family couldn't run it and sold it off. Finally, Jonnie took charge in 1991; since then, it's been thriving.
---
4. Billy's Tap Room & Grill
Year Established: 1926
Location: 58 E Granada Blvd, Ormond Beach
Specializes in: Seafood
Operating Hours: Tuesday to Thursday 5 – 9pm, Friday and Saturday 5 – 10pm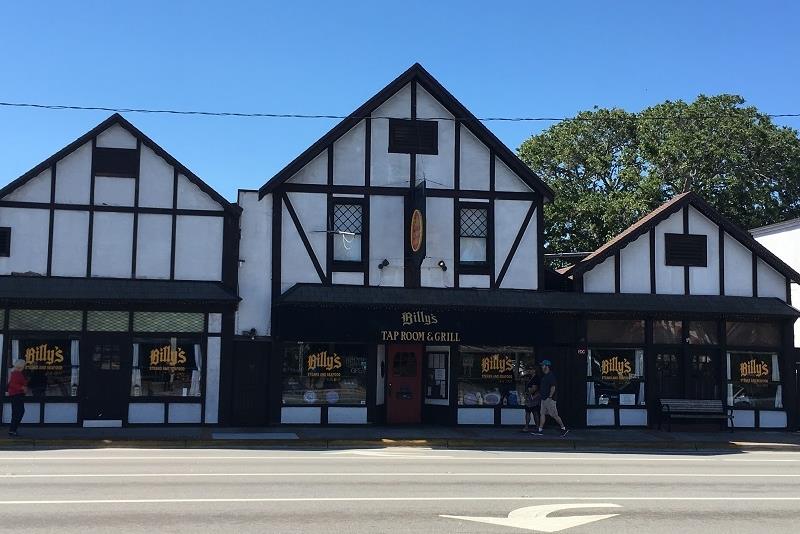 photo source: floridastories.oncell.com
Billy's Tap Room & Grill, a first-class dinner on Ormond Beach, was started as a drug store. The founder of the tap room, Billy McDonalds, was a hotel lounge manager in New York City. In 1922, he was invited by the Ormond Beach Hotels to manage the tearoom. It was the prohibition era, so no hotel lounges were selling alcohol. Billy happily took the job and moved to Florida.
In 1926, he purchased the building where the restaurant is now located and opened a drug store. The store was selling sandwiches, jellies, and fruits as well. It is also believed that in the back room, Billy installed slot machines and sold home-brewed beer.
During the following years, the store slowly evolved into a full-fledged restaurant. After the prohibition was withdrawn, it turned into a pub. The restaurant passed through different hands before it was purchased by its current owners, Doug and Lillian Rand.
Did You Know?
Billy and his family lived in the room above the restaurant. The room is now affectionately called the MacDonald Room.
---
3. Joe's Stone Crab
Year Established: 1913
Location: 11 Washington Ave, Miami Beach
Specializes in: Seafood
Operating Hours: Wednesday to Sunday 11.30am – 9pm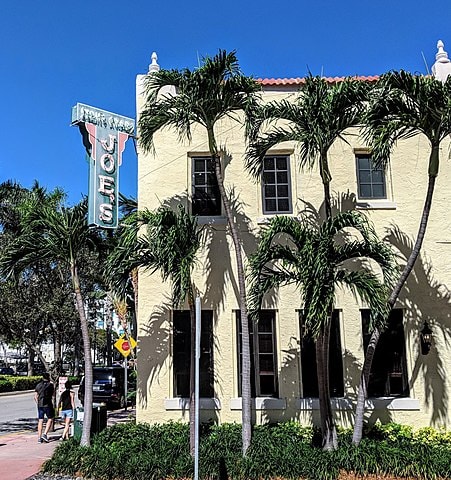 photo source: wikipedia.org
This more-than-a-century-old restaurant has a fascinating history. Hungarian-born Joseph Weiss and his wife Jennie Weiss moved to Miami from New York as the doctor suggested only a change in climate could ease Joseph's asthma.
As soon as they moved, the couple opened a small lunch stand at Smith's Bathing Casino in 1913. It was the time when Miami beach was not even a city. In 1918, Joseph and Jennie bought a house across the street from the casino, set up 7-8 tables on the front porch, and named it Joe's Restaurant. Joe would cook in their home kitchen, and Jennie would manage the dining room.
In 1921, when the restaurant was already quite established, the place was visited by a Harvard ichthyologist. One day he brought a bag of stone crabs and gave it to Joe. Initially, Joe thought no one would eat stone crabs and refused to cook. Later, with the help of that ichthyologist, Joe found a way to cook it, and it was an instant hit.
Did You Know?
Joe's Stone Crab still serves its original menu. The place is frequented by politicians, film stars, and athletes. It has been featured in several films, TV series, and novels.
---
2. Pelican Alley
Year Established: Early 1900s
Location: 1009 Albee Rd W, Nokomis
Specializes in: Seafood
Operating Hours: Wednesday to Monday 11.30am – 9pm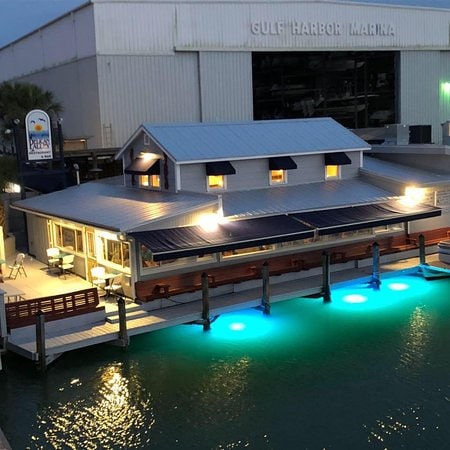 photo source: tripadvisor.com
A section of land, including the site where the Pelican Alley is located today, was granted to Chauncey Hawley in 1883. Then-president Chester A Arthur wanted Hawley to build something on this land that could attract more people to Florida.
In the early 1900s, Hawley sold the Pelican Alley site to the Chadwick family, who built a fish house for their mullet business. Shortly after, the place was handed over to Fred and Alice Sanders. The couple opened a modest eatery and bar inside the building.
Although the place is older than a century, it got its current name Pelican Alley only in 1981, when Robin Sweeney purchased the building. The facility had to be rebuilt in 2017 after it survived irreparable damages caused by Hurricane Irma.
Did You Know?
Pelican Alley advertises itself as a home to a number of ghosts. The restaurant's site claims that several paranormal groups have visited the place and found evidence of ghosts and paranormal behavior.
---
1.Columbia Restaurant
Year Established: 1905
Location: 2117 E. 7th Ave., Tampa, FL 33605
Specializes in: Spanish-Cuban Cuisine
Operating Hours: Sunday to Thursday 11am – 9pm, Friday and Saturday 11am – 10pm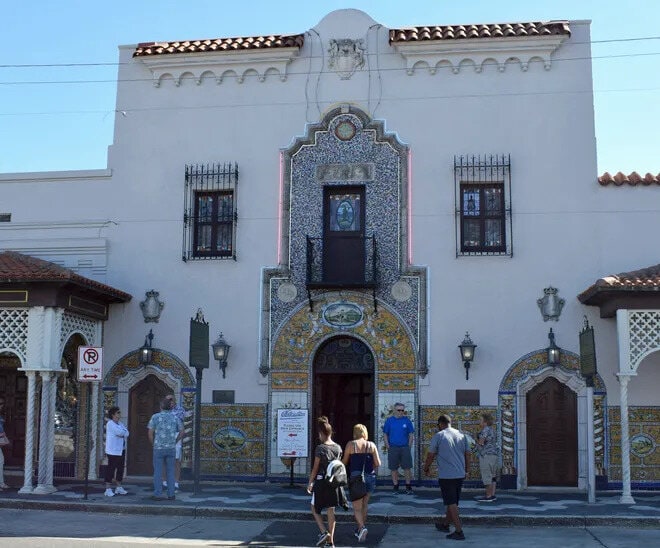 photo source: www.gannett-cdn.com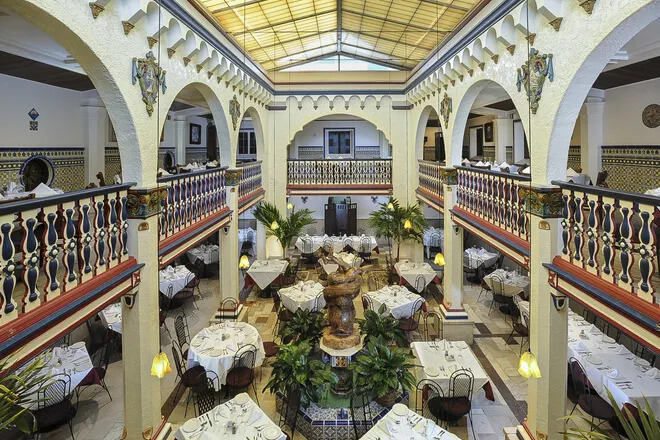 photo source: www.gannett-cdn.com
Columbia Restaurant in Ybor City, Tampa, is the oldest restaurant in Florida. The restaurant was established by Casimiro Hernandez, Sr., a Spanish-Cuban immigrant who came to Florida with his four sons in search of a better life.
In 1903, Casimiro opened Columbia Saloon, which was turned into a restaurant in 1905. The place has been owned and operated by the same family for five generations and has expanded to an entire city block. Currently, it has 15 dining halls, where a total of 1700 guests can sit.
Additionally, branches of Columbia Restaurant have been opened in six other locations in Florida. All the operated by the members of the Hernandez family.
Did You Know?
Columbia Restaurant is the oldest Spanish restaurant in the US and the largest Spanish restaurant in the world.