The oldest radio stations represent more than relics in the communication industry. They are the airwaves that linked a lonely world. To the people of the early radio days, this technology was the internet times ten. In an age where the only thing you heard from another state was a letter, the radio was a true leap into the future.
The 8 oldest radio stations were marvels of technology, cultural revolutions, and interesting in their own right. Next time you turn on your phone and Google for help on something, imagine living in a world of silence and turning on another voice for the very first time.
8. 9ZP
Year: 1916
Location: Pierre, South Dakota
Known for: Country music transmissions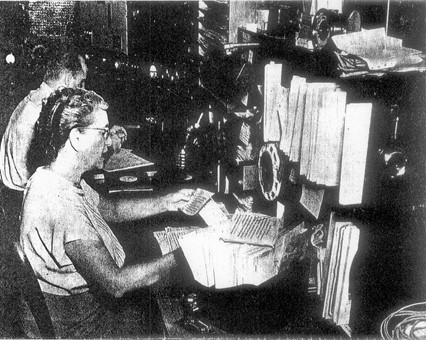 photo source: SDPB
The station that would become KGFX in South Dakota began its proper broadcasting career in 1927. However, before that, it was an amateur station with the callsign 9ZP, which began in 1916. This gave the owners, Dana McNeil and Ida Anding, plenty of radio experience before their big breakthrough.
9ZP worked on a spark-gap transmitter initially, broadcasting Morse code messages between 1916 and 1917. During WWI, the government ordered civilian radio stations to go off the air. By the end of the war, we had vacuum-tube transmitters that could broadcast audio messages.
Today, KGFX is still a popular classic country commercial radio station in Pierre.
Did you know?
9ZP became KGFX in 1927. In 1930, the National Weather Bureau recruited the station to collect local weather data for ranchers. Due to this, KGFX, the only station in the state's capital, became a cultural institution.
---
7. 2YU
Year: 1915
Location: Schenectady, New York
Known for: Union College broadcasts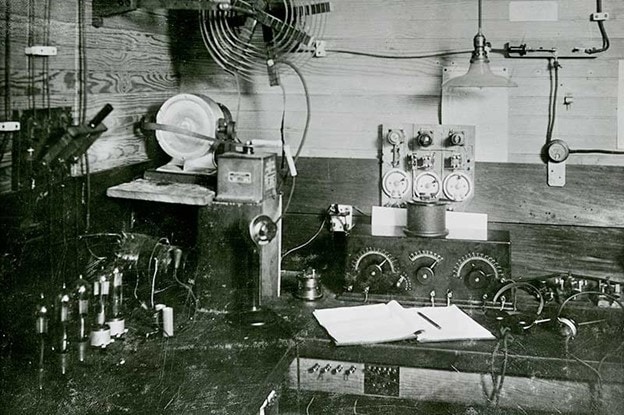 photo source: Union College
Union College in Schenectady, New York has had this radio station off and on since 1915. Even though it has lapsed out of operation, its slogan is "The First Station in the Nation." We know from this list that this isn't true, but it can still claim one of the top spots.
They began transmitting in 1915 and created the station 2YU, which would later become WRUC in 1920. Their regular broadcasts continued until 1924 and did not resume operation until 1941. WRUC has always been run completely by students of Union College with regular news and sports programming.
Did you know?
2YU was actually the callsign of the college's "Radio Club," which formed in the fall 1915 semester as the result of a Technical and Training School station license.
---
6. XWA
Year: 1914
Location: Montreal, Quebec
Known for: First scheduled broadcast station in Canada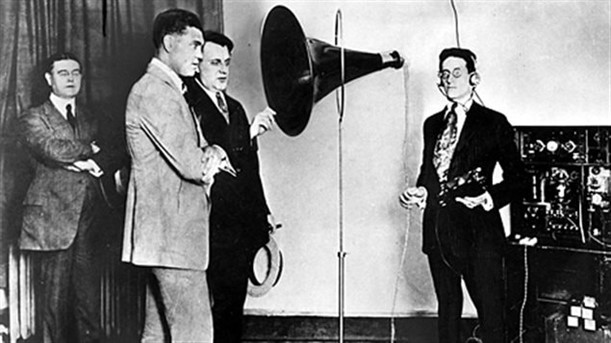 photo source: RCI
XWA, the station now known as CINW in Montreal, is a Canadian broadcast station that began its life in 1914. In Canada, it is known as the first radio station to give scheduled broadcasts and Canada's oldest radio callsign. It was an experimental station back then, created by the Marconi Wireless Telegraph Company of Canada.
While the early days of XWA are a little hazy, we know that XWA made a steady transition from experimenting in radiotelephony to becoming a regular broadcaster in the 1920s. During World War I, XWA was one of only a few radio stations in Canada allowed to maintain operations. Throughout the war, it was used to conduct military research.
Did you know?
The original XWA transmissions were all in Morse code. It wasn't until WWI that vacuum-tube transmitters made audio transmissions possible.
---
5. KQW
Year: 1909
Location: San Jose, California
Known for: First commercial radio broadcasts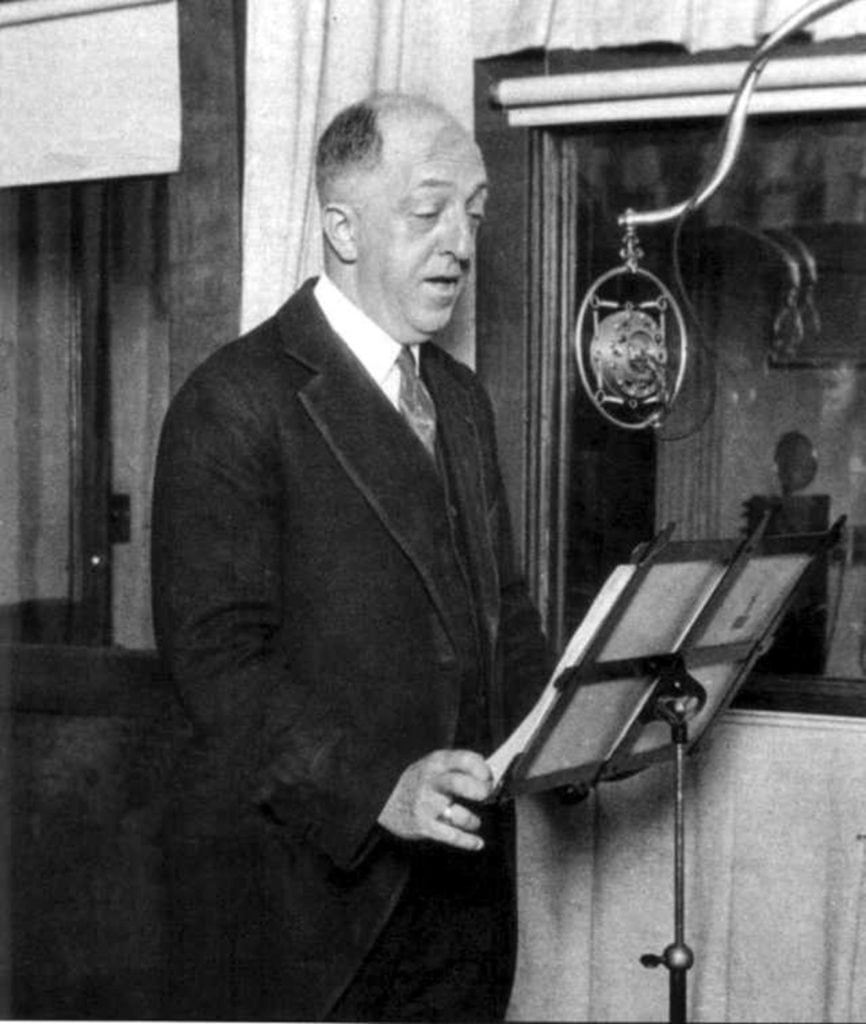 photo source: Wikimedia Commons
Charles Herrold, also known as "Doc," invented and pioneered a radio station in San Jose, California, which went under many callsigns before settling on KQW. These included FN, 6XF, SJN, and 6XE.
He began using the station in 1909 after witnessing Reginald Fessenden prove the effectiveness of the alternator-transmitter that made wireless transmission possible. Though other pioneers listed below worked tirelessly to develop this technology, Herrold can claim a major aspect of radio history fame: he made it commercial.
Beginning in 1912, he began regular radio broadcasts from a San Jose School, which included phonograph music. This makes him the first person to broadcast regular entertainment from a radio station. In that sense, Herrold is history's first radio DJ!
Did you know?
Herrold's station, KQW, changed its callsign in 1949 to KCBS of the Columbia Broadcasting Company. This station still plays news and music in the California Bay area. It now even includes webcasts.
---
4. Lee de Forest
Year: 1907
Location: New York City, New York
Known for: First amplification device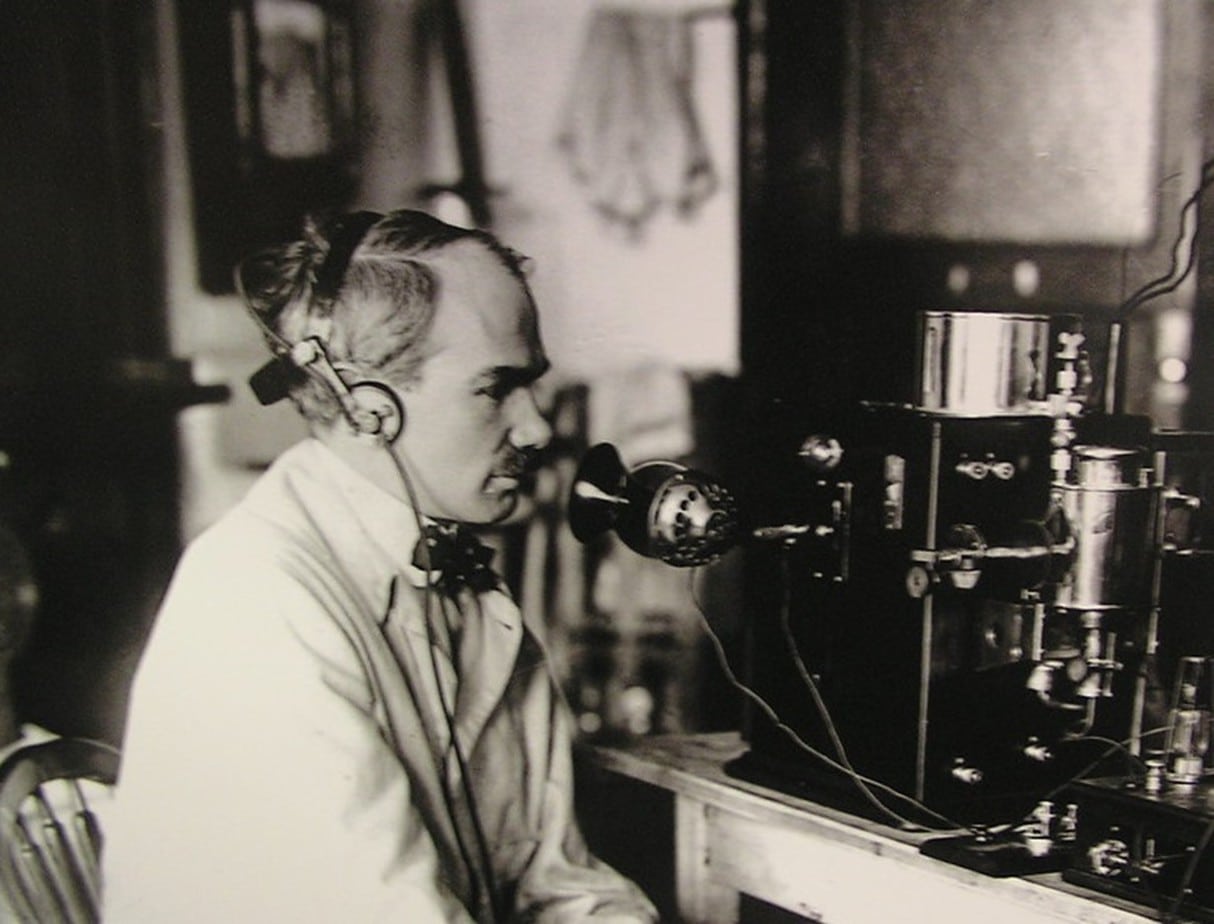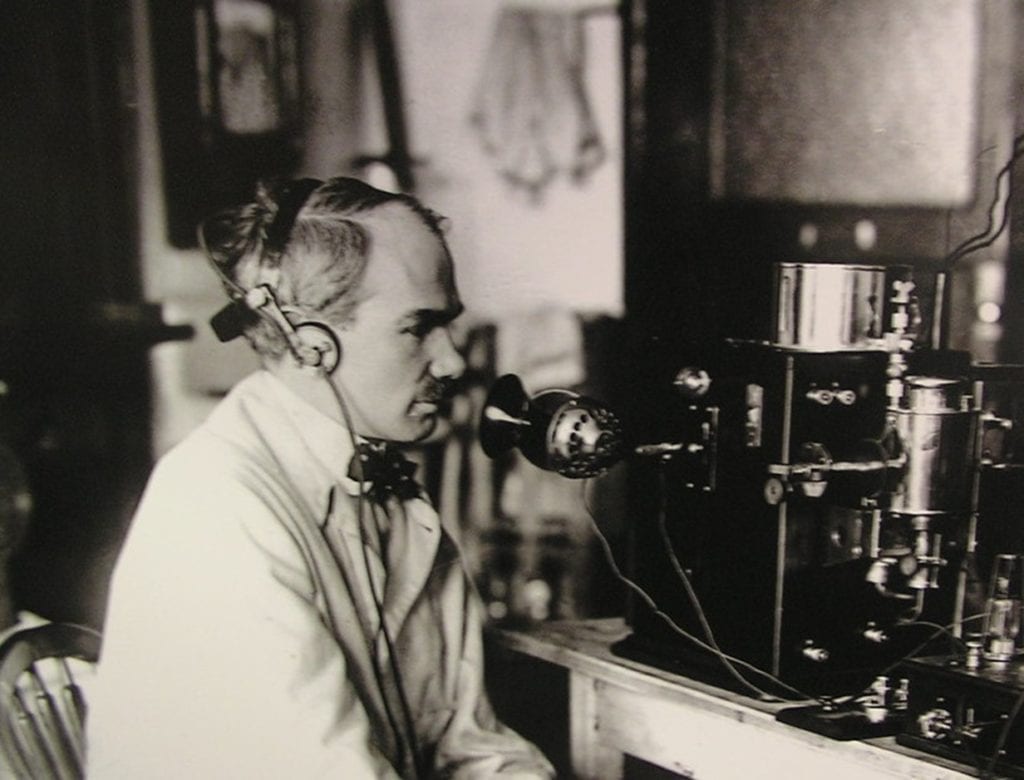 photo source: Flickr
The American inventor Lee de Forest pioneered radio transmission with the first amplification device. He wasn't a theoretical master in how the technology worked, but his device founded electronics as we know it. He's the reason that radio broadcasting, long-distance phone calls, and even sound films are possible.
He couldn't beat Marconi to the coveted radio technology patent, but his lab in the Parker Building in New York became one of the first radio stations, establishing standards of the technology like the three-electrode vacuum-tube.
Did you know?
Lee de Forest had a very rough personal life. Despite securing over 300 patents, he lost his fortune multiple times, was embroiled in patent lawsuits and legal bills, and was suspected of mail fraud, though he was eventually acquitted.
---
3. Station BO
Year: 1906
Location: Brant Rock, Massachusetts
Known for: The first radio station callsign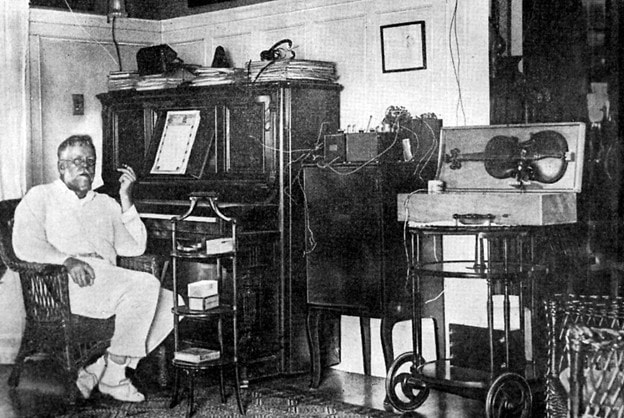 photo source: Flickr
Station BO was founded as an experimental alternator station by Reginald Fessenden, the Canadian inventor credited with Marconi (more on him in a bit) with the invention of commercial radio technology. Fessenden was a prolific guy, securing hundreds of patents in his life related to radio and sonar.
His tech was so advanced that it laid the foundations for amplitude modulation, which is what we call AM radio. He made the first two-way transmission over the Atlantic Ocean in 1906 from this station, callsign BO, from Brant Rock, Massachusetts. He is also credited with making the first broadcast related to music, though history isn't positive about the timing there.
Did you know?
Fessenden's work in sound went beyond radio. During WWI, after volunteering for service in Canada, he invented the technology that would eventually become reflection seismology, otherwise called seismic reflection. This technology allows scientists to conduct seismic surveys, using devices based on Fessenden's technology to do to the earth's subsurface what sonar does to the water. Using it, we can map the properties of the earth using seismic data processing.
---
2. Guglielmo Marconi
Year: 1895
Location: Pontecchio, Italy
Known for: Marconi's law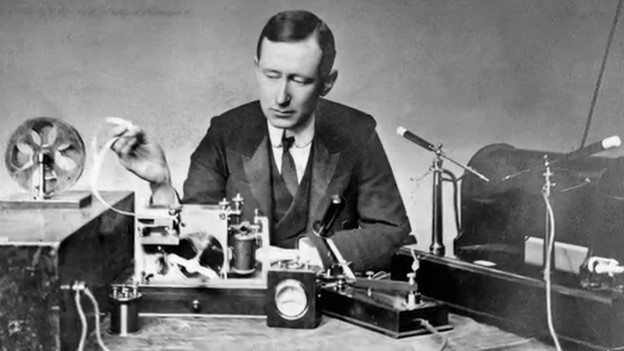 photo source: Pioneer Institute
Guglielmo Marconi is often credited with the invention of long-distance radio technology. However, as you can see from this list, he was beaten out by one more inventor!
This does not diminish the overwhelming influence of Marconi's career, however. He won the Nobel Prize in Physics for "wireless telegraphy" in 1909 and developed Marconi's law, a significant scientific factor in the development of radio technology. The law described how an antenna's length changed the maximum distance a radio transmission could reach.
His breakthrough in radio came in 1895 when he grounded the receiver and transmitter and was able to send radio signals 2 miles away. He also made the first trans-Atlantic transmission in 1901.
Did you know?
While Marconi can no longer be credited with the first radio broadcast, it's safe to say that his title as the "father of radio" is still secure. He alone was able to take the technology from the experimental to an engineering-complete device that made radio transmission not only possible but also commercially viable.
---
1. Roberto Landell de Moura
Year: 1893
Location: Sao Paulo, Brazil
Known for: The first broadcast of a human voice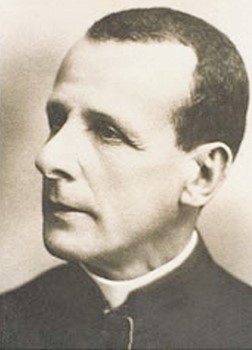 photo source: Wikimedia Commons
The oldest radio station is that of Roberto Landell de Moura. It's so old that it doesn't have a station name, callsign, or listed frequency. In fact, it's old enough to have faded into obscurity compared to the likes of Fessenden and Marconi. Roberto Landell de Moura should be in that discussion.
He was a priest in Sao Paulo, who created his first wireless transmitter back in 1892. A few patents later, including the "wireless telephone" in 1902, he had cemented his place in history as the first person to transmit a human voice, which he did over a distance of 8 km. For many years, Reginald Fessenden claimed the honor of doing it first in 1906, but de Moura had him beat.
Did you know?
While not a radio station in the modern sense, the broadcasts of de Moura on what he called an "anematophone" must be considered the first broadcast, using the technology that would become radio.
---
The Takeaway
The oldest radio stations come from inventors on the cusp of new technology. Many of them were simply experimenting and had little concept of the wide commercial and cultural applications of their work. Others were guided by conscious goals to change the way the world communicates. Learning about their achievements comes with a bit of humility, to see what these guys were able to do with so little. Imagine being there when the first voice crossed a state border, an ocean, or a world.
There aren't many times people in the present get to feel like they're living in the future. But that must have been one of them.
OTHER POSTS YOU MAY BE INTERESTED IN