It's true that Michigan has a reputation for being a party-lovin' state—but that's only half the story.
Michigan has a long history of brewing beer, and today it boasts over 350 breweries throughout the state. Breweries make beer that's meant to be enjoyed by everyone, from farmers to bartenders to drivers on their way home from work at 3 a.m.
And you won't find many places where you can enjoy a pint of local microbrews with a friend after work or before heading out for dinner—you'll just have to go to your local bar for that!
Moreover, Michigan has a lot of lakes. Lakes are the perfect type of place to go drinking: they're usually warm, they have great views, and they're close by, so you can just walk out your door and down the street to get to one.
But, beyond the joy of partying, great food, and awesome drinks and views, Michigan has some unique stories for having this many bar options. From the city outskirts all the way to the lakeside towns, here are the nine oldest bars in Michigan.
9. Bavarian Inn
Year Established: 1888
Owner: William Zehnder, Jr. and Family
Location: 1 Covered Bridge Ln, Frankenmuth, MI 48734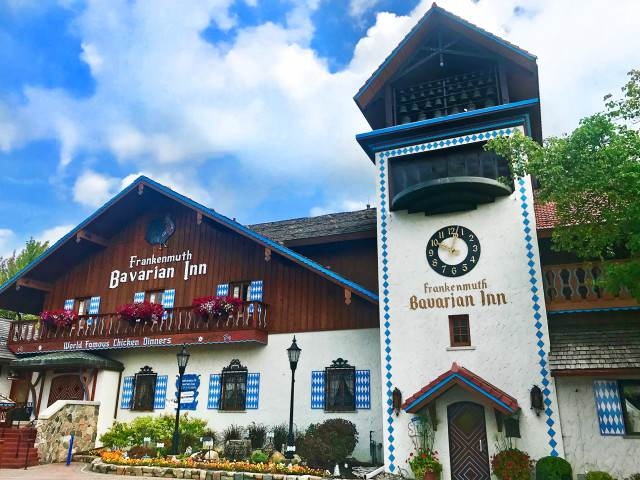 photo source: frankenmuth.org
The Bavarian Inn bar in Michigan is a great place to go for a drink. The Bavarian Inn is located on the corner of Frankenmuth, Michigan. The Bavarian Inn was originally called the "Union House Hotel." It was renamed "Fischer's Hotel" by its founder, Theodore Fischer.
The building's interior and exterior underwent nearly constant refurbishment and enlargement, giving it a Bavarian character. Many local leaders and citizens of Frankenmuth believed that Tiny Zehnder, the new owner of the Bavarian Inn, was responsible for transforming their small, agrarian town into "Michigan's Little Bavaria."
The Bavarian Inn offers traditional German food and drinks to guests who visit its establishment. The restaurant is known for its beer garden, which includes a variety of beers from all over the world, including German beers.
The bar also has a variety of other drinks, including wine and champagne, as well as cocktails made with vodka or gin.
Did You Know?
Bavarian Inn gives you the opportunity to learn how to bake and become an instant German baker. You can make different German pastries like pretzels and strudels.
---
8. Sleder's Family Tavern
Year Established: 1882
Owner: Ryan and Megan Cox
Location: 717 Randolph St, Traverse City, MI 49684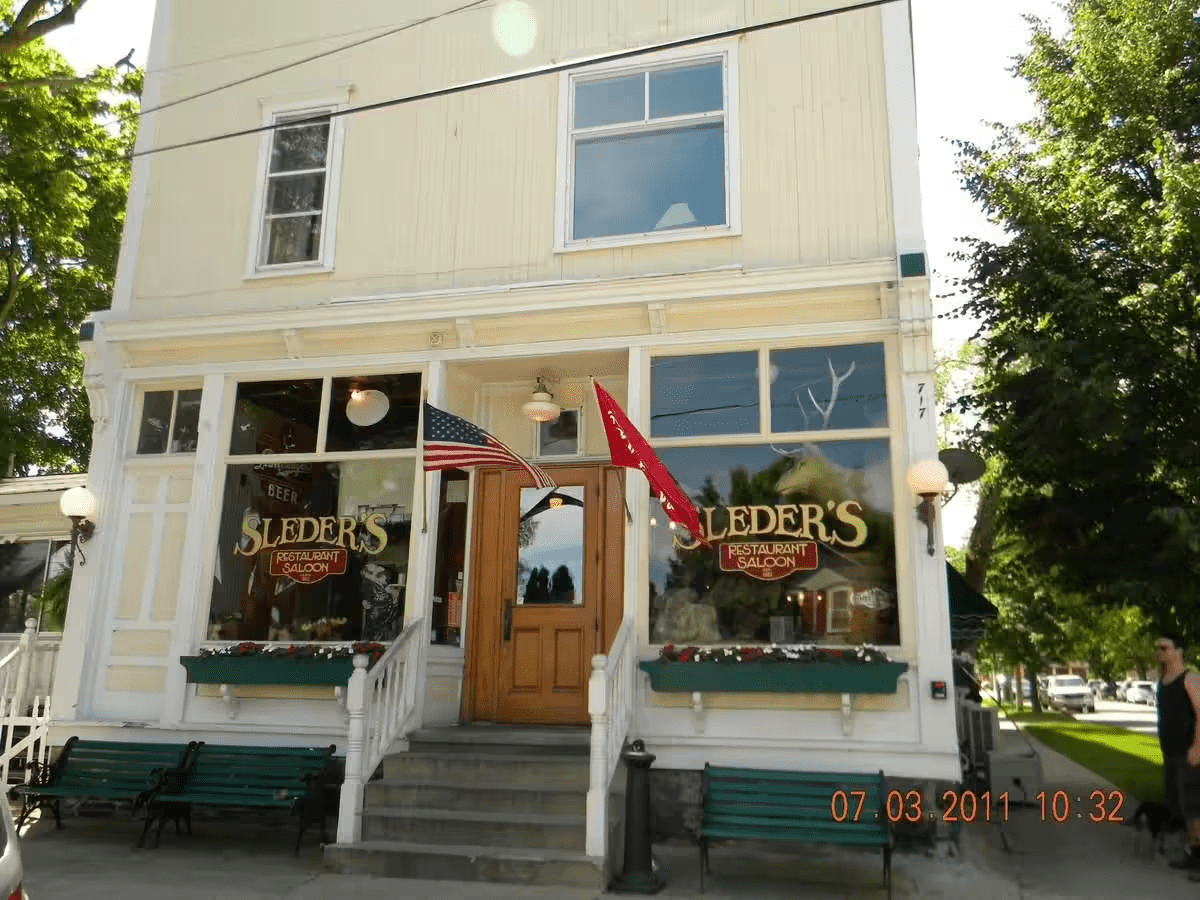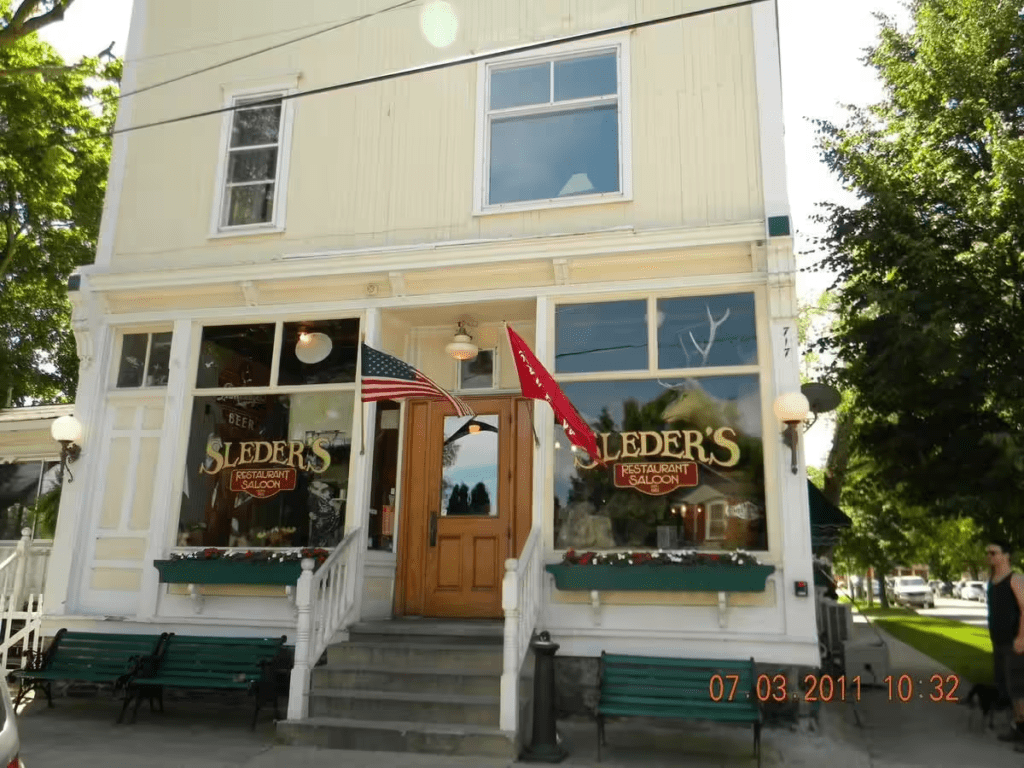 photo source: Zomato
Sleder's Family Tavern is located in Michigan and offers bar services. The tavern is named for a family that originally owned it, still owns it and is known for its service to the community.
The tavern has a long history of serving up drinks to the locals and tourists alike. Sleder's family tavern was founded by Vencel Sleder in 1882. In those days, the tavern offered a variety of food items, including steak, pork chops, chicken, and fries.
Today, you can still find some of the same dishes on the menu at Sleder's Family Tavern—but they've also added some new ones!
The decor at Sleder's Family Tavern has changed over time too. But the lounge area is still decorated with many antiques that have been given as gifts by customers over the years. Its original tables and chairs still stand today.
---
7. Two Way Inn
Year Established: 1876
Owner: Mary A.
Location: 17897 Mt. Elliot St., Detroit, MI 48212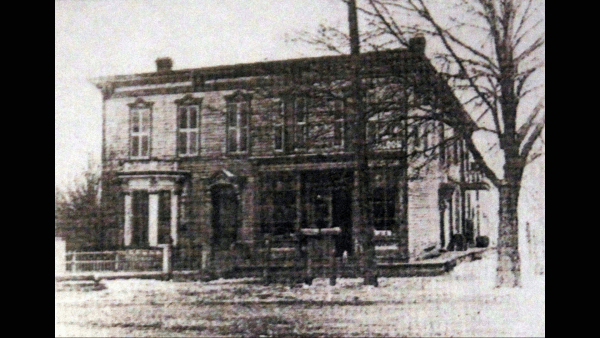 photo source: Digging Detroit
The Two-Way Inn is a bar in Michigan with a long history. It was originally built in 1876 and has been serving customers for over 100 years. The bar is located in downtown Detroit, Michigan.
The two exits that can be located in each inn room served as an uncommon selling pitch that gave the place its name.
The bar is known for its vibrant atmosphere that is perfect for enjoying drinks with friends or meeting new ones. The bar has a large selection of drinks and food to choose from, including burgers, salads, and desserts.
Did You Know?
The Two-Way Inn has spent its days as a jail, an inn, a general store, and a house of ill repute.
---
6. Fenton Hotel, Tavern & Grille
Year Established: 1856
Owner: Nick and Peggy Sorise
Location: 302 N Leroy Street, Fenton, MI, 48430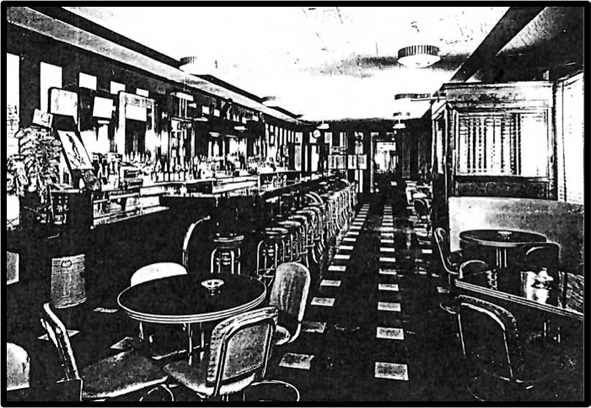 photo source: fentonhotel.com
The hotel, then known as the Fenton House, was run by Abner Roberts. After numerous ownership changes, it was bought by D.W. DeNio in 1882, who changed its name to the DeNio House in 1882. DeNio gave it a complete makeover and styled the papering and furnishings.
The Fenton Hotel is the perfect place to relax, unwind, and get away from it all. We provide the best bar services in Michigan and offer a wide variety of drinks, snacks, and appetizers. Its menu includes beer and wine, as well as a full bar menu with everything you need for a night out on the town.
They offer a daily menu that includes a selection of delectable dishes, such as fresh fish, savory steaks, comfort cuisine, and more. Additionally, it is the only piano bar in the vicinity of Fenton featuring live music.
They have everything you need to make sure that your next visit is just what you're looking for!
---
5. White Horse Inn
Year Established: 1850
Owner: Victor Dzenowagis and Linda Egeland
Location: 1 E High St, Metamora, MI 48455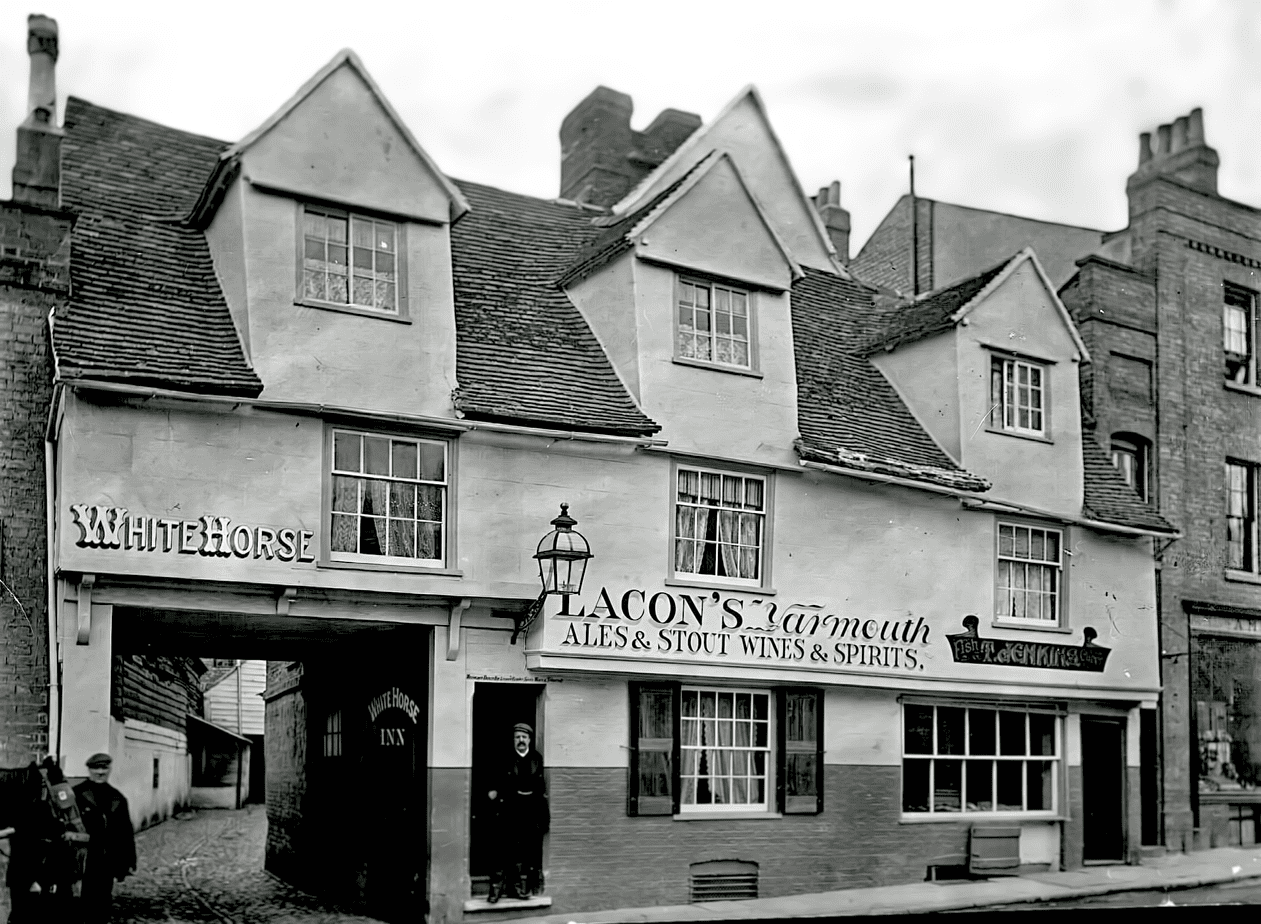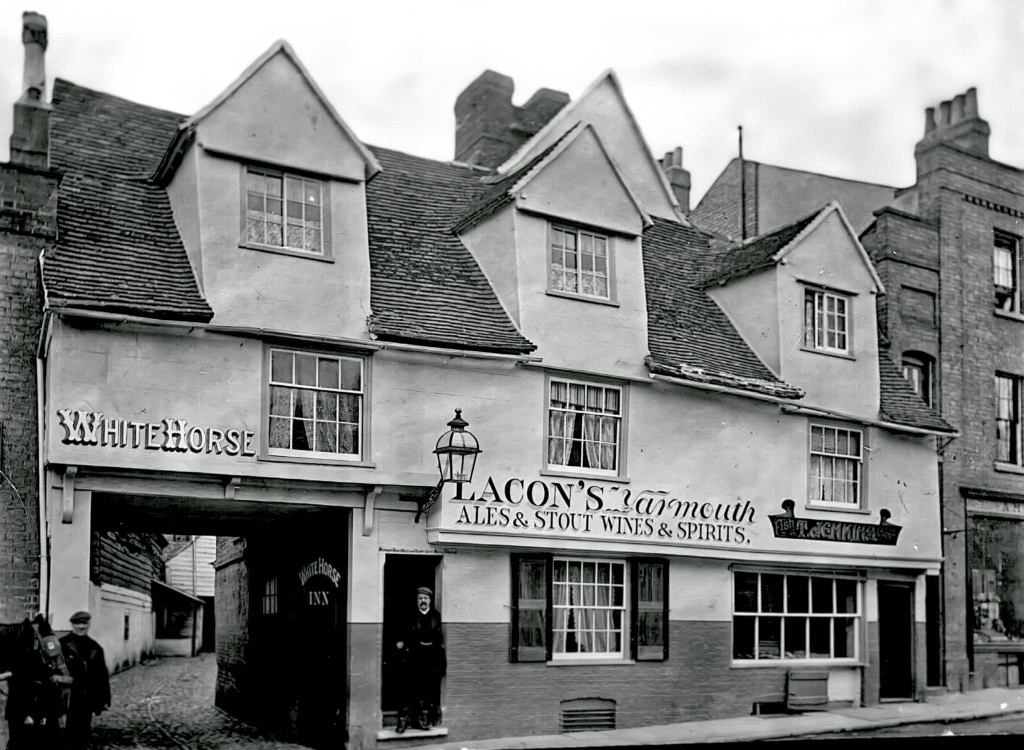 photo source: museumofcambridge.org
The White Horse Inn is a bar located in Michigan that has been serving up delicious drinks since 1850. They have been a staple of the area for over 100 years and are known for their great atmosphere and friendly staff.
The White Horse Inn is one of the most well-known bars in Michigan and has been featured in many publications, such as The New York Times.
According to records, local entrepreneur and founder of the Grand Lake Theater, Abraham C. Karski placed an order for the building's construction and established the bar.
The menu at White Horse Inn consists mainly of classic cocktails and mixed drinks such as margaritas, daiquiris, and martinis. The atmosphere inside the restaurant is friendly and cozy, with wooden tables and chairs decorated with plants on every table.
Did You Know?
In the 1930s, The White Horse was referred to as a "gay-friendly bar [with a] no-touching policy".
---
4. Tommy's Detroit Bar and Grill
Year Established: 1840
Owner: Tommy Burelle
Location: 624 3rd St, Detroit, MI 48226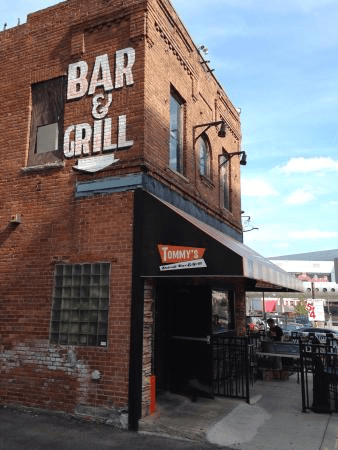 photo source: Trip Advisor
Tommy's Detroit Bar and Grill is one of the oldest bars in Michigan, and it has a long history of serving up drinks for customers to enjoy. The bar first opened its doors in 1840, making it one of the oldest bars in Michigan.
The atmosphere at Tommy's Detroit is astounding. You have the impression that you are in the city's old quarter. The food is the most significant reason to go to Tommy's Detroit. Amazing, genuine burgers are prepared at home every day with freshly ground meat.
For all Wings, Tigers, and Lions games, as well as a few other concerts and events in the Downtown Detroit region, Tommy's Detroit offers a free shuttle bus for patrons.
Did You Know?
The 1840-built Tommy's Detroit features a tunnel entrance that was utilized during prohibition to sneak alcohol from the Detroit River. It was also thought to have served as a part of the early Detroit underground railroad.
---
3. Murphy Inn
Year Established: 1836
Owner: Paul Brunhuber
Location: 505 Clinton Ave, St Clair, MI 48079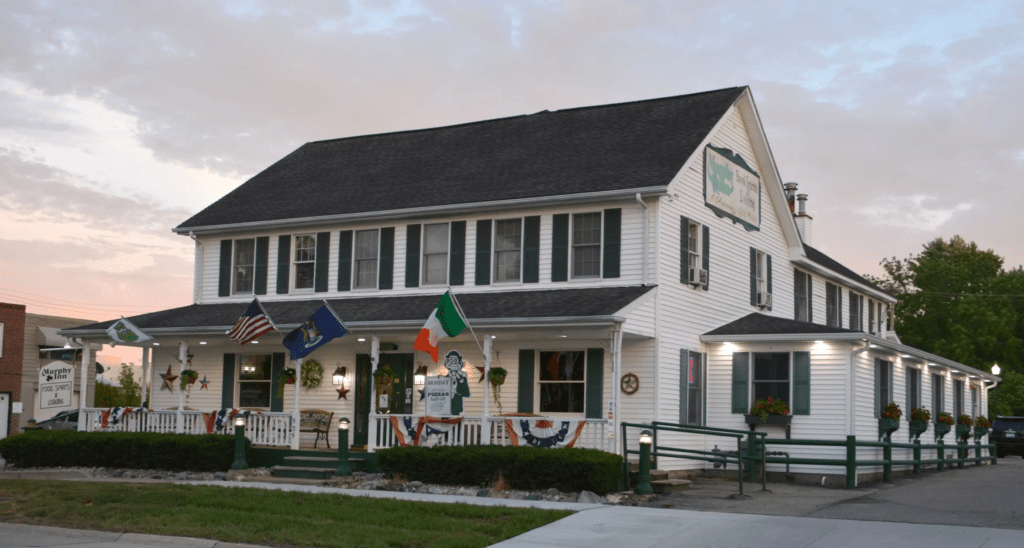 photo source: murphyinn.com
Murphy Inn is a bar in Michigan that offers the best of both worlds: a relaxing atmosphere for those who want to unwind, and a lively one for those who want an excuse to party. The bar also has a history that dates back to 1887, making it one of the oldest bars in the state.
The Murphy Inn was originally built as a boarding house known as the Farmer's Home, then opened with the bar as a way to offer hospitality to travelers on their journey. Over time, it became a popular destination for locals and travelers alike—and now it's known as one of the best bars in Michigan!
The bar is loaded up and has six draft beer taps in addition to bottles. On occasion, the dance floor features live performances or karaoke. Both tables and booths are available for your convenience.
---
2. Old Tavern Inn
Year Established: 1835
Owner: Jeffery Gaideski
Location: 61088 Indian Lake Rd, Niles, MI 49120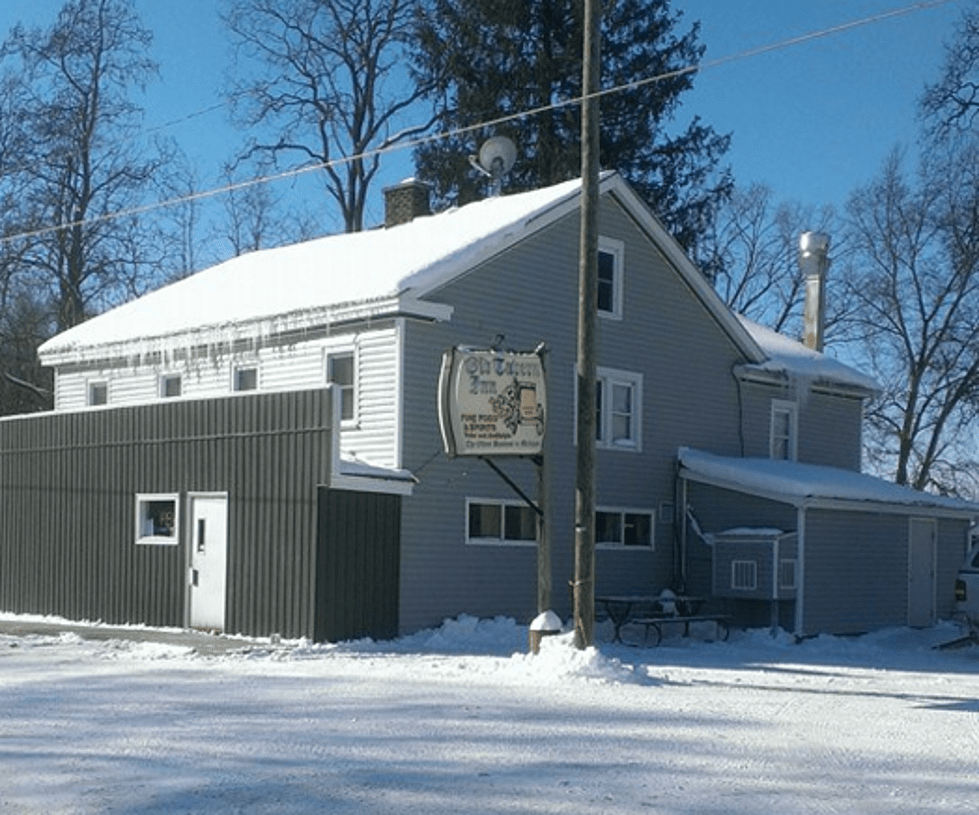 photo source: TownSquare Media
The Old Tavern Inn is a local bar that is located in the heart of Southwest Michigan. Founded in 1835, the Old Tavern Inn has been a favorite watering hole for many locals and travelers alike for over 185 years.
Today, Old Tavern Inn continues to be a popular spot for locals looking for an affordable drink and good food. The bar offers a wide selection of beers on tap, as well as classic cocktails and spirits such as whiskey, vodka, gin, and rum.
The bar's menu includes traditional American fare like burgers and sandwiches, as well as more options like fish filets and hotdogs.
The State of Michigan recognizes Old Tavern Inn as the oldest company in the state continuing in operation in its original structure.
---
1. New Hudson Inn
Year Established: 1831
Owner: Chris Stone
Location: 56870 Grand River Ave New Hudson, MI 48165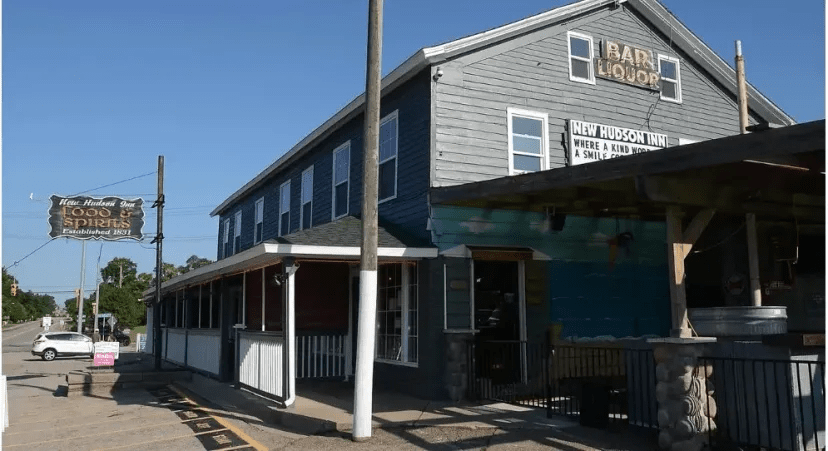 photo source: Digital Ocean Spaces
The New Hudson Inn is the oldest bar in Michigan and it was founded in 1831. When you're visiting the oldest bar in Michigan, you expect it to be good. The New Hudson Inn is the epitome of the best that Michiganders have to offer.
The New Hudson Inn bar in Michigan has been a favorite location for patrons to relax, socialize, and enjoy a good drink. The resto-bar has been a regional landmark for over 190 years and offers great food, drinks, entertainment, and atmosphere.
It is the most historic inn in Michigan and features an old-school pub serving classic bar food and great craft beers.
President Andrew Jackson granted Russell Alvord, its founder, a land grant in the Northwest Territory. In 1831, he acquired a claim for a 40-acre plot of property, on which he constructed the "Old Tavern." It served as a bar and a place to change clothes for passing visitors and businesspeople. Today, Old Tavern is known as the remarkable New Hudson Inn.
Did You Know?
The upstairs floor is thought to have served as both a major Underground Railroad hub and a hideout for escaping slaves during the Civil War era.