Bars provide a place where you can socialize, make friends, and meet new people. In addition, bars can be a great place to get information about current events or learn about interesting topics that are happening in your community.
Houston is a great city with many interesting and unique places to visit. But one of the most important things you can do in Houston is to go out and experience the old bars and clubs that have been around for decades, even centuries.
The reason why these old bars are so important is that they represent what people used to do when they went out to have fun.
There is definitely one thing that stands out among all other things: the history and legacy of the bar. The older a bar is, the more character it has; this is why these historic places are some of the most popular and most talked-about spots in Houston today. These are some of the oldest bars in Houston.
11. Warren's Inn
Year Established: 1978
Owner: Carolyn Wenglar
Location: 307 Travis St. Houston, TX 77002
Still in Business: Yes

photo source: Warren's Inn
The bar, which bears the name of the late Warren Trousdale, first opened its doors in 1978. When Carolyn Wenglar took over management in 1987, the business moved into its current location and acquired a flashy neon sign. According to locals, the aesthetic has not changed since.
The original location provided the identical vintage chandeliers, mirrors, and other furnishings.
Hipsters visit Warren's Inn for the aesthetic appeal, while elderly customers are pulled in by the nostalgia, and actors from the local Alley Theater stop by to unwind with a powerful post-show cocktail.
---
10. Griff's
Year Established: 1965
Owner: Donna Catlett
Location: 3416 Roseland Street Houston, Texas 77006
Still in Business: Yes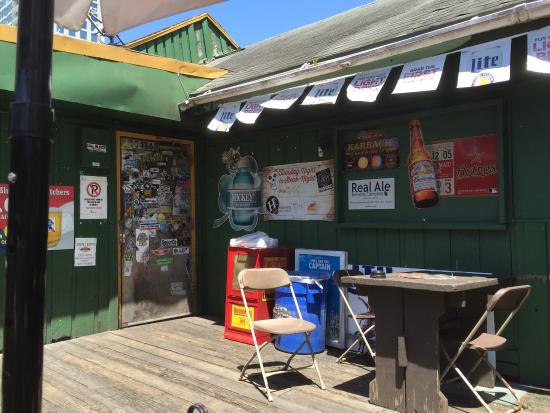 photo source: Griff's
Griff's is an iconic Houston landmark that was established in 1965 by Michael Griffin. Griff's business still stands today. Griff's is short for Griff's Irish Pub, the real name of the bar.
The historic building has been used for many purposes, some of which include a nightclub, a barber shop and more. There have been several owners throughout the years of this lounge, and as you can tell by its history, there are many interesting stories behind this place.
In addition, Griff's serves as one of the hosts for the annual St. Patrick's Day Festival in Texas, where people gather together to celebrate. It also holds a special night every Tuesday called "Steak Night," where it boasts its delicious steaks.
Did You Know?
Griff's is known as the oldest sports bar in Houston. Its patrons call themselves "Griff's Army."
---
9. Kay's Lounge
Year Established: 1962
Owner: Marshall Hefley
Location: 2324 Bissonnet St, Houston, TX 77005
Still in Business: No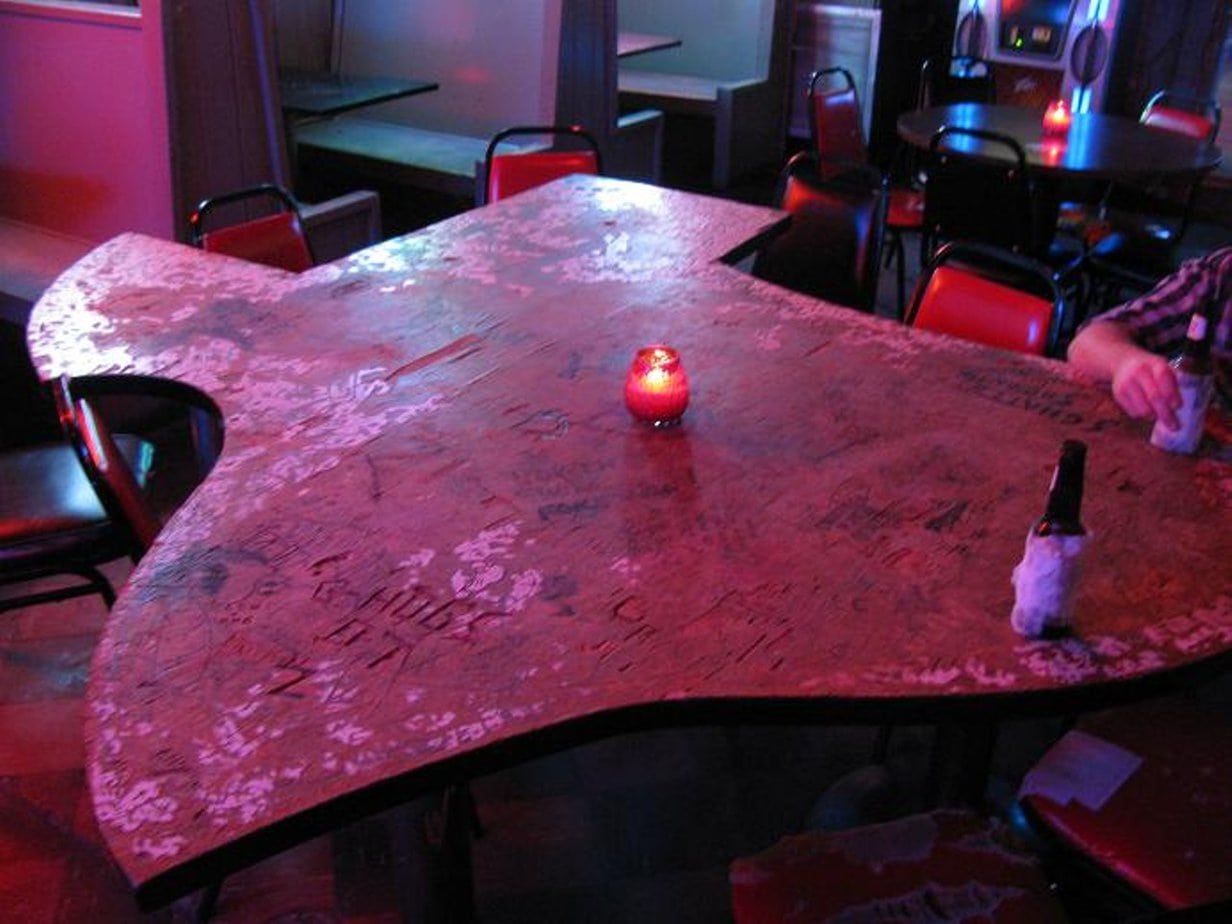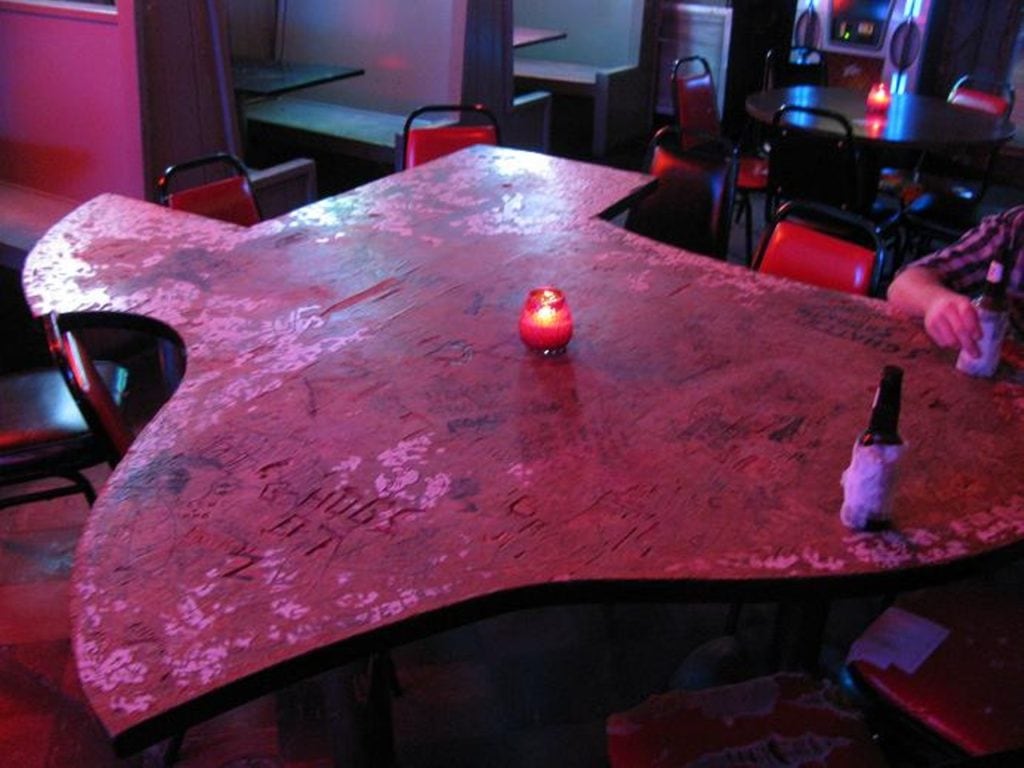 photo source: Kay's Lounge
Houstorian claims that, according to city records, "Kay's Barbecue" and "Kay's Club Grill" have existed since 1939. Kay's Lounge first appeared in a listing in 1962. You can spend some time in the comfortable setting, which features beloved Texas-shaped large tables, antique photos, sports memorabilia, and vintage ads.
Once the favorite bar for Rice students, Kay's has finally closed its doors after the termination of its land lease.
Did You Know?
According to the Houston history website Houstorian, it was regarded as Houston's oldest bar that didn't start out as a restaurant or an ice house.
---
8. D&T Drive Inn
Year Established: 1959
Owner: Chris Cusack
Location: 1307 Enid St, Houston, TX 77009
Still in Business: Yes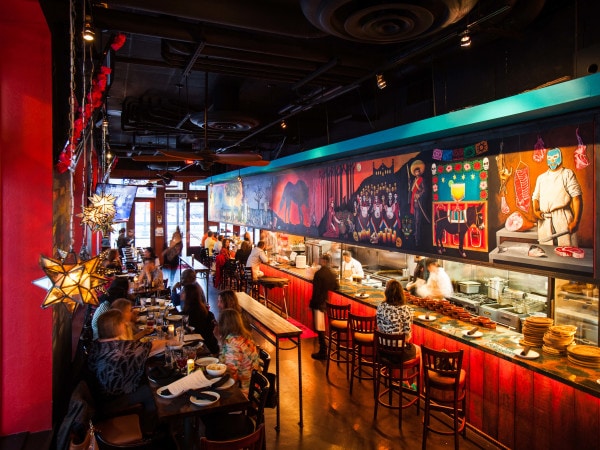 photo source: D&T Drive Inn
Chris Cusack and Joey Treadway, who also operate the well-known restaurant Down House, have renovated the Heights neighborhood's D&T Drive Inn into a beer bar. Although the atmosphere is unmistakably an ice house, with roll-up doors and sizable front and back patios, the Southern-inspired cuisine menu gives it a little more flair than more conventional settings.
D&T is a fantastic, laid-back location to enjoy a nice beer with friends. In addition to a wonderful beer selection, D&T Drive Inn offers a special menu of sandwiches and shared plates.
---
7. La Carafe
Year Established: 1950
Owner: Carolyn Wenglar
Location: 813 Congress St, Houston, TX 77002
Still in Business: Yes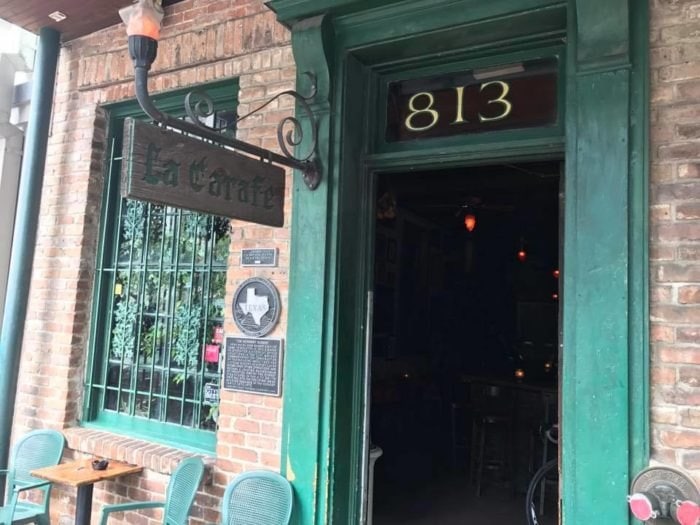 photo source: La Carafe
The Kennedy Bakery was the predecessor to the La Carafe Bar in 1860. After the Civil War and multiple fires, John Kennedy designed the structure. The original structure was once a bakery, a trading post, a boarding house, and a salon.
This is the reason why, despite the building's early establishment, La Carafe is not considered the oldest bar in Houston.
After purchasing the house and changing its name to "La Carafe," businessman William V. Berry furnished it with ornately framed travel-inspired photographs and paintings that are still shown today. In the 1950s, the current building was converted into a bar.
La Carafe bar is the ideal location for a drink. You can find everything you're looking for because they have a wide variety of beers, alcoholic beverages, and wines.
Did You Know?
Although it is clearly concealed behind the stairway, a steel beam in the La Carafe building looks to be supporting the roof and the walls as well.
---
6. Leon's Lounge
Year Established: 1947
Owner: Dane Bradley
Location: 1006 McGowen St., Houston, TX 77002
Still in Business: Yes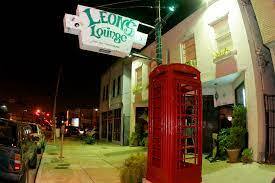 photo source: Leon's Lounge
Leon's Lounge was originally called La Bomba until founder Leon Yarborough bought the property and changed it into Leon's Lounge. After the founder's passing, his daughter took over the management of the lounge.
After several years of service, Leon's Lounge faced closure in 2015.
Just one year after it closed, Duane Bradley and Jim DeFoyd, owners of the well-known Davenport Lounge locations off Richmond and in Clear Lake, came to an arrangement with the establishment's longtime proprietor, Scarlett Yarborough, to purchase and reopen Leon's Lounge.
---
5. The Marquis II
Year Established: 1945
Owner: Chris Shepherd
Location: 2631 Bissonnet St. Houston, TX 77005
Still in Business: No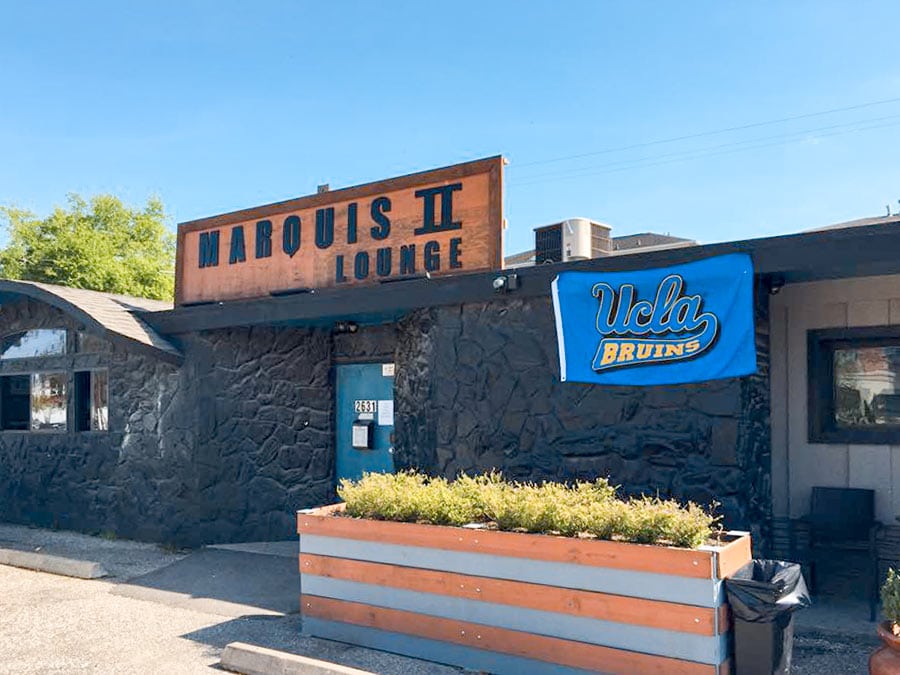 photo source: The Marquis II
The Marquis II is an excellent place to watch the game or enjoy a fantastic happy hour after a long day at work. It is situated in the City of West University, right in the middle of Houston. It was originally located at Shepard and West Gray and was then named Marquis.
The Marquis, which preceded the Marquis II, debuted in 1945 at the developing River Oaks Shopping Center. The bar's first proprietor passed away in the late 1960s, and two cocktail waitresses bought it and moved it to Bissonnet and Buffalo Spdwy, where the suffix was included in the name of the establishment.
Did You Know?
The Marquis II has been the home of Texas Tea since 1945.
---
4. Jimmie's Place
Year Established: 1942
Owner: Marion Murray and Eric Quinn
Location: 2803 White Oak Dr, Houston, TX 77007
Still in Business: No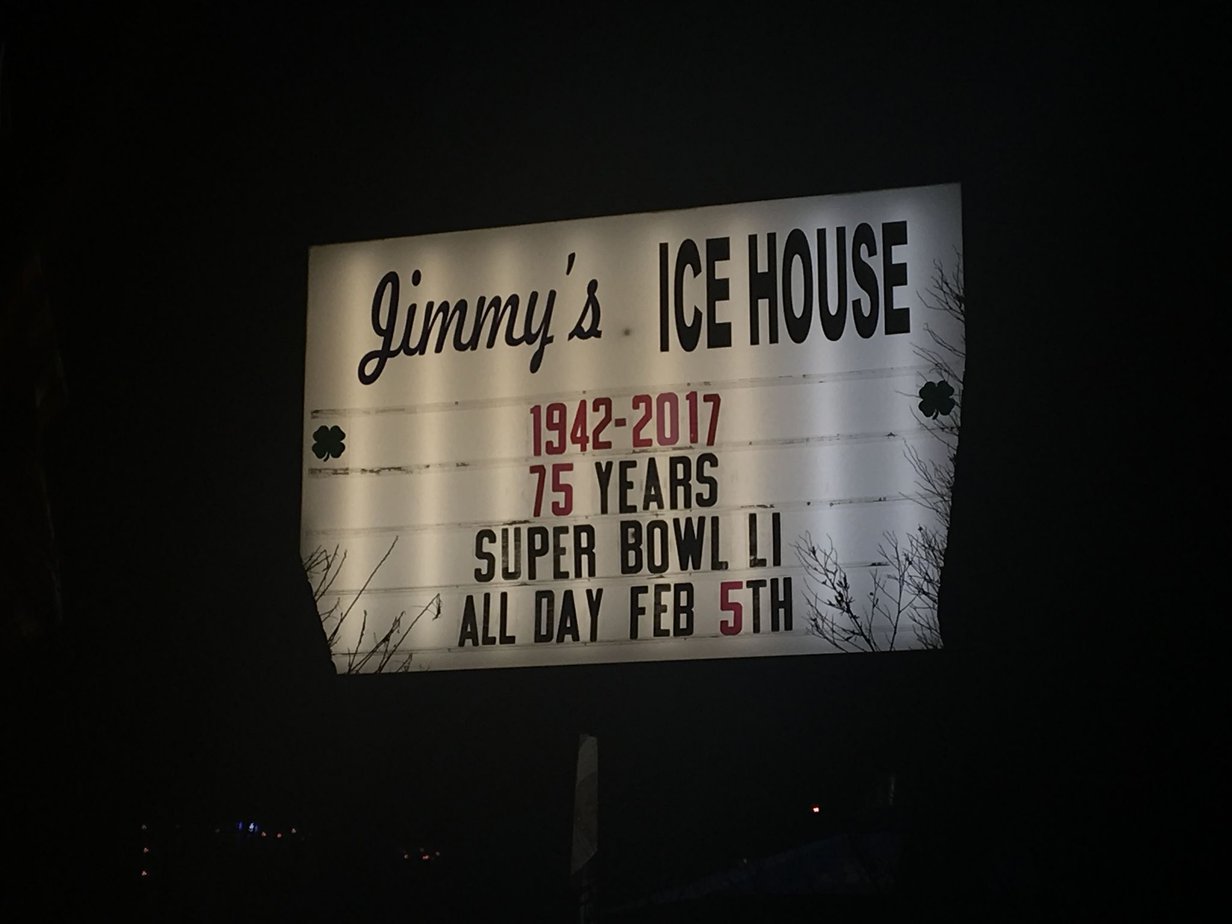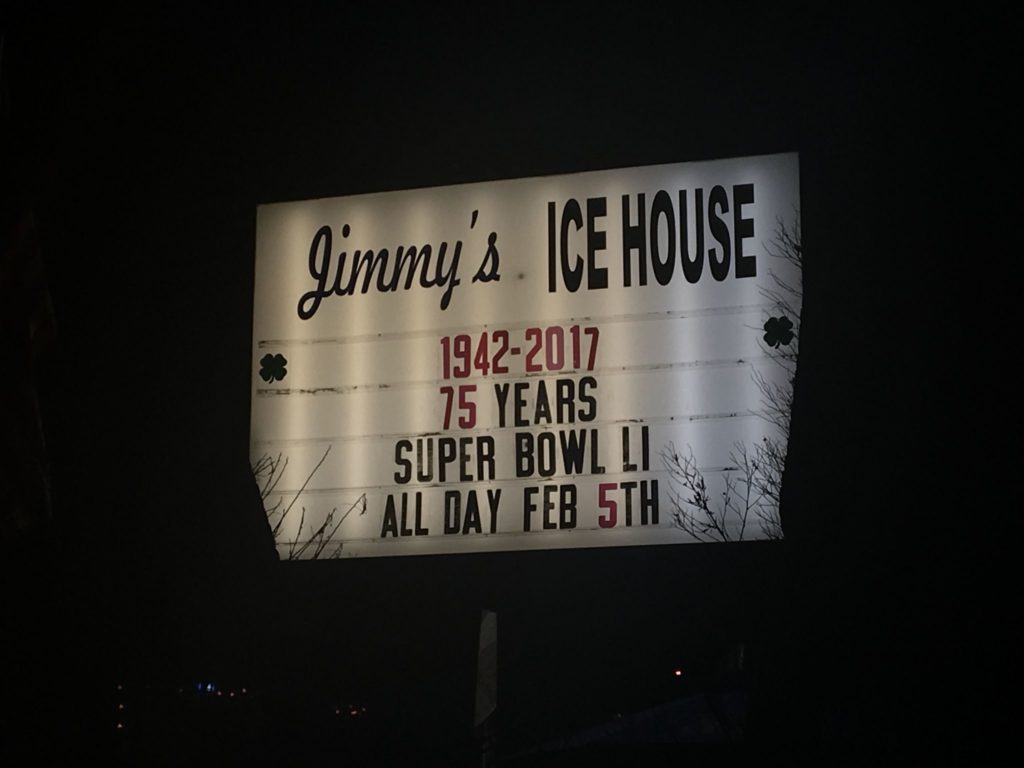 photo source: Jimmie's Place
One of the most reputable in the industry, Jimmy's Place in Houston is a family owned business that was founded in 1942 by Jimmie Murray. It was also known as Jimmy's Ice House back then. Today, they're one of the oldest and most prominent restaurants in Houston.
The bar was a special place for those working graveyard shifts because it opened as early as 7 a.m. In 2003, Jimmie's place was bought from Jimmie's son and daughter-in-law two years before the founder died.
Did You Know?
Jimmie's Place was once a grocery store that also sold ice.
---
3. Sheffield's Ice House
Year Established: 1942
Owner: George Cirilo
Location: 5118 Telephone Rd, Houston, TX 77087
Still in Business: Yes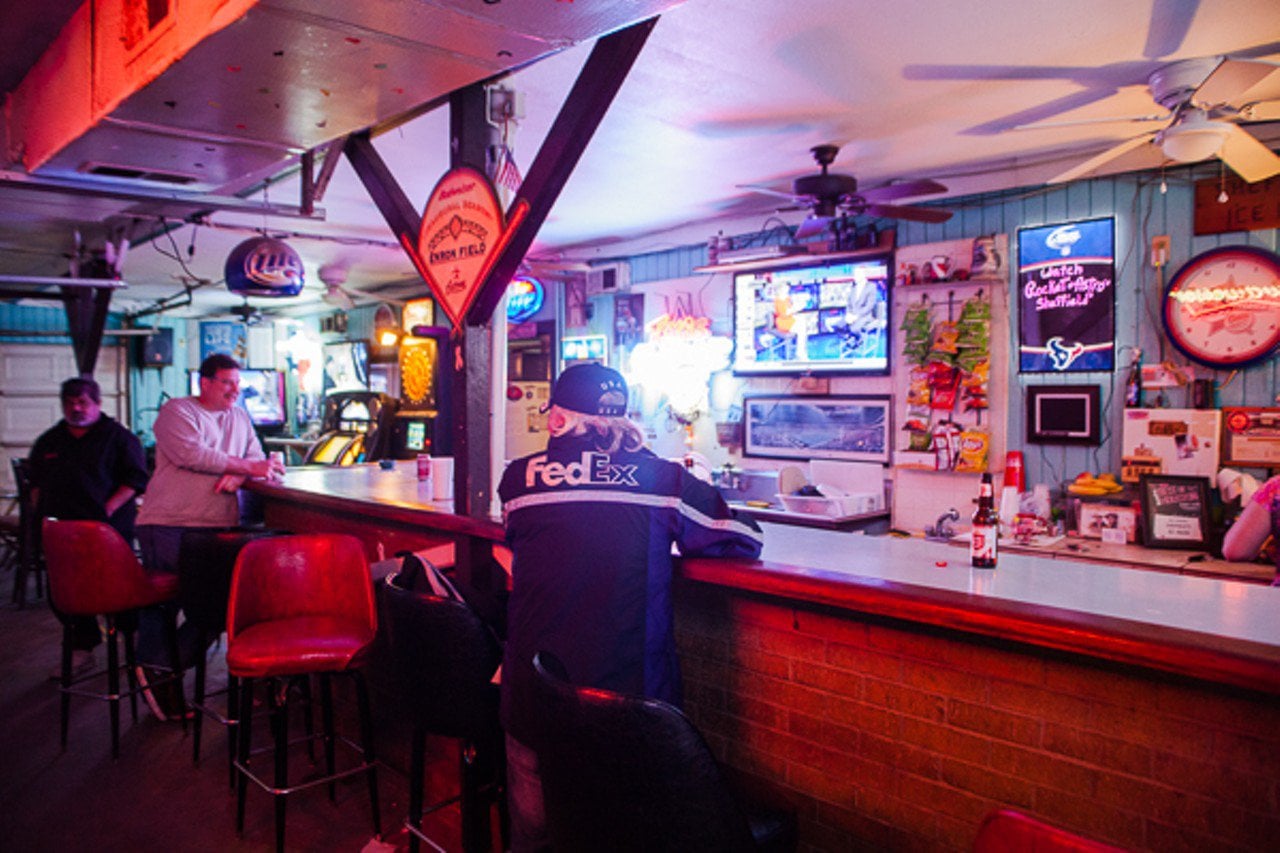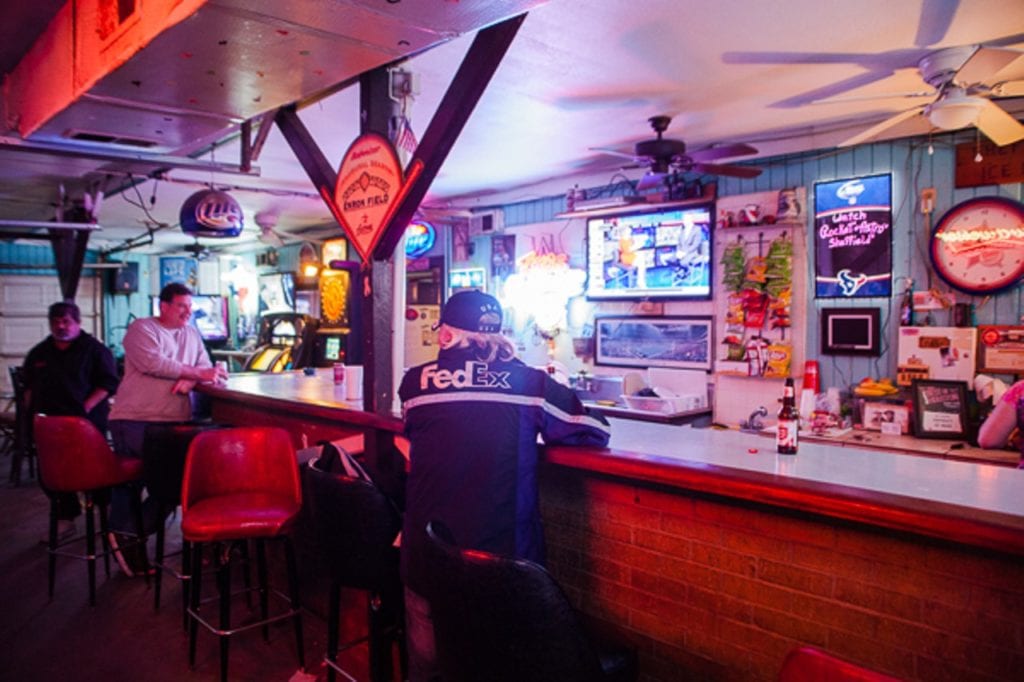 photo source: Sheffield's Ice House
Since 1942, Sheffield's has been providing cold beer, making it one of Houston's oldest bars. Sheffield's hasn't experienced any local urbanization, unlike the other famous bars, which may give it a more authentic dive feel.
There is a solid reason why the regulars have been coming here for so long: the beer is cold and dirt cheap. The ancient jukebox was finally replaced by an Internet device, and there are several flat-screen screens for viewing games, but overall, Sheffield's has remained the same.
---
2. Char Bar
Year Established: 1930
Owner: Michael Shapiro
Location: 05 Travis Houston, TX 77002
Still in Business: Yes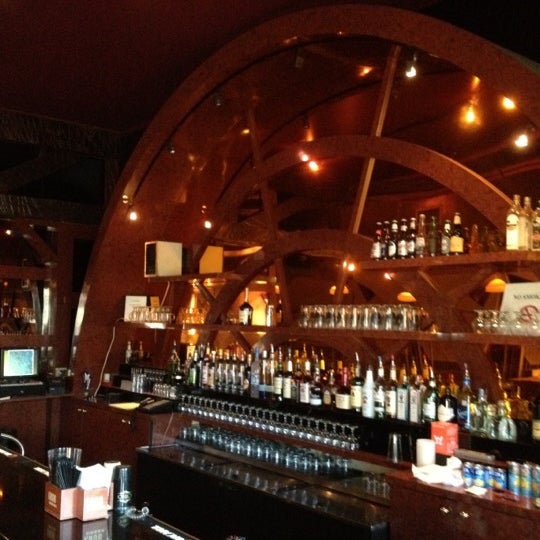 photo source: Char Bar
Char Bar has been open since 1930 and is very interesting. The bar area serves iconic martinis that are rather potent and shares space with an on-site tailor. The guests' needs are met by two full-service bars. More than ten years ago, when his clothing company was on the verge of closing, owner, tailor, and bartender Michael Shapiro established the bar. He claimed that the bar now accounts for around 80% of his income.
According to Shapiro, the property, which is one of the oldest commercial facilities in the area, cost him more than $500,000 to bring the old structure up to code for bar service.
Did You Know?
Char Bar is named after the owner's daughter, Charlien.
---
1. West Alabama Ice House
Year Established: 1928
Owner: Pete Markantonis
Location: 1919 W Alabama St, Houston, TX 77098
Still in Business: Yes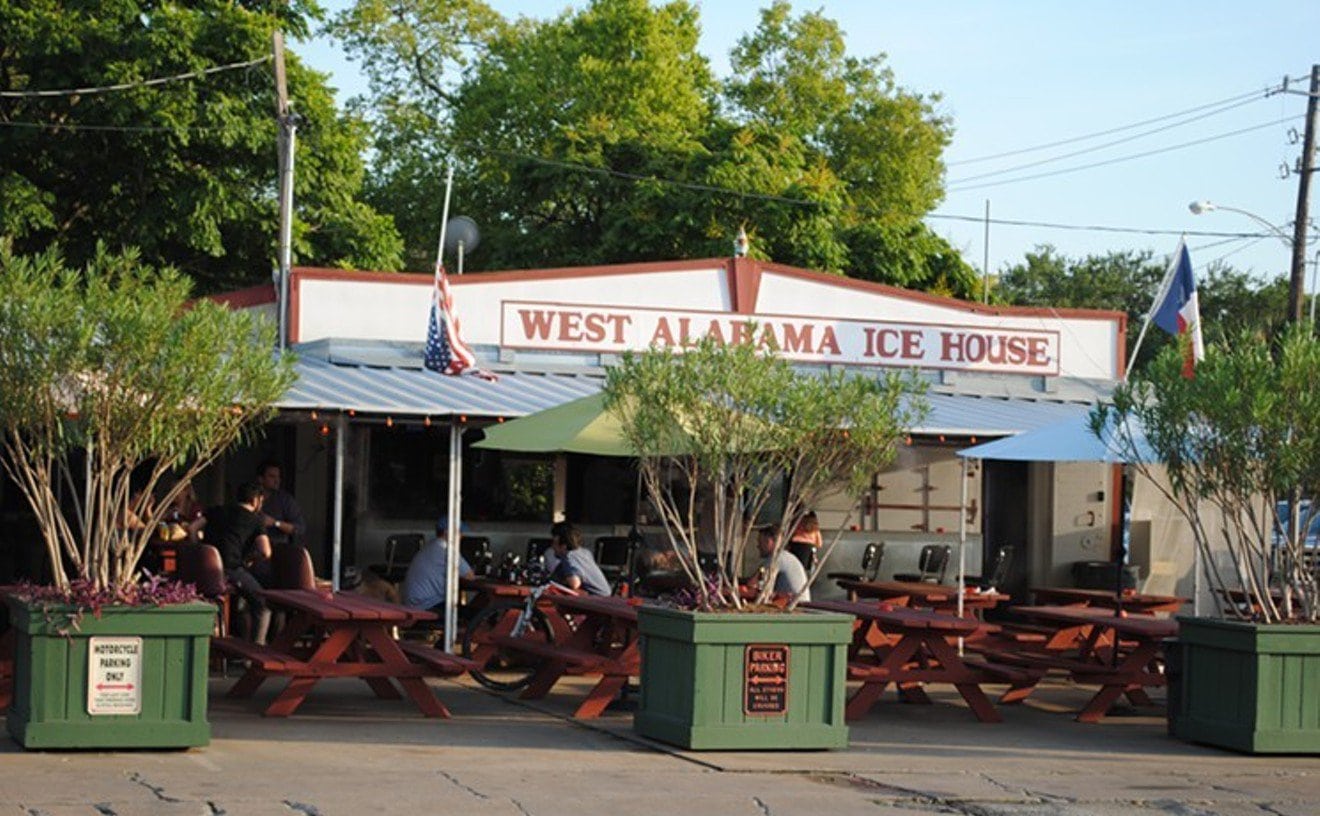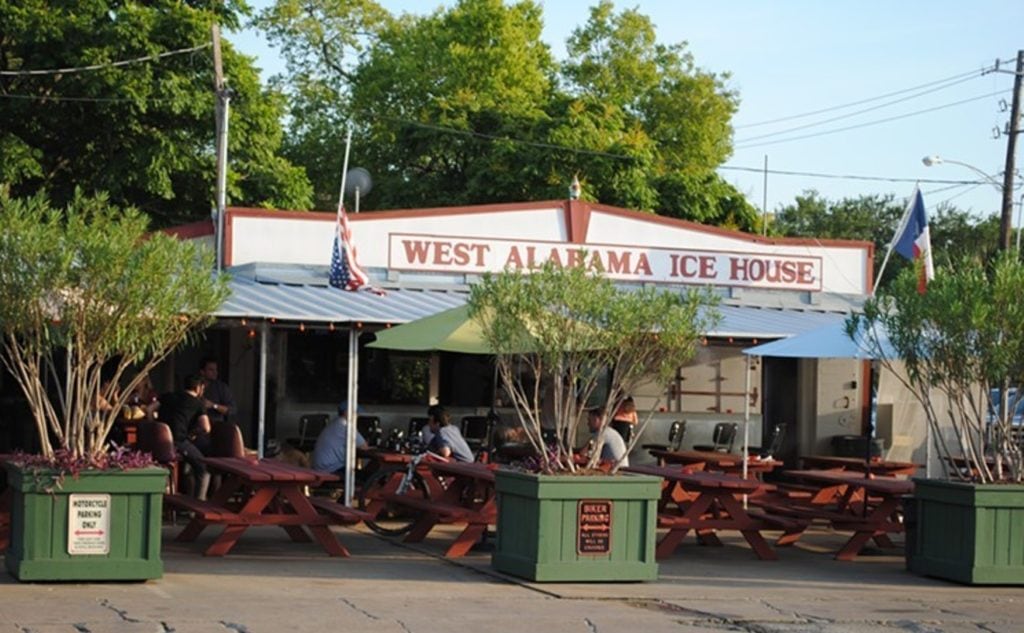 photo source: West Alabama Ice House
The West Alabama Ice House is the oldest bar in Houston. Since the 1920s, Houston, Texas has been the home of West Alabama Ice House, a company that sells ice and ice blocks.
They have changed from being one of the region's most well-known ice shops to a location with ice-cold drinks. In Texas, the West Alabama Ice House has been transformed into a family-friendly bar and grill.
They offer several different types of food, such as hamburgers, sandwiches, salads, and much more. If you want to hang out with friends and have a nice time, head down to the West Alabama Ice House Bar in Texas. The bar serves a variety of beverages, such as beer, wine, and mixed drinks.
Did You Know?
The Ice House is typically surrounded by motorcycles on the weekends by college students who play games in the back area and drink cheap beer from buckets.