Massively multiplayer online games, commonly called MMOs or MMORPGs (massively multiplayer online role-playing games), are some of the most popular games played today around the world.
Today's top MMORPGs like World of Warcraft and the Elder Scrolls Online owe their entire existence to the Multi-user dungeons (MUDs) of the mid-1970s and 1980s. These early multi-user games were played on services such as ARPAnet, one of the precursors of the modern internet.
The popularity of MUDs gave rise to the early versions of MMOs, which expanded on the concepts and game mechanics of earlier games. Players accessed these MMOs through online service providers, such as CompuServe, which charged a fee for every hour of use.
Eventually, the first true MMOs emerged around the same time as today's version of the internet. With the new open online service, MMOs were able to reach a wider audience and were enjoyed by a truly massive player base.
9. Tibia
Release Date: 1997
Developer(s): CipSoft
Publisher(s): CipSoft
Game Platform(s): Adobe Flash; Windows; macOS; and Linux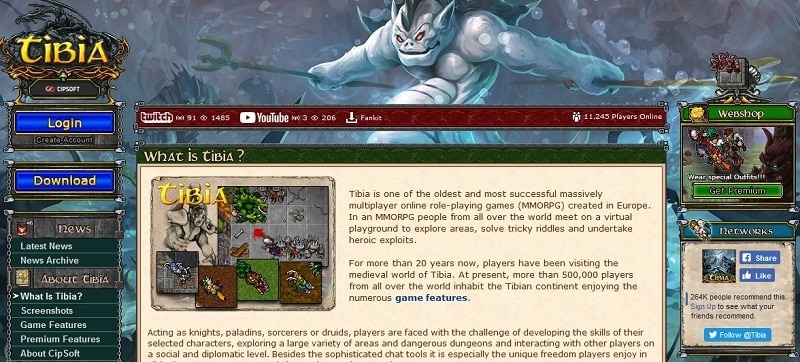 photo source: Tibia
Although Tibia was as popular as its contemporaries when it was release, unlike a lot of the other MMORPGs from the time Tibia's popularity has fallen off. However, the game can still be played today and is still maintained by the original developers, CipSoft. Tibia was first released online in early 1997 and is free to play, but players can update to a paid premium account that offers special benefits.
According to the official Tibia website, over 500,000 players still enjoy the game today. CipSoft still regularly updates Tibia to keep players interested.
Krista and Tatiana will be turning 12 soon and are living happy lives with their family in Canada. Most recently, a documentary about Krista's and Tatiana's lives called Inseparable was released by the Canadian Broadcasting Corporation (CBC).
---
8. Ultima Online
Release Date: 1997
Developer(s): Origin Systems; currently Broadsword
Publisher(s): Electronic Arts
Game Platform(s): Microsoft Windows; Linux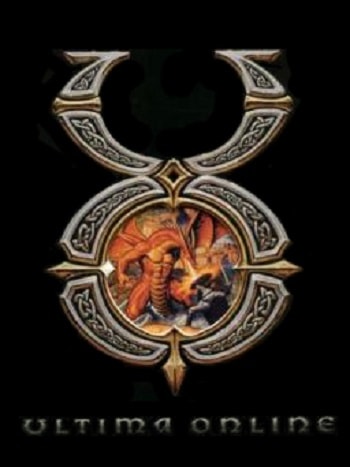 photo source: Wikipedia
If you ask any gamer what the first MMORPG was, chances are they'll tell you it was Ultima Online. While Ultima Online is far from the first MMO game, it is largely responsible for the popularity of today's MMORPGs. The development team behind Ultima Online took the best parts of the game's predecessors and did it better – Ultima Online had a better story, better graphics, and better game mechanics than any MMORPG that came before.
Ultima Online was first developed in 1995 and the first preview of the game was shown to the public at the second E3 (Electronic Entertainment Expo) in 1996. After this, Ultima Online went into beta and was finally released to the public in September 1997. Over the years, Ultima Online remained popular even as the game was passed onto different developers. In 2007, an updated version of the game was released as Ultima Online: Kingdom Reborn. A new development studio, Broadsword, now owns Ultima Online and will continue to update the game.
---
7. Meridian 59
Release Date: Early form in 1995; commercially released in 1996
Developer(s): Archetype Interactive; currently Andrew Kirmse and Chris Kirmse
Publisher(s): The 3DO Company; currently Andrew Kirmse and Chris Kirmse
Game Platform(s): Microsoft Windows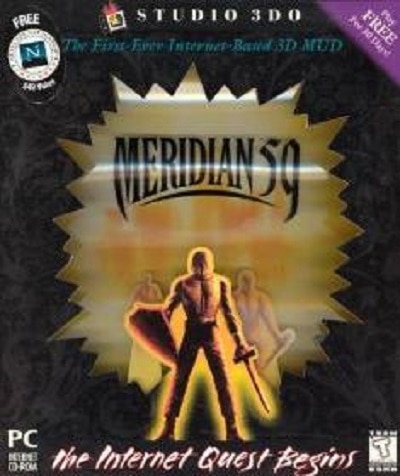 photo source: Wikipedia
Meridian 59 is notable for being the first 3D MMORPG ever released. The game had an initial small release in late 1995 and received a wider commercial release in 1996. The idea for Meridian 59 was originally conceived by Andrew Kirmse and his brother Chris Krimse, who were part of the development team at Archetype Interactive. A year after the beta version of Meridian 59 was released, Archetype Interactive was acquired by The 3DO Company, who commercially released Meridian to a wider audience in 1996.
Meridian 59 did not perform as expected and the Krimses left The 3DO Company in 1997. The 3DO Company continued to run the game on a smaller sale until 2000 and turned the game over to another studio who stopped running Meridian 59 in 2010. Later that year, Meridian 59 was returned to the Krimses who released the game as freeware, which is still widely played today.
---
6. Nexus: The Kingdom of the Winds
Release Date: 1996 in Korea; 1998 in North America
Developer(s): Nexon
Publisher(s): Nexon; Kru Interactive in North America
Game Platform(s): Microsoft Windows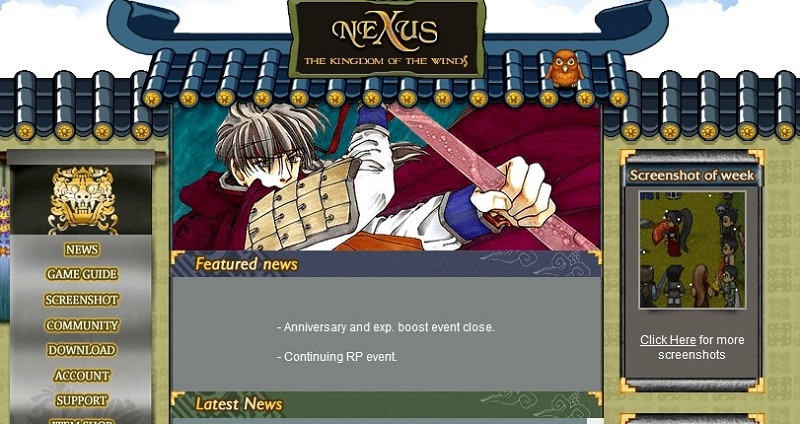 photo source: Kru Interactive
Nexus: The Kingdom of the Winds, commonly called Nexus TK or just Nexus, is another early MMORPG that heavily influenced the MMO games that came after. Nexus was originally created by Korean game developers Nexon (who are known for the extremely popular MMORPG MapleStory), who released Nexus to the Korean market in 1996. Development of Nexus began in 1994 and the game is loosely based on Korean mythology.
The popularity of Nexus in Korean led Nexon to release the game in North America through its U.S. subsidiary, which changed its name to Kru Interactive in 2005. Nexus entered beta in North America in 1997 and was commercially released a year later. Like a few of the most popular MMORPGs released around this time, Nexus is still regularly updated and played by thousands of people around the world today.
---
5. The Realm Online
Release Date: 1996
Developer(s): Sierra On-Line; Current version by Norseman Games
Publisher(s): Sierra On-Line
Game Platform(s): Windows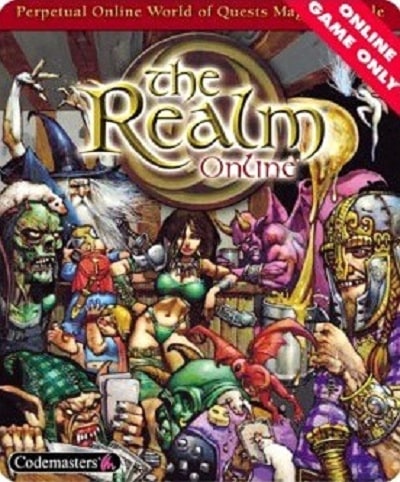 photo source: Giant Bomb
While a few of the earlier games on this list opened the door for the emergence and popularity of MMO games, The Realm Online is widely considered to be the first true MMORPG. The Realm Online was released in 1996, a year before the term MMORPG was even coined. The game came about when the Internet was hitting its stride and at its peak, thousands of players around the world were playing The Realm Online.
Despite its early success, interest in The Realm Online waned as other better-known MMORPGs came out around the same time and its original developers, Sierra On-Line dropped the game in 2000. However, The Realm Online retained a loyal fanbase and Codemasters took over the game and began updating it again. In 2003, Frank Ross of Norseman Games, a true fan of The Realm Online, purchased the rights and continues to maintain and update The Realm Online today.
---
4. Legends of Future Past
Release Date: 1992
Developer(s): NovaLink (Inner Circle Software)
Publisher(s): NovaLink
Game Platform(s): Amiga; Atari ST; DOS; Macintosh; and the Internet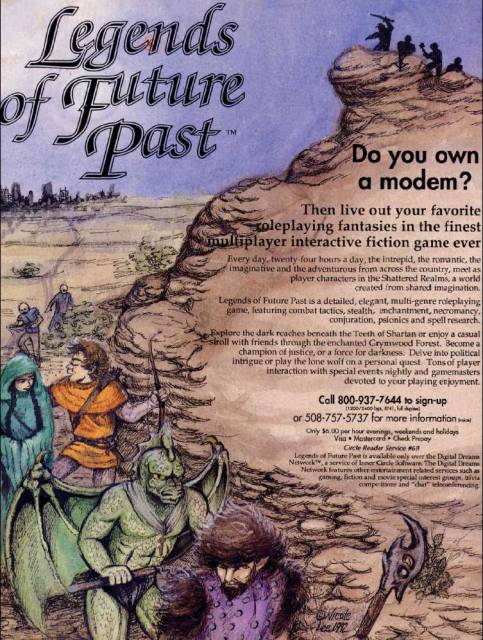 photo source: Giant Bomb
Legends of Future Past is notable for being the first commercially available text-based MMORPG to make the transition from a proprietary network provider to the Internet. The game was designed by Jon Radoff and Angela Bull, who were part of the NovaLink team. Legends of Future Past was released in 1992 through CompuServe, who charged players $6 per hour to play the game. The game eventually moved onto the Internet and ran until the end of 1999.
Legends of Future Past had unique features for the time, including a resource gathering and crafting system – it was one of the first games to feature crafting. Additionally, Legends of Future Past paid people to be Game Masters who ran online events and expanded the game's world. Several of the Game Masters and developers of Legends of Future Past went on to become some of the top talent in the MMORPG industry.
---
3. Neverwinter Nights
Release Date: 1991
Developer(s): Stormfront Studios
Publisher(s): Strategic Simulations
Game Platform(s): MS-DOS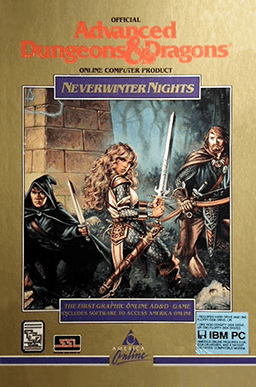 photo source: Wikipedia
Although there are older precursors to MMO games, Neverwinter Nights is widely regarded as one of the most important games in the history of MMORPGs. Neverwinter Nights was the first MMORPG to display graphics and was developed by legendary game designer Don Daglow and Stormfront Studios in collaboration with AOL, which was called Quantum Computer Services at the time.
Like most early MMORPGs, Neverwinter Nights was heavily based on the table top role playing game Dungeons & Dragons. AOL ran Neverwinter Nights from 1991 until 1997. Neverwinter Nights helped paved the way for a new genre of games and is credited with establishing MMORPG staples such as guilds and chat features.
---
2. Habitat
Release Date: Beta released in 1986; commercially released as Club Caribe in 1988
Developer(s): Lucasfilm Games and Quantum Link
Publisher(s): Quantum Link
Game Platform(s): Commodore 64; FM Towns; Microsoft Windows; MAC OS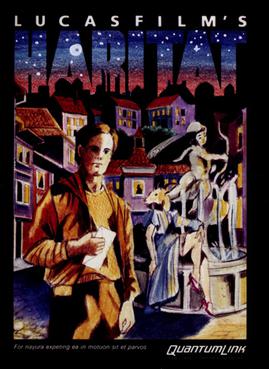 photo source: Wikipedia
Habitat was developed by Lucasfilm Games, a division of LucasArts Entertainment Company, in 1985. It widely considered to be the first attempt at creating a large-scale commercial multi-user virtual environment. The idea for Habitat was developed by Randy Farmer and Chip Morningstar and the game was released as a beta test by Quantum Link in 1986.
This original version of Habitat was available from 1986 to 1989 – the game had to be shut down because service was too expensive to be viable. To make its money back, Lucasfilm Games released a stripped down version of the game and called it Club Caribe in 1988. That same year, Fujitsu licensed Habitat and released the Japanese version of the game in 1990. Habitat was largely forgotten until it was revived in 2016 by The Museum of Digital Art and Entertainment (The Made) and released as Neohabitat.
---
1. Island of Kesmai
Release Date: 1985
Developer(s): Kesmai
Publisher(s): CompuServe
Game Platform(s): PC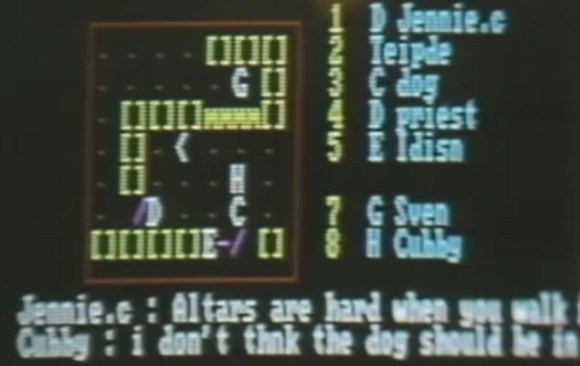 photo source: engadget
While the Island of Kesmai was technically a MUD (Multi-user dungeon), it was the first commercial MMORPG, which makes it the oldest MMO game in the world. The origins of the Island of Kesmai can be traced back to 1980 when two University of Virginia classmates John Taylor and Kelton Flinn developed the Dungeons of Kesmai. Not much is known about this early game, but Flinn and Taylor turned it into a single player game in 1982 to sell to CompuServe.
A year earlier, Taylor and Flinn had written Island of Kesmai and used their connection with CompuServe to expand on their original game. They spent the next year recoding the game on CompuServe's BASIC programming and launched the Island of Kesmai in 1984. It took a year of internal testing before Island of Kesmai was released to the public in late 1985.
Although Island of Kesmai was free to play, using CompuServe cost $6 per hour for 300 baud and $12 per hour for 1200 baud access rates. Island of Kesmai was retired in 1995, but a sequel called Legends of Kesmai was launched in 1996.
OTHER POSTS YOU MAY BE INTERESTED IN