Legos are truly toys of the imagination. Founded in 1932, the company's ongoing history as a space for creation and play has remained strong. Surprisingly, the Lego minifigure didn't debut until 30 years after the company's founding, marking further innovation. These customizable dolls have allowed kids and adults alike to create new worlds. As testament to their legacy, videogames, films and lucrative collaborations have come about with minifigures as the focus. Read below to learn more about some the earliest minifigures ever made and how they have changed throughout the decades.
11. Ghost
Year: 1990
Set: Black Monarch's Ghost
Notable features: Glow in the dark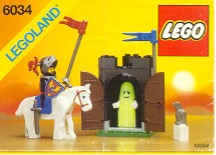 photo source: Lego via Brickset
Lego released the first ghost minifigure in 1990. It featured a black smiley face on a white, glow-in-the-dark shroud. Instead of normal minifigure legs, it had two Lego bricks that fit into Lego sets and stands. It also featured two white arms and hands. Like many of the other fantasy figures, the original ghost was part of a Castle set and haunted a miniature castle.
Did you know:
The Lego Ghost has appeared in several films and videogames since 1999.
---
10. Forestman
Year: 1987
Set: Castle
Notable features: Peter Pan-style hats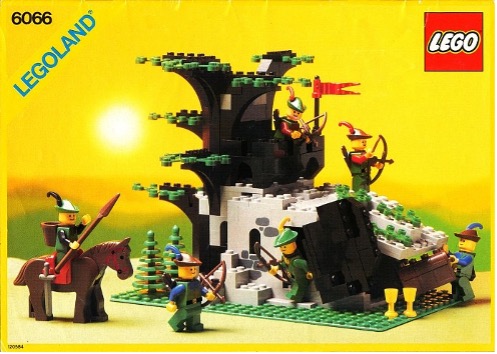 photo source: Lego via Brick Set
Rather than loggers, the forestmen were Robin Hood-esque figures that debuted in 1987, moving away from the Lego's previous knight-castle theme. There were six forestmen in total, each with a similar uniform that had various color combinations. Five of the minifigures wore green overalls with either black, blue or red accents. The red minifigure came with either a green or red cap, while the blue minifigure had a brown cap. The minifigure with a yellow undershirt didn't have a collar like the others, but, instead, a tie detail and a red pouch
Did you know:
The figures came with spears, bow and arrows, and swords.
---
9. Jockey
Year: 1986
Set: Horse trailer
Notable features: Blue and yellow shirt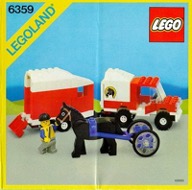 photo source: Lego
The first horse trailer in the Town series, this mid-80s set featured a horse trailer with a functional door, a horse with an attachable wagon and a jockey. The jockey minifigure included a blue and yellow top with the number three, grey pants and a removable black helmet.
Did you know:
The minifigure could sit in and "operate" the van or ride the horse.
---
8. UNICEF Volunteer
Year: 1985
Set: UNICEF Van
Notable features: UNICEF logo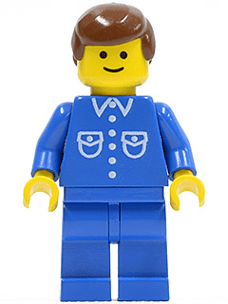 photo source: Brick Set
A rare collaboration set from 1985, the UNICEF Van was part of the Town collection. It came with a blue UNICEF vehicle, complete with logo, and a worker in a blue suit with the UNICEF emblem and removable brown hair. After the Lego family in the early 1970s, male minifigures usually sported headwear, like a hat or helmet, rather than hair. This 1985 figure shows a deviation from the trend, marking a new design style that would carry through.
Did you know:
This set is so coveted among collectors that it can retail for up to $6,947.
---
7. Castle Figures
Year: 1983
Set: Castle
Notable features: Retractable helmet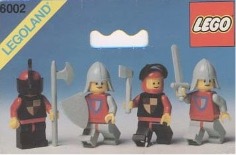 photo source: Lego via Brick Set
Like Space and Town, the Castle sets included various characters, buildings and vehicles tailored to the theme. The 1983 minifigures were two kinds of knights—perfect for developing exciting stories of adventure and battles. The first knight featured black and red armor and a helmet with a retractable face covering. The other knight had silver and red armor, complete with a matching shield.
Did you know:
The figures also came with weapons—a sword, axe and a battle axe.
---
6. Universal Building Set Figures
Year: 1981
Set: Universal Building Set
Notable features: Sock puppet design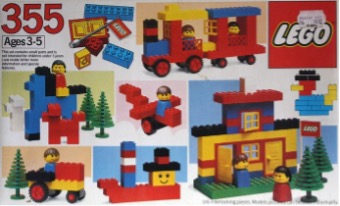 photo source: Lego via Brick Set
Minifigures are great for kids who understand the difference between toys and food, but for younger children, minifigures pose a serious choking hazard—something true of most Lego bricks. As a result, Lego developed larger building blocks made for toddlers to enjoy building without risk. These minifigures are an early example of these kiddie toys. They are simply a head attached to a body without arms or legs that can still connect to other bricks.
Did you know:
The set also featured horses, trains, a house and a boat so the minifigures could go on exciting adventures.
---
5. Chef
Year: 1980
Set: Little People with Accessories
Notable features: Removable chef hat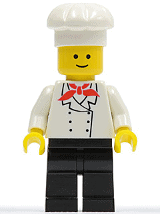 photo source: Brick Set
The chef minifigure was part of a larger set of career-focused minifigures, which also included a police officer, doctor, construction worker and doctor. The 1980 chef minifigure featured a white uniform, black pants, a red bowtie and a removable chef hat. The set also had a red mug and broom that served as perfect accessories for the chef.
Did you know:
In later iterations, the chef came with a burger stand.
---
4. Town Figures
Year: 1980
Set: Town
Notable features: Police uniform featured zippers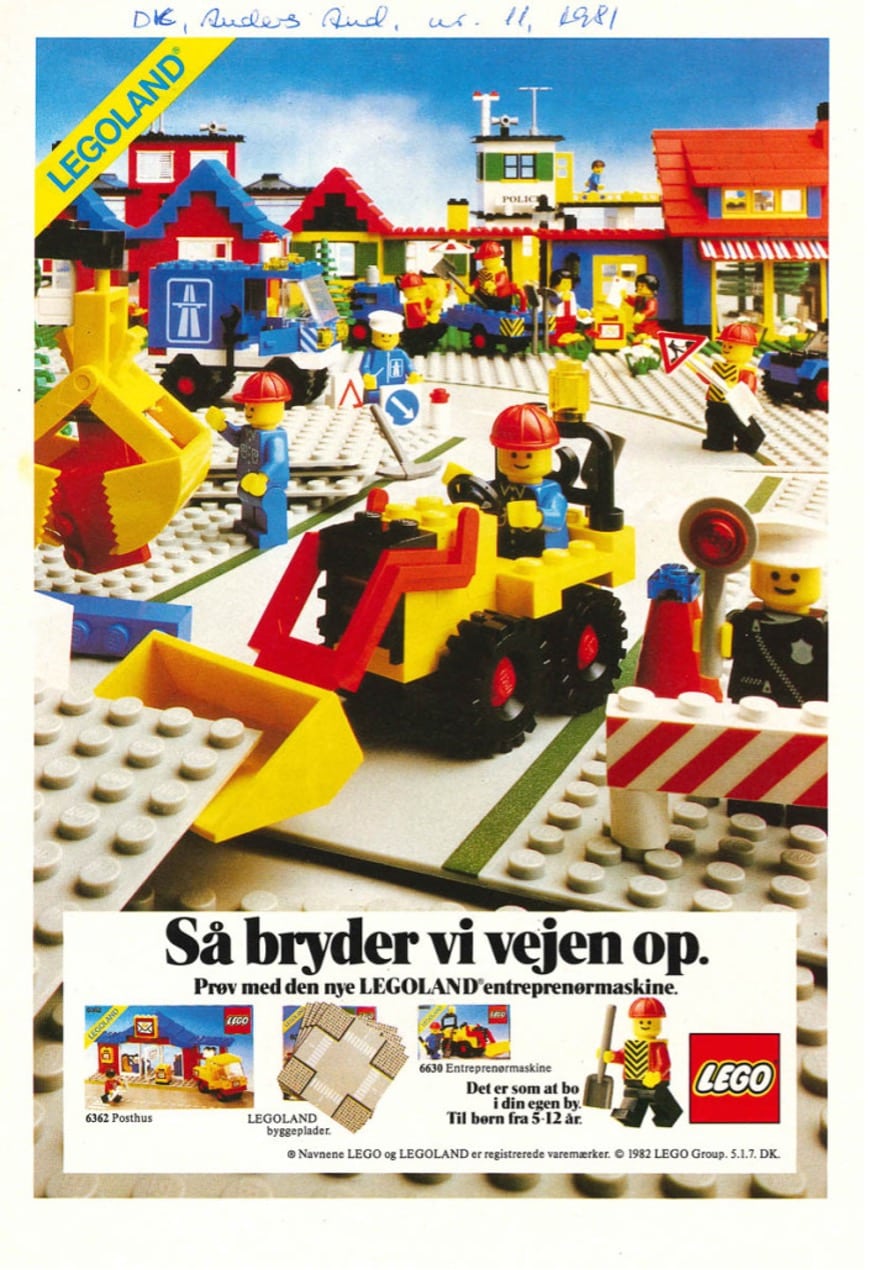 photo source: Lego via Rambling Brick
The 1980 iteration of the Lego Town set improved upon the earlier version. It included more elaborate vehicles and buildings and even gave the police officer zippers on the front of his coat. Other figures included construction workers, complete with hard hats, townspeople, paramedics and a race car driver. This set allowed kids to design their dream cities, customize the characters and rely on their imaginations to create all sorts of scenarios.
Did you know:
Advertisements for the Town set changed in the early 80s, focusing more on individual elements rather than the whole picture.
---
3. Astronauts
Year: 1979
Set: Space
Notable features: Various spacesuit colors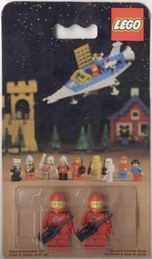 photo source: Brickset
In the early days of minifigures, before Star Wars or Batman collaborations, Lego produced sets with general concepts. For space, they created astronauts that came in white, red, blue and yellow spacesuits. Each astronaut had the emblem of a spaceship zooming from a yellow planet, a design that debuted the year prior.
Did you know:
The figures also came with walkie-talkies and could ride in a buildable spaceship sold separately within the set.
---
2. Police Officer
Year: 1978
Set: Town
Notable features: Removable white cap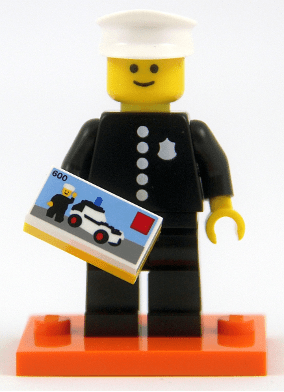 photo source: Hattbricks via Bricklink
The Lego Police Officer exemplified the Lego minifigure. He featured claw-like hands, a customizable body and the classic yellow skin tone seen on many figures even now. He wore a black police uniform with white buttons, a white badge and a white removable cap.
Did you know:
The police officer was part of the Lego Town Set, which also included a police car, gas station and rescue helicopter.
---
1. Lego Family
Year: 1974
Set: Lego Family
Notable features: Able to hold hands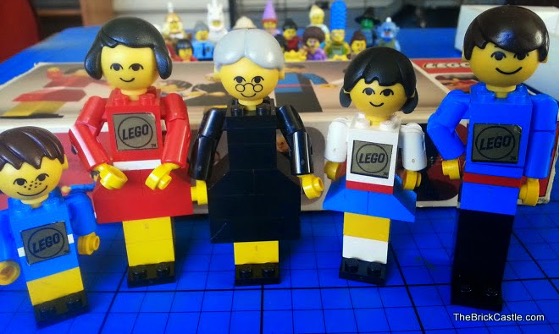 photo source: The Brick Castle
While not technically the minifigures Lego is known for today, Lego Family was the company's first foray in designing dolls and, therefore, the oldest minifigures. Sold in 1974, the set consisted of a mother, father, son, daughter and grandmother. They were much larger than the minifigures, but their design elements carried over to their progeny. Their heads were movable, they were made of blocks and their hairstyles could be switched around.
Did you know:
As a fun bonus, the Lego Family's hands could be held by the other figures'—something modern minifigures can't do.
OTHER POSTS YOU MAY BE INTERESTED IN