Lego minifigures have been around for decades—though they are not quite as old as the Lego brand itself!
Established in 1932 as a Danish toy production company, Legos have lost little traction over the nearly one hundred years it has existed. Built on the ideal of the Danish phrase "play well" ("leg godt"), Legos have delivered time and time again with new products, toys, and inventions.
The original Lego minifigure was first created in 1975, though it was a different breed than the models we're familiar with today. Produced without faces, arms or legs, they were more of a precursor to what we know today was the Lego minifigure.
As of 2003, there have been over 3.7 billion Lego minifigures produced worldwide! Let's take a closer look at eight of the most popular, from newest to oldest.
8. Lego Wheelchair Minifigure
Production year: 2016
Value: Low
Editions: Original
Lego set: Lego City "Fun in the Park" line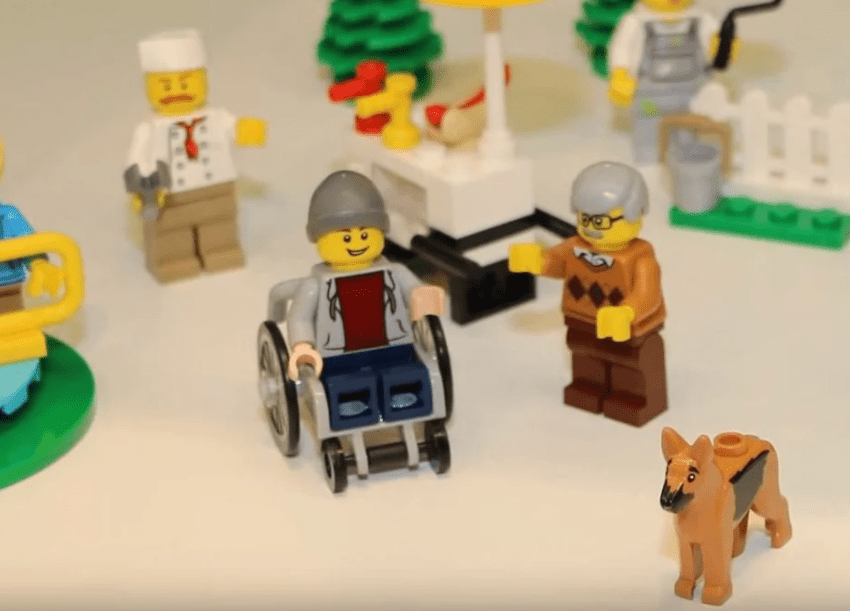 photo source: NPR.org.
The LEGO City set added a special minifigure to its "Fun in the Park" line in 2016: the Wheelchair minifigure. The brand's production aim for this special addition to the line was to add more representation for those who are often marginalized in society, and to increase children's exposure to others who are different from them, or those who live different lifestyles.
The brand's co-founder made an announcement around the time of the minifigure's release, acknowledging: "The brand continues to exclude 150 million disabled children worldwide by failing to positively represent them in its products."
The first ever Lego wheelchair minifigure was introduced at the Nuremberg and London toy fairs in 2016, complete with a beanie hat for characterization and a helper dog figure as part of the set.
Did you know?
The Lego brand has been accused of a lack of diversity in its minifigure production in prior years; in 2015, a #ToysLikeMe online campaign was launched as a public outcry to the Lego company to include more representation in its products. The campaign accumulated more than 20,000 signatures on a Change.org petition, likely leading to the brand's inclusion of a disabled minifigure.
---
7. Lego Karate Master Minifigure
Production year: 2010
Value: Low
Editions: Series 2 and 3
Lego set: Collectable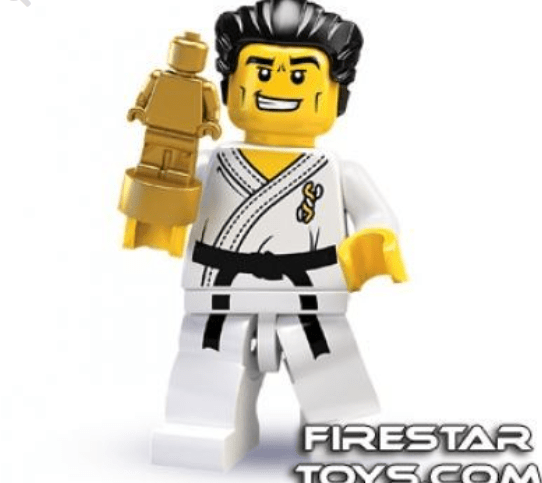 photo source: Firestartoys.com
The Karate Master minifigure is one cool dude! With removable hair and a mini Lego trophy (that's actually a mini version of a minifigure), he's set for success and versatility. This minifigure is part of the Collectable minifigures line, and is included in Series 2 and 3.
Dropped in 2010, the Karate Master minifigure bends into several different positions to represent a range of karate moves. He can kick, stand with legs together, or stand with legs apart. He also represents an advanced karate kid, with a black belt that hangs over his waist—plus, his trophy goes to show that he's head and shoulders above the competition!
Did you know?
The Karate Master minifigure is one of only four Lego Collectables minifigures to come with a trophy. The others are the Soccer Player, the Sumo Wrestler, and the Hollywood Starlet.
---
6. Lego Harry Potter Minifigure
Production year: 2004
Value: Low
Editions: Several
Lego set: Harry Potter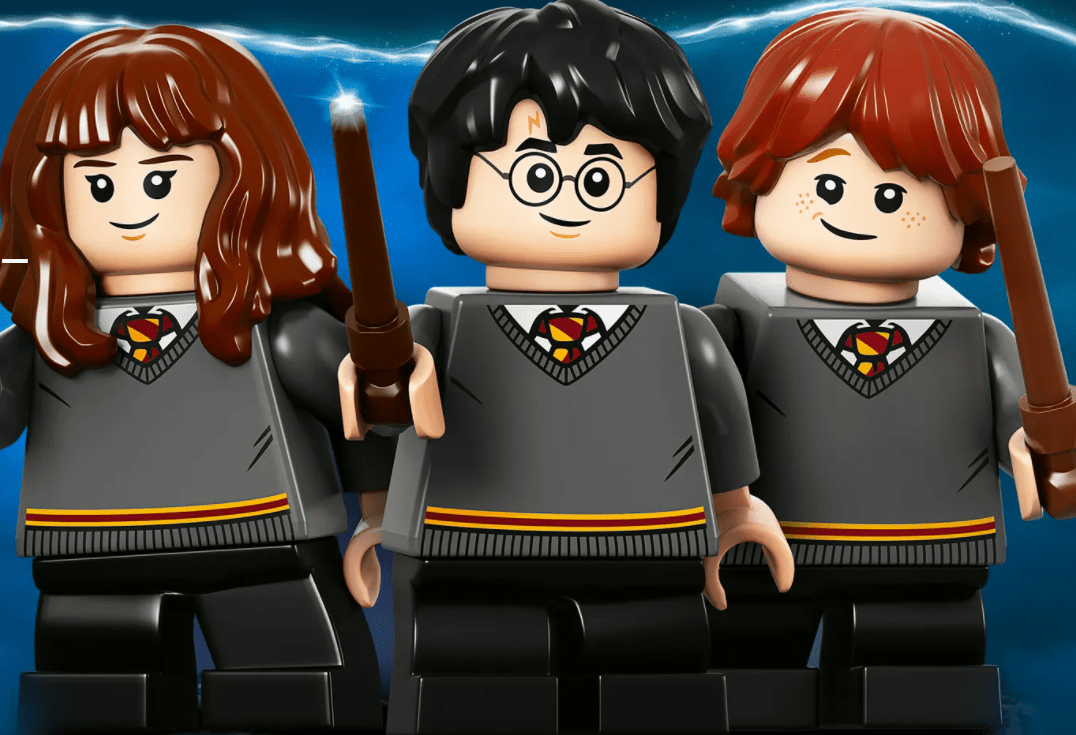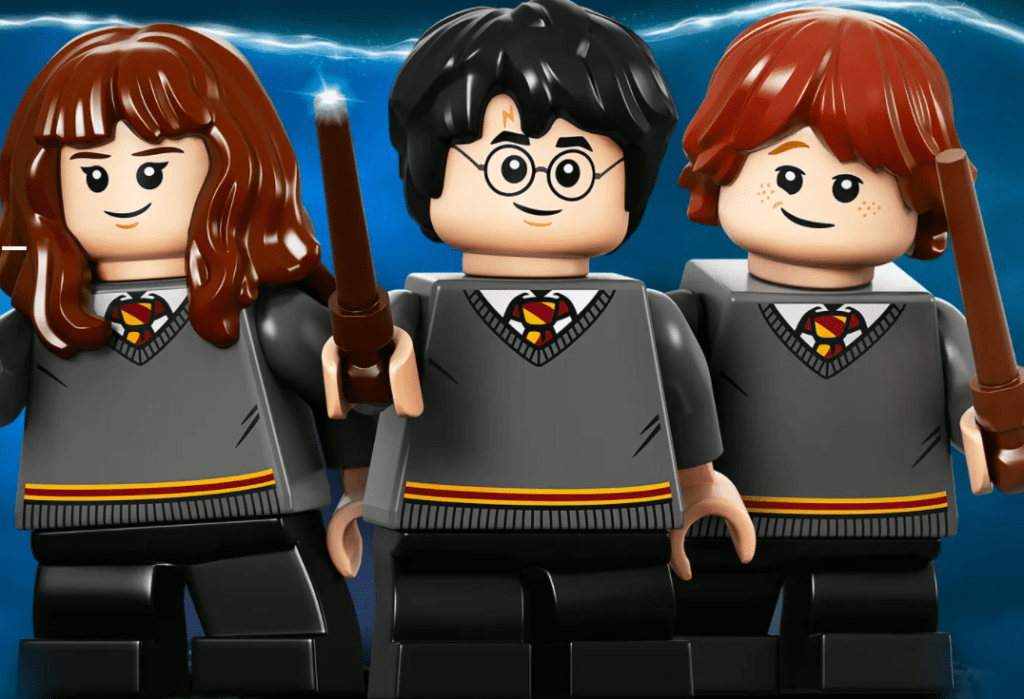 photo source: Lego.com
Anyone born in the 1980s or 90s probably has a soft spot for Harry Potter—which is convenient, since Legos were also most popular among those belonging to this age bracket (millennials).
It makes sense, then, why Lego set its sights on developing a Harry Potter line in 2001. Several versions of Harry Potter and his friends, mentors, and adversaries were produced, representing the most popular characters from the blockbuster success.
The 2004 Harry Potter minifigure comes in his Hogwarts uniform, complete with gray pants, pullover sweater, scar, and glasses. Other versions include a violet cape, or the famous invisibility cloak.
Did you know?
The original Harry Potter Lego minifigure was yellow (2001). The 2004 edition was the first to feature a more realistic flesh tone, and subsequent models were made with this same coloration. The Harry Potter Lego set includes more than 20 Harry Potter minifigures.
---
5. Luke Skywalker Minifigure (Tatooine)
Production year: 1999
Value: Low
Editions: Several
Lego set: Star Wars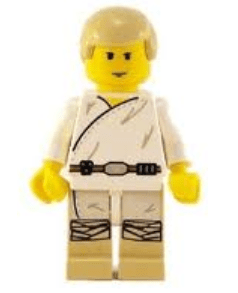 photo source: en.brickimedia.org
The Lego Star Wars 7110 Landspeeder set emerged on the scene in 1999, featuring this first-ever Luke Skywalker minifigure. As is indicative of most older Lego minifigures, this model has the classic yellow coloration of other pre-2004 minifigures.
This minifigure appears in three Lego sets: the Millennium Falcon, the Landspeeder, and the Mos Eisley Cantina. From Lego's introduction of Star Wars characters to their brand, the sets have been a great success, and have become classics over the years.
Star Wars fans can collect a range of the franchise's most popular characters, including Princess Leia, Han Solo, Darth Vader, and more.
Did you know?
The biggest Lego Star Wars set is the 75192 Millennium Falcon—which of course includes Luke Skywalker's character—with exactly 7,541 pieces! Since its production, it has been surpassed by the 10,000-piece Colosseum, but remains one of the largest Lego sets in existence.
Check out our article on the Oldest Star Wars Lego Sets Ever Made.
---
4. Lego Wizard Minifigure
Production year: 1993
Value: Low
Editions: Original
Lego set: Castle Dragon Knights Magic Shop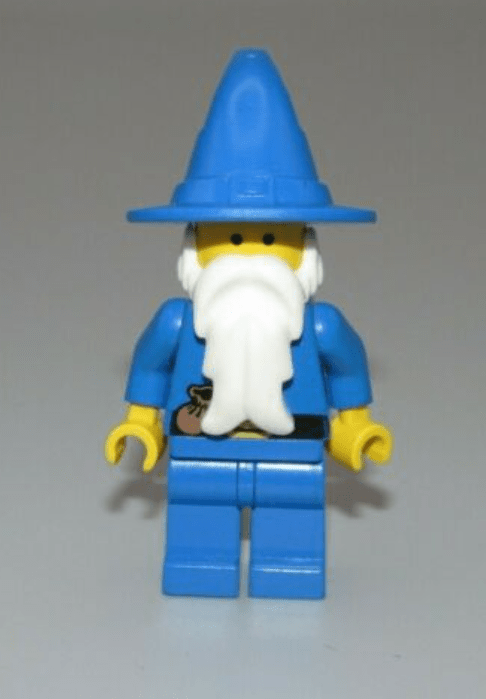 photo source: Ebay.com
Majisto the Wizard is part of the 6020 Lego Castle Dragon Knights Magic Shop set. The set is a fantasy world built specifically for the Majisto Wizard minifigure, and comes with a spell scroll patterned tile, goblet, ladder, hollow tree to store equipment, glow in the dark magic wand, sword, and pet bird.
The Majisto minifigure is produced with the telltale yellow body of early Lego minifigures, as well as a long, white beard, blue wizard's hat, and blue torso, around which hangs a belt and small change purse.
Did you know?
Some (rare) descriptions of the 6020 Lego set describe Majisto the Wizard as Merlin—the wizard who is associated with the legend of King Arthur, and the kingdom of Camelot. That said, this minifigure is officially dubbed "Majisto" by the Lego company.
---
3. Lego Ghost Minifigure
Production year: 1990
Value: Low
Editions: Several
Lego set: Castle theme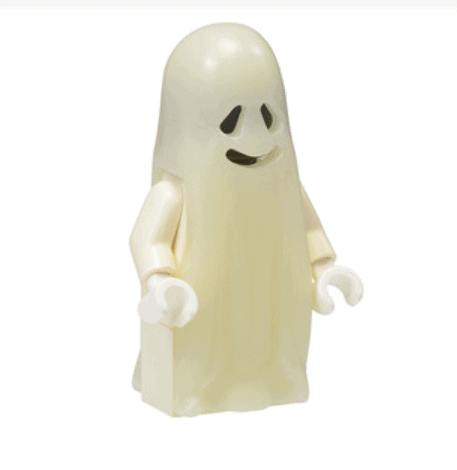 photo source: brickowl.com
The original Lego Ghost minifigure was the start of many subsequent Lego ghost minifigures, though all of the Lego ghost minifigures differ slightly in design from each other. The 1990 version has a smiling expression and a cream-colored tint, unlike future editions which have a frowning countenance and a whiter coloration.
Originally released as part of Lego's Castle theme, the 1990 ghost minifigure has become iconic of the theme. It features a glow in the dark effect, and a 1 x 2 brick and tile attached to the bottom of the figure (rather than legs, like ghost minifigures of later years).
Did you know?
The Lego ghost appears in several Lego video games, including LEGO Racers, LEGO Star Wars II: The Original Trilogy, LEGO Star Wars: The Complete Saga, LEGO Battles, LEGO Harry Potter, and LEGO Lord of the Rings.
---
2. Lego Pirates Minifigure
Production year: 1989
Value: High
Editions: Original
Lego set: Black Seas Barracuda Pirate Ship set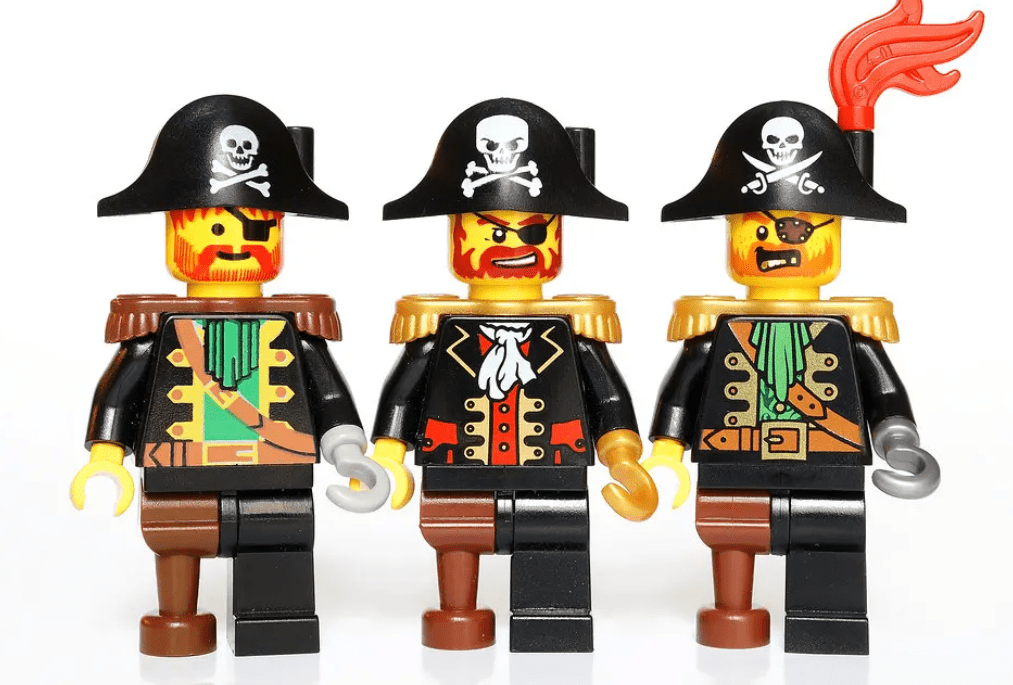 photo source: gameofbricks.eu
While Lego Pirates minifigures can be (and are) sold cheaply and exclusively—not always as part of their original set—the original Black Seas Barracuda Pirate Ship set they came with back in 1989 is now highly valuable. It is currently selling for as much as $2,500 through some online platforms as a rare vintage Lego set.
Lego Pirates minifigures were some of the earliest Lego figures of their kind, but they were immediately a hit among collectors. They also had significant changes from the earliest minifigure, which was produced just a few years prior. The facial expressions became more indicative of future minifigures, which were more realistic and had more expressions.
Did you know?
Legos produced a new version of the Black Seas Barracuda Pirate Ship set, complete with 2,545 pieces, in 2020. While the price tag is nothing to sneer at—$200—it's quite a ways from the hefty $2,000+ value of the original 1989 set!
---
1. Police Officer Minifigure
Production year: 1978
Value: Low
Editions: Original; 40th anniversary
Lego set: Collectable; Lego Set 600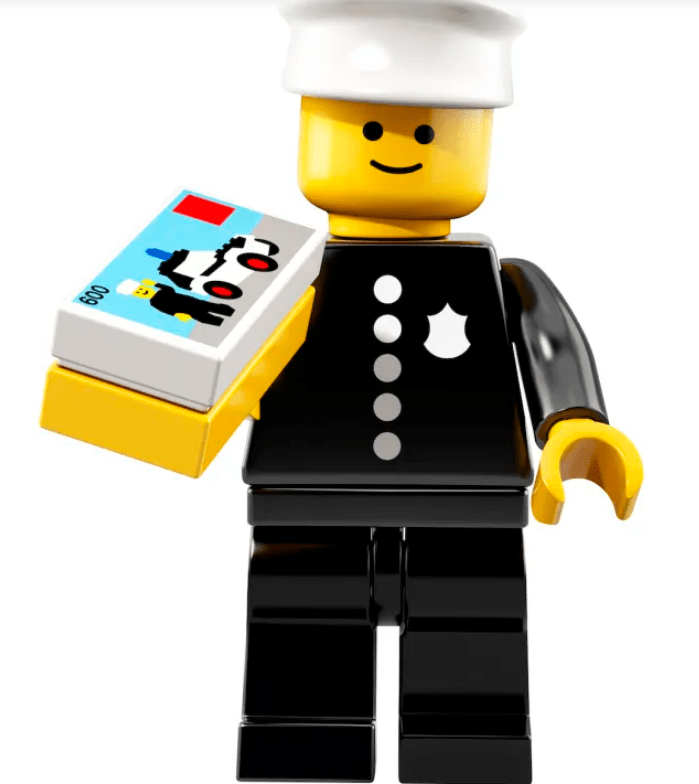 photo source: gameofbricks.edu
The Lego Police Officer Minifigure is the oldest lego minifigure.
In 1978, the Police Officer minifigure was born, complete with a simple smile, white hat, and black uniform. It was part of the Lego Set 600, which was one of the classic LEGO universe sets, which included a cop car and a man in uniform.

Despite its record as the oldest lego minifigure, the original friendly police officer isn't actually worth much—its value is about $20, and it seems to be easily attainable. The set itself is priced more moderately at $500+ for a brand new, unopened product.
Did you know?
The Police Officer minifigure, and its set, is said to be a milestone for the Lego brand. It ushered in a surge of sales and customer interest; from then on, most Lego products and subsequent sets were continually a hit.
It is not clear whether it was the birth of the minifigure, specifically, that contributed to the brand's newfound popularity; nevertheless, the Police Officer minifigure marked the beginning of an era for Lego.