Funko Inc. is an American toy company that has been manufacturing pop culture action figures and figurines since 1998. Founded by toy collector Mike Becker in Washington state, Becker built his own company from the ground up when he couldn't find a budget-friendly coin bank of the Big Boy Restaurants mascot. I
nstead, he obtained the licensing rights to produce his own, which proved unsuccessful; however, Becker's next move — licensing the rights to Austin Powers bobbleheads — skyrocketed his business to new heights.
Since the company's humble beginnings, it has gone on to manufacture figurines of popular characters such as the Grinch, Tony the Tiger, and the Cheerios honeybee. Though its shares have fallen in more recent years, Funko opened its second store in Hollywood in 2019, with 40,000 square feet of space. Suffice it to say, the company is still kicking!
Funko fans: stay with us! We're about to explore the eight oldest Funko Pop figurines in existence.
8. Kool-Aid Man
Year created: 2019
Value: Low
Success: Yes
Exclusivity: Average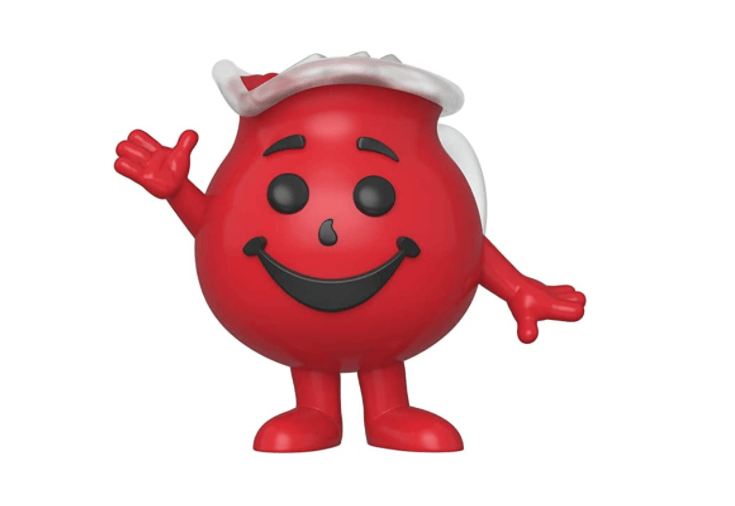 photo source: Amazon
The Kool-Aid Man is representative of simpler times—or, at least, the 70s. That said, Funko Pop's Kool-Aid figurine was just born in 2019, and he's nowhere near as tall as the original (six feet tall? More like four inches)!
Made of standard vinyl material, this Funko Pop figurine is considered to be a Target exclusive, according to the brand's product page. However, the Kool-Aid Man is available through other online sources, such as Walmart, Amazon, and GameStop.
Funko Pop's Kool-Aid Man is part of the company's Ad Icons line, which made its debut in the year 2010 and continues to this day.
Did you know?
The Funko Pop Ad Icons line features brand mascots from the last 50 years, and covers many of the mascots of major products and companies. A few of these include Cheerios, Dr. Pepper, Frosted Flakes, McDonald's, Tootsie Roll, and Rice Krispies.
---
7. Willy Wonka & the Chocolate Factory
Year created: 2016
Value: Low
Success: Yes
Exclusivity: Widespread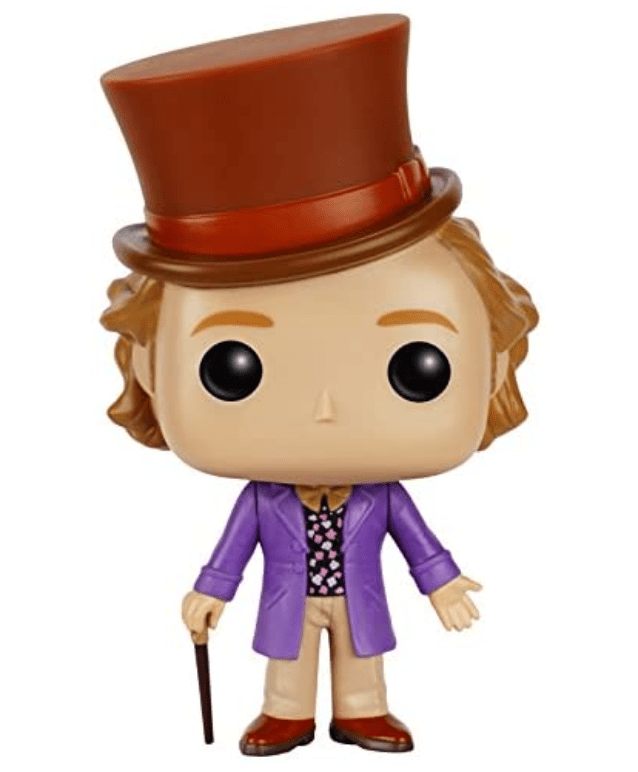 photo source: Amazon
For candy lovers and film lovers alike, the Willy Wonka Funko Pop figurine is a fairly recent addition to the brand family, but embodies both the 1971 version of Willy Wonka and the Chocolate Factory as well as the more modern Charlie and the Chocolate Factory (2005).
There are several Willy Wonka figurines which represent popular characters from the film adaptations. A few others are Charlie Bucket, Grandpa Joe, Veruca Salt, Mike Teevee, and Augustus Gloop.
The Funko Pop Willy Wonka figurine is produced with vinyl, and stands at 3 ¾" tall. A larger, more detailed version of this figure is available through the Funko Vinyl Idolz line.
Did you know?
Out of all of the child characters in the Willy Wonka story, Violet Beauregarde was originally excluded from Funko Pop's original line-up. This was remedied in the 2016 San Diego Comic-Con, when Violet's character was created as an exclusive figurine for the event.
---
6. Star Wars Darth Maul (Holographic)
Year created: 2012
Value: High
Success: Yes
Exclusivity: Limited edition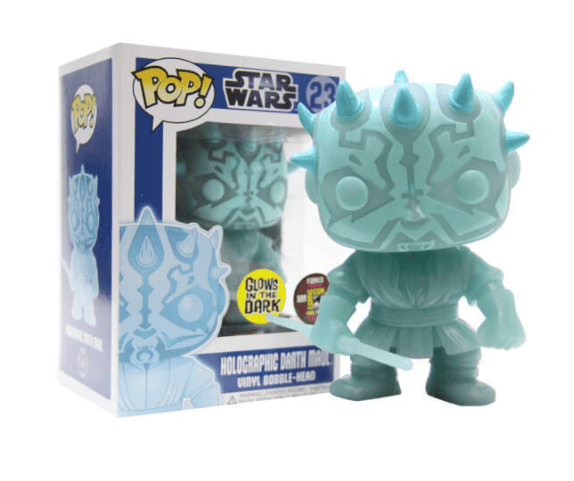 photo source: hobbydb.com
Made exclusively for the 2012 San Diego Comic-Con, the Star Wars Darth Maul Holographic figure was a limited release, with just 480 units in circulation. This makes it one of the rarest, most valuable Funko Pop figures in circulation.
The Star Wars Darth Maul Holographic figure is part of the Star Wars POP! line, and is produced with glow-in-the-dark vinyl material. Today, it can only be found through individual sellers of Funko Pop limited editions.
This figure's estimated value is $1,750, though some sellers list it at tens of thousands of dollars because it is so rare.
Did you know?
The San Diego Comic-Con is one of the biggest comic book conventions in the world, drawing an average of over 150,000 people. The event holds more than one Guiness World Record, including one for being the largest comic and pop culture festival in the world. This is one of the reasons why Funko Pop has produced several unique figurines solely for the convention, such as the Star Wars Darth Maul Holographic edition.
---
5. Green Lantern Vinyl Figure (#9)
Year created: 2010
Value: Medium/High
Success: Yes
Exclusivity: Limited edition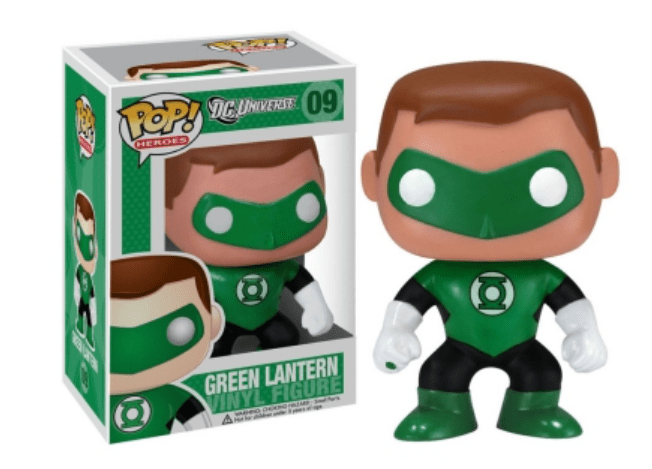 photo source: cardboardconnection.com
The Green Lantern Vinyl Figure #09 is one of Funko Pop's Universe Heroes figurines. First manufactured in 2010, it's one of the earliest POP! Heroes figures, and today is among one of the rarest.
While some versions of the Green Lantern Vinyl Figure #09 can be found through mainstream sellers such as Walmart, availability is overall quite limited, making this figure a relatively high-value Funko Pop hero.
There are other versions of the same Green Lantern figure, such as the John Stewart version, which made an appearance more recently (2017) and is not as rare as its older counterpart. It is sold at a lower price point through Amazon, Walmart, and other retailers.
Did you know?
There are currently 402 POP! Heroes figures available, dating from 2010 to 2021. Among some of the superheroes produced for this line are Batman, the Joker, Wonder Woman, Catwoman, Superman, and Harley Quinn, as well as several versions of the more popular characters that were manufactured as newer film adaptations were produced.
---
4. Superman (Metallic Chase #07)
Year created: 2010
Value: High
Success: Yes
Exclusivity: Limited edition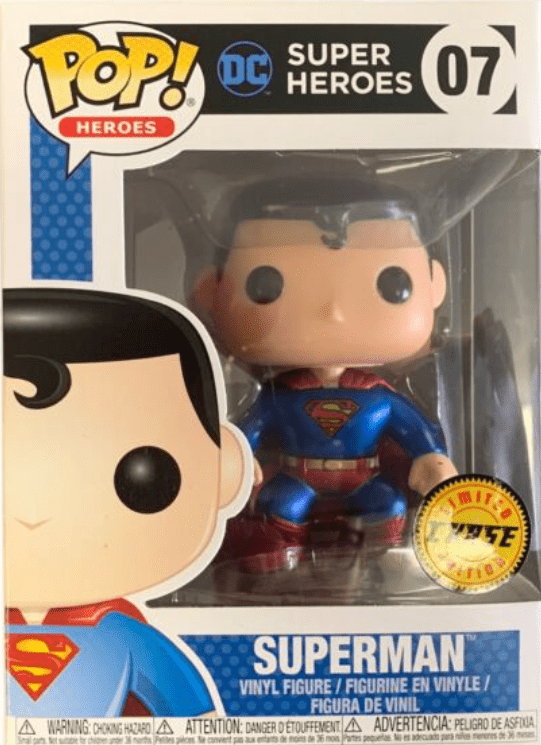 photo source: Ebay
Like its Green Lantern cousin, the Funko Pop Superman Metallic Chase figure is part of the POP! Heroes world. It's also one of the earliest on the scene, much like Green Lantern, making it rare and valuable.
Unlike some of the other POP! Heroes, the Superman figure comes in several varieties, including Metallic, Kingdom Come, Black and White, and Silver. It is also, specifically, a bobblehead, which is one of the tells for an early Funko Pop figure. It wasn't until 2011 that Funko began selling vinyl figures.
Today, the 2010 Funko Pop Superman #07 figure can typically only be purchased through individual sellers.
Did you know?
There are about 20 varieties of Funko Pop Superman figures available, not counting different versions of each individual model (for example, the Superman Metallic #07 has four different versions).
---
3. Mickey Mouse (Metallic)
Year created: 2011
Value: High
Success: Yes
Exclusivity: Limited edition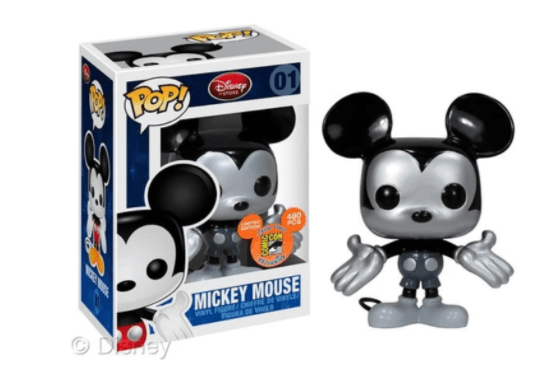 photo source: ozziecollectibles.com
Part of the POP! Disney line, the Mickey Mouse Metallic figure is extremely rare, with just 480 units ever produced worldwide. It is one of Funko Pop's 1,149 Disney action figures, and is specifically a part of the Mickey Mouse collections, which include varieties such as Peaches & Cream, Conductor Mickey, Apprentice Mickey, and the vintage Steamboat Willie, to name a few. Most of these other versions are available through retailers such as Walmart.
Funko Pop's Mickey Mouse Metallic vinyl action figure was debuted and distributed at the San Diego Comic-Con. It is considered #1 in the POP! Disney line-up.
Did you know?
The POP! Disney line is one of the biggest Funko Pop lines to date, and features a wide variety of characters from popular Disney movies dating as far back as the 1920s. The line also includes modern Disney characters, such as Elsa from Frozen (2010), Dory from Finding Nemo (2003), and Tiana from The Princess and the Frog (2009).
---
2. Austin Powers Bobbleheads
Year created: 2002
Value: Low
Success: Yes
Exclusivity: Limited edition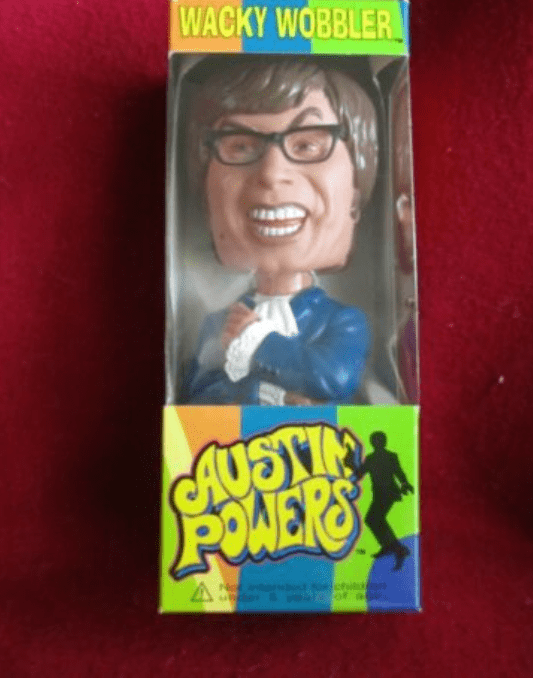 photo source: Ebay
As we begin to close in on the oldest of Funko Pop figures, we venture more deeply into bobblehead territory, which were among the first types of figures that the Funko company made. Bobbleheads were the only available products that Funko offered until they began producing vinyl action figures in 2010.
Austin Powers bobbleheads made an appearance on the market in 2002, and it was the product that put Funko Pop on the map as a true success with their figurines. Today, though they are collectible items, Austin Powers bobbleheads are relatively easy to find and purchase—particularly secondhand through individual sellers on eBay.
Did you know?
The Austin Powers Funko Pop collection was the company's true success story. After having experienced a modest amount of success with their first figure, the Big Boy Wacky Wobblers bobblehead, it still ultimately wasn't enough to pay all invoices and sell out inventory. Funko Pop's founder, Mike Becker, called New Line Cinema to obtain a license for the sequel to 1997's Austin Powers: International Man of Mystery. Becker made a $2,500 deal with the film company to produce bobbleheads of the movie characters, and went on to ship 10,000 units.
---
1. Wacky Wobblers Bob's Big Boy Bobblehead
Year created: 1998
Value: Low
Success: Somewhat
Exclusivity: Limited edition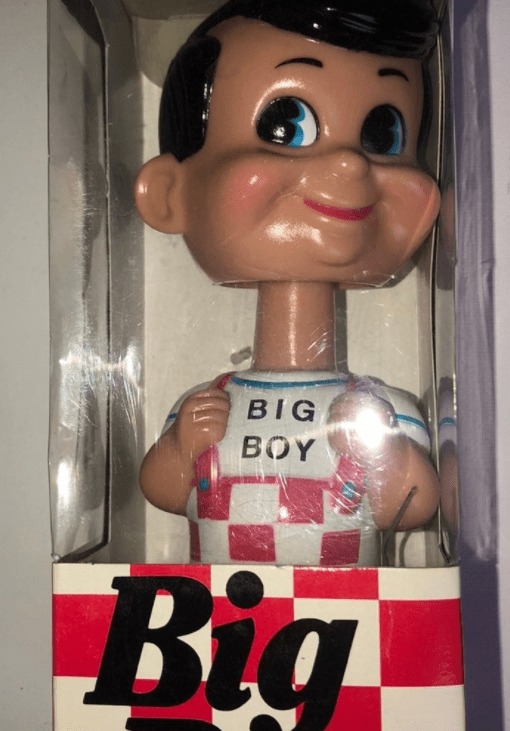 photo source: Mercari.com
Big Boy Wacky Wobblers bobblehead is the oldest Funko Pop product. With a production run of just 480 pieces, the figure was a moderate success, but didn't ultimately catapult the Funko brand to fame or popularity.
Today, this bobblehead is a collector's item, and online sellers frequently offer first editions of the 1998 figurine at reasonable prices. Though Funko only produced a limited number of this product, the Big Boy bobblehead isn't one of the more high-value figures a collector can have.
Did you know?
Funko's Big Boy figurine represents the mascot of the Bob's Big Boy burger franchise. Founder of Funko Pop, Mike Becker, created it after searching for an affordable Bob's collectible. Finding the offerings too pricey, he went on to obtain a Bob's license and produce his own. Thus, the Funko brand was born.
OTHER POSTS YOU MAY BE INTERESTED IN