Fragrances have been used for thousands of years, almost as long as humanity has existed. Archaeologists have shown that even in Mesopotamia and ancient Egypt, people experimented with scents. Perfume as a trade would come later, around 2,000 BC, though some people debate that in Southern Asia, perfumiers have been working for longer.
We go over a lot of this ancient history below. This list, however, is not about ancient fragrances but what they became. Colognes, as we know them, brewed by professional fragrance makers and bottled for consumption are still hundreds of years old, with many famous fragrances still in production today. Here are the 8 oldest colognes.
8. Mitsouko
Year: 1919
Country: France
Known for: Hollywood celebrity users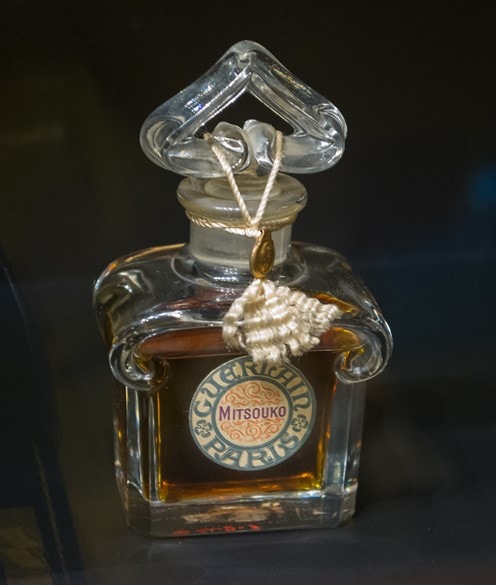 photo source: Flickr
Mitsouko is a French perfume made by Guerlain (this won't be the last time your hear his name). It was named after the Japanese female main character of the book, The Battle, by Claude Farrere. The scents are built on a base of oakmoss, vetiver, and labdanum.
Above that, the overtones are drenched are in fruity aromas, including peach, rose, bergamot, clove, and jasmine.
Did you know?
Many famous people used Mitsouko regularly, including Hollywood titans Charlie Chaplin and Jean Harlow.
---
7. Penhaligon Blenheim Bouquet
Year: 1902
Country: England
Known for: Masculine scent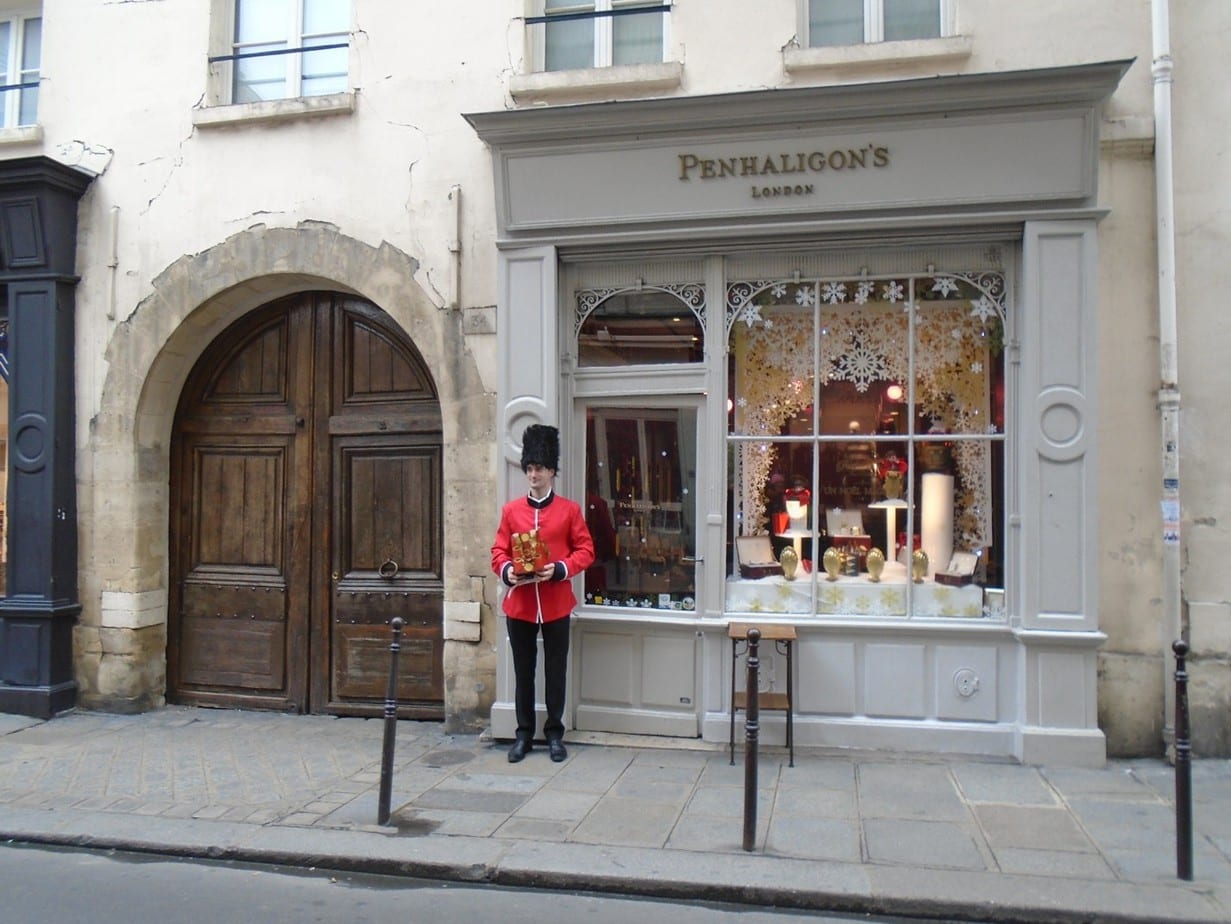 photo source: Wikimedia Commons
Penhaligon Blenheim Bouquet was created in England over a century ago as a male-focused cologne named after Blenheim Palace in Oxfordshire. The cologne is scented with woody, outdoorsy fragrances like cedarwood. It also smells of pine and lavender, as well as a cocktail of lemon and lime.
This aromatic citrus blend was famously used by Winston Churchill, whose ancestors, the Dukes of Marlborough, occupied Blenheim in the previous century. The perfume has been reformed over the years but is still available today in all its springtime masculine glory.
Did you know?
Blenheim Palace was designed in the brief period of English Baroque style, serving simultaneously as a home, monument, and mausoleum. It was named after the Battle of Blenheim in 1704.
---
6. Parfumerie Oriza
Year: 1879
Country: France
Known for: The first perfume line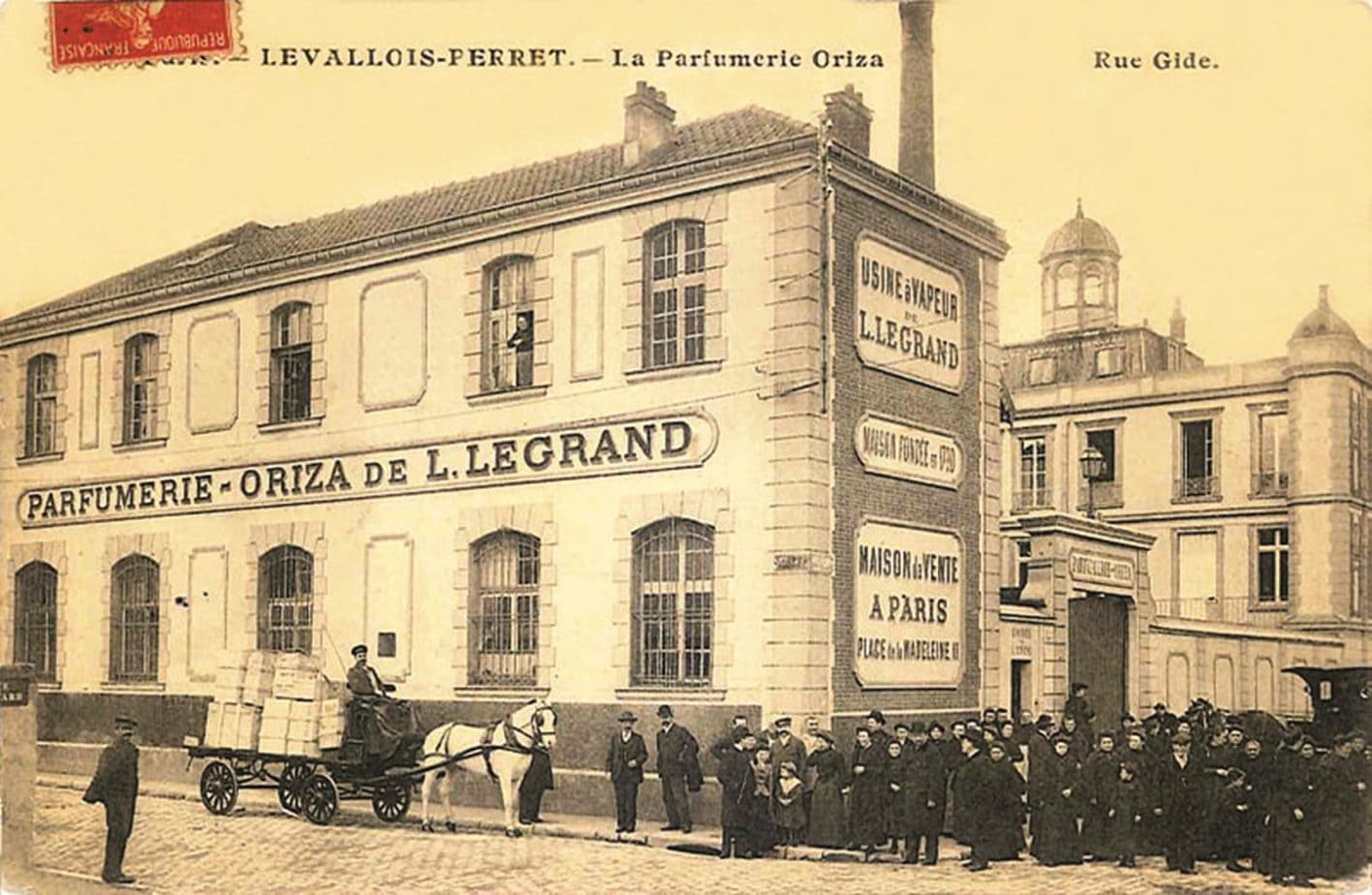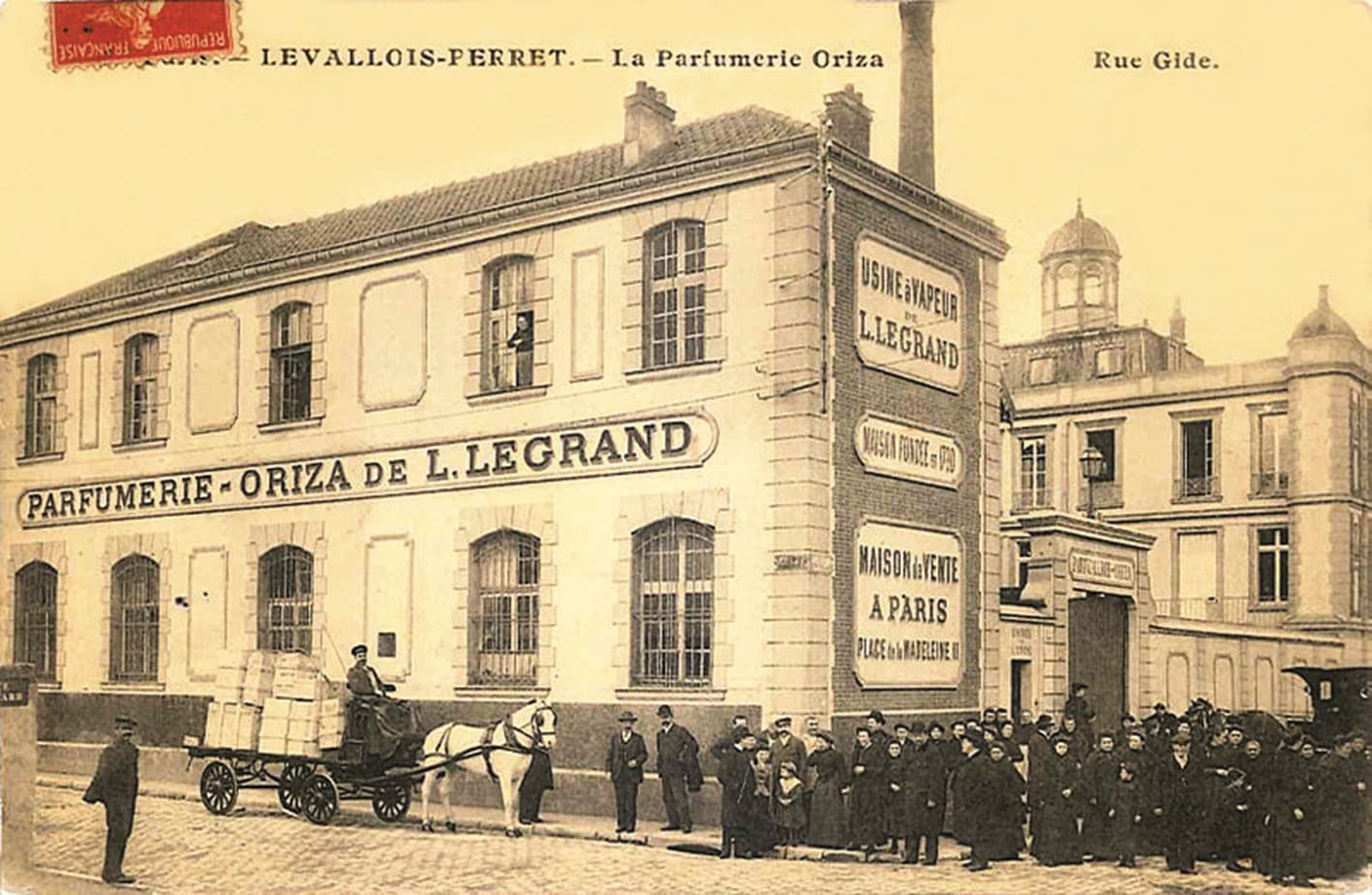 photo source: Wikimedia Commons
Antonin Raynaud inherited this perfume company from Maison Oriza and L. Legrand. It was originally founded in 1720 but didn't become its own line of perfumes and colognes until 1879. They branched out into other cosmetic products throughout the late 1800s and continued to enjoy success.
From the middle of the 1800s on, the Parfumeria Oriza partnered with Baccarat, the famed crystal makers. They were responsible for masterpieces of royal crystal as well as these signature bottles. Hugo Lambert mixed the fragrances, and his recipes are still in use in the company's colognes today.
Did you know?
Oriza invented the world's first commercially sold solid perfume in 1887, called Essence Oriza Solidifiee. Solid perfumes are in a cream form mixed with fragrances. They're a little harder to apply but are known for complex scents, which last for longer. Even the ancient Egyptians used ointments like these.
---
5. Eau de Cologne Impériale
Year: 1853
Country: France
Known for: Being used by the Empress Eugénie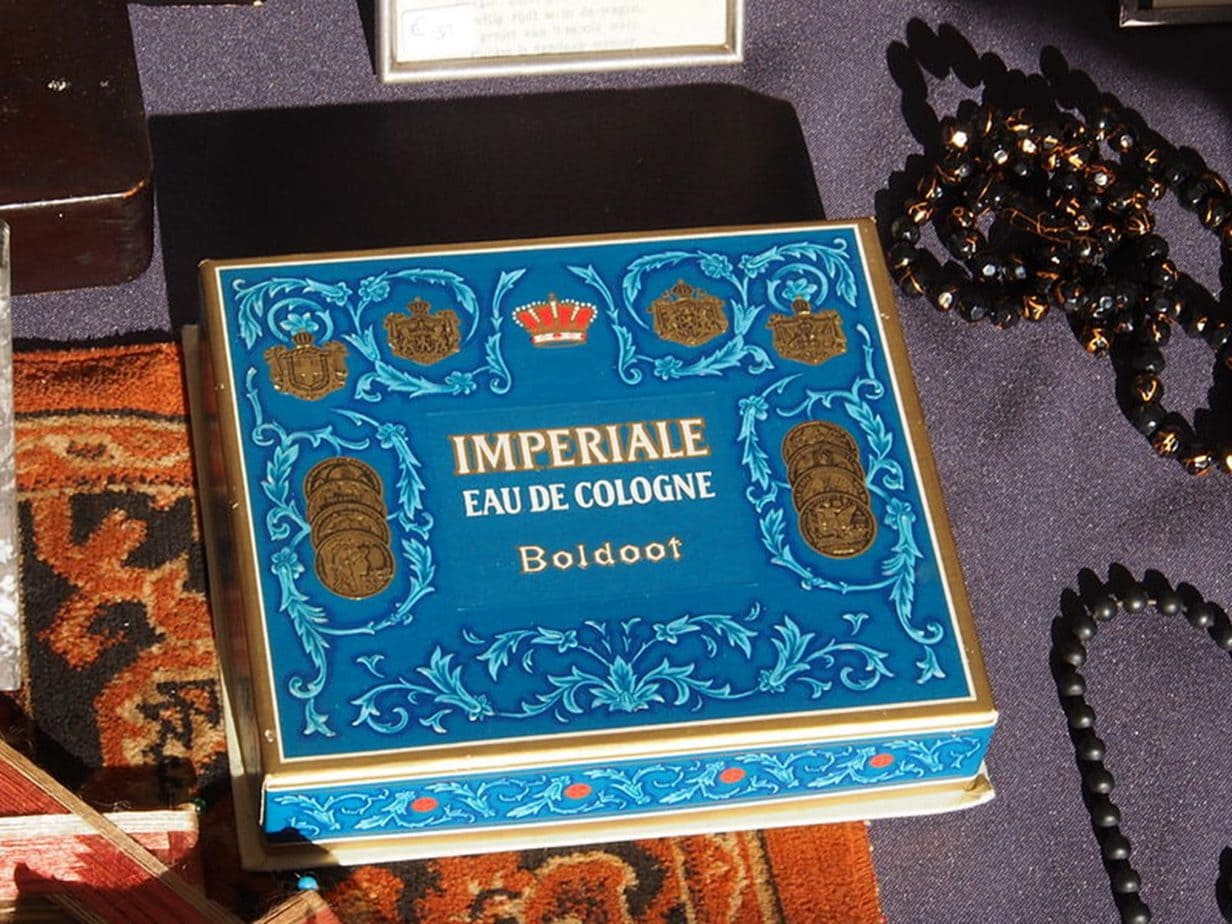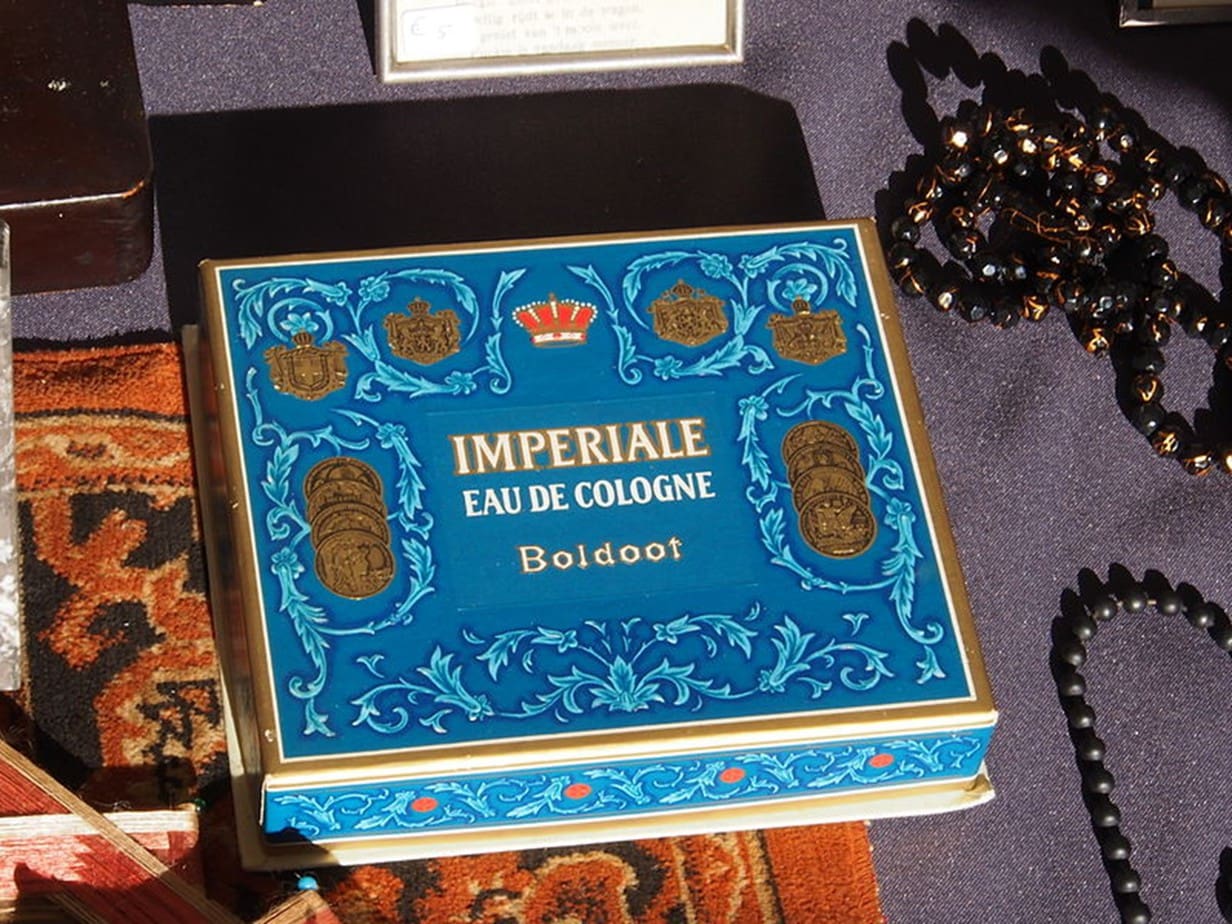 photo source: Wikimedia Commons
Pierre-Francois-Pascal Guerlain designed the first cologne for what would become the famous Guerlain brand in 1853. Called Eau de Cologne Impériale (later, just Impériale), the fragrance was created on special order from Empress Eugénie, the wife of Napoleon III. Pretty scary order to get, when you think about it.
But all went well. So well, in fact, that this scent gave Guerlain the incredible title of "Perfumer to His Majesty." For a while, Empress Eugénie was the only one authorized to use this scent. Eventually, however, she relented and allowed Guerlain to sell it commercially. To this day, the bottle still shows the imperial symbol of the French empire – Napoleon's coat of arms, with its regal eagle, scepter, and crown.
Did you know?
Guerlain's modern Impériale bottles can be customized on request to make even more decadent gifts. The glass can be hand-gilded to the customer's preference with the recipient's initials.
---
4. Jockey Club
Year: 1840
Country: America
Known for: America's original male perfume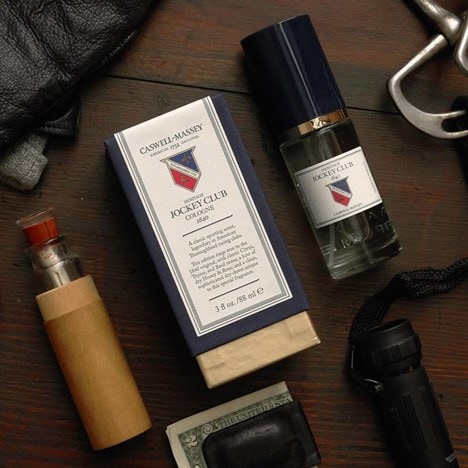 photo source: Caswell-Massey
Colognes and perfumes in America got their start at Caswell-Massey, the first major apothecary in the country. It was founded in Rhode Island in 1752 and made triple-milled bath soaps and hand soaps, shaving soaps, and other grooming accessories.
Later, they became a purveyor of fragrances and lotions. The cologne, Jockey Club, introduced in 1840, represents an incredible jump in popularity for the company as its products became utilized by men for their alluring, outdoorsy scents.
Did you know?
Jockey Club and other Caswell-Massey colognes have many famous male patrons. These include JFK, Cole Porter, and even The Rolling Stones. Nothing smells of early America quite like the scented concoctions of the folks at Caswell-Massey.
---
3. Florida Water
Year: 1808
Country: United States
Known for: Unisex, less pungent scent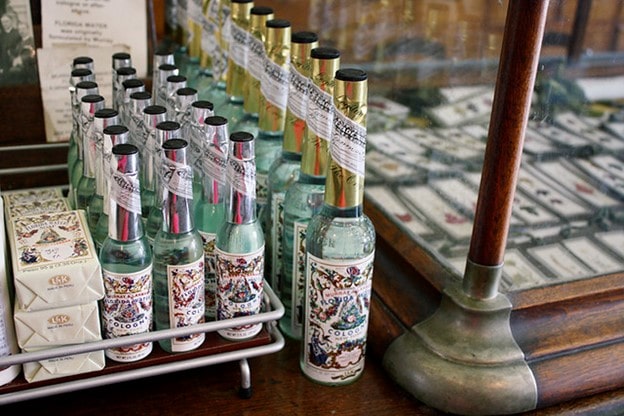 photo source: Flickr
Florida Water is an answer by a Florida-based American brand called Murray & Lanman to the issue of colognes at the time being too strong. They had begun to be associated not only with royalty but also with femininity. Many colognes were considered to be tacky because of how odorous they were, as if to say, "I have to prove how much of a lady I am." It was a very 1808 problem.
Enter Florida Water, an elegant citrus-based cologne with undertones of cinnamon, lavender, and cloves. People used it on themselves, but it was also used as a scented additive in bathwater. It was used so extensively that even today, it's a ritualistic product for the people who swear by it. It tells people you're a lady (or a man) without being too obvious about it.
Did you know?
Murray & Lanman of Florida is actually still around today, now called Lanman & Kemp. Fans of I Love Lucy may know this already, but Lucille Ball adored Florida Water. She even asked for a bottle of it to smell on her death bed.
---
2. 4711
Year: 1709
Country: Germany
Known for: The first cologne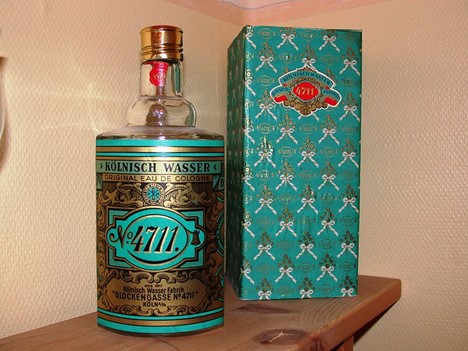 photo source: Wikimedia Commons
By our definition for this list, the oldest cologne should not be the oldest scent, which remains lost to time in some Mesopotamian village, but the first conceived and manufactured for use as a modern, recognizable cologne. Surprisingly, the oldest is not the cologne for which the entire product is named!
In the house at Glockengasse 4711 in 1709, Cologne, Germany, Giovanni Maria Farina created the scent by using essences of flowers diluted with alcohol. The strength and purity of the scent were unknown to patrons of that time and 4711 became the signature aromatic accouterment of the royal houses of Europe from that day on.
The smell is citrusy and floral, intended for both men and women to use. Famously, neither Napoleon, Mozart, nor Queen Victoria ever appeared in public without using some 4711.
Did you know?
The original 4711 formula, named "eau de cologne," was disputed at the time in court by another German businessman who claimed to be Farina. Farina 1709 became a competing brand, one that is still in production today! This could almost be considered a joint second place.
---
1. Acqua di Colognia
Year: 1533
Country: Italy
Known for: The first modern commercial perfume
photo source: Flickr
The oldest cologne is Acqua di Colognia. Dominican friars who ran the apothecary in Florence, Italy created these scents. Their concoctions served the Officina Profumo Farmaceutica di Santa Maria Novella Rosa all through the period of the Middle Ages, when the Black Death ravaged Europe.
The Bubonic Plague caused many horrific ailments that decayed the human body. The stench of society during this time, especially in populated areas, was unbearable. The Santa Maria Novella friars could not cure the plague, but their tinctures at least made the smell more bearable. They supplied balms, perfumes, and even cocktails including herbal and fruit essences mixed with liqueurs to weary, decaying people in weary, decaying cities.
You could consider this practice the first true naturopathy, as we know it today. The fragrance that resulted from this learning was called Acqua di Colognia, released in 1533 for Catherine de Medici. It smelled of citrus and rose. Miraculously, you can still buy it today!
Did you know?
These friars had been creating these concoctions for centuries before that, even back to the 1200s. Their perfumes were marketed as having healing properties, which, while maybe not true in the conventional sense, certainly might have applied to the mental health of people living in such dire times. We listed their first commercially available scent as the first proper cologne.
---
The Takeaway
The oldest colognes, many of which can still be bought today, provide a look into the old world. Not only were they used to define and communicate elegance and beauty, but they were also needed to hide the flaws of that world. Whether medicinal or a luxury, these colognes were very important to people then and remain, perhaps less central, but no less meaningful aspects of high society today.
OTHER POSTS YOU MAY BE INTERESTED IN