It may be hard to believe, but several famous celebrities who were born near the start of the 20th century are still alive today. While most of the celebrities on this list are retired, a few of them are still working and don't have plans to stop anytime soon. Among this list of long lived celebrities are Academy Award winning actors and actresses, a fashion icon, and a world famous violinist. Although their lives and careers differed, the one thing they all have in common is that they've lived for over a century and left lasting impacts in their respective industries.
As of March 2021, the information on this list is as accurate as possible and will be updated as needed.
10. Betty White (January 17, 1922 – Present)
Current Age (as of March 2021): 99 years, 2 months, 12 days
Birthplace: Oak Park, Illinois, USA
Profession: Actress and comedian
Years Active: 1939 – Present
Notable Works: The Mary Tyler Moore Show (1973 – 1977); The Golden Girls (1985 – 1992); and Hot in Cleveland (2010 – 2015)
photo source: Wikimedia Commons
Betty White
is one of the most beloved cultural icons. White has been an actress for over 82 years and has only recently slowed down a bit. However, White has not retired and her most recent acting credit is from 2019 as the voice of Bitey White in
Toy Story 4
.
Although White's best-known role is as Rose Nylund on Golden Girls, was on several early TV shows. White was also the first woman to produce a sitcom, Life with Elizabeth, which ran from 1953 – 1955. Outside of acting, White is an advocate for the welfare and health of animals.
Did You Know?
During World War II, Betty White put her acting career on hold and volunteered for the American Women's Voluntary Services.
---
9. Iris Apfel (August 29, 1921 – Present)
Current Age (as of March 2021): 99 years, 7 months
Birthplace: Astoria, Queens, New York, USA
Profession: Interior designer, textile designer, and fashion designer
Years Active: 1950 – Present
Notable Works: Old World Weavers; Restoration projects at the White House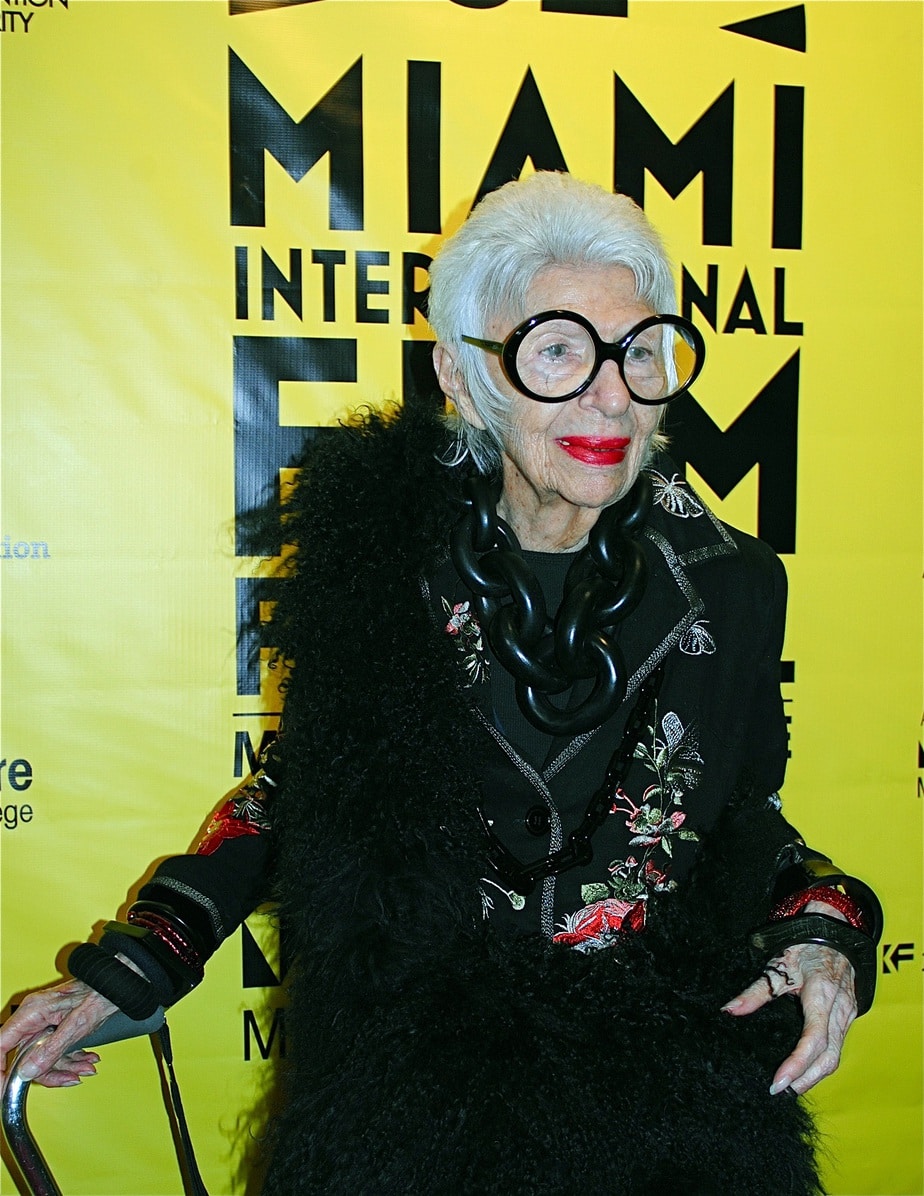 photo source: Wikimedia Commons
Iris Apfel is a fashion icon who has worn many hats over her long life, including being an interior designer and businesswoman. As a young woman, Apfel worked for Women's Wear Daily and for interior designer Elinor Johnson. Apfel married her husband Carl Apfel in 1948 and the couple ran the textile firm Old World Weavers until they retired in 1992. While Old World Weavers was in operation, Apfel took part in several design restoration projects, including work at the White House for nine presidents: Truman, Eisenhower, Kennedy, Johnson, Nixon, Ford, Carter, Reagan, and Clinton.
Despite "retiring" in 1992, Apfel continued to work, sometimes as a visiting professor, a model, and fashion designer. Apfel's husband, Carl, was also long-lived and passed away in 2015 at the age of 100.
Did You Know?
In 2018, Mattel created a Barbie doll in Iris Apfel's image, making her the oldest person to ever have a Barbie made in her image.
---
8. Nehemiah Persoff (August 2, 1919 – Present)
Current Age (as of March 2021): 101 years, 7 months, 27 days
Birthplace: Jerusalem, Palestine
Profession: Actor and painter
Years Active: 1947 – 1999
Notable Works: Some Like It Hot (1959); The Greatest Story Ever Told (1965); Yentl (1983); and An American Tail (1986)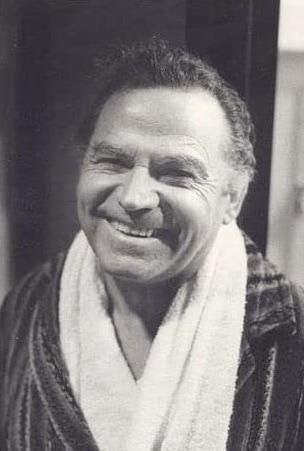 photo source: IMDB
Nehemiah Persoff, who was born in Jerusalem, immigrated to the United States with his family when he was 10 years old. After graduating from the Hebrew Technical Institute in 1937, Persoff worked as a subway electrician, while participating in amateur acting groups. Persoff won a scholarship to the Dramatic Workshop in New York and made his stage debut in 1940. However, World War II interrupted Persoff's acting career and he served in the U.S. Army.
Persoff returned to stage acting in 1945 and landed a small uncredited role in a movie in 1948. Eventually, Persoff became known for playing authoritative Eastern European villains. Persoff had notable roles in The Harder They Fall (1956), Alfred Hitchcock's The Wrong Man (1956), and Some Like It Hot (1959). In 1999, Persoff retired from painting to pursue painting.
Did You Know?
During his 52 years as an actor, Nehemiah Persoff appeared in more than 200 plays, films, and TV series.
---
7. Caren Marsh-Doll (April 6, 1919 – Present)
Current Age (as of March 2021): 101 years, 11 months, 23 days
Birthplace: Hollywood, California, USA
Profession: Stage and screen actress and dancer
Years Active: 1937 – 1948 (actress); 1956 – Present (dancer, entertainer)
Notable Works: The Wizard of Oz (1939; Judy Garland's dance stand-in); and Ziegfeld Girl (1941)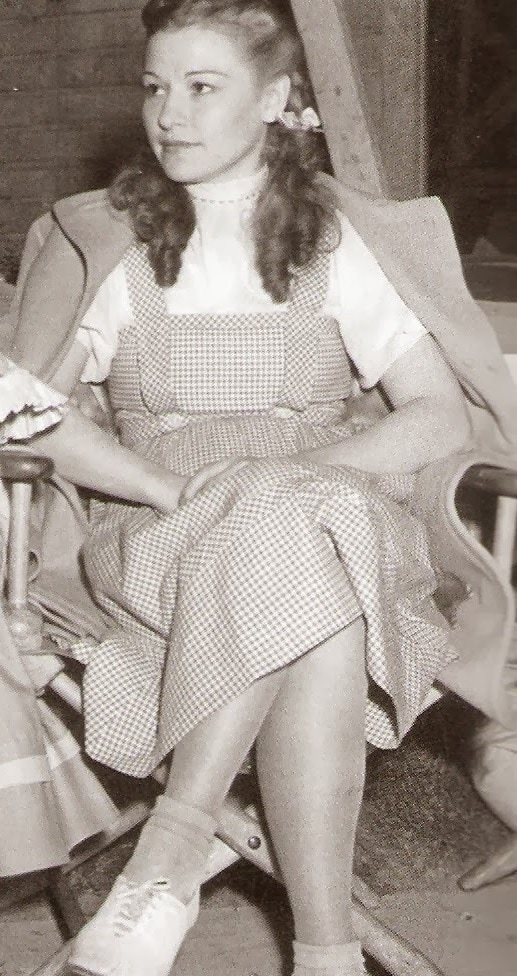 photo source: picsofcelebrities.com
Caren Marsh Doll may not be a household name, but she worked as a dance stand-in for Judy Garland in The Wizard of Oz. Marsh-Doll served as Garland's stand-in a second time in the film Ziegfeld Girl. Outside of her work as Garland's stand-in, Marsh-Doll did have a few minor acting roles in a few films. Toward the late 1940s, Marsh-Doll decided to focus on her dancing career and quite acting.
However, on July 12, 1949, Marsh-Doll was a passenger on Standard Air Lines Flight 897R, which crashed, killing 35 people. Marsh-Doll was one of only 13 survivors. Her left foot was badly damaged in the crash and doctors nearly amputated her foot and told her she would never dance again. Following extensive physical therapy, Marsh-Doll fully recovered and eventually became a dance teacher in 1956.
Did You Know?
Although Caren Marsh-Doll was never credited for her work on The Wizard of Oz, she was given her very own pair of ruby slippers.
---
6. Elisabeth Waldo (June 18, 1918 – Present)
Current Age (as of March 2021): 102 years, 9 months, 11 days
Birthplace: Tacoma, Washington, USA
Profession: Violinist, songwriter, composer, conductor, and ethnomusicologist
Years Active: 1940 – Present
Notable Works: Maracatu (1959); Realm of the Incas (1961); Land of Golden Dreams (2004); and Heartstrings Soul of the Americas (2008)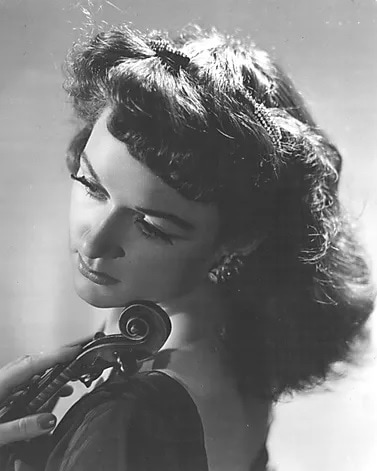 photo source: elisabethwaldomusic.com
Elisabeth Waldo is an accomplished violinist, songwriter, composer, conductor, and ethnomusicologist. Waldo has been interested in music her entire life and began to play the violin when she was only five years old. At the recommendation of world-renown concert Violinist Jascha Heifetz, Waldo received a scholarship to attend the Curtis Institute of Music in Philadelphia.
In addition to her own work, Waldo has extensively studied the music of other cultures, especially those found in Central and South America. Waldo has also composed music inspired by the ancient songs of China.
Did You Know?
n 1987, Elisabeth Waldo founded the New Mission Theatre, a 150-seat venue for use by the Multi-Cultural Music and Art Foundation of Northridge on the north side of Los Angeles
---
5. Marsha Hunt (October 17, 1917 – Present)
Current Age (as of March 2021): 103 years, 5 months, 12 days
Birthplace: Chicago, Illinois, USA
Profession: Actress, model, and activist
Years Active: 1935 – 2008
Notable Works: Born to the West (1937); Pride and Prejudice (1940); The Happy Time (1952); and Johnny Got His Gun (1971)
photo source: Wikimedia Commons (with Born to the West co-star John Wayne)
Marsha Hunt
is a former actress and model, who has been heavily involved with humanitarian and activism work. Hunt began her long career when she was only 17 years old. Initially, she started out as a model and was actually hesitant to start an acting career. However, in the summer of 1935, Hunt landed a seven-year contract with Paramount Pictures.
After acting for several years, Hunt became a blacklisted actor in the 1950s during McCarthyism. During her semi-retirement, Hunt became active in the humanitarian cause of world hunger. Hunt's career bounced back in the late 1950s and she has remained an activist for various causes, including climate change awareness and supporting same-sex marriage.
Did You Know?
Marsha Hunt has starred in two films that received an Academy Award for Best Production Design: Pride and Prejudice and Blossoms in the Dust.
---
4. Mary Ward (March 6, 1915 – Present)
Current Age (as of March 2021): 106 years, 23 days
Birthplace: Fremantle, Western Australia
Profession: Stage, television, and film actress; and radio announcer
Years Active: 1933 – 1989; 1994 – 2000
Notable Works: Prisoner (1981); Sons and Daughters (1983); Blue Heelers (1999 – 2000); and Amy (1997)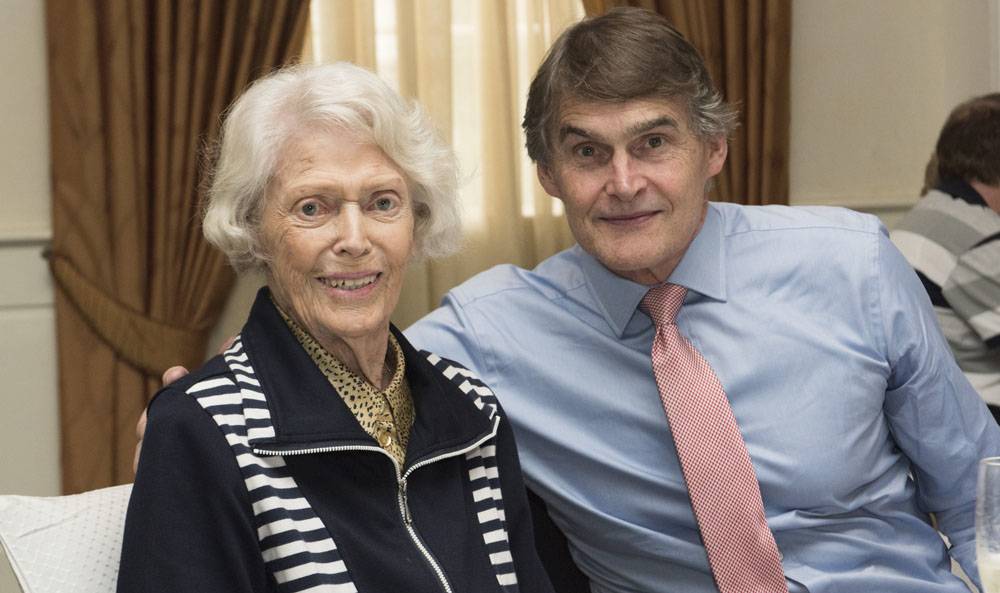 photo source: The Senior
Mary Ward is a former Australian stage, television, and film actress. Ward very recently turned 104 years old and appears to be going strong. While Ward appeared in a number to TV shows, she is best known for her role on the Australian soap opera Prisoner, where she played the role of "Mum" Jeanette Brooks. Ward also played Dee Morrell on a number of episodes of another soap opera Sons and Daughters.
Ward had studied as a stage actress in England before World War II, but returned home to Australia prior to the start of the war. When she came back home, Ward became one of the first female radio announcers for the Australian Broadcasting Corporation as "The Forces Sweetheart." In 1948, Ward moved back to England to work in theatre again and even did some work for the BBC. Ward started acting full-time on TV in the mid-1970s.
Did You Know?
Although Mary Ward's Prisoner character was very popular, Ward only stayed on the show as a regular for two years, but did appear from time to time until the character died off-screen in 1983.
---
3. Norman Lloyd (November 18, 1914 – Present)
Current Age (as of March 2021): 106 years, 4 months, 11 days
Birthplace: Jersey City, New Jersey
Profession: Actor, Director, Producer
Years Active: 1932 – Present
Notable Works: Saboteur (1942); Spellbound (1945); Limelight (1953); and Dead Poets Society (1989)
photo source: Wikimedia Commons
Norman Lloyd is an American actor, director, and producer who has worked in the entertainment industry since the 1930s. Even though he is over 100 years old, Lloyd is still active in the industry, which makes him the oldest working Hollywood actor.
Lloyd has had a very successful career and has worked with Hollywood legends like Orson Welles and Alfred Hitchcock and he even played tennis regularly with Charlie Chaplin – he only quit playing tennis in 2015 (at age 100) after he had a fall. Since his acting career began in 1932, Lloyd has never stopped working and his most recent film role was in Judd Apatow's 2015 film Trainwreck.
Did You Know?
One of Norman Lloyd's longest roles was as Dr. Daniel Auschlander on the popular series St. Elsewhere. Lloyd appeared in nearly every episode of the six-season series.
---
2. Renée Simonot (September 10, 1911 – Present)
Current Age (as of March 2021): 109 years, 6 months, 19 days
Birthplace: Le Havre, France
Profession: Stage and voice actress
Years Active: 1918 – 2001
Notable Works: Les Misérables (1921); Jeanne d'Arc (1934); Le Favori (1932); and La Belle Adventure (1928)
photo source: Wikimedia Commons via Box-Off-Dreams
Renée Simonot
is a former French stage and voice actress. Simonot began her theatre career at the age of 7 and continued to work for the next 28 years. In addition to her stage work, Simonot was one of the first French actresses to dub American films when the talkies made their debut in 1929. Simonot was the voice of Olivia de Havilland (who is also on this list) in most of her films, as well as Silvia Sidney, Judy Garland, and Esther Williams.
Simonot was married to actor Maurice Dorléac and had three daughters with him. Two of their daughters, Françoise Dorléac and Catherine Deneuvue became actors. Unfortunately Françoise died in an accident just before her career took off. However, Catherine Deneuvue went on to become one of France's most famous actresses.
Did You Know?
Renée Simonot, whose real name is Jeanne Renée Deneuve, chose her stage name in honor of Monsieur Simonot, a lyric artist and her godfather.
---
1. Ruthie Tompson (July 22, 1910 – Present)
Current Age (as of March 2021): 110 years, 8 months, 7 days
Birthplace: Portland, Maine, USA
Profession: Disney Animator
Years Active: 1935 – 1975
Notable Works: Snow White and the Seven Dwarfs (1938); Sleeping Beauty (1959); Pinocchio (1940); Dumbo (1941); and Fantasia (1940)
photo source: The Hollywood Reporter
Ruthie Tompson
is currently 110 years old, which makes her the oldest living celebrity in the world.
Tompson spent 40 years (1935 – 1975) as a Disney animator and worked on many notable films, including Disney's very first animated feature
Snow White and the Seven Dwarfs
.
Tompson had first met the Disney family as a child after her family moved to the same block as Robert Diseny, who was Walt Disney's uncle. When Tompson was 18, she began working at Dubrock's Riding Academy, where Roy and Walt Disney often played polo. Walt Disney recognized Tompson from when she was younger and ended up offering her a job as an inker and scene planner. Eventually Tompson worked her way up to become the supervisor of Disney's Scene Planning Department.
Did You Know?

As a child, Ruthie Tompson often visited the Disney Brothers Cartoon Studio, which was close to her house and she even appeared in the Alice Comedies, which were some of Disney's earliest works featuring animated and live action characters.
OTHER POSTS YOU MAY BE INTERESTED IN