Anime series, manga, videogame and toy line—is there anything Beyblades haven't spun their way into? Entertaining kids and adults since 1999, these advanced tops have lots of lore, exciting moves and skilled players to keep them a media mainstay for years to come. Read below to learn about the earliest Beyblade models and, of course, let it rip.
11. Dragoon Metal Fantom
Year Released: 2000
Series Appearance: None—only in manga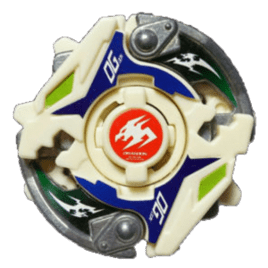 photo source: Ganj via Wiki
The Dragoon MF only appeared in the manga—replacing the Dragoon MS Ultimate Victory in the finale. The final of the Dragoon series, the design differs significantly from the other Beys in this category. It's more compact and lacks obvious blades. Its best for tighter, shorter movements and is recommended for more experienced bladers.
Did you know?
In the final panel of the manga, Tyson launches the Dragoon MF at the reader.
---
10. Dragoon Metal Storm Ultimate Version
Year Released: 2003
Series Appearance: Beybattle for the Ages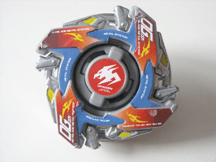 photo source: Hellousername via Wiki
While the Dragoon MS has a cameo appearance in the Japanese television series, the American dub removed the scene. Rather than halt its popularity, the Dragoon MF Ultimate Version flew off shelves as a result of its mechanical improvements. Instead of the Flat Grip Core, this Beyblade has Running Core: Flat Grip Core. This new core has a wider diameter and requires lots of skill to maneuver.
Did you know?
Because of its desirability among the community, this Beyblade is fairly difficult to find today.
---
9. Dragoon Metal Storm
Year Released: 2003
Series Appearance: Rebel Alliance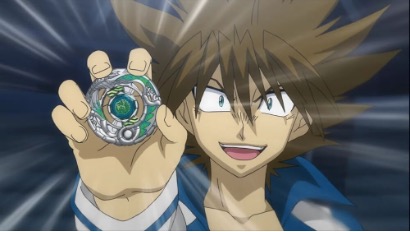 photo source: TV Tokyo / MakotoLee via Wiki
The Hard Metal System culminated with the Dragoon MS— Tyson Granger's eighth Beyblade. The rotation core, known as Grip Flat Core, is seen as a major improvement in Beyblade toys. The core consists of soft rubber and is angled to hit a part of the stadium that causes more friction and faster movement. Unlike some of the other Beys listed above, the core is also short, enabling better attacks.
Did you know?
Although it was released nearly two decades ago, the Grip Flat Core remains one of the best made cores in Beyblade history.
---
8. Dragoon Galaxy Turbo
Year Released: 2003
Series Appearance: Familiar Faces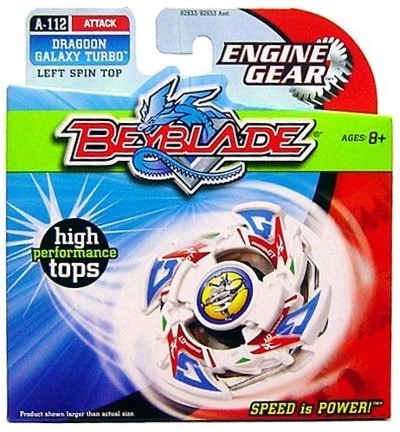 photo source: Hellousername via Wiki
Another part of the Engine Gear System, this improved Bey also features a launcher for quick spins. Distinct from its predecessor, the Dragoon GT has four blades instead of eight and four dragon heads between each blade. It also has a built-in Engine gear, an improvement of Dragoon G's Left Engine Gear. The GT is also the first in its series to have a rubber tip, which increases speed and power while sacrificing endurance.
Did you know?
Gold, silver, and yellow versions of this Beyblade were the first, second, and third prizes, respectively, in a competition held by the Beyblade Battle Association (BBA).
---
7. Dragoon Galaxy
Year Released: 2002
Series Appearance: New Kid in Town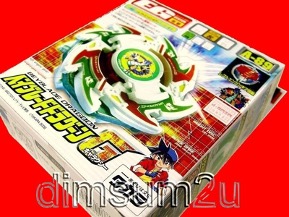 photo source: Pedroshelly.martin via Wiki
The first entry in the Engine Gear System toy line, the Dragoon G includes instant release features that allow for quick spinning spurts after its launched. The original Japanese release included a launcher (previously known as a "shooter") and a ripcord to allow for this special speed element. Dragoon G maintains the dynamic theme of later Beyblades with lots of blades and features green, blue and red stickers.
Did you know?
Dragoon G is a left-spin Beyblade.
---
6. Dragoon V2
Year Released: 2002
Series Appearance: Get a Piece of the Rock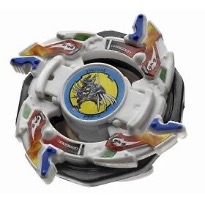 photo source: Young Mako via Wiki
The upgraded version of the Dragoon Victory, this Beyblade features a similar design with a different colorway. Key distinctions between the two Beyblades include a Customize Grip Base, which isn't great in attack mode, but quite effective as a defense mechanism— working well with various Support parts. V2 marked a new era in Beyblades, offering more customizable options.
Did you know?
The official Beyblade Wiki recommends that every dedicated blader own multiples of Dragoon V2.
---
5. Dragoon Victory
Year Released: 2001
Series Appearance: Shot Down in Flames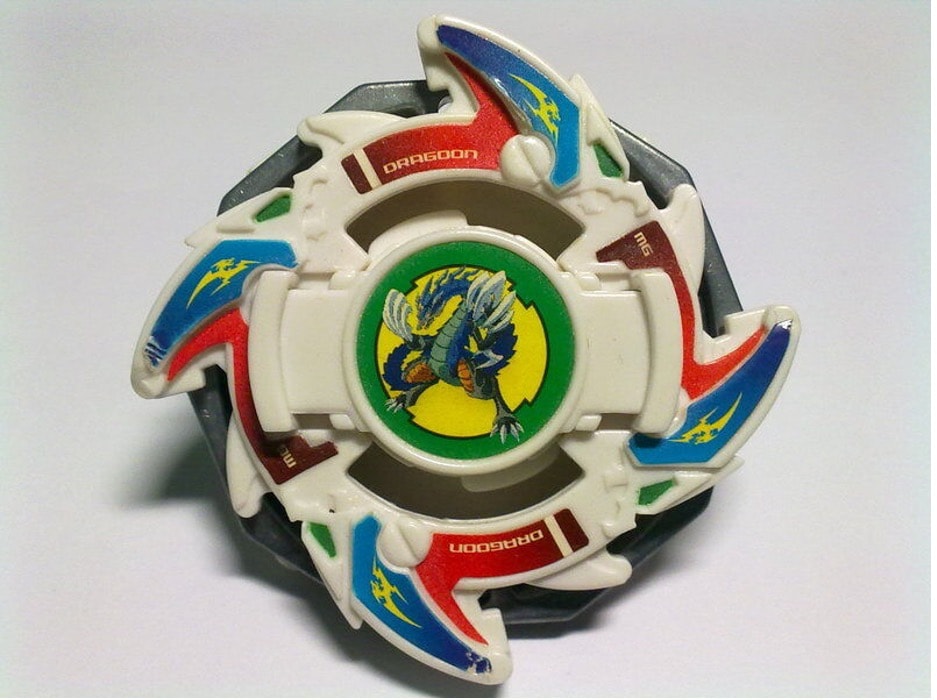 photo source: Joshua1014ryan via Wiki
Also known as Dragoon V, this exciting Beyblade is another one from Tyson Granger's arsenal. It was first released as a toy in Japan in 2001 and was later distributed to the international market by Hasbro in 2003. It has a rounder appearance with more curved, dynamic blades. The original version features several colors, including red, blue and yellow on a white base. It is also the first Beyblade in its series to feature a metal core.
Did you know?
This Beyblade is heavier than its predecessors, allowing for greater momentum.
---
4. Dragoon Fantom
Year Released: 2000
Series Appearance: Showdown in Vegas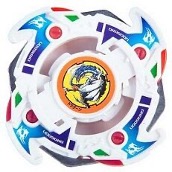 photo source: Young Mako via Wiki
Dragoon F takes attack to the next level with two-bladed layers and a varied colorway. While its appearance is more impressive that previous Dragoon Beyblades, its rubber base prevents the Beyblade from fast movement. Additionally, when the rubber runs down, the Dragoon F doesn't last as long in tournaments.
Did you know?
There are several versions of the Dragoon F. The crystal version features a blue and white colorway.
---
3. Dragoon Storm
Year Released: 2000
Series Appearance: Day of the Dragoon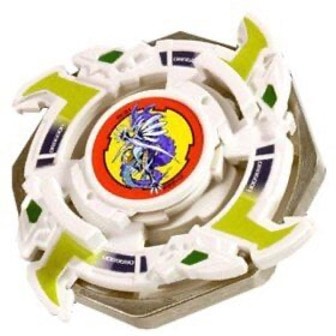 photo source: Young Mako via Wiki
The Dragoon S was the third Beyblade in the toy franchise and made as part of the Spin Gear System, the design had by all early Beyblades. In the anime, Dragoon S is Tyson's third Bey and the first one to have his "bit-beast," creatures that inhabit/protect Beyblades during battle. This Beyblade is white and grey with yellow highlights on its hooked spikes.
Did you know?
The Japanese version of this toy includes a code that unlocks the Bit in the Beyblade Fighting Tournament videogame.
---
2. Dragoon Grip Attacker
Year Released: 2000
Series Appearance: The Blade Raider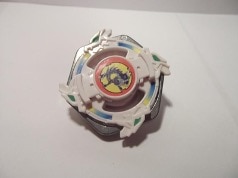 photo source: Beybattler via Wiki
The Dragoon Grip Attacker is another relic of Beyblade's past. In the series, it is the first Beyblade protagonist Tyson Granger uses in battle (while the Ultimate Dragoon has a cameo appearance as his childhood Bey). Like its predecessor, this Beyblade features a grey and white colorway with a lively center. However, it has a more dynamic design with greater contrast between the layers.
Did you know?
This Beyblade appears in the first episode of the Beyblade anime's first season.
---
1. Ultimate Dragoon/ Spin Dragoon
Year Released: 1999
Series Appearance: Back to Basics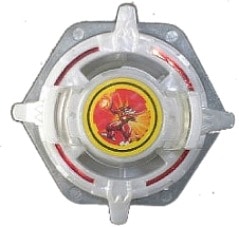 photo source: Hellousername via Wiki
The Ultimate Dragoon is the first and oldest Beyblade ever made. Released in 1999, it consists of three parts—including a spinning top base and two additional layers that help in combat. The original version featured a grey and white colorway with a vibrant orange and yellow depiction of a dragon in the center. This Beyblade debuted on the Beyblade anime series during a flashback sequence as the protagonist's first Bey.
Did you know?
While many fans consider the Ultimate Dragoon an Attack type, it doesn't have a type at all since the toy company had yet to classify Beyblades in this way.
OTHER POSTS YOU MAY BE INTERESTED IN