While the United Kingdom of Great Britain and Northern Ireland may still be in its infancy (it was founded just one hundred years ago), the Kingdom of England has existed for much, much longer. Its origins date back to 927 A.D., though there is evidence of human life on English land as far back as 780,000 years ago.
With such a long, rich, and robust history, the U.K. is home to many stellar institutions of higher education, some of which are world-famous. Some of the most famous (and amazing) individuals in history have walked the hallowed halls of these universities before going on to become the inventors, mathematicians, writers, and artists that we know today.
Without further ado, here are the 8 oldest universities in the United Kingdom, which have long been attracting the best and brightest from all over the world.
8. University of Manchester
Date founded: 1851
Founded by: Jake Owens
Location: Manchester
Enrollment: 40,250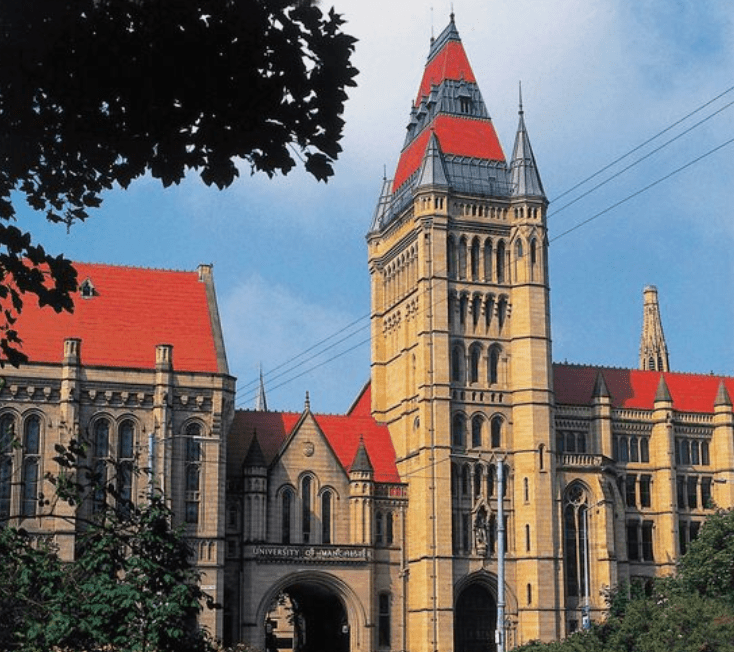 photo source: Pinterest
The University of Manchester is a public research institution for higher education based in Manchester, Scotland. Founded in 1851, the university began as a place of education for non-sectarian young men, offering a secular alternative to the more religious colleges in the United Kingdom at the time.
Today, the university's enrollment consists of 40,250 students from approximately 160 countries around the world. Manchester emphasizes international study to attract students of all different backgrounds. It is the third largest university in the United Kingdom, and quite a diverse one, given its student body!
Did You Know?
The University of Manchester has a long history of attracting the most remarkable professors and students. 25 Nobel Prize winners have worked or studied at the university to date.
---
7. University College London (UCL)
Date founded: 1826
Founded by: Jeremy Bentham (and others)
Location: London
Enrollment: 41,539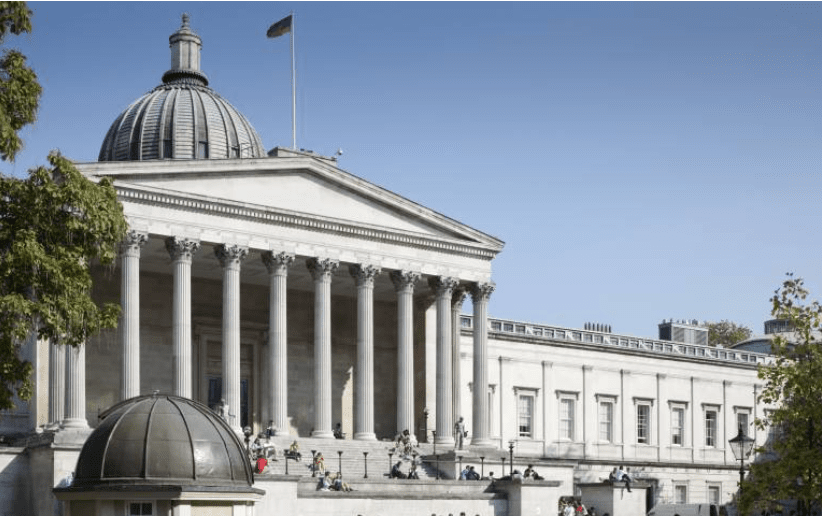 photo source: london.ac.uk
The University of College London (UCL) is the second-largest university in the United Kingdom by total enrollment, and the largest by postgraduate enrollment.
Established in 1826 as "London University," the college is believed to have been founded by Jeremy Bentham on the "radical" idea of admitting students regardless of their religious affiliation. The college claims that it has always been progressive, emphasizing to this day that it was the first to admit women in the country.
Situated in the heart of bustling London, the university continues to grow and thrive with a vibrant legacy of nearly two hundred years.
Did You Know?
Founder Jeremy Bentham's skeleton is on display on the university campus, in accordance with his last wishes. His skeleton is padded with hay and dressed in his original clothes, with a wax head added after his own deteriorated (not creepy at all, right?)
---
6. University of Edinburgh
Date founded: 1583
Founded by: Royal charter by King James VI
Location: Edinburgh (Scotland)
Enrollment: 33,609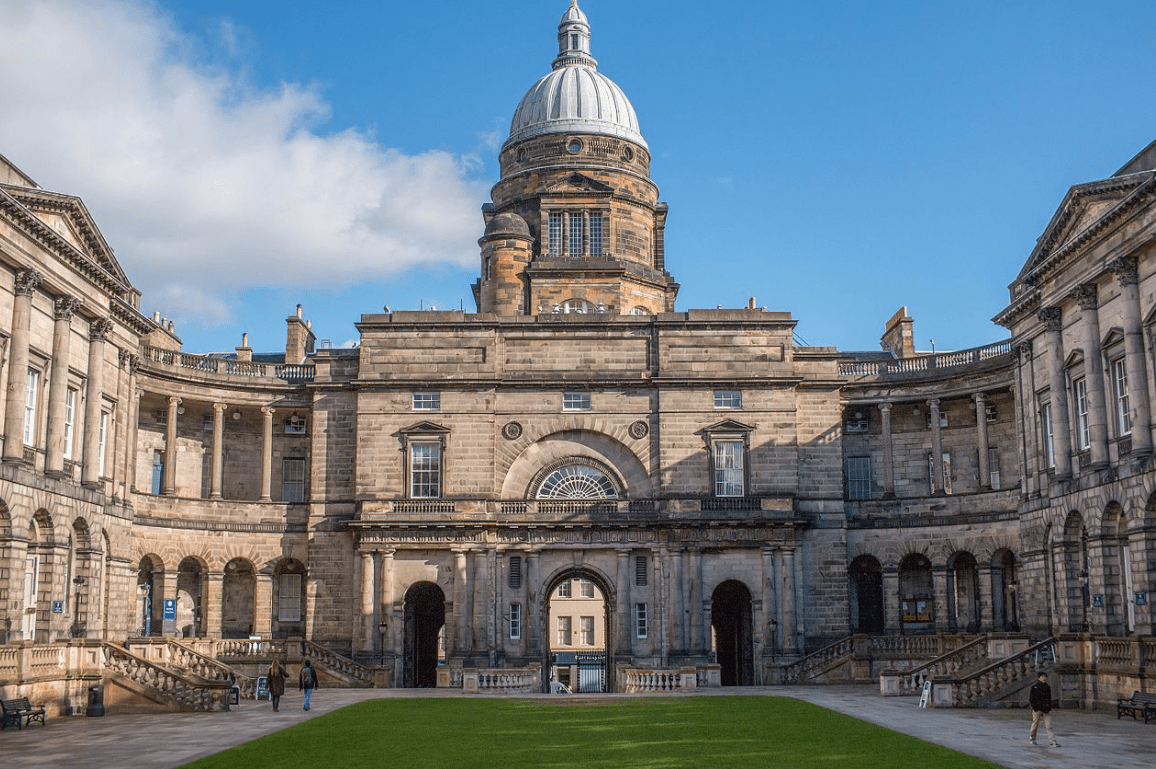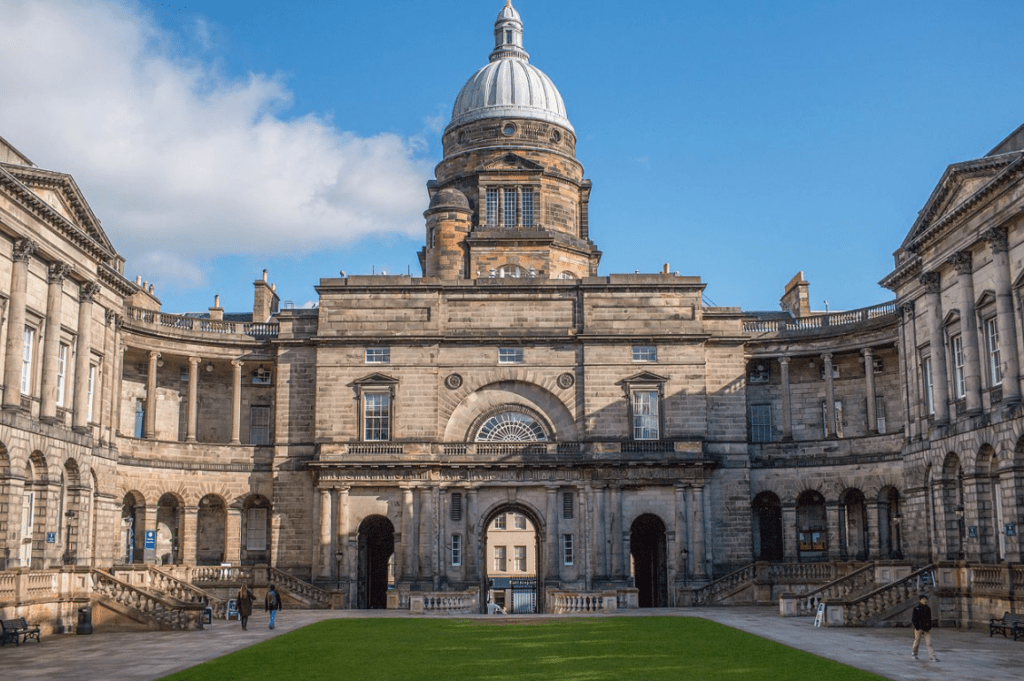 photo source: Wikipedia
The University of Edinburgh is the college for travelers, hungry scholars, and writers!
The University of Edinburgh has been around since the late 16th century, attracting gifted students from all around the world. Some of its most famous pupils are Sir Walter Scott, Robert Louis Stevenson, and Sir Arthur Conan Doyle – all writers, all with an insatiable hunger for the written word.
Though the university indeed has a reputation for its writing and literature programs, it offers is also well-known for its thriving study abroad program. There are dozens of study abroad course offerings listed on the official university website, encouraging students from all backgrounds to expand their horizons in Edinburgh!
Did You Know?
Edinburgh was the very first city to be designated a UNESCO World City of Literature, which is perhaps one of the reasons why the university is so renowned for writing and literature!
---
5. University of Aberdeen
Date founded: 1495
Founded by: William Elphinstone (Bishop of Aberdeen)
Location: Aberdeen (Scotland)
Enrollment: 14,150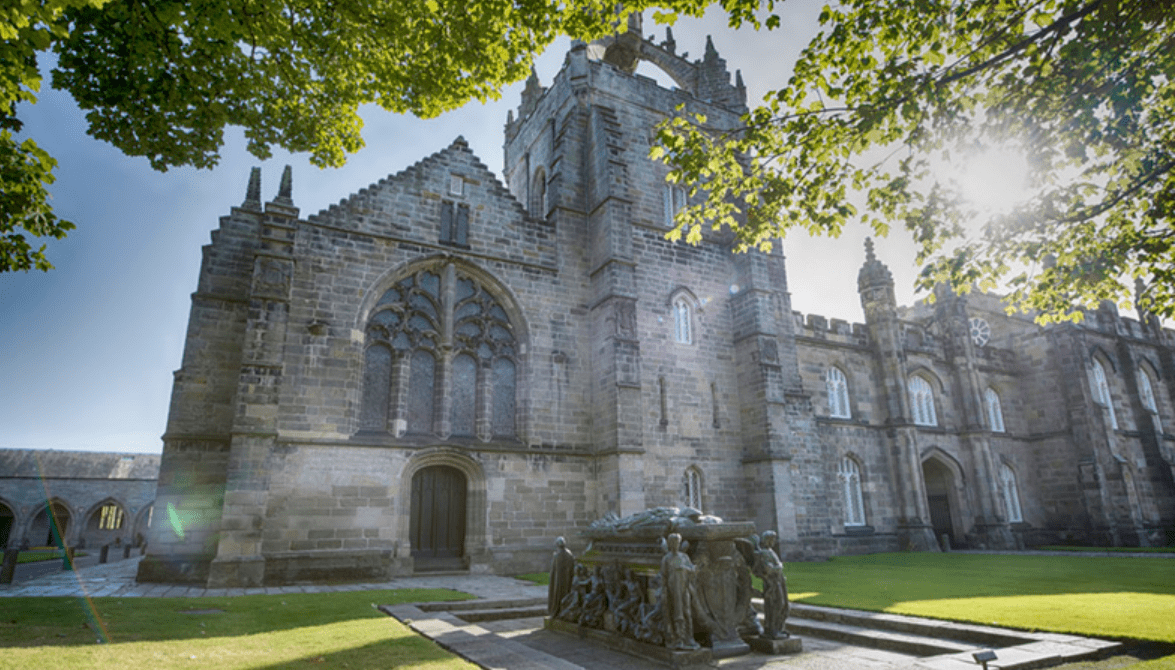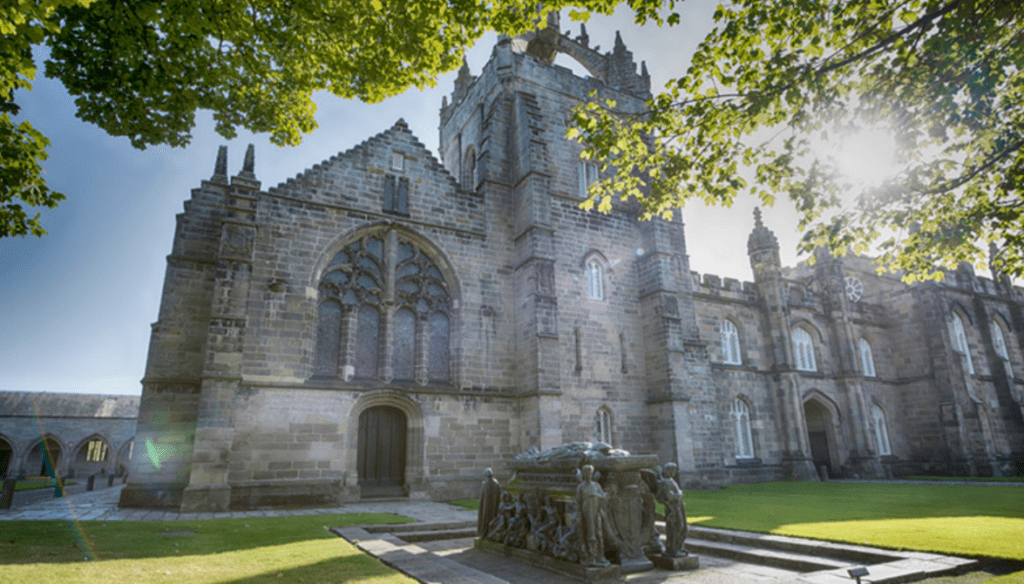 photo source: artuk.org
Founded in 1495, the University of Aberdeen is one of the oldest universities in the U.K. The institution celebrates and commemorates its long history with an official video timeline of its 525 years. It is ranked in the top 160 universities in the world.
Aberdeen is located in Scotland, and was originally dubbed "King's College" – presumably after King James V, who chartered the university. It was modeled after the University of Paris, and was intended to be a law school, but eventually expanded to become a university with myriad course offerings for both undergraduate and postgraduate students.
Did You Know?
Though on the smaller side with around 14,000 students enrolled (compared to other larger universities), Aberdeen has a reputation that precedes it. 75% of its postgraduate research, in particular, is classified as "internationally excellent."
---
4. University of Glasgow
Date founded: 1451
Founded by: Papal bull
Location: Glasgow (Scotland)
Enrollment: 26,635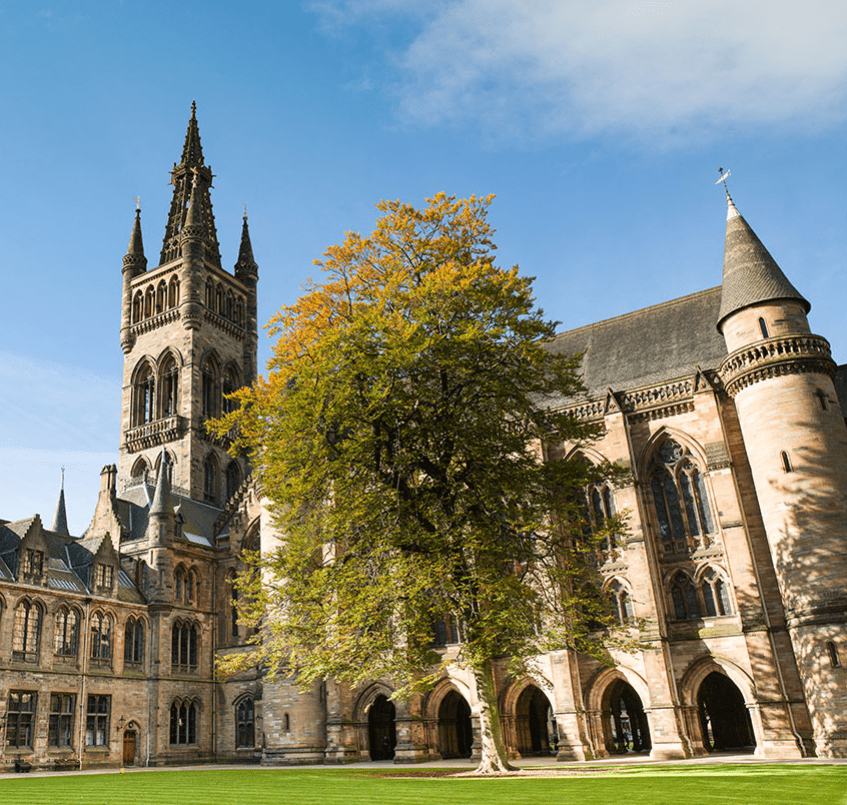 photo source: Scotland.org
The University of Glasgow was founded in 1451, and is the fourth oldest university in the English-speaking world.
At the time of the university's founding, most institutions for higher education were only for the upper crust of society. Glasgow was unique in that it was among the first of universities at the time to accept and educate the growing urban and commercial middle class. Its original specializations were law, medicine, civil service, teaching, and religion.
The University of Glasgow now offers nearly 70 course offerings to over 26,000 students. It's an esteemed institution that has seen centuries of learning and history.
Did You Know?
Three major historical events took place after the University of Glasgow was founded: the painting of the Mona Lisa, that acceptance that the Earth was round, and the founding of the American continent by Christopher Columbus (1492).
---
3. University of St. Andrew's
Date founded: 1413
Founded by: Augustinian clergy
Location: St. Andrews, Fife (Scotland)
Enrollment: 10,119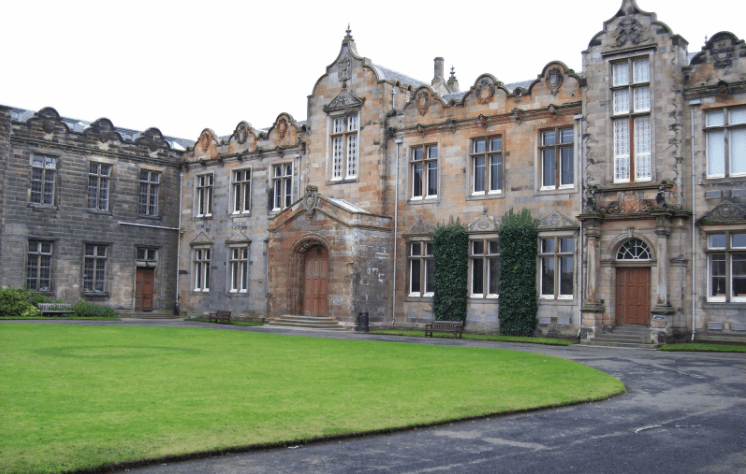 photo source: Scotland.org
With an alumni list that'll blow you away (yeah – Princess Kate and Prince William are on it!), St. Andrew's University is among the oldest of colleges in the United Kingdom.
The university was established by Augustinian clergy in 1413, but teaching officially began in 1410. At the time, there was no real national university for Scottish students to pursue their studies; those who did pursue higher education could only study abroad in Paris or London, for example.
When the Catholic Church was divided by two popes during the Middle Ages, with Scotland remaining faithful to Rome, many Catholic Scottish students felt compelled to return to their homeland. From this historical event, St. Andrew's was born.
St. Andrew's enrollment today is just over 10,000. It is a highly prestigious and exclusive university that many royals have attended through the years.
Did You Know?
Rumor has it that Princess Kate attended St. Andrew's in the hopes of meeting and becoming close to Prince William, turning down her acceptance at the University of Edinburgh and even taking a gap year at the same time that the prince did!
---
2. University of Cambridge
Date founded: 1209
Founded by: Various scholars
Location: Cambridge, England
Enrollment: 23,247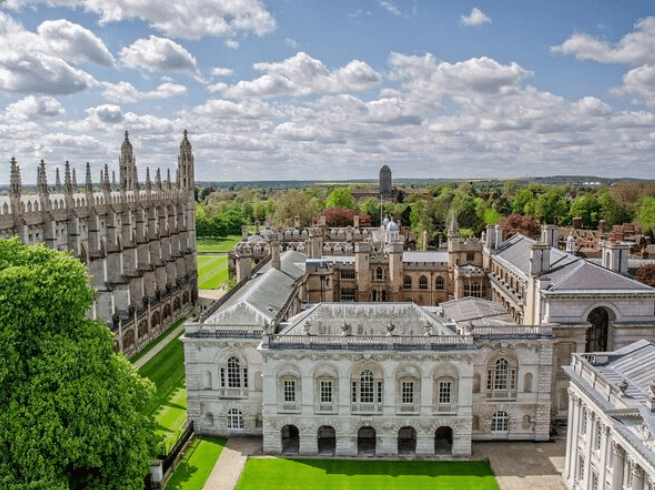 photo source: viator.com
Cambridge is one of the oldest and most prestigious universities in the U.K.
Founded as an alternative to Oxford University due to political differences, Cambridge was established in 1209 by scholars who sought a more secular education. For 300 years or so, the university remained fairly insignificant in Britain until a professorship of divinity was founded (the oldest in the university). Moreover, Henry VIII founded Trinity College in 1546, and Queen Elizabeth I gave the university a new body of statutes in 1570. All at once, Cambridge became historically significant.
Cambridge remains one of the most esteemed institutions for higher education throughout the world to this day.
Did You Know?
Attention, book nerds: Cambridge University has over 100 libraries, including the University Library. The college officially owns 7 million books, including an archive of Charles Darwin's correspondences and books from his own library, as well as a notebook of Sir Isaac Newton's!
---
1. University of Oxford
Date founded: 1096 – 1147
Founded by: Alfred the Great
Location: Oxford, England
Enrollment: 24,300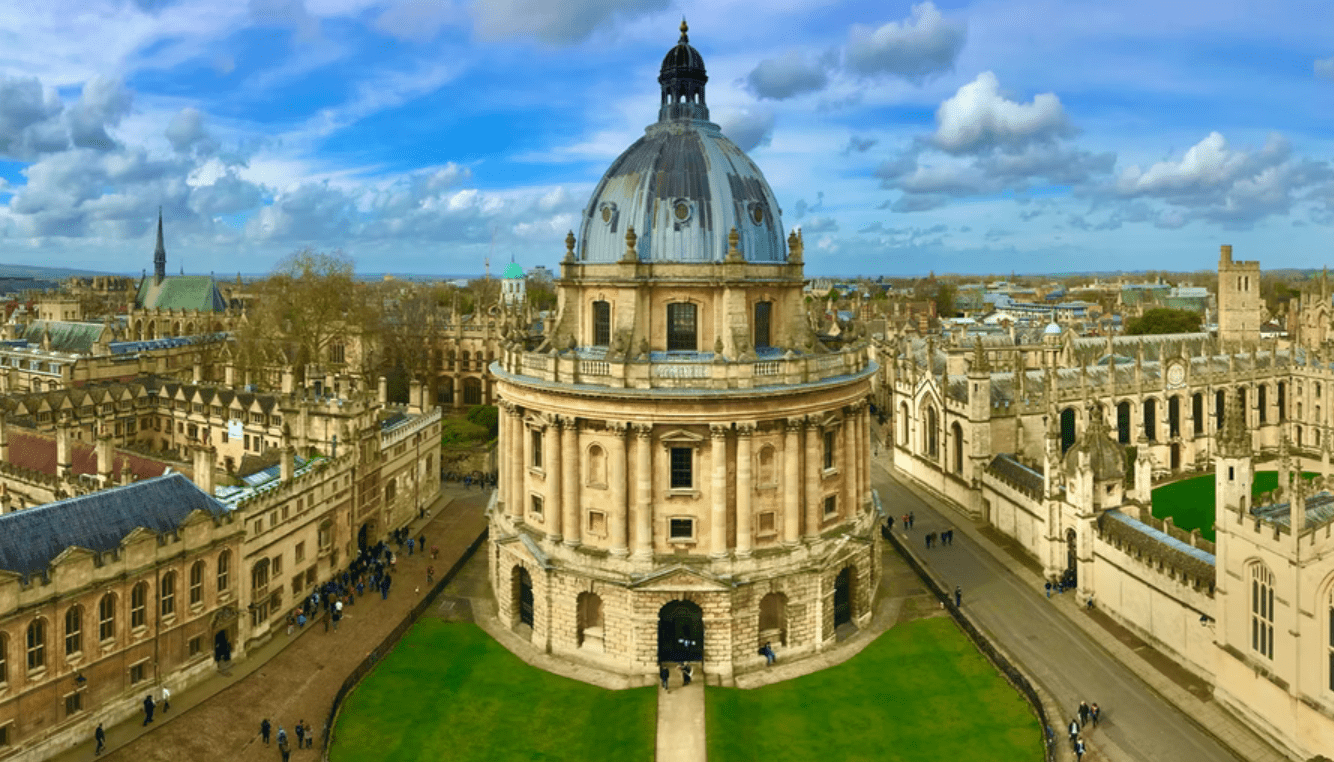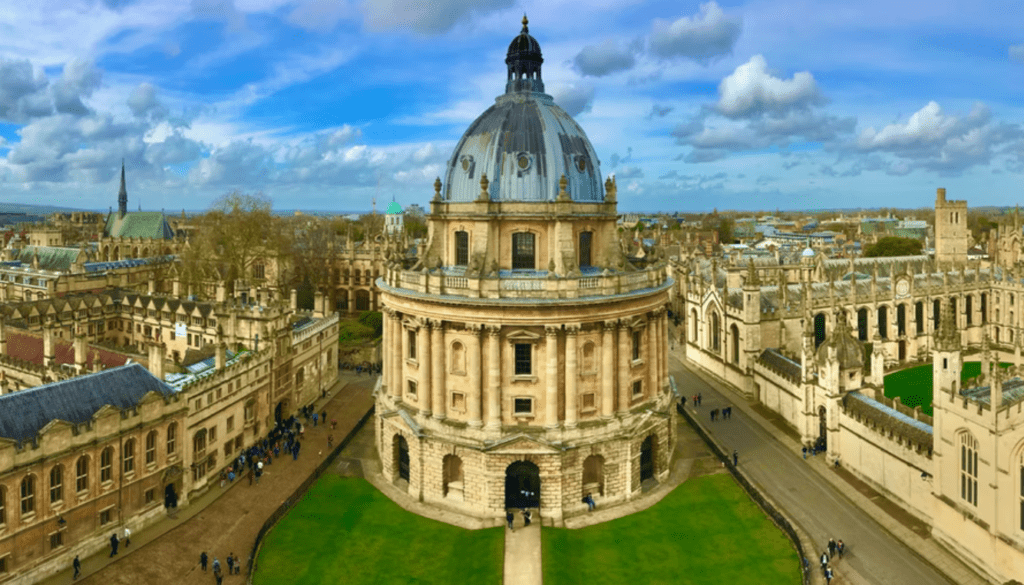 photo source: unsplash
Oxford University is the oldest university in the United Kingdom.
With a history that is thought to extend as far back as 872 – when founder Alfred the Great struck up a scholarly debate with some monks in Oxford – Oxford University grew into an actual university during the middle of the 12th century, when an actual academic community took shape.
The university has educated many of the brightest minds in history in its lifespan, including Albert Einstein, Gandhi, famous physicist Stephen Hawking, playwright Oscar Wilde, and modern-day celebrities like Emma Watson and Hugh Grant. It is a highly exclusive university, accepting just 17.5% of applicants.
Did You Know?
Legend has it that Adolf Hitler intended to use Oxford as his capital if he conquered England, which is one of the reasons why the city was never bombed.
OTHER POSTS YOU MAY BE INTERESTED IN