The human race has always had this urge to preserve the memories of the dead. Throughout history, people from different cultures and religions have built tombs of different types, shapes, and materials.
In prehistoric times, people often buried the deceased in their houses with personal possessions. Later the concept of a tomb emerged as a continuation of this practice. People began building tombs outside their homes but would put all things that they thought the deceased would need in their afterlife.
Here, we list 8 of the Oldest Known Tombs from around the world. They are located in various parts of the world and represent different eras, cultural practices, and religious beliefs.
8. Loughcrew Passage Tombs
Built: 3300 BC
Excavation year: 1980
Location: Oldcastle, County Meath, Ireland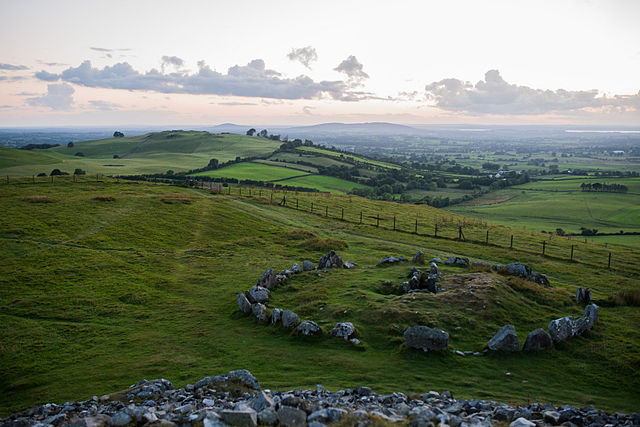 photo source: wikipedia.org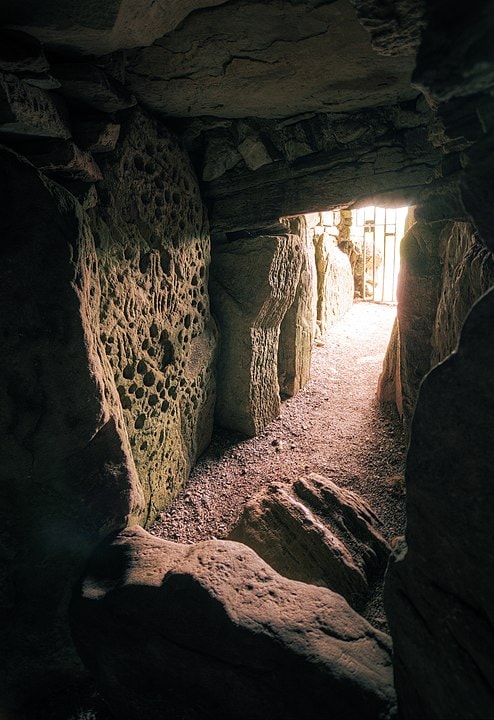 photo source: wikipedia.org
Loughscrew Passage Tombs refer to a group of 32 tombs spread over four mountains Patrickstown, Carrickbrack, Carnbane West, and Carnbane East. The tombs are identified using the English alphabet letters Cairn A1 on the Carnbane West to Cairn Y on Patrickstown. Cairn T is located at the highest point.
In 1863, these cairns were first discovered by Eugene Conwell, who suggested the identification system using the alphabet. Later in 1980, the cairns were rediscovered by Martin Brennan.
The tombs consist of cruciform chambers covered by mounds. Each cairn has unique alignments and elements; many of these cairns feature petroglyphs.
A comprehensive dating program has not been conducted on these tombs. However, it is estimated that they have existed since 3300 BC.
Did you know?
The alignment of Cairn T allows it to receive the first rays of the rising sun on the spring and autumnal equinox. The light enters the passage and illuminates the artwork on the back stone.
---
7. Quanterness Chambered Cairn
Built: 3400 – 3250 BC
Excavation year: 1796; 1972-74
Location: Mainland, Orkney, Scotland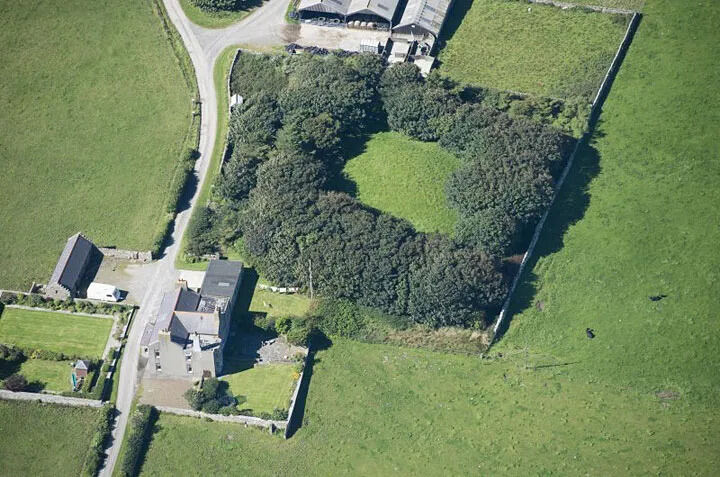 photo source: www.nessofbrodgar.co.uk
Quanterness chambered cairn is a 10-ft high grass-covered mound on Mainland Orkney in Scotland. The tomb is under the mound along with the remains of an iron-age roundhouse. The tomb consists of a long chamber and six side chambers. A long entrance passage from the east end of the cairn leads to the main chamber.
This cairn was first excavated around 1796 by Rev George Barry, who entered the monument through its roof. After digging through the long entrance passage for a few feet, excavation was paused and not resumed until 1972.
The next phase of the excavation effort took two years to complete. Considerable quantities of human skeletons and animal bones were recovered, along with artifacts and potteries made of bone and stone. Radiocarbon dating confirmed the tomb was constructed sometime around 3400 BC.
Did you know?
The tomb's main chamber has a small window-sized opening. It is believed that the opening was created to conduct ceremonial functions.
---
6. Knowe of Yarso Chambered Cairn
Built: 3500 BC
Excavation year: 1934
Location: Rousay, Orkney, Scotland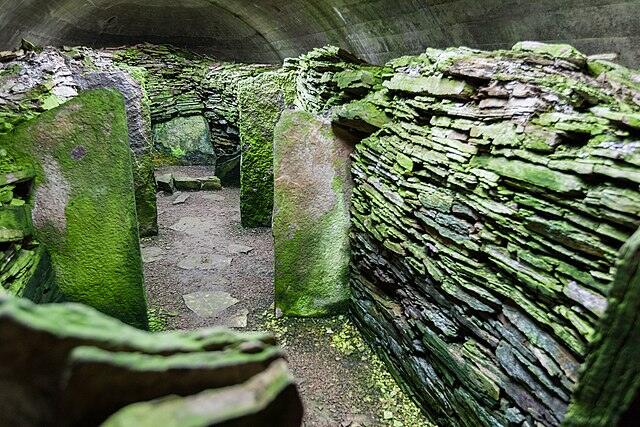 photo source: wikipedia.org
Knowe of Yarso chambered cairn is another Neolithic tomb in Orkney, Scotland. It is one of the 15 chambered tombs found on the island of Rousay. The monument is situated on a ridge close to the top of a steep uphill.
It is a rectangular cairn measuring 49 ft by 26 ft. Inside it, a burial monument measuring 26 ft by 6 ft 7 in is found. Externally, the tomb looks like a huge grass-covered mound with a concrete roof.
The cairn was excavated in 1934 and believed to be used for communal burial. Skeletons of at least 29 people were recovered from the site, along with the bones of 36 red deer, 24 dogs, and many sheep.
The exterior walls of the monument are decorated with stonework. The main burial chamber has four compartments, separated by slabs. A 13 ft long entrance passage leads to the burial chamber. The tomb's roof was destroyed at some point, possibly when it was robbed.
Did you know?
Midhowe Chambered Cairn is another ancient tomb located on the island of Rousay. It was built around the same time as the Knowe of Yarso chambered cairn.
---
5. Stoney Littleton Long Barrow
Built: 3550 BC
Excavation year: 1816
Location: Wellow, Somerset, England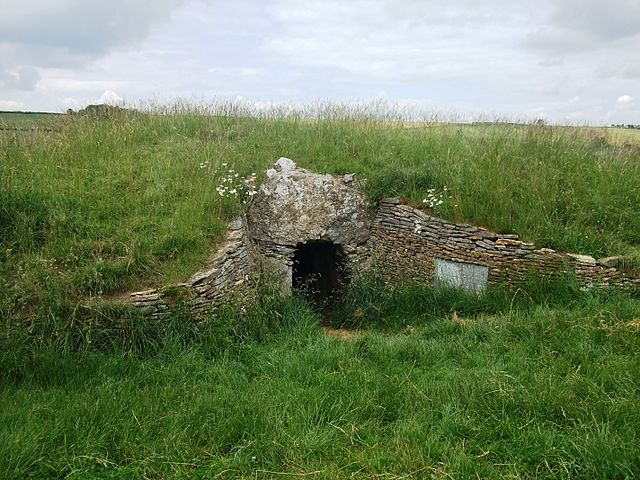 photo source: wikipedia.org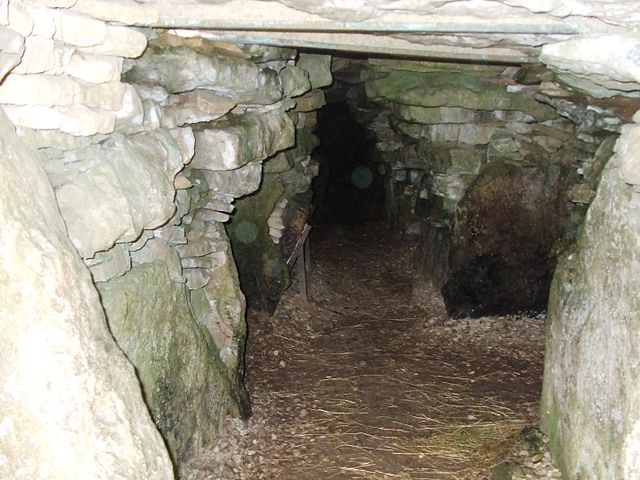 photo source: wikipedia.org
Stoney Littleton Long Barrow is located near Wellow, Somerset, England. It is also known as Bath Tumulus or the Wellow Tumulus.
The tombs consist of long trapezoid-shaped earth mounds covering chambers. The tomb was first discovered by local farmers sometime around 1760. They opened the tomb to obtain stones for building roads.
The formal excavation was done in 1816 by John Skinner, Richard Hoare, and Zebedee Weston. Weston was a laborer who previously made a hole to enter the tomb.
Did you know?
Some of the artifacts recovered from the site are now a part of the Bristol City Museum and Art Gallery.
---
4. West Kennet Long Barrow
Built: 3670 BC
Excavation year: 1859; 1955-56
Location: Avebury, Wiltshire, England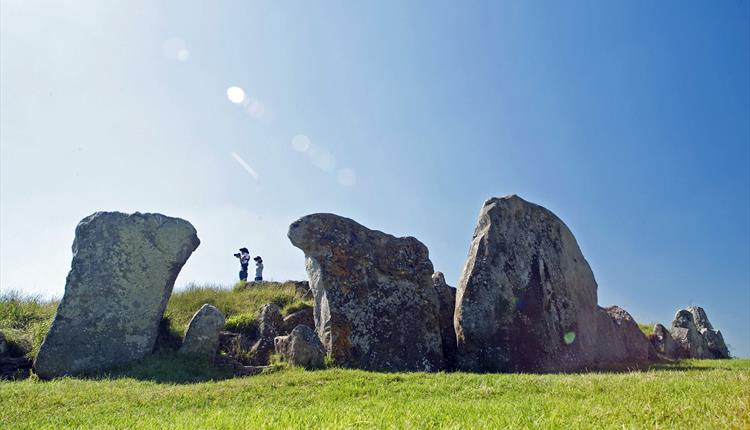 photo source: eu-assets.simpleview-europe.com
The West Kennet Long Barrow is located near Avebury, Wiltshire, England. This chambered barrow belongs to the Cotswold-Seven group and is known to be more elaborate than most other group examples.
The stone chamber is made from sarsens and extends for 6.56 feet. The first archaeological excavation of this site was done in 1859. The second phase of excavation took place in 1955-56.
The tomb was built by pastoralist communities after agriculture was introduced to Britain. Human remains recovered from the burial ground represent a combination of men, women, children, and adults.
Did you know?
Radiocarbon data retrieved from the bones confirms the site was first used for burial between 3670 and 3635 BC. Then there was a gap of over a century before it was again used for human burial.
---
3. Dolmen of Menga
Built: 3750 – 3650 BC
Excavation year: 1980-90; 2005-06
Location: Antequera, Málaga, Spain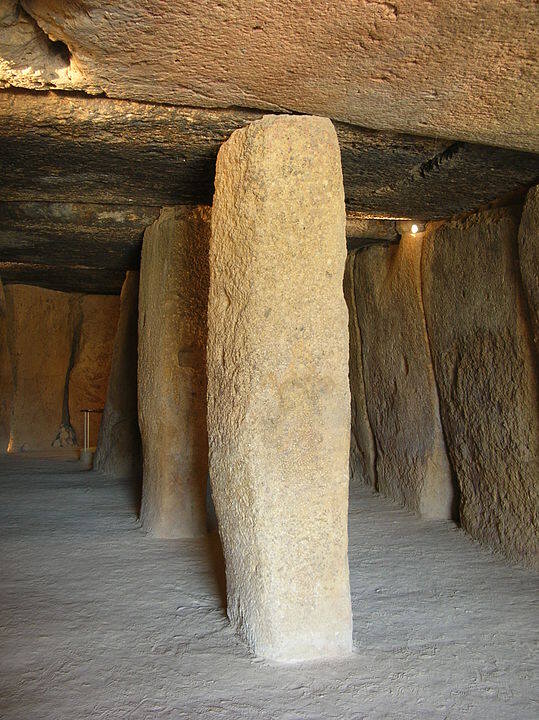 photo source: wikipedia.org
The Dolmen of Menga is located near Antequera, Malaga, Spain. This megalithic grave mound is one of the largest ancient megalithic structures. The dolmen is 90 ft long, 20 ft wide, and 11 ft high.
It is made with 32 megaliths. The chamber and the passage leading to the center were covered with soil and built into a mound. A deep and narrow well is located at the bottom of the chamber, which very unique among megalithic buildings.
The remains of several hundred people were discovered during the excavation in two phases; the first phase was in 1980-90, and the second was in 2005-06.
Did you know?
A dolmen is a type of megalithic tomb with a single chamber. It usually features two or more upright megaliths that support a large horizontal flat stone.
---
2. Saint-Michel Tumulus
Built: 4500 BC
Excavation year: 1862; 1900
Location: Carnac, Brittany, France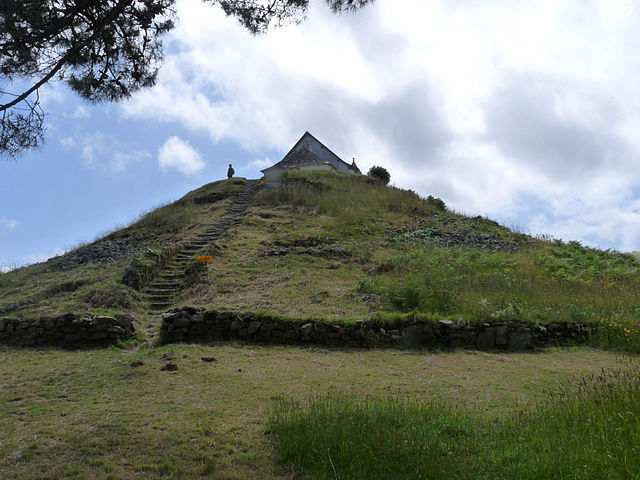 photo source: wikipedia.org
Saint-Michel Tumulus is a megalithic burial mound that dates back to 4500 BC. It is located in the East of Carnac in Britanny, France. It is the largest burial mound in continental Europe.
This grave mound is made of soil and stones and is 410 ft long, 160 ft wide, and 33 ft high. It was first excavated in 1862. Several notable funerary items, including pearls, sillimanite, axes, and other furniture, were found in the tomb's central vault.
When around 1900, Zacharie Le Rouzic again excavated the site, he found a second dolmen and fifteen chests.
Researchers have confirmed that this tumulus was built in several stages within a short span of time. However, the exact age and the chronology of the tumulus's construction couldn't be specified. The remains found in the tomb were radiocarbon dated, but the results were too disparate to reach a definitive conclusion.
Did you know?
Now, a chapel is built on the top of the Saint-Michel Tumulus.
---
1. Tumulus of Bougon
Built: 4800 BC
Excavation year: 1840; 1960
Location: Nouvelle-Aquitaine, France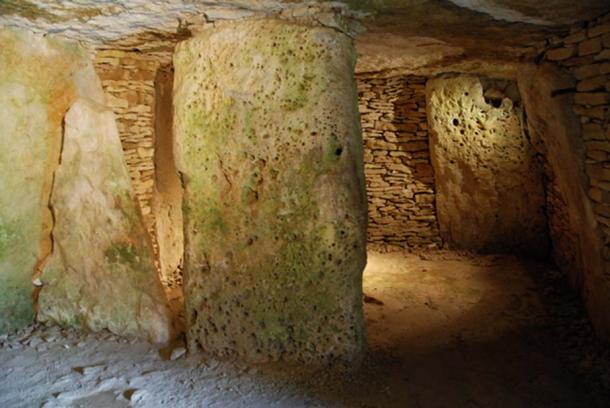 photo source: www.ancient-origins.net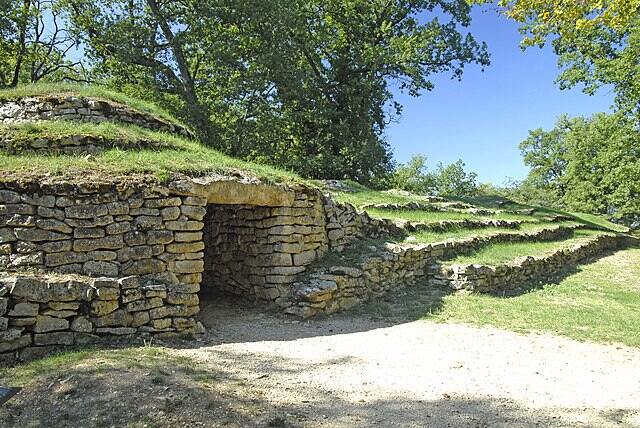 photo source: wikipedia.org
Tumulus of Bougon is the oldest known tomb in the world. The oldest structures of the Tumulus of Bougon date to 4800 BC. It is a group of five Neolithic barrows located on a limestone plateau in Bougon, France.
Tumulus A is a stepped mound with a large rectangular chamber. Artificially shaped orthostats adorn the chamber's walls, which are covered by a capstone.
About 200 skeletons were discovered during its excavation that took place in 1840. The skeletons were organized into three layers separated by stone slabs.
Tumulus B is a longish mound. It has four chambers: two small cists and two larger rectangular chambers.
Tumulus C is a circular earthen mound with a complex structure. It covers two monuments, a rectangular platform, and a circular mound. A drystone wall called Structure D divides the Bougon complex into two zones.
Tumulus E is a doubly stepped mound with two chambers, and Tumulus F is a long trapezoidal mound. The latter is the largest structure in the Bougon complex.
Did you know?
All five barrows of the Tumulus of Bougon were not built at once; they were constructed in several phases. Archaeological evidence has confirmed that the Tumulus E, constructed sometime around the beginning of the 5th millennium BC was the first one to build.