Saturday Night Live has been on the air since 1975 and nearly every episode has been hosted by a celebrity guest. Over the years, a wide array of actors, actresses, and political figures have hosted the show with guests typically appearing at the height of their careers.
Nearly every one of the oldest SNL hosts is an actor/actress with a long and successful career – the exception is Miskel Spillman, the first and only non-celebrity host, and President Donald Trump who was never a professional actor. All of the people on this list were at least in their late 60s when they hosted and the top three were in their 80s.
7. Robert De Niro (August 17, 1943 – Present)
Oldest Age When Hosting: 67 years old
Hosting Date: December 4, 2010
Occupation: Actor, producer, and director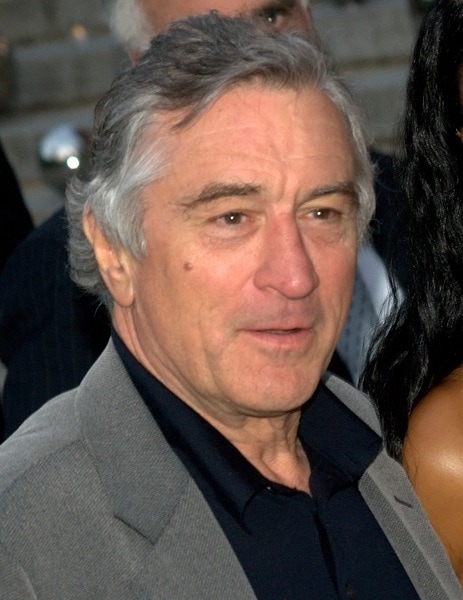 photo source: Wikimedia Commons
Robert De Niro hosted SNL three times, the first time in 2002, again in 2004, and most recently in 2010 when he was 67 years old. De Niro is a legendary Academy Award winning actor whose long list of critically acclaimed films include The Deer Hunter (1978), Raging Bull (1980), The Godfather: Part II (1974), and Goodfellas (1990).
De Niro has been acting since 1963 and has appeared in over 100 films since starting his film career. In addition to acting, De Niro has directed a few films such as A Bronx Tale (1993) and The Good Shephard (2006).
Additionally, De Niro has a history of political activism — he joined the Artists Against Fracking campaign in 2012.
---
6. Donald Trump (June 14, 1946 – Present)
Oldest Age When Hosting: 69 years old
Hosting Date: November 7, 2015
Occupation: Real estate developer, television host/producer, and President of the United States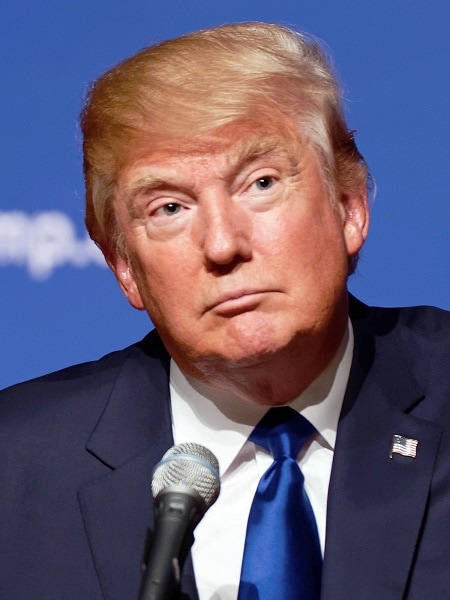 photo source: Wikimedia Commons
Donald Trump is the third oldest man to host SNL in the show's history. Trump hosted the show for the first time in 2004 and hosted again at 69 years old in 2015, in the midst of his 2016 presidential campaign. His second appearance on the show drew a lot of criticism as Trump had come under public ire for his controversial viewpoints and statements during his campaign.
Protesters picketed outside of Trump Tower in New York City days before he was set to host with signs showing "DUMP TRUMP". Since Trump's appearance as host and his Presidential win, SNL has consistently parodied Trump's presidency.
You can read our article on the Youngest SNL Cast Members in History by Oldest.Org.
---
5. Milton Berle (July 12, 1908 – March 27, 2002)
Oldest Age When Hosting: 70 years old
Hosting Date: April 14, 1979
Occupation: Actor and comedian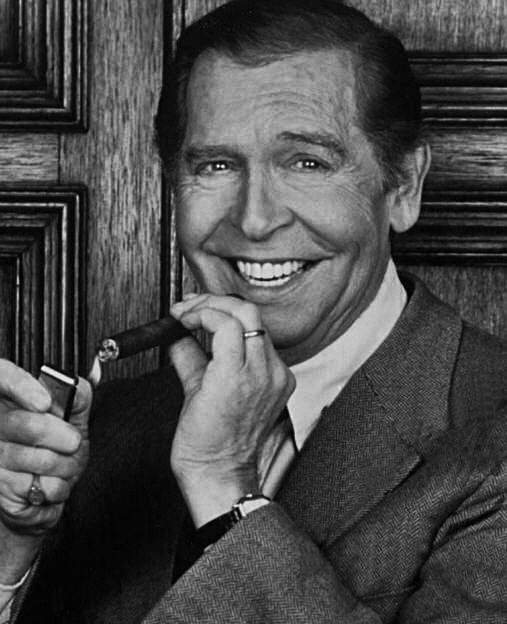 photo source: Wikimedia Commons
At 70 years old, Milton Berle is one of the oldest hosts of SNL ever and he is also one of the most controversial hosts in the show's history. Berle, who is best known as the host of NBC's Texaco Star Theater (1948 – 1955) and was nicknamed "Uncle Miltie" and "Mr. Television", had a reputation for taking control of entire television productions uninvited.
This happened when he hosted SNL, which upset both the cast and crew — he upstaged the SNL cast members, inserting old comedy bits, doing unnecessary spit takes, and a bad performance of "September Song."
Berle's episode was banned from being rerun because producer Lorne Michaels felt it brought down the show's reputation.
---
4. Charlton Heston (October 4, 1923 – April 5, 2008)
Oldest Age When Hosting: 70 years old
Hosting Date: December 4, 1993
Occupation: Actor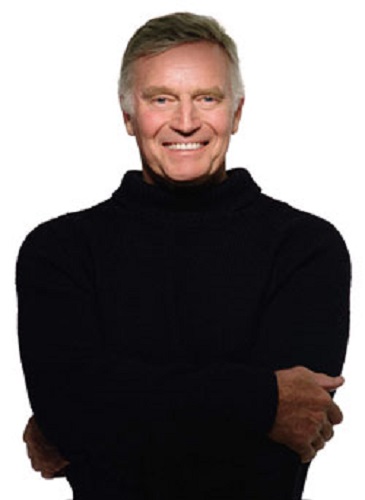 photo source: Wikimedia Commons
Charlton Heston is the oldest man to have ever hosted Saturday Night Live. He hosted the show on on December 4, 1993 at the age of 70. Heston was an actor from 1941 – 2003; he had to retire in 2003 after being diagnosed with Alzheimer's disease that same year.
He is best known for appearing in historic and heroic roles in films such as Antony and Cleopatra (1947), The Ten Commandments (1956), Ben-Hur (1959) and Planet of the Apes (1968). In addition to his acting career, Heston was heavily involved in politics and was the president of the National Rifle Association from 1998 – 2003.
---
3. Ruth Gordon (October 30, 1896 – August 28, 1985)
Oldest Age When Hosting: 80 years old
Hosting Date: January 22, 1977
Occupation: Actress and writer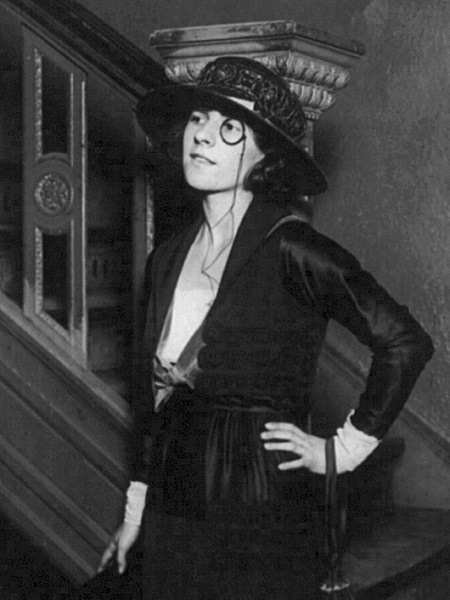 photo source: Wikimedia Commons
Ruth Gordon was the third oldest person to host SNL. She was 80 years old on January 22, 1977 when she hosted that night's show, which featured the legendary Chuck Berry as its musical guest. Gordon had a prolific acting career, which lasted from 1915 – 1985.
Her most notable works include Rosemary's Baby (1968), Harold and Maude (1971), Every Which Way but Loose (1978) and Any Which Way You Can (1980). She won an Academy Award, an Emmy, and two Golden Globe awards for her work as an actress and was nominated for three Academy Awards as an actress.
---
2. Miskel Spillman (September 8, 1897 – March 30, 1992)
Oldest Age When Hosting: 80 years old
Hosting Date: December 17, 1977
Occupation: Unknown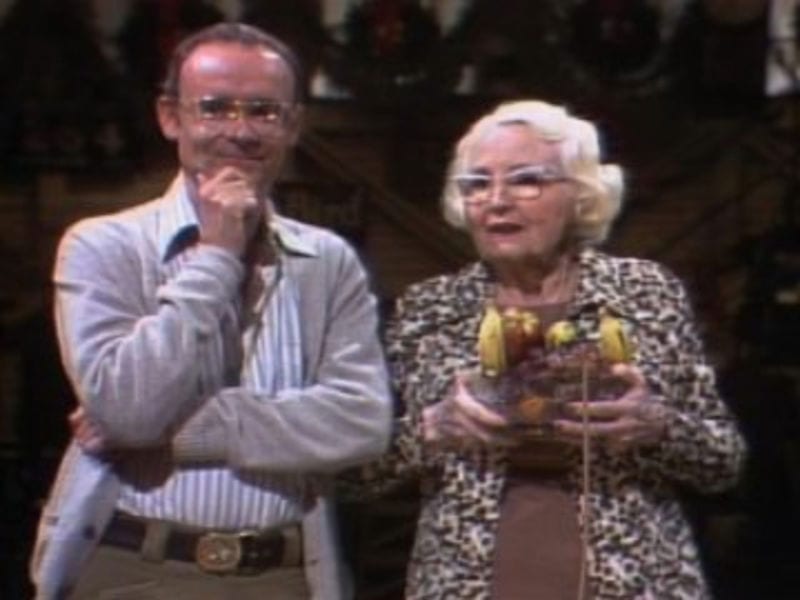 photo source: The AV Club
Miskel Spillman was the winner of the first and only "Anyone Can Host" contest for SNL in 1977. Until Betty White broke her record in 2010, Spillman was the oldest person to have ever hosted SNL (she was two weeks older than Ruth Gordon) for several decades.
Spillman was a German immigrant and grandmother from New Orleans, Louisiana. She hosted the 1977 SNL Christmas special and appeared in sketches with Buck Henry and John Belushi. Spillman was paid the host's usual salary for her appearance, which was $3,000 at the time. To this day, Spillman is the only non-celebrity to host SNL.
---
1. Betty White (January 17, 1922 – December 31, 2021)
Oldest Age When Hosting: 88 years old
Hosting Date: May 8, 2010
Occupation: Actress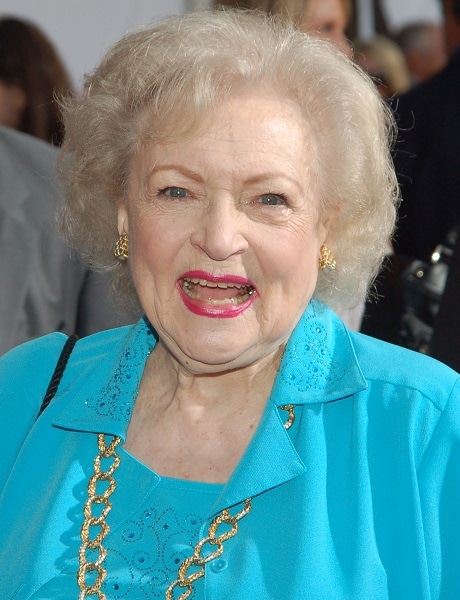 photo source: Wikimedia Commons
Betty White, who was a comedic actress, beginning in the 1950s, is the oldest person to ever host Saturday Night Live. She hosted the show on May 8, 2010 at age 88 after a Facebook campaign was launched to get her to host the show. Due to concerns over her age, SNL actresses Tina Fey, Molly Shannon, Maya Rudolph, Amy Poehler, and Rachel Dratch were on standby to replace Betty White if needed.
Despite her advanced age, White went on to appear in every sketch. White, who passed away in 2021 just before her 100th birthday, is best known for her roles on "The Mary Tyler Moore" show and "The Golden Girls."
OTHER POSTS YOU MAY BE INTERESTED IN