The school desk is an object almost everyone has faced throughout their childhoods and adolescence. As we grow in knowledge through school, the desk has grown as well, with each passing decade displaying innovations in comfort and education. The school desk's humble beginnings as a wooden bench to its fashionable chrome designs of the mid-20th century demonstrate a journey that reflects society's changing relationship to the value of education. Read the list below to learn how much the desk has grown (and shrunk) throughout the centuries and around the world.
12. One Arm Desk
Year: c. 1970
Features: Storage compartment and one arm attached desk
Notable Differences: Desk is much smaller and the storage compartment is under the chair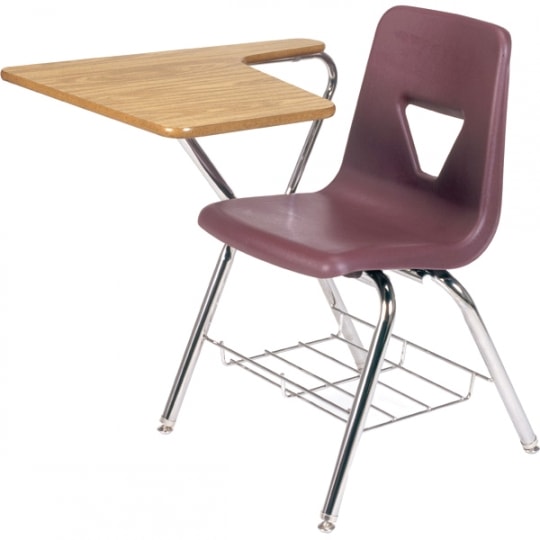 photo source: Schoolsin.com
The One Arm school desk first appeared in the 1970s and is still in use today. It moved the storage compartment to a basket under the desk and decreased the overall desk size. Rather than a separate piece of furniture, the desk was attached to the right side of the chair, much to the chagrin of left handed students. Overall, this style saves space in the classroom and is quite portable. Older styles were made of all wood, but more modern designs often feature chrome and plastic.
---
11. Chrome Desk
Year: c.1960
Features: Storage compartment
Notable Differences: Made mostly of chrome and plastic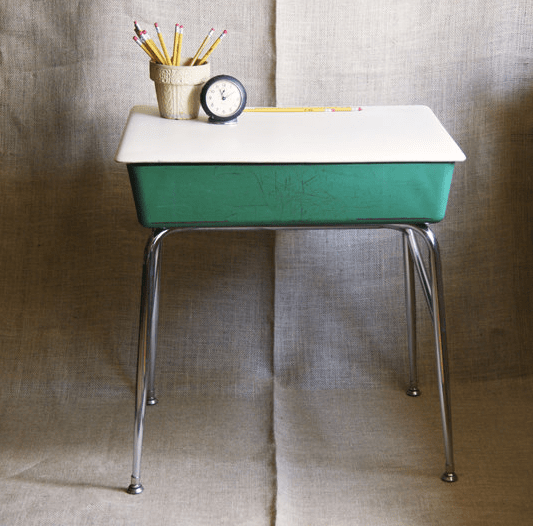 photo source: Susantique via Etsy
This desk moved away from wood and steel, which were more expensive, in favor of chrome and plastic. Like its predecessors, it had a storage compartment that could be accessed by lifting the desk, a feature seen in 1920s designs. It also came in fun colors, following the Munkegaard desk's example. The modern design reflects the increased interest in modernism and space travel as a result of the Cold War.
---
10. Munkegaard Desk
Year: c. 1955
Features: Storage compartment and separate desk and chair
Notable Differences: Modern design made specifically for one school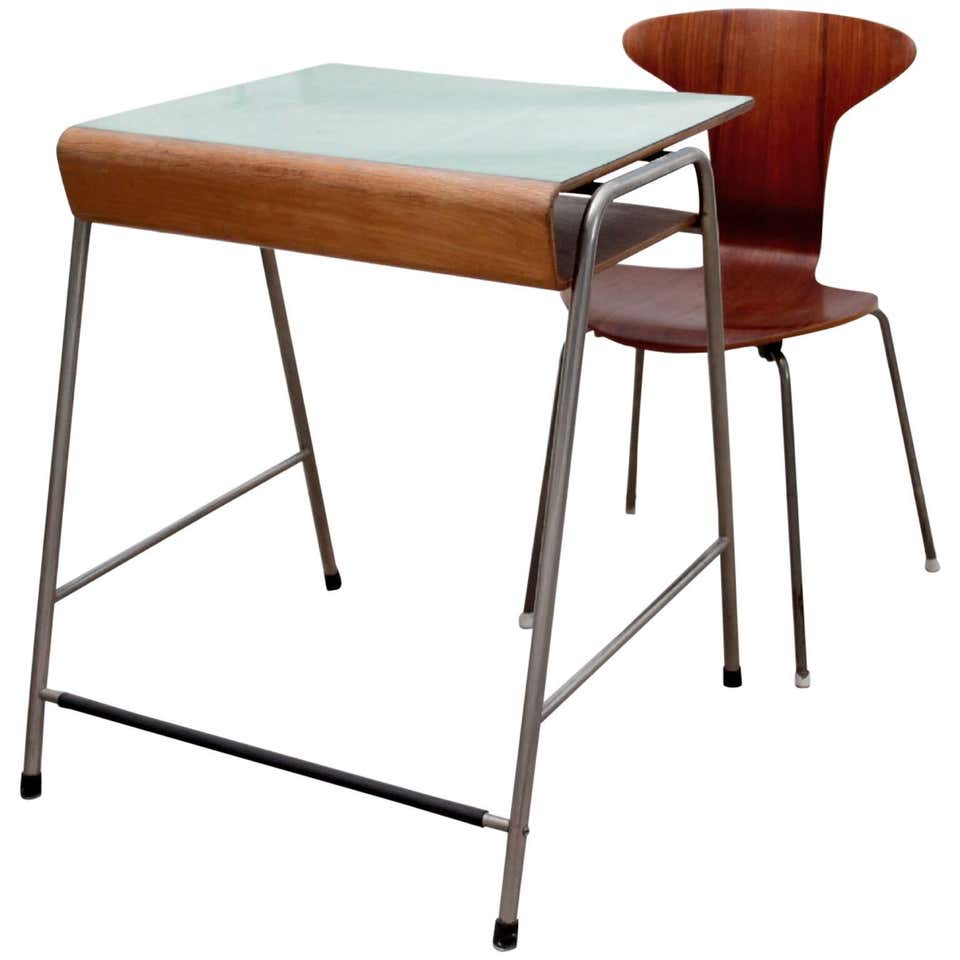 photo source: 1st Dibs
Arne Jacobsen's Munkegaard desk was an exclusive piece for the Munkegaard School in Denmark. It included a modern, streamlined design with a separate chair and desk. The desktop was aquamarine and intended for a single student. The table was made from a single slab of wood and Jacobsen based the chair off of his ant chair design. Because it was built for a particular school, there are only 300 such desks in existence.
---
9. Skid chair with Skid Table
Year: c. 1950
Features: Separate chair and desk and a storage compartment
Notable Differences: Made entirely of wood and easier for children to move around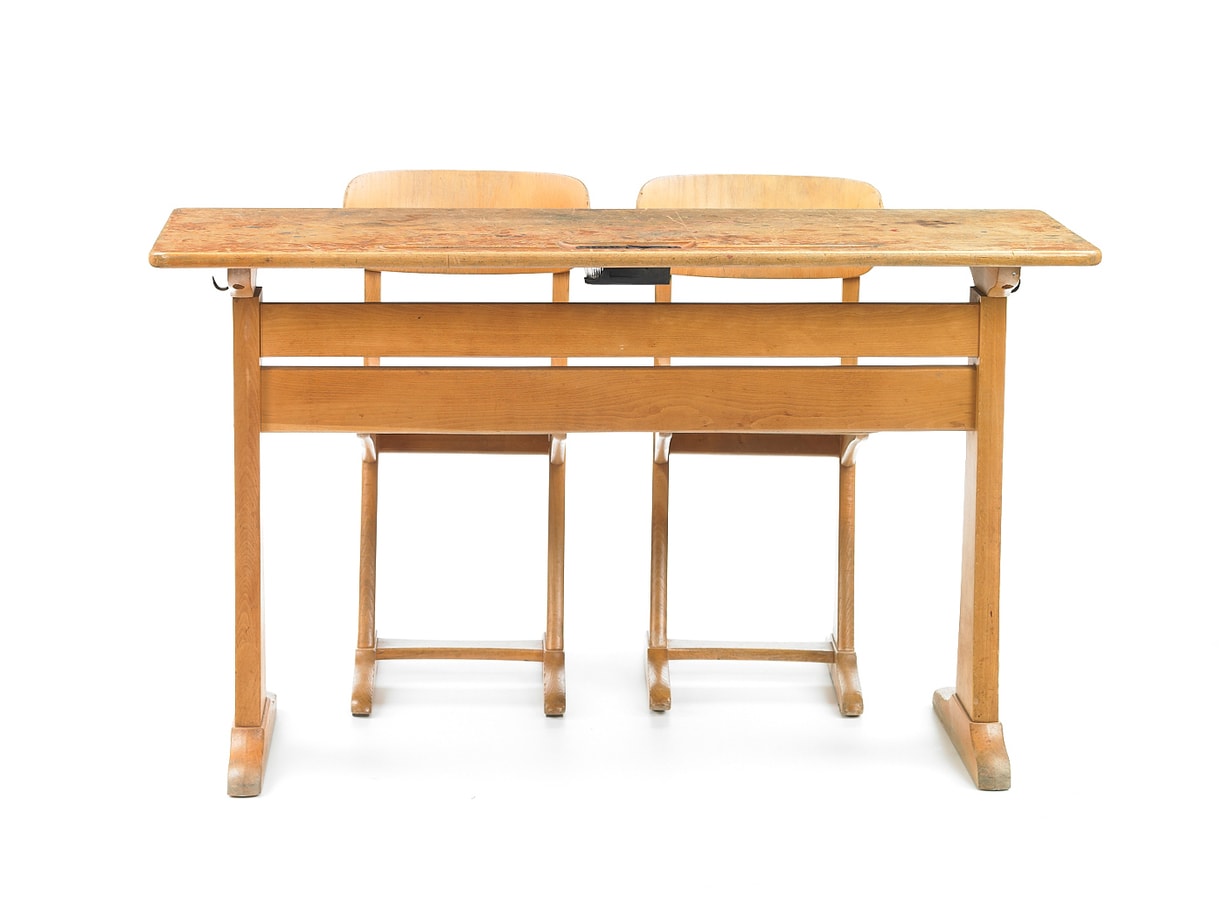 photo source: VS America School Museum
This desk, named for the ease in which children could move the desk and chairs, offered more in terms of autonomy and organization. Since the table and chairs were not nailed to the floor or attached to each other, teachers could put students in various arrangements. These desks were also easily stacked for better storage during cleaning or vacations.
---
8. Jean Prouvé Desk
Year: 1935
Features: Two-seater desk with storage compartments and attached seats
Notable Differences: Storage compartment accessed without lifting the desk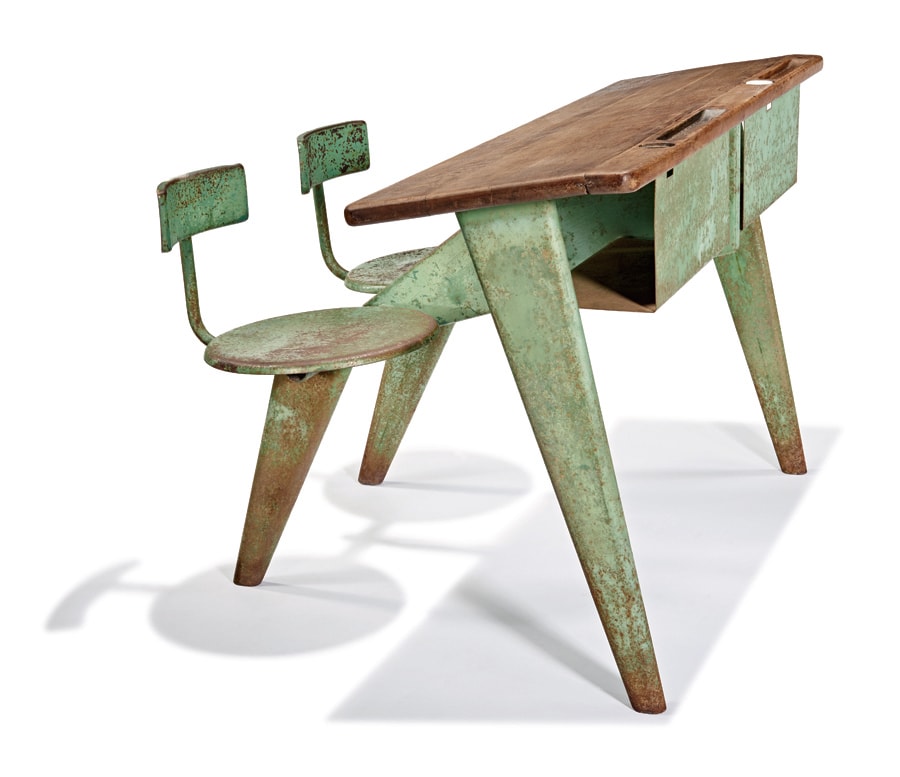 photo source: Modern Art and Design Auction
Jean Prouvé's desk might appear simple but it tells a story of loyalty and economy in the face of oppression. Prouvés approach to furniture design is celebrated for its simplicity and messaging. Created at the beginning of World War II, this desk used economic materials like wood and steel for cheaper production that allowed children to comfortably attend school during wartime. The innovation to the storage compartment meant students could access supplies without disturbing objects on the desk. Additionally, the two person arrangement exemplified a sense of unity against the Nazis.
---
7. Adjustable School Desk
Year: c. 1930
Features: Adjustable desk and seat with storage compartment
Notable Differences: Made mostly of iron and attached to a wooden slab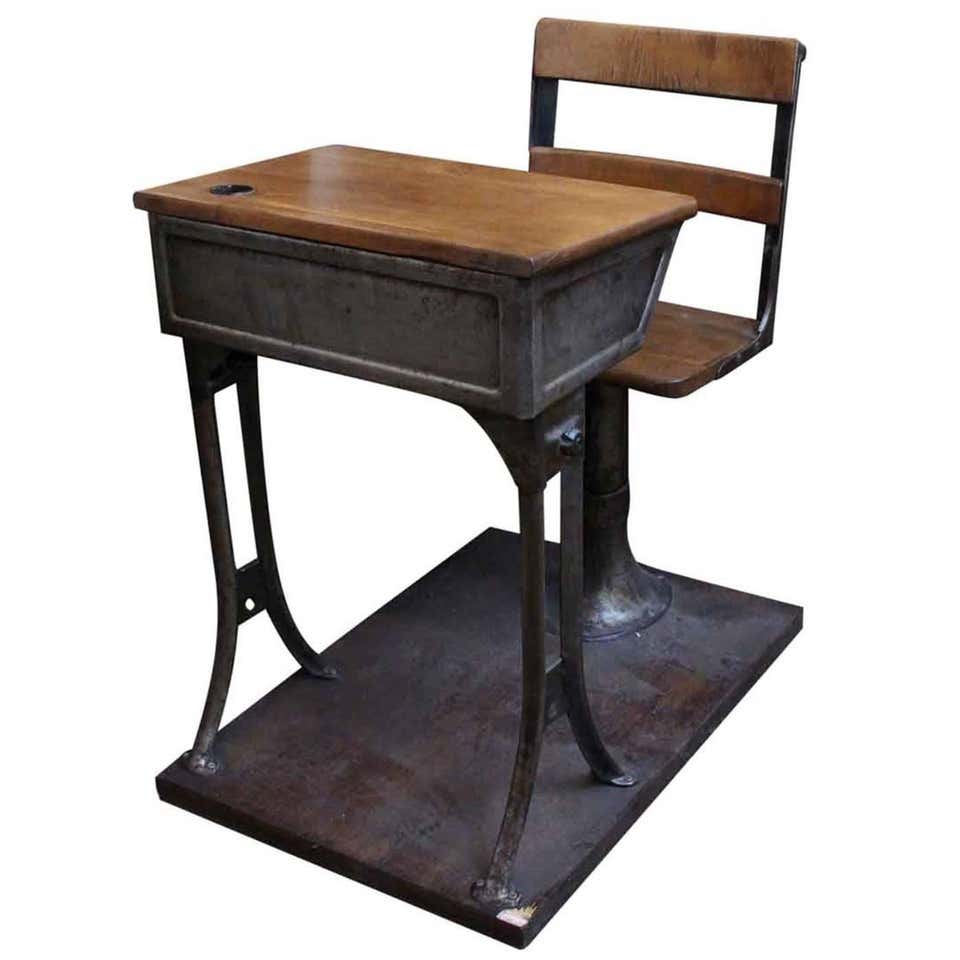 photo source: 1st Dibs
The 1930s brought along more desk innovations. This single-seater desk with a storage compartment could be adjusted for students of any height. Like the Chinese Bench Desk and the Welsh Desk, the adjustable desk shows a growing concern for children's well being and comfort in the classroom. It also demonstrates that school was a more important aspect of everyday life as this desk allowed students to customize their classroom experience, indicating more regular attendance.
---
6. Welsh School Desk
Year: 1920
Features: Separate desk and chair as well as a storage compartment
Notable Differences: Storage compartment accessed by lifting the top of the desk
photo source: One Kings Lane
The Welsh school desk resembles a more stereotypical school desk with its storage compartments for students to place necessary school supplies. Besides that, it had no extra features and some models required additional chairs since none were attached. The use of storage compartments also indicates a potential growing sense of autonomy for students in American and European classrooms as they now had access to more privacy than in previous decades, although this was still a two-seater desk.
---
5. Chinese Bench School Desk
Year: c. 1900
Features: Drawer and attached bench
Notable Differences: Pull out drawer and chair with no back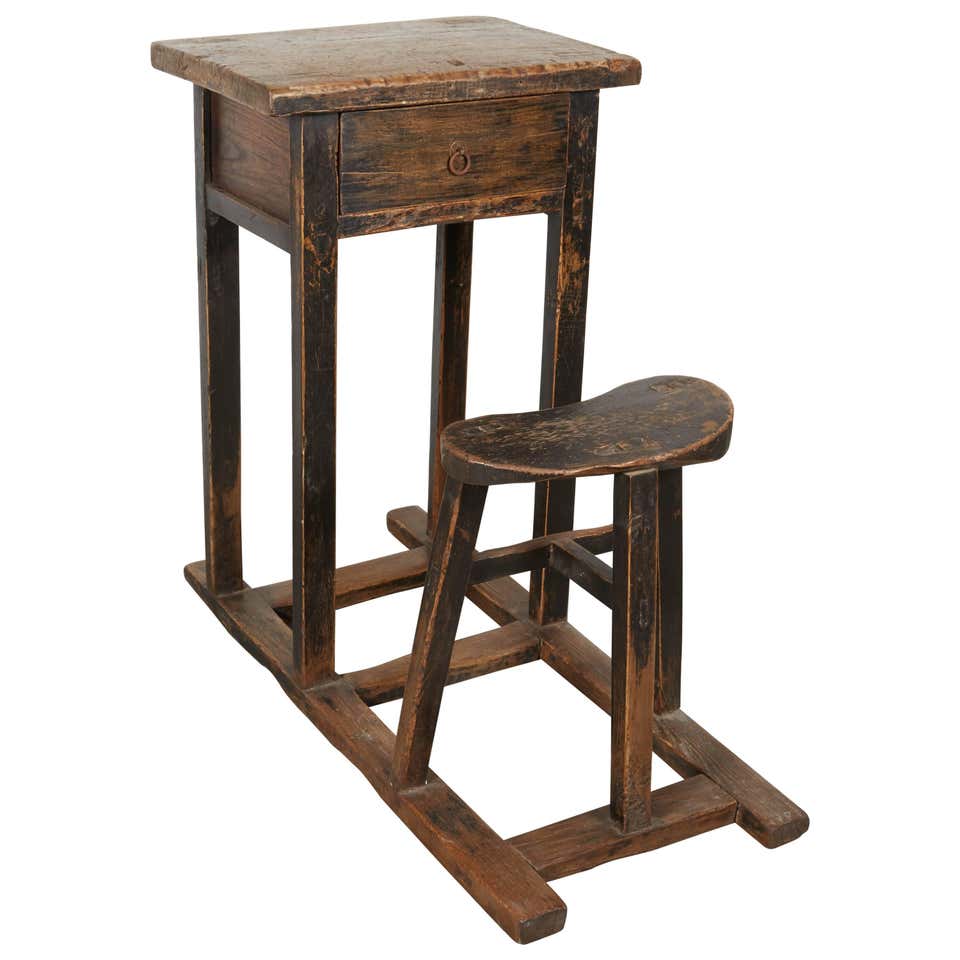 photo source: 1st Dibs
This fully wooden desk from early 19th century China was quite different from its American and European counterparts discussed thus far. It is the first on this list to feature a storage compartment, although this came in the form of a pull out drawer rather than something under the desk. Additionally, it had a small wooden bench attached to the relatively small single student desk. The storage compartment could indicate more autonomy for students as it provided a designated place for their belongings— something western desk designers would later catch onto.
---
4. The Standing Desk
Year: 1899
Features: Was foldable so students could stand or sit
Notable Differences: Could transform into a standing desk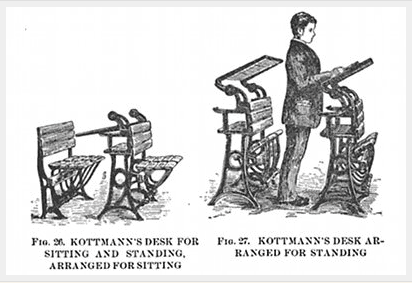 photo source: The Art of Manliness
Doctors often recommend standing desks for students and office workers today to help blood flow, but many might be surprised at how early in history the standing desk appeared.
The late 19th century standing desk resembled the Fashion school desk, but also folded up for a more ergonomic classroom experience. Students could sit and use the desk in front of them or fold the seat and desk up to comfortably stand and work simultaneously. These desks were usually found in higher grade classrooms since teachers required younger students to stand when answering questions and to exercise during recess.
---
3. Rettig Bench
Year: 1895
Features: Raised footrests, tilted desks
Notable Differences: More conventional design with the desk attached to the front of the chair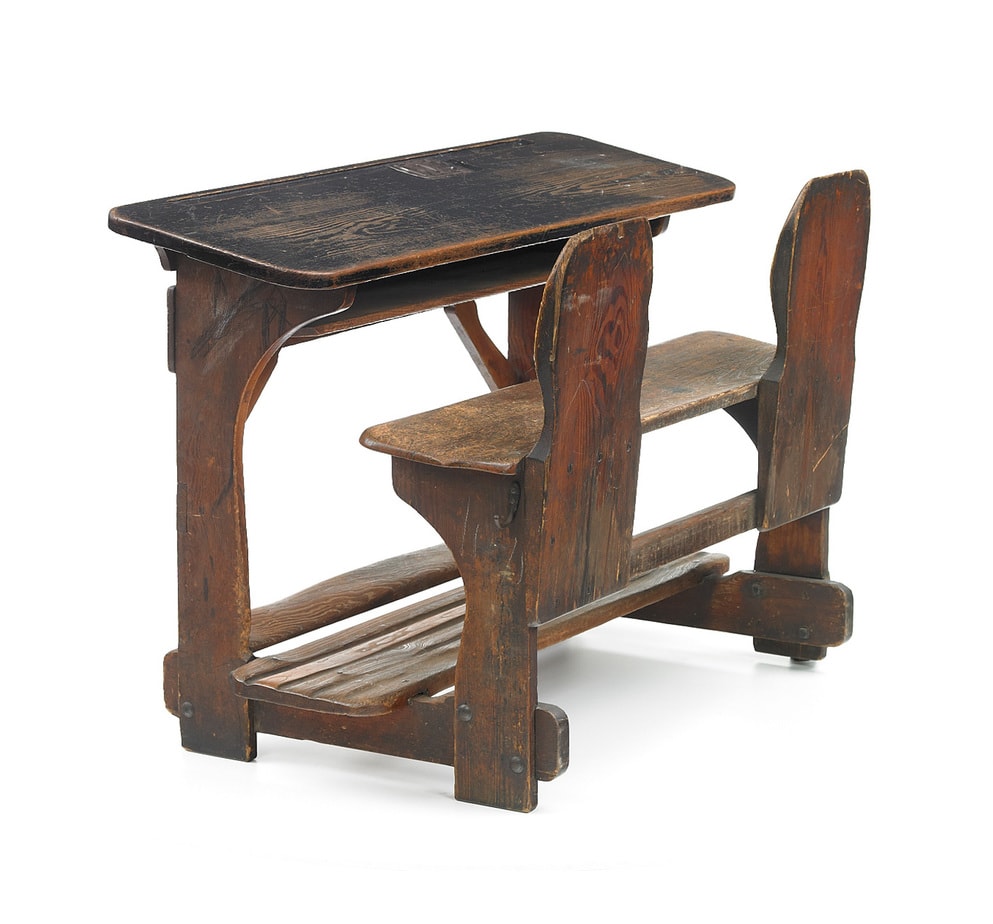 photo source: VS America School Museum
The Rettig Bench became one of the most popular school desks in Germany because it saved classroom space and was easier to step in and out of due to its heightened footrest. The tilted desktop also gave students more room to write. This design harkened back to the communal style of the school bench as two students shared a desk.
---
2. The Fashion School Desk
Year: 1881
Features: Distinct chair and desk
Notable Differences: Desk was attached to the back of the chair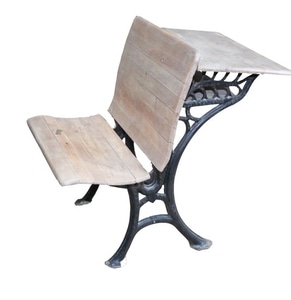 photo source: Lot-Art
The Fashion school desk appeared in classrooms in the late 1800s from the Sidney School Furniture Company in Sidney, Ohio. Unlike school benches, these desks were individualized and featured a seat and table. Students would use the table in front of them to do their work.
---
1. The School Bench
Year: c. 1700
Features: Wooden body, sat multiple students
Notable Differences: Not a true desk and did not have place to work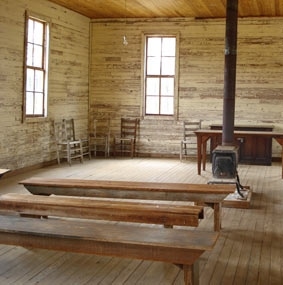 photo source: Susan Bailey, Louisamayalcottismypassion.com
The 18th century school bench is exactly what it seems: a long wooden bench meant to sit multiple students at a time. The simplicity of the bench reflects the attitude toward organized education at the time. Many children left school at a young age to either work, be married, or even learn at home. As a result, school houses were often small and usually included pupils at varying levels of education. The school benches didn't allow for a lot of hands-on learning, but they provided a place to focus for those who had the opportunity to attend school.
OTHER POSTS YOU MAY BE INTERESTED IN