When you wear a piece of clothing, it says something about who you are and what you believe. To be fashionable is to be in the know, to rise above the ordinary and stand out from the masses. Fashion is a concept that has evolved over time and is constantly changing in order to reflect the times.
For hundreds of years, the varying techniques and processes used to create denim have had a significant effect on the way jeans look and feel today. The history of denim can be traced back through time until we reach the present day with famous brands that make clothing lines in this fashion category.
If you're someone who is into this kind of space and wants to know some things about it, this article will show you twelve of the oldest brands of jeans that were ever produced.
11. Tommy Hilfiger
Year Founded: 1985
Founder: Thomas Jacob Hilfiger
Headquarters: Amsterdam, Netherlands
Current CEO: Martijn Hagman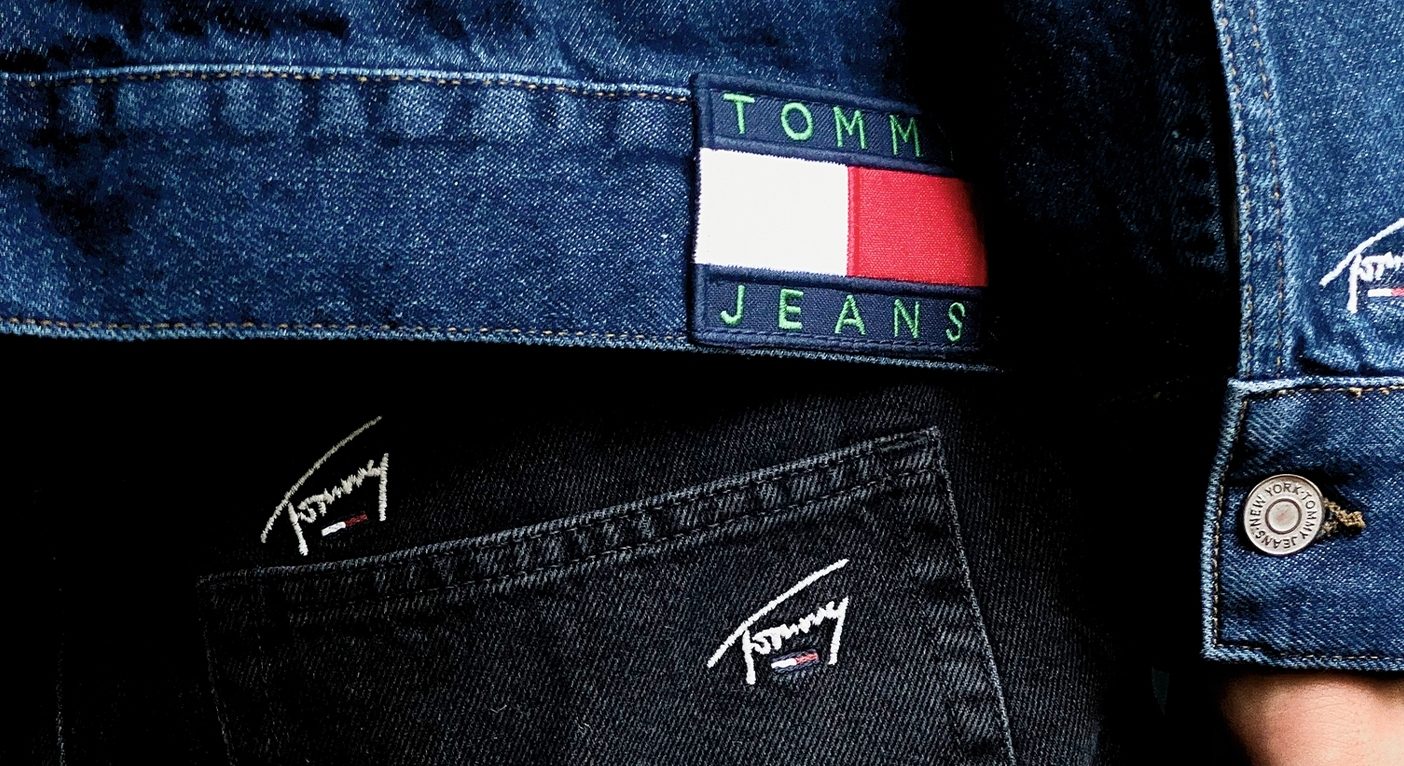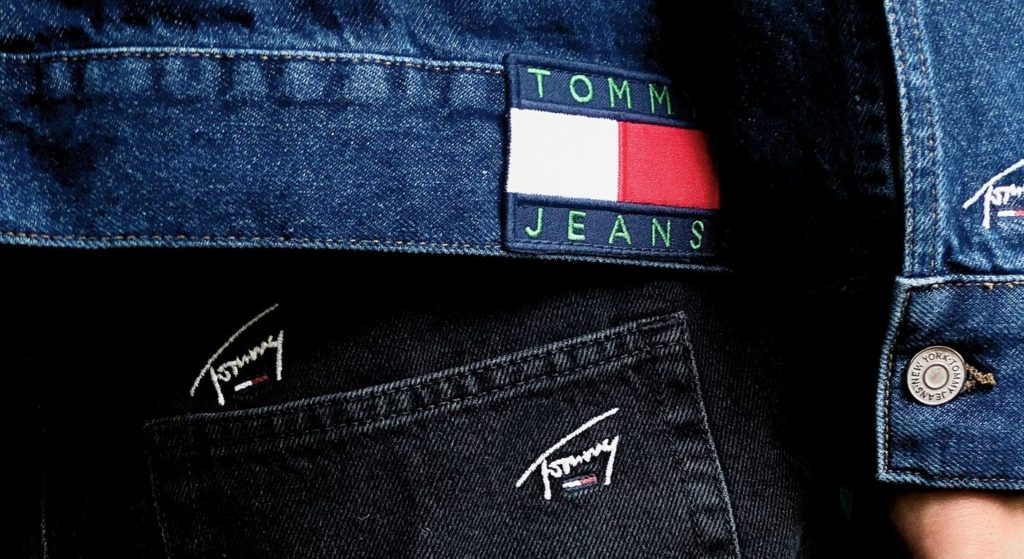 photo source: global.tommy.com
Tommy Hilfiger has become known as the originator of typical American cool fashion. The relentlessly upbeat goal of challenging preconceptions and championing originality drives the designer and his business. They draw inspiration from traditional pop culture and early American history.
The business renamed its Tommy Jeans brand in 2018 from the Hilfiger Denim label. Since its introduction in 1996, Tommy Jeans has come to represent the rebellious American youth, and its advertising campaigns have produced some of the most recognizable imagery in the industry.
Because the company keeps faithful to its roots, the designs are still trendy more than 35 years later.
Did You Know?
Before launching Tommy Hilfiger, Thomas modified pants and marketed them to nearby shops.
---
10. Guess
Year Founded: 1981
Founder: Marciano brothers
Headquarters: California, USA
Current CEO: Carlos Alberini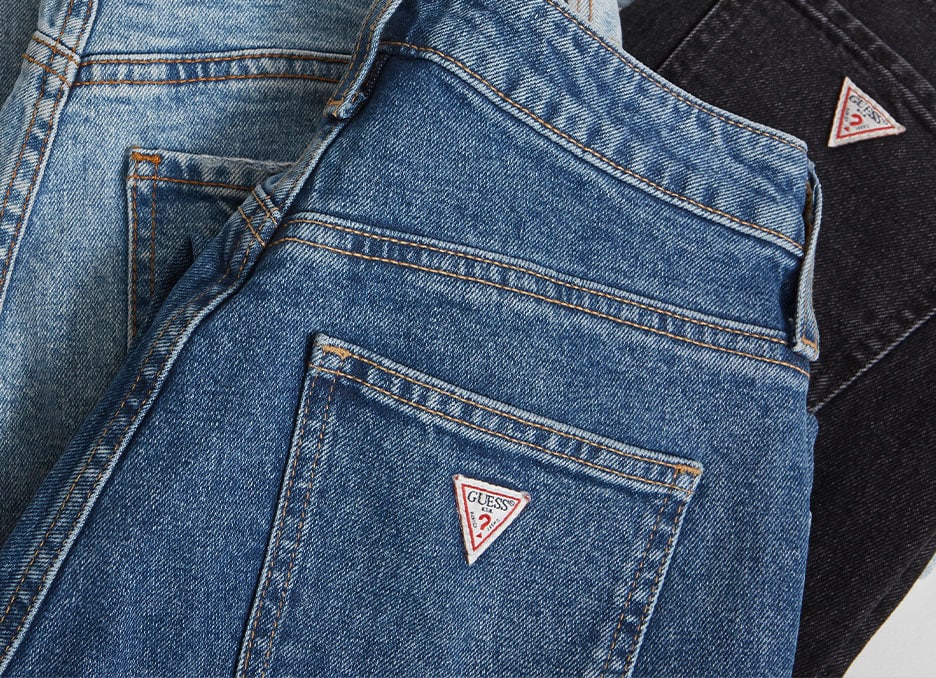 photo source: journal.guess.eu
The Marciano brothers founded Guess in 1981 after leaving the south of France in search of the American dream. The first retail shop to carry the product, Bloomingdale's, placed an order for two dozen pairs of jeans. In a matter of hours, they vanished off the shelves.
Within a short period of time, Guess grew to represent a hip, seductive, and active way of life. Today, Guess is a truly global lifestyle brand with a vast range of denim, clothes, and accessories accessible in more than 80 countries.
Did You Know?
The first model for Guess was a French model named Estelle Lefebure.
---
9. Studio D'Artisan
Year Founded: 1979
Founder: Shigeharu Tagaki
Headquarters: Osaka, Japan
Current CEO: Yoshinori Fujikawa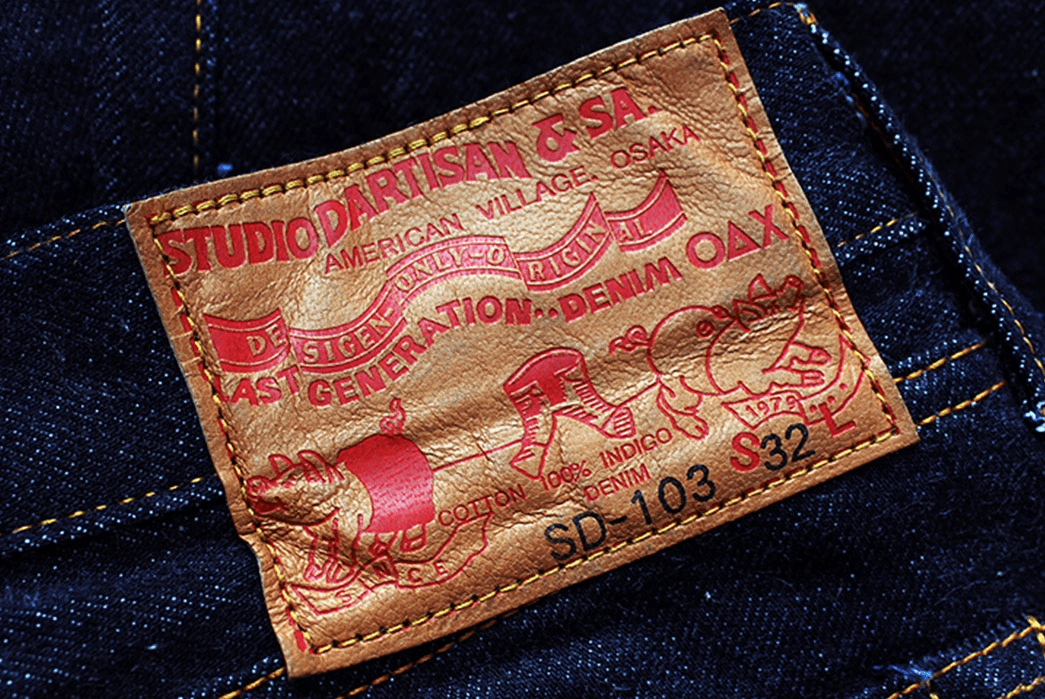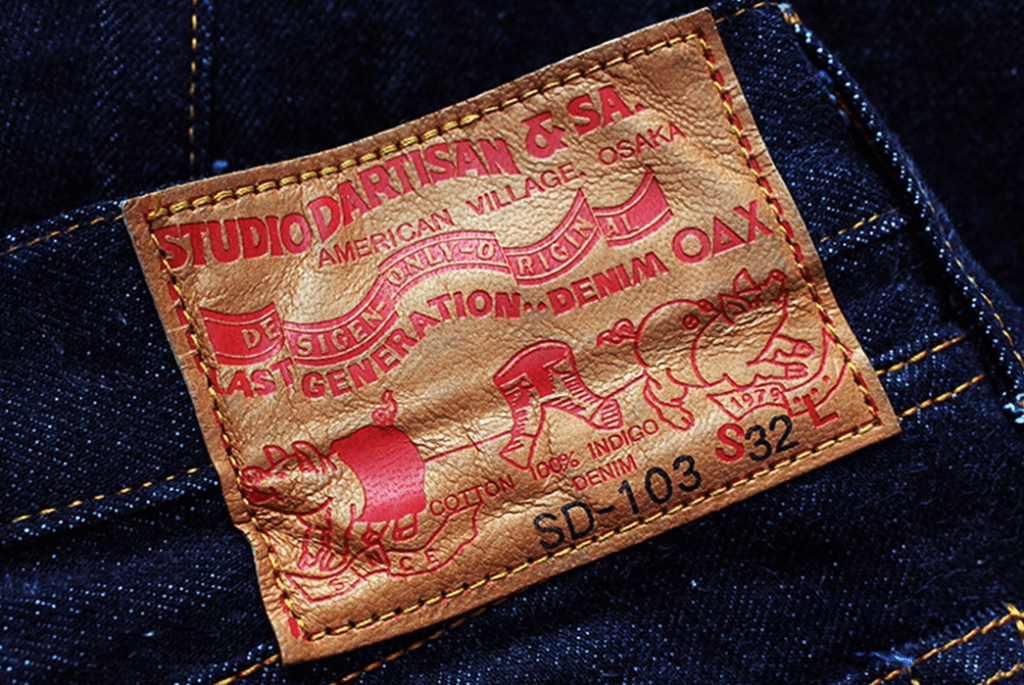 photo source: Heddels
Shigeharu Tagaki, who had been honing his craft in France, established Studio D'Artisan in 1979. Tagaki began recreating antique denim on an ancient Toyada G-3 shuttle loom and was inspired by French workwear and, in particular, the American jeans mania that was sweeping Japan in the late 1960s and early 1970s.
Frustrated with the subpar condition of the mass-produced jeans that flooded the market in the 1980s, the firm quickly began producing unique denim products using patterns and manufacturing methods from the heyday of jeans.
They continue to manufacture a variety of premium goods, making them among the most coveted Japanese denim companies.
Did You Know?
The company is well-known for its flagship model, the DO-1, which was created by experienced craftsmen in Japan.
---
8. Diesel
Year Founded: 1978
Founder: Adriano Goldschmied and Renzo Rosso
Headquarters: Veneto, Italy
Current CEO: Massimo Piombini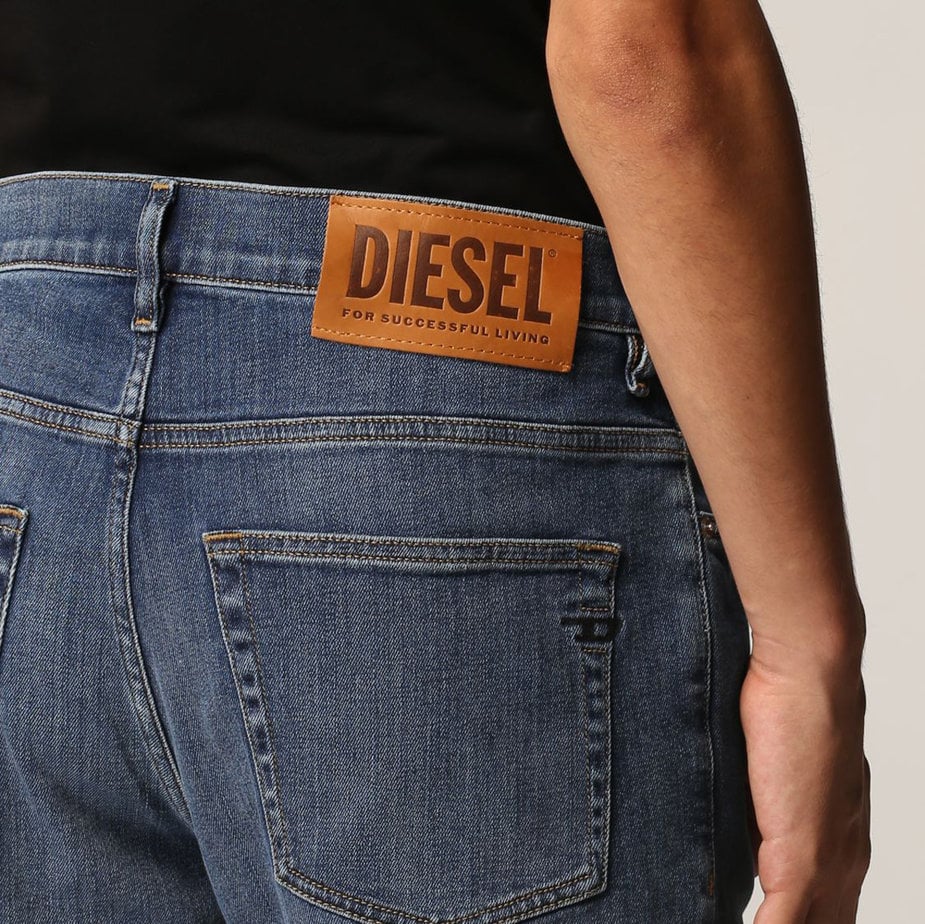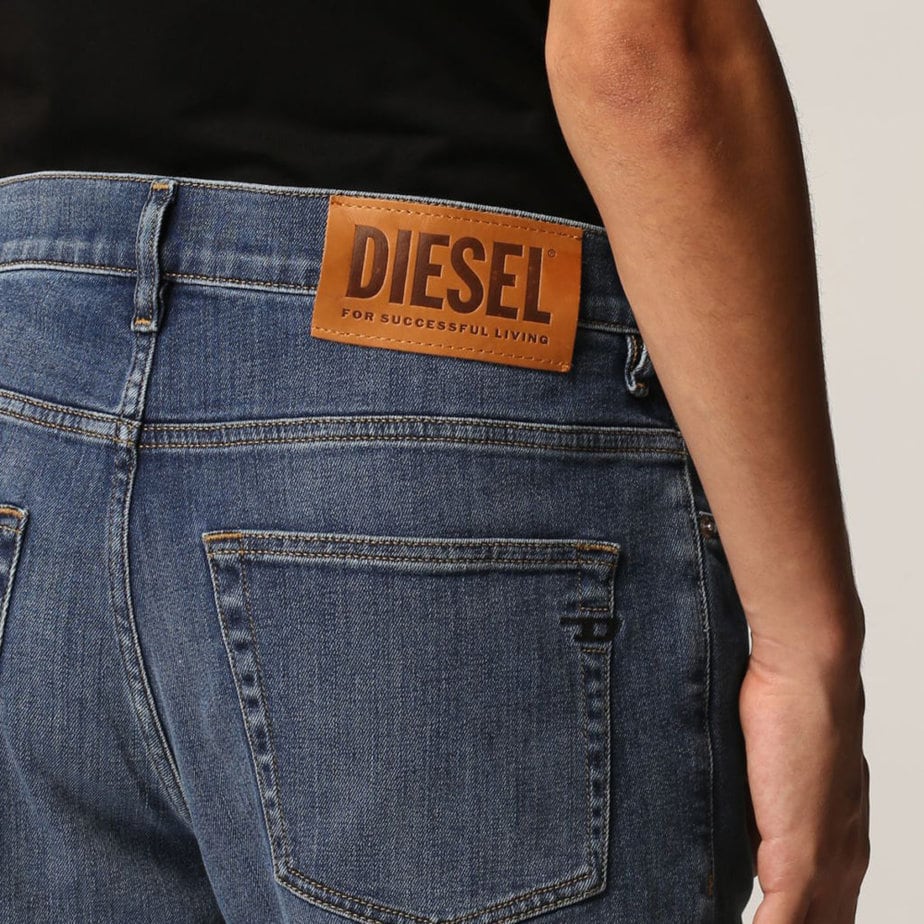 photo source: size-charts.com
When a friend acquired many meters of American denim when Renzo Rosso was a teenager, he started to show an interest in fashion. He made his first piece of clothing using his mother's sewing machine, a skintight pair of bell bottoms with a 17-inch flair.
In the Genius Group, an association of 14 distinct clothing brands, Adriano Goldschmied and Renzo Rosso launched Diesel as a new casual clothing brand with a distinctive aesthetic and idea.
In 1985, Renzo Rosso assumed full ownership of Diesel after severing his ties to the Genius Group. The moment he had complete control over the business, he got the inspiration to create jeans with a worn-in appearance. It was a significant risk, but it paid off to try something that was fresher and less well thought out.
Did You Know?
Retailers initially received jeans from Diesel, but thought they were second-hand, so they promptly sent them back.
---
7. Versace
Year Founded: 1978
Founder: Gianni Versace
Headquarters: Milan, Italy
Current CEO: Jonathan Akeroyd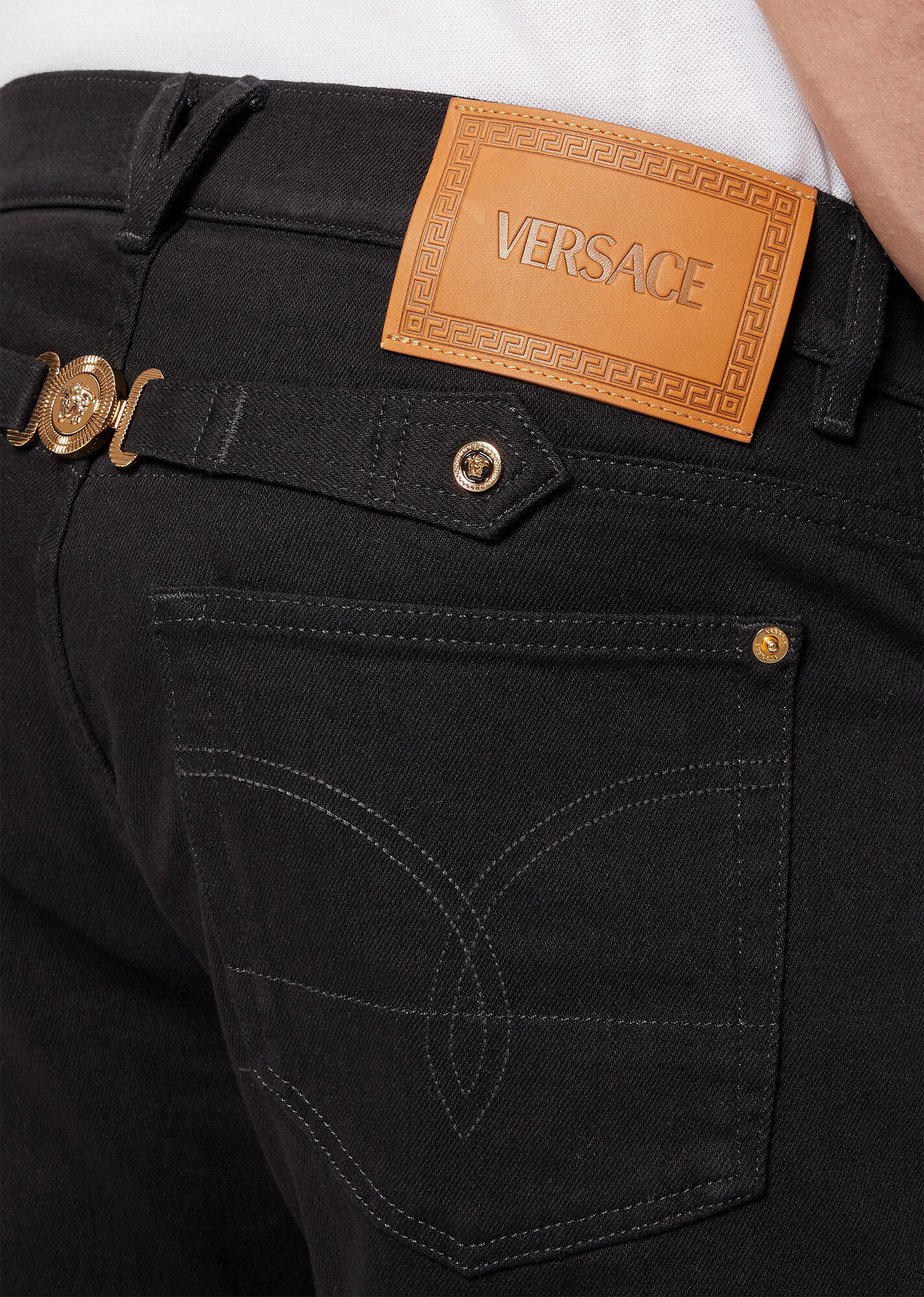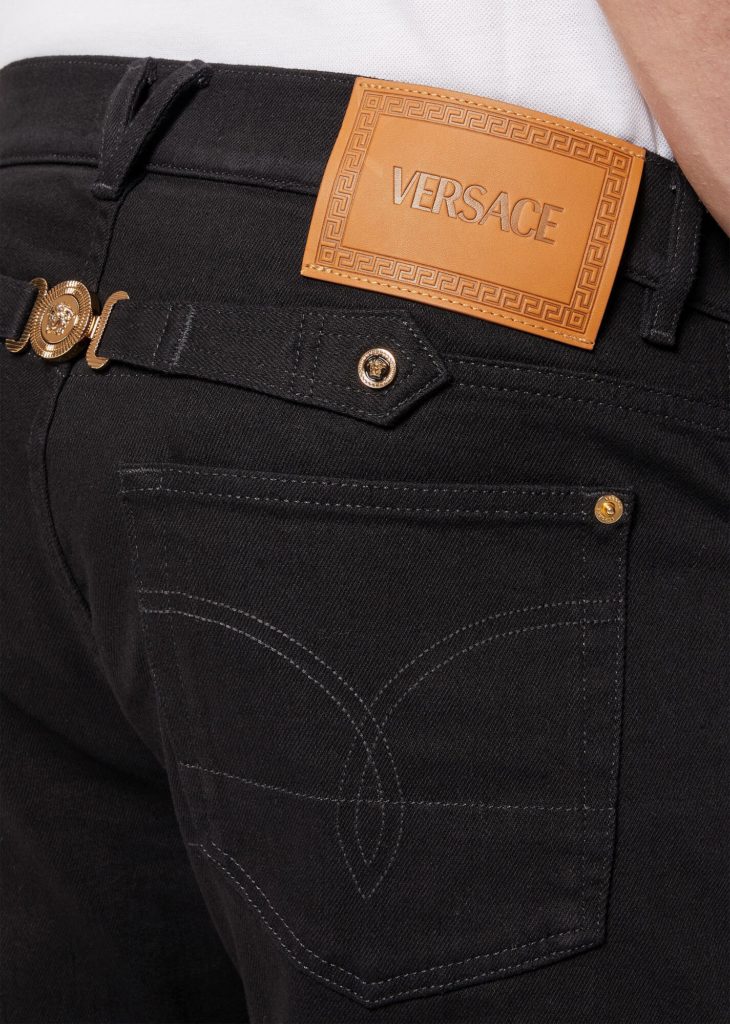 photo source: Versace
Gianni Versace created his first lines of clothing in 1972. Gianni Versace Donna was the name of the company's debut in 1978.
Versus 1989, which was initially intended as a present for his sister Donatella, was the first Versace creation. That collection offered items for males as well as luggage, denim, scent, and clothing.
High-end denim and vintage Gianni Versace print shirts are the mainstays of the casual apparel label Versace Jeans Couture/
Did You Know?
Since she drove people to fall in love and left them with no way out, Gianni Versace picked Medusa as the logo. He hoped his business would have a similar impact on individuals.
---
6. Pepe Jeans
Year Founded: 1973
Founder: Shah Brothers
Headquarters: Sant Feliu de Llobregat, Spain
Current CEO: Marcella Wartenbergh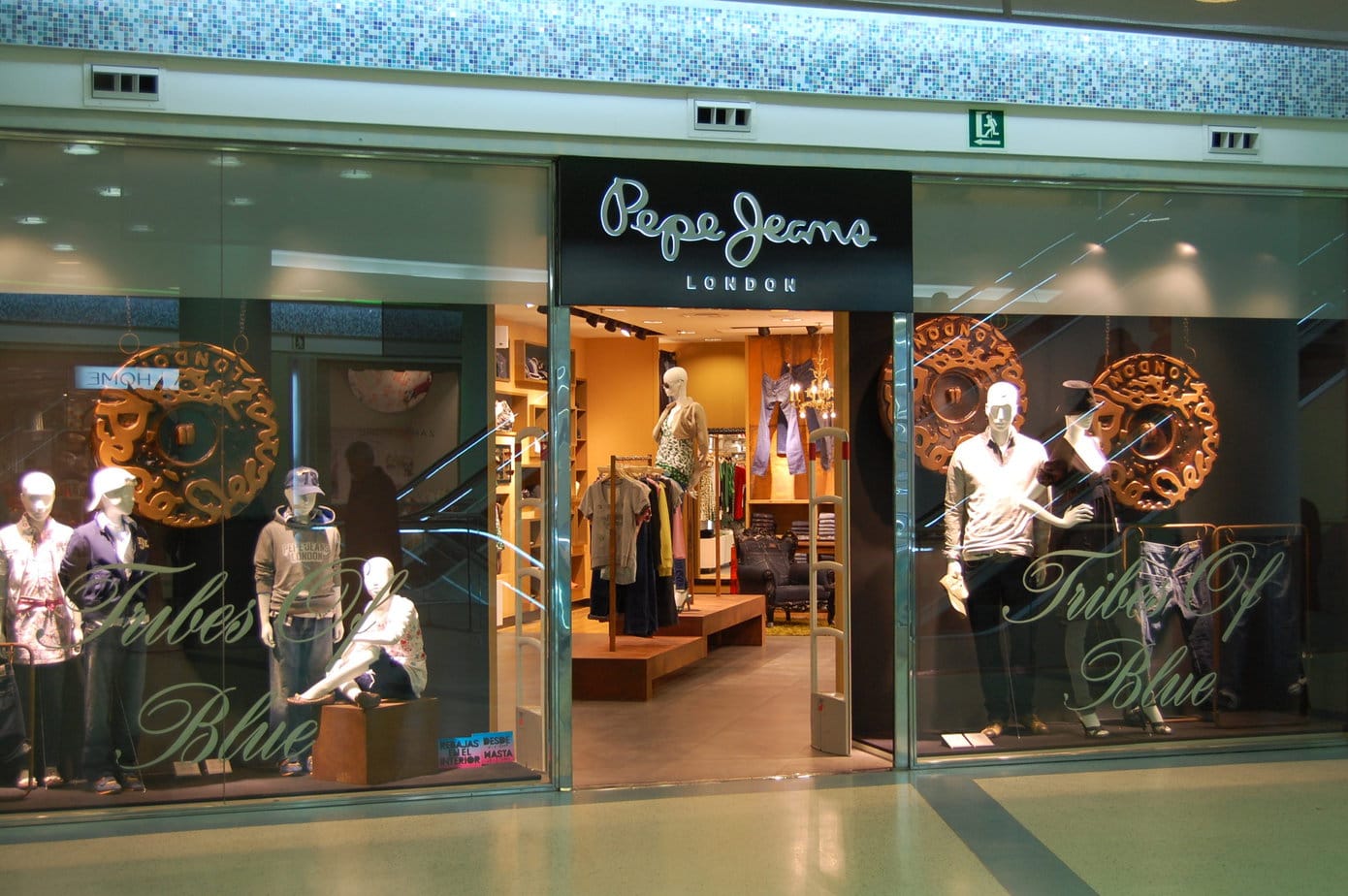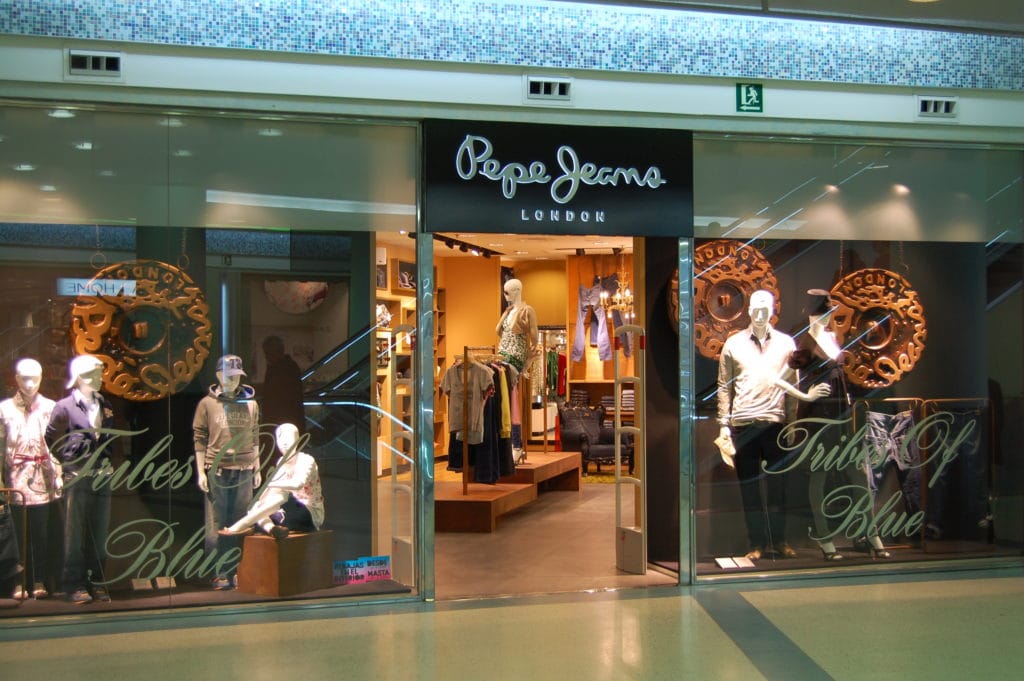 photo source: Wikimedia Commons
The denim and casual wear company, Pepe Jeans, was founded in 1973 in the Portobello Road neighborhood of London and is currently headquartered in Sant Feliu de Llobregat, Spain.
By 1980, Pepe Jeans, the most prosperous jeans company in British history, was competing with all the other UK labels for the top spot in the industry.
The worldwide expansion of Pepe Jeans London began in Ireland in 1983, and two years later it crossed the English Channel to the USA. Pepe Jeans is currently one of the most well-known jeans labels in practically every nation.
Did You Know?
In the beginning, the Shah brothers had a Saturday market stand on West London's Portobello Road where they sold their pieces.
---
5. Calvin Klein
Year Founded: 1968
Founder: Calvin Richard Klein
Headquarters: New York, USA
Current CEO: Trish Donnelly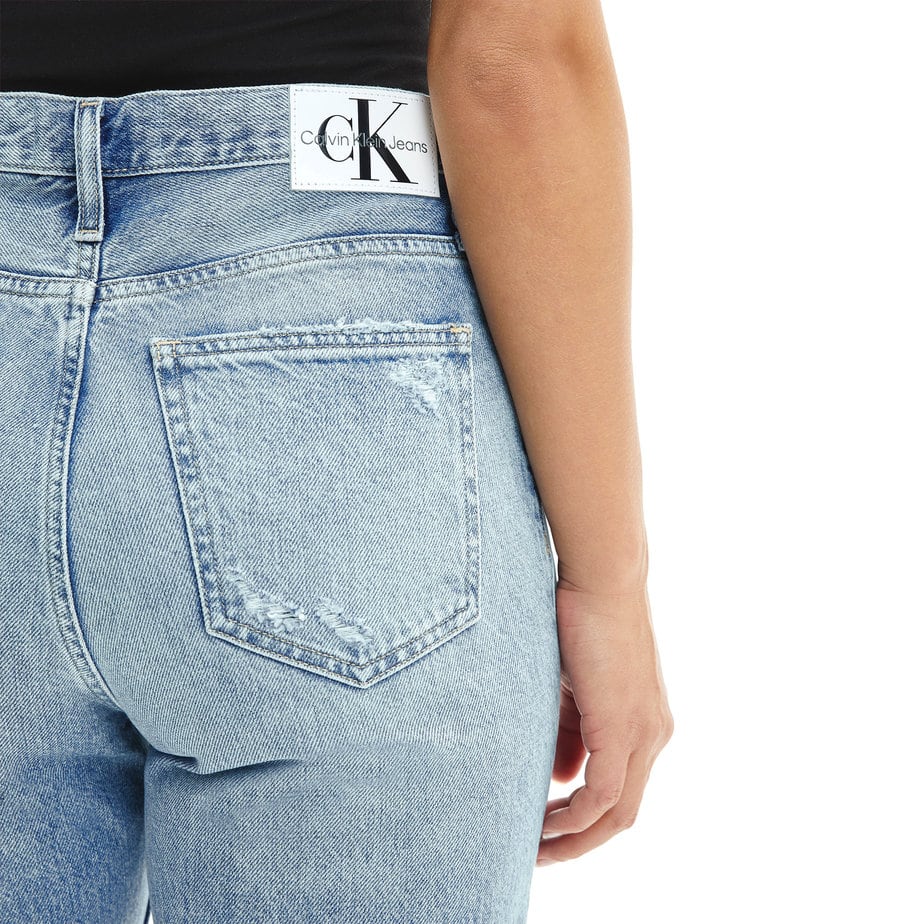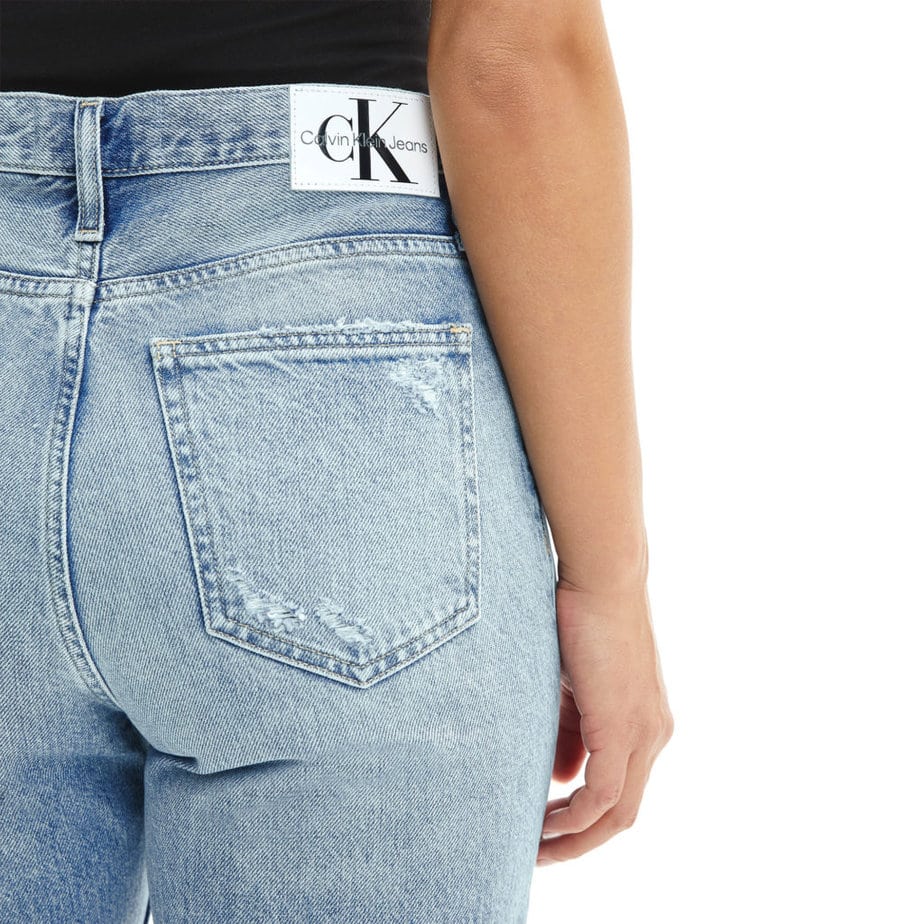 photo source: Sneak-a-Venue
The minimalist and sensuous style of the brand, which was established in New York in 1968, informs our approach to product design and communication while providing a blank canvas for unrestricted self-expression.
With the help of Baron de Gunzburg's connections, Calvin Klein rose to prominence in New York's exclusive fashion community even before the launching of his first jeans line brought him his first commercial success.
Did You Know?
In the 1970s, more than 200,000 pairs of jeans were sold in a single week.
---
4. Wrangler
Year Founded: 1947
Founder: C. C. Hudson
Headquarters: North Carolina, USA
Current CEO: Scott Baxter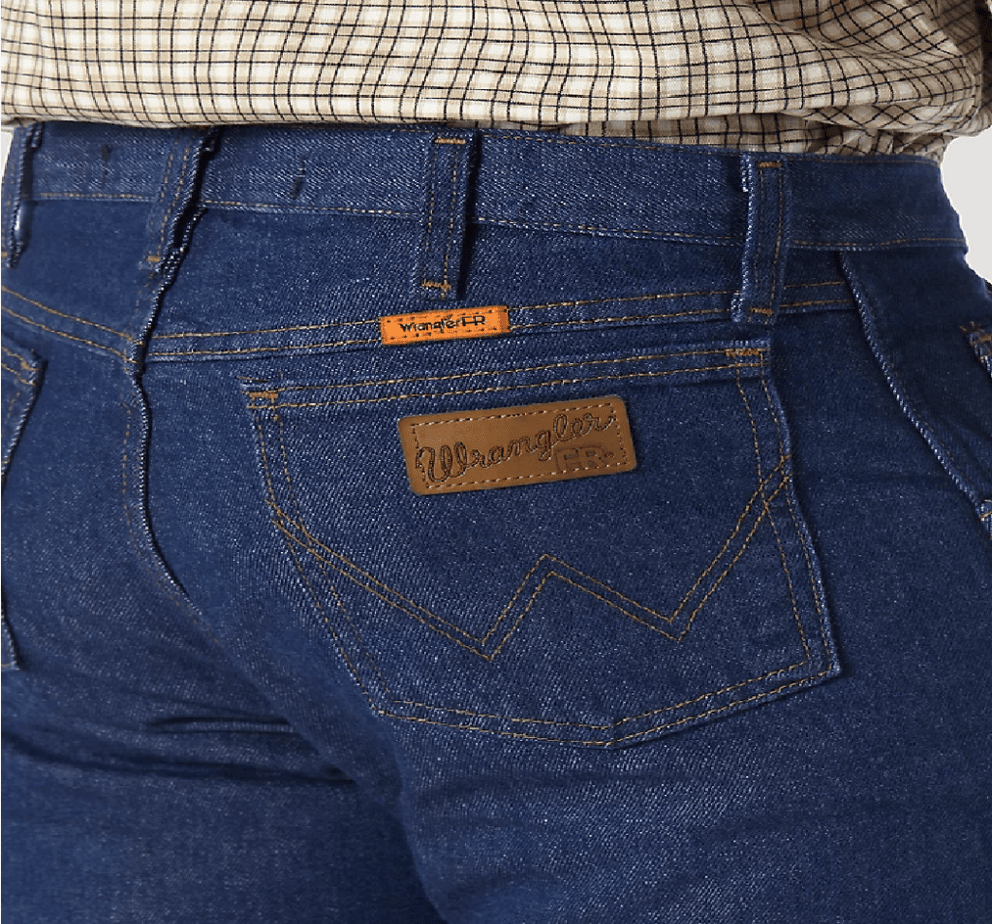 photo source: Wrangler
Wrangler was the result when C.C. Hudson and his brother founded the Hudson Overall Company. It didn't take long for the brothers to experience a sales boom as a result of an ever-increasing demand for the firm's fine cut denim.
The company was founded with the goal of creating high-quality, long-lasting work clothing for railroad workers on America's east coast. Blue Bell Overall Company was the new name under which the company rebranded after constructing its first plant on South Elm Street. After that, the company founded Wrangler in 1947.
Did You Know?
The Pro Rodeo Cowboys Association of America officially sponsored Wrangler in 1974. During the rodeo, well-known cowboys like Jim Shoulder began donning the jeans, further enhancing their popularity.
---
3. Lee
Year Founded: 1889
Founder: Henry David Lee
Headquarters: North Carolina, USA
Current CEO: Chris Waldeck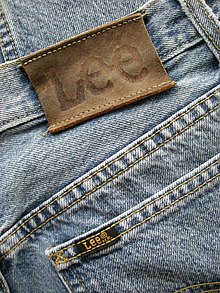 photo source: Wikipedia
Lee Jeans is a brand that has been around for decades, and its history dates back to the 1880s. Henry David Lee founded the Lee Mercantile Company, which established a fine-goods manufacturing and retailing enterprise in Kansas. He saw right away the requirement for sturdy work attire.
As a piece of advertising, the H.D. Lee Company produced Buddy Lee. The original Buddy Lee was on exhibit in the window of the Dayton Company Department Store on Nicollet Avenue in Minneapolis, Minnesota, dressed in a Lee overall.
In order to better develop, produce, and distribute high-quality items that look beautiful and fit well, Lee joined Kontoor Brands, one of the leading global lifestyle clothing companies. This has enabled Lee to provide individuals all over the globe with the freedom and comfort to express themselves.
Did You Know?
At its founding in Salina, Kansas, the business produced jackets and dungarees under the name HD Lee Mercantile Company.
---
2. Carhartt
Year Founded: 1889
Founder: Hamilton Carhartt
Headquarters: Michigan, USA
Current CEO: Mark Valade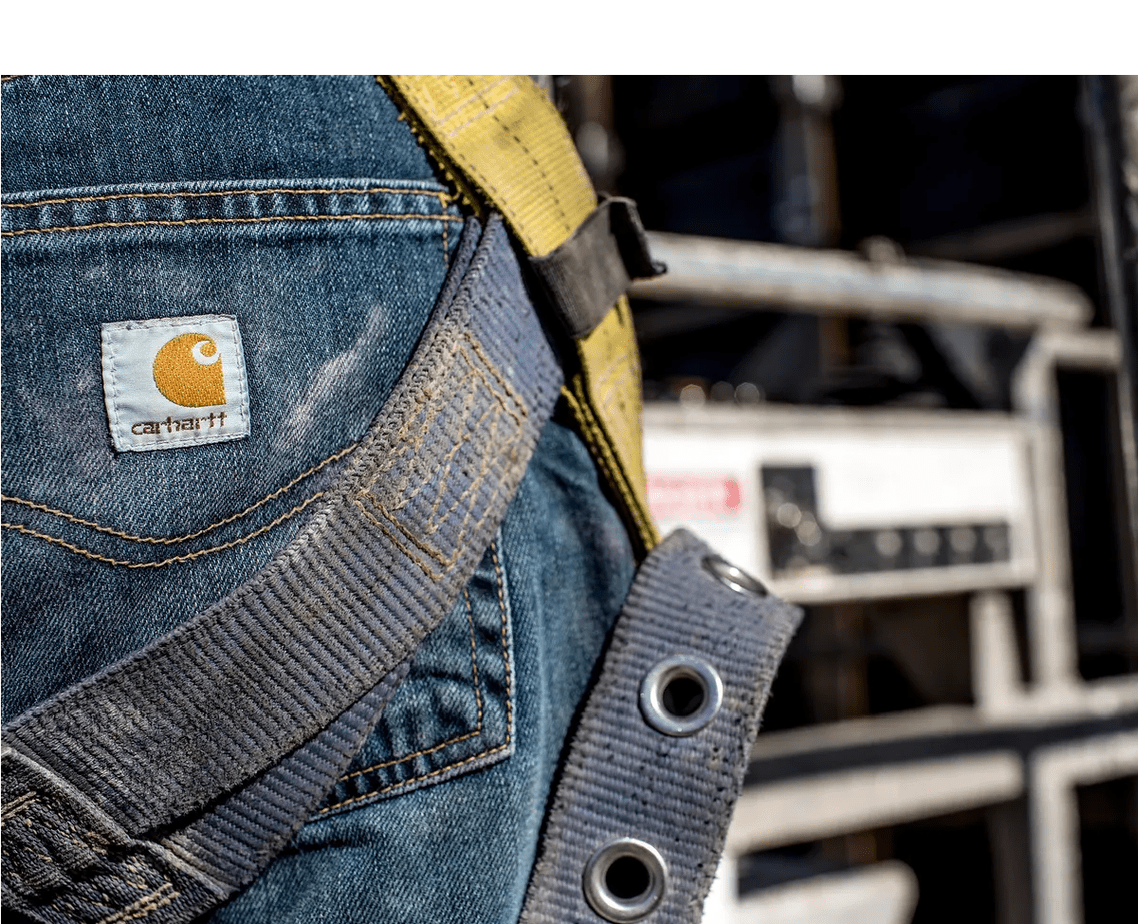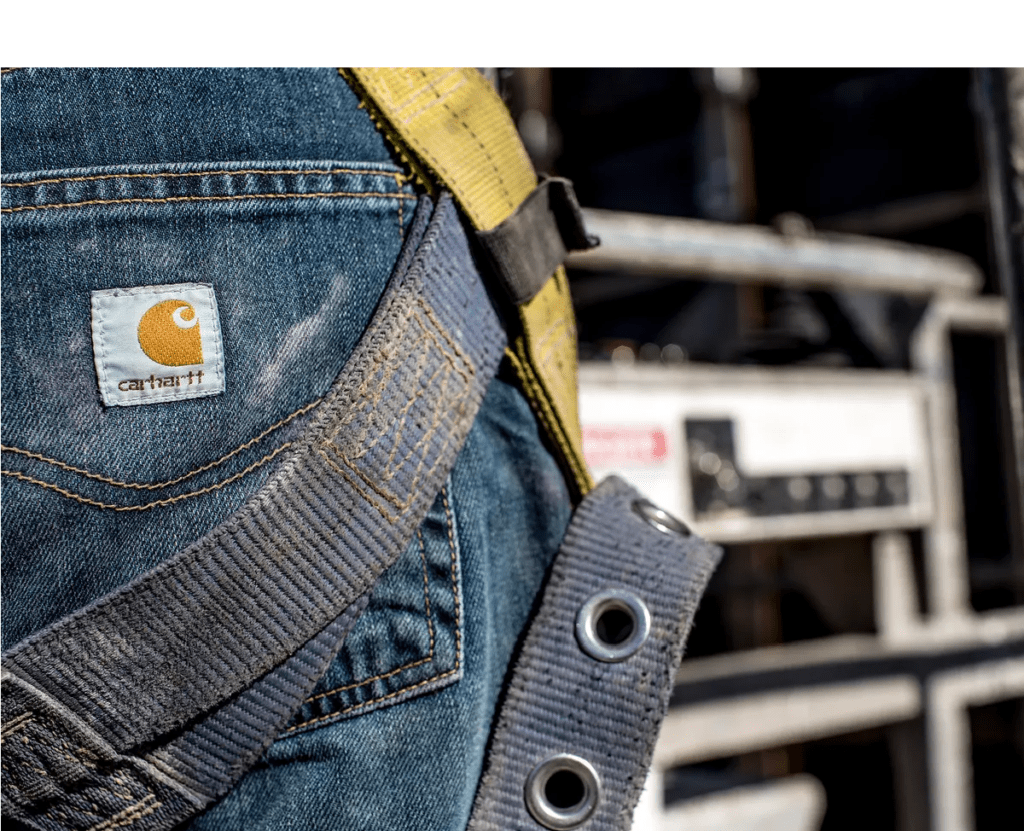 photo source: The Guardian
Carhartt Jeans have been around since 1889. Hamilton Carhartt created a business model that emphasized ruggedness and durability over style. This led to their jeans being worn by railroad workers, among other professions that required an emphasis on comfort, warmth, and functionality.
Carhartt developed coveralls for soldiers and support workers, clothing for women joining industries on the home front, and jungle suits for Marines in the Pacific during World War II. Interestingly, during World War I, Carhartt supplied seven uniforms for American soldiers in order to help the government.
Did You Know?
Carhartt initially produced its first goods using duck and denim materials, using roughly five people and two sewing machines.
---
1. Levi Strauss & Co.
Year Founded: 1853
Founder: Levi Strauss
Headquarters: California, USA
Current CEO: Charles V. Bergh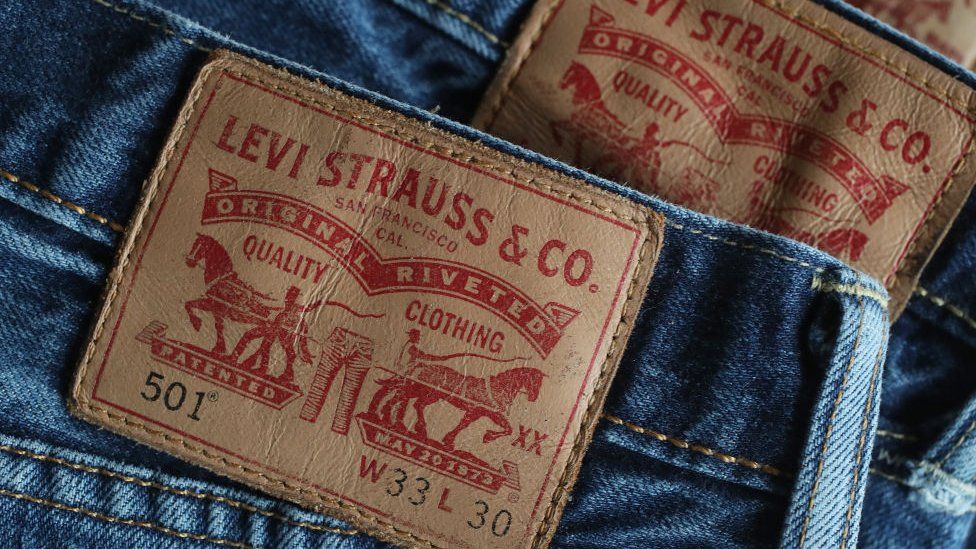 photo source: BBC
Levi Strauss & Co. is the oldest brand of jeans in the world, having been founded in 1853 by Levi Strauss in San Francisco, California. The company's name came from a German immigrant named Levi Strauss, who was given credit for inventing the first pair of pants that were waterproof and resistant to rips and tears.
Levi Strauss & Co. and Jacob Davis made labor pants with metal rivets, subsequently known as "blue jeans," to make them more durable for working men. In 1873, they received a U.S. patent for their "Improvement in Fastening Pocket-Openings" invention.
Today, Levi's has grown into an international brand with products ranging from apparel to home goods and everything in between—and they're still making jeans just like they did back when they first started making them.
Did You Know?
A secure vault in San Francisco has the oldest pair of Levi's in the world.