Did you know that comics have existed in America for a long time? Yes, they've actually been a fan favorite way before movies were created. During the 1800s, where various inventions and knowledge were emerging, conflicts and wars were widespread, comics were a way for people to humor life.
It all started from strips printed in magazines and newspapers. They made these strips to make people buy their newspaper. The comic strips were just a bonus in buying the whole newspaper. Comics from the 1800s and early 1900s are made as satirical and political cartoons for newspapers.
But comics became big. It even became a competition for newspaper and magazine companies. People were buying the newspapers with the best comic strips.
But a time came where people are not content with just a single strip of comic in a newspaper, This situation became the root of invention for comic books
The comic strips from newspapers and magazines are compiled to make a comic book. Although these comic books are way different than what we have today, aren't you curious about what is the oldest comic book in America?
We have listed the 10 oldest comic books in America in this post. Sit back as we give you a ride to the wonderful past of American comic books.
10. New Fun Comics
Year First Published: 1935
Creator: Major Malcolm Wheeler-Nicholson
Publishing Company: National Allied Publications Inc.
Genre: Adventure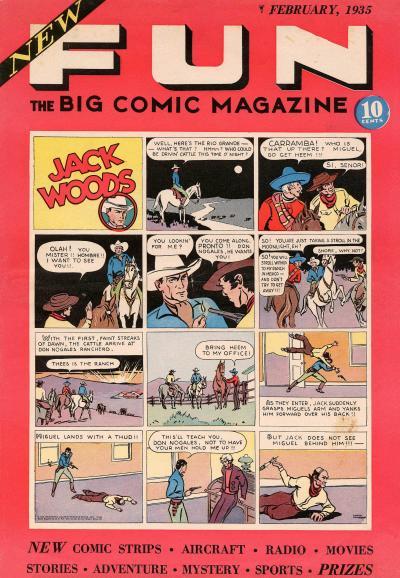 photo source: goodreads
New Fun Comics first appeared in 1934, with a cover date of February 1935. Major Malcolm Wheeler-Nicholson, the creator, opted not to pay the fees that newspapers were charging for the reprinting of his previous comic strips. As a result, he decided to make new comics content that was not being published in newspapers.
The comic strips in the book were a mixture of adventure and comedy. Do note that adventure-type comics were uncommon at the time. It is also said that this book, which is sold on newsstands, is the first to contain advertisements. The series would last 6 issues before the name would change to More Fun Comics.
Did You Know?
This comic book is the first predecessor of the now-known DC Comics. Future Superman creators Jerry Siegel and Joe Shuster debuted in the comic book's very last issue.
---
9. Detective Dan, Secret Op. 48
Year First Published: 1933
Creator: Norman W. Marsh
Publishing Company: Humor Publishing
Genre: Adventure, Crime, Mystery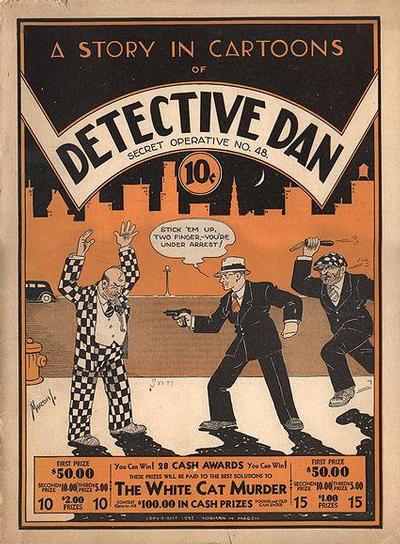 photo source: GCD
Detective Dan, Secret Op. 48 was the first comic book distributed on newsstands that had original content. Most of the comic books of that time were made up of past comic strips from newspapers. This new format of comic books makes it one of the foundations of comics today, where new content is directly made to books.
Unfortunately, this comic book only lasted for two issues. The detective Dan character was a clone of the famous comic strip character during that time, Dick Tracy. This comic book was sold for ten cents and had 36 pages for the first issue.
Did You Know?
Although this comic book did not do well in publication, in 1944, it was produced as a 15-minute radio program that ran for a total of 78 episodes.
---
8. Funnies on Parade
Year First Published: 1933
Creator: Multiple Creators
Publishing Company: Eastern Color Printing Co.
Genre: Varied on Issue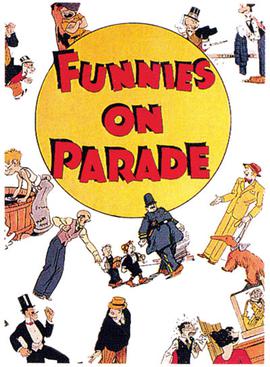 photo source: Wikipedia
Funnies on Parade is one of the predecessors of modern comic books in terms of the format. It is the first comic book that used the seven by nine size. An employee of the Eastern Color Printing Company, Harry Wildenberg, created the concept for the comic book.
It is said that he got the idea from folding a tabloid-sized comic strip in half and then folding it again. It was the ideal size for reading comic books. He also added that 32 to 64 would be a suitable number for the pages.
Just like any other old comic books, Funnies on Parade was also a compilation of newspaper and magazine comic strips.
Did You Know?
Funnies on Parade was the first book that was not sold in newsstands. Rather, it was sent as a free comic book as a promotional item to customers who mailed coupons from Procter & Gamble toiletries products.
---
7. The Adventures of Mickey Mouse
Year First Published: 1931
Creator: Floyd Gottfredson
Publishing Company: David Mckay Co.
Genre: Adventure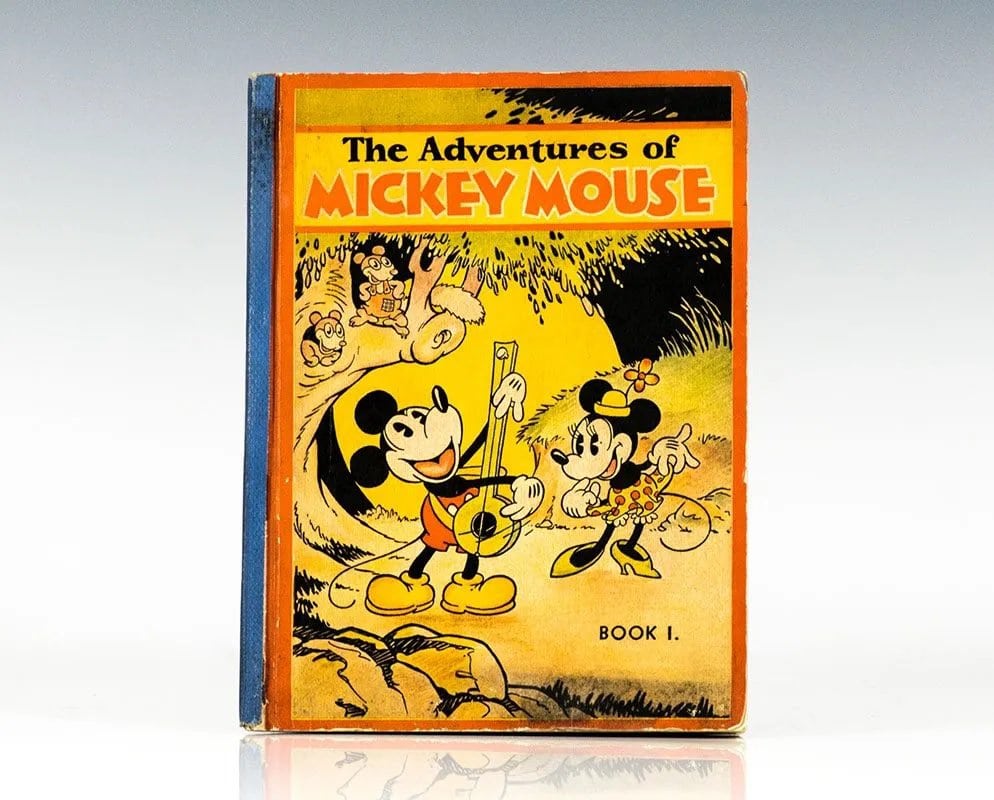 photo source: Raptis Rare Books
Walt Disney also became interested in comic books. The Mickey Mouse Book was the first of these, estimated at 1930–1931. It's a work that was published by Bibo & Lang. These were 20 pages long, 9″ by 12″ in size, and stapled together.
Although it was called a "book," it was actually a magazine with a variety of music, activities, and stories inside.
Although Mickey Mouse was already in comic strips in magazines during the 1930s, The first "true" Mickey Mouse comic book was considered to be The Adventures of Mickey Mouse.
Did You Know?
Being the first published comic book by Walt Disney, The Adventure of Mickey Mouse is one of the most sought after comic books for collectors. The Certified Guaranty Company (CGC) listed only 12 books in their population statistics for issue #1 of The Adventure of Mickey Mouse.
---
6. Mutt & Jeff
Year First Published: 1910
Creator: Bud Fisher
Publishing Company: Ball Publications
Genre: Humor

photo source: archive.today
Mutt & Jeff is a long-running and hugely famous American newspaper comic strip established by cartoonist Bud Fisher in 1907 about "two mismatched tinhorns." It is widely considered to be the first daily comic strip.
A new format was introduced by Mutt & Jeff by reprinting daily comic strips in black and white. The book measured 15″ wide by 5″ tall. It was still a hardcover, just like existing comic books that time. Ball publishing produced 5 volumes of Mutt & Jeff books.
Did You Know?
Six miles from Winnsboro, at the junction of Farm Road 14 and State Highway 37, there was a little community called Mutt and Jeff, Texas. In the 1920s, the town was named after two local businessmen who reminded residents of the comic strip characters. By the early 1960s, Mutt and Jeff, Texas had been abandoned due to a decline in population that began in the 1930s.
---
5. Buster Brown
Year First Published: 1902
Creator: Richard F. Outcault
Publishing Company: Cupples & Leon
Genre: Humor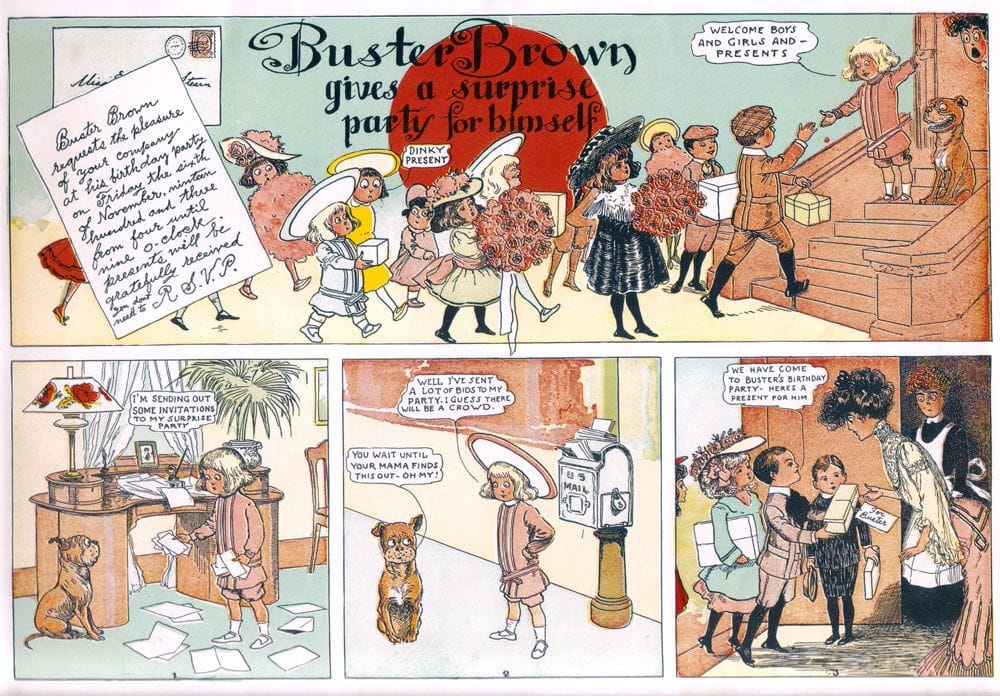 photo source: Pinterest
Buster Brown is a comic strip character created by Richard F. Outcault in 1902. Many businesses produced Buster Brown comics as incentives to promote their goods as a result of the success of Buster Brown's comics. They came in enormous quantities and cost 50 cents, which at the time was big money to spend on comics.
Buster Brown is a young city boy with wealthy parents. He is unsettlingly beautiful, but his behavior oppose it. He is a practical joker who may disguise as a girl and have people wear his clothes, use a slingshot to smash a window, or play a prank on a neighbor.
---
4. The Blackberries
Year First Published: 1901
Creator: William Randolph Hearst
Publishing Company: New York Journal American
Genre: No Information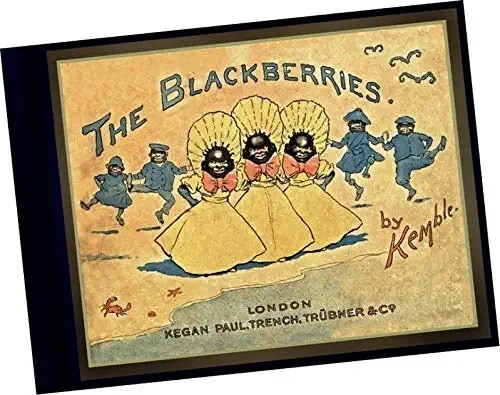 photo source: Amazon
The Blackberries, a Hearst-published comic, is thought to be the first full-color comic book ever. It was published in 1901. It used a format of 9″ by 12″ and was a hardcover book.
Information about this comic book is scarce. Comic book printing remained inconsistent, and a regular monthly title, "Comics Monthly" would not appear until 1922. "Comics Monthly," like previous publications, was a collection of republished newspaper or magazine strips.
---
3. Funny Folks
Year First Published: 1899
Creator: F.M. Howarth
Publishing Company: E.P. Dutton & Co.
Genre: Satirical

photo source: mycomicshop
A comic book called Funny Folks published in 1899 was an early attempt at a format that would be used by many Platinum Age comic books. The hardcover book was 16 1/2″ wide by 12″ tall. It was a collection of black and white Puck magazine reprints.
Puck, which featured vibrant cartoons, caricatures, and political satire of the day's events, was the first successful comedy publication in the United States. It was started in 1876 as a German-language journal by the cartoonist Joseph Keppler, who was born in Austria.
---
2. The Yellow Kid in McFadden's Flats
Year First Published: 1897
Creator: Richard F. Outcaults
Publishing Company: Howard Ainslee & Co.
Genre: Humor, Social Commentary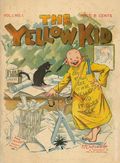 photo source: mycomicshop
A comic book titled The Yellow Kid in McFadden's Flats was published in early 1897. The black-and-white comic was 196 pages long, square bound, 50 cents, and 5 1/2″ by 7 1/2″ in size.
The Yellow Kid was a bald, snaggle-toothed barefoot boy who hung out in a slum street typical of some areas of poverty that existed in late-nineteenth-century New York City. The Yellow Kid's head was wholly shaved to get rid of lice, a common problem among children in New York's slums.
Before this comic book, the Yellow Kid, coined by New Yorkers, was already famous as an unnamed character in Outcaults' newspaper strip, Hogan's Alley. Outcault is thought to have drawn influence from a variety of sources. Among these were the street children-based cartoons by Charles W. Saalburg and Michael Angelo Woolf.
Did you Know?
An award was named for Yellow Kid. The International Cartoonists Exhibition presents the Yellow Kid Awards, which are given out at the yearly Italian comic book and video game expo Lucca Comics & Games.
---
1. The Adventures of Mr. Obadiah Oldbuck
Year First Published: 1842
Creator: Rudolphe Töpffer
Publishing Company: Wilson & Co.
Genre: Humor, Comic, Adventure, Tragedy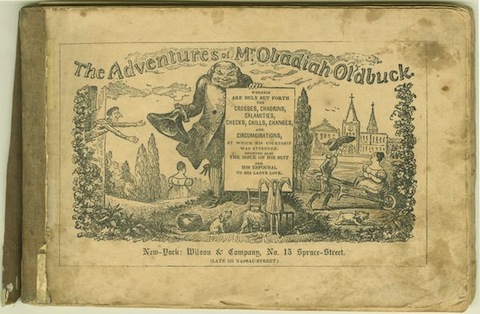 photo source: Open Culture
The Adventures of Mr. Obadiah Oldbuck is the oldest comic book in America. Originally released in 1837 in numerous European languages, with an English translation created specifically for Britain in 1941. A year later, on September 14, 1842, that version was reproduced in New York for Americans, making it the first comic book printed in America. Obadiah Oldbuck is 40 pages and 8 1/2″ x 11″ in size.
The books remained in print in America until 1877.There are no word balloons, but there is text to narrate the story just below the panels. In 1998, a copy of it was found in Oakland, California. A full version of the book can be browsed at the Dartmouth College Library.
Did you Know?
Obadiah Oldbuck attempts (and fails) to commit suicide in the story just because of a girl. This happened five or six times in the comic, making you think that this type of story was comedy gold back in the Age of Enlightenment.