Although the Golden Age of Hollywood ended over 50 years ago, some of the actors from this time period are still alive today. Not only are these actors still alive, they are also still working in the industry. The Golden Age was killed by the television industry, but these actors stayed afloat by adapting and accepting television roles. While there are some actors who may be older than the ones on this list, they have been retired for decades or had careers that lasted for a brief period of time. For this list, we chose to highlight the ten oldest actors who are still active (at the time of this writing) or have been active within the last decade.
10. Eva Marie Saint (July 4, 1924 – Present)
Age (as of March 2020): 95 years, 8 months, 15 days
Birthplace:  Newark, New Jersey, USA
Years Active:  1946 – Present
Notable Works:  On the Waterfront (1954), North by Northwest (1959), Superman Returns (2006), and Winter's Tale (2014)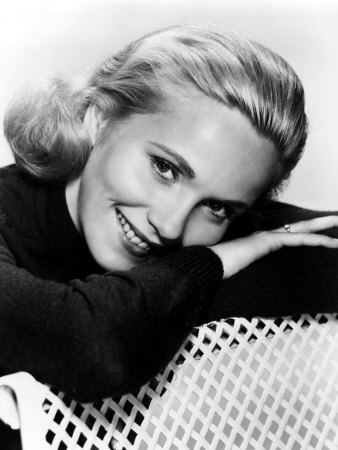 photo source: Wikimedia Commons
Actress Eva Marie Saint has had a long career and is most famous for playing the lead female role in On the Waterfront (1954), opposite Marlon Brando. Saint's work in the movie earned her the Academy Award for Best Supporting Actress. Saint's next big role came when she was chosen by Alfred Hitchcock to star in North by Northwest.
Saint's career began in television when she worked as an NBC page and she appeared on camera for the  first time in 1946 on NBC's Campus Hoopla. Although she has had periods of where she only appeared in smaller roles, Saint has never stopped working. Her most recent acting credits were in 2014 in the movie Winter's Tale and as a voice actor in the animated series The Legend of Korra.
Did You Know?
Eva Marie Saint has two stars on the Hollywood Walk of Fame, one for television and one for motion pictures.
---
9. Carole Cook (January 14, 1924 – Present)
Age (as of March 2020): 96 years 2 months, 5 days
Birthplace:  Abilene, Texas, USA
Years Active:  1956 – Present
Notable Works: The Gauntlet (1977); Sixteen Candles (1984); Cagney & Lacey (1986 – 1988); and Dynasty (1986 – 1987)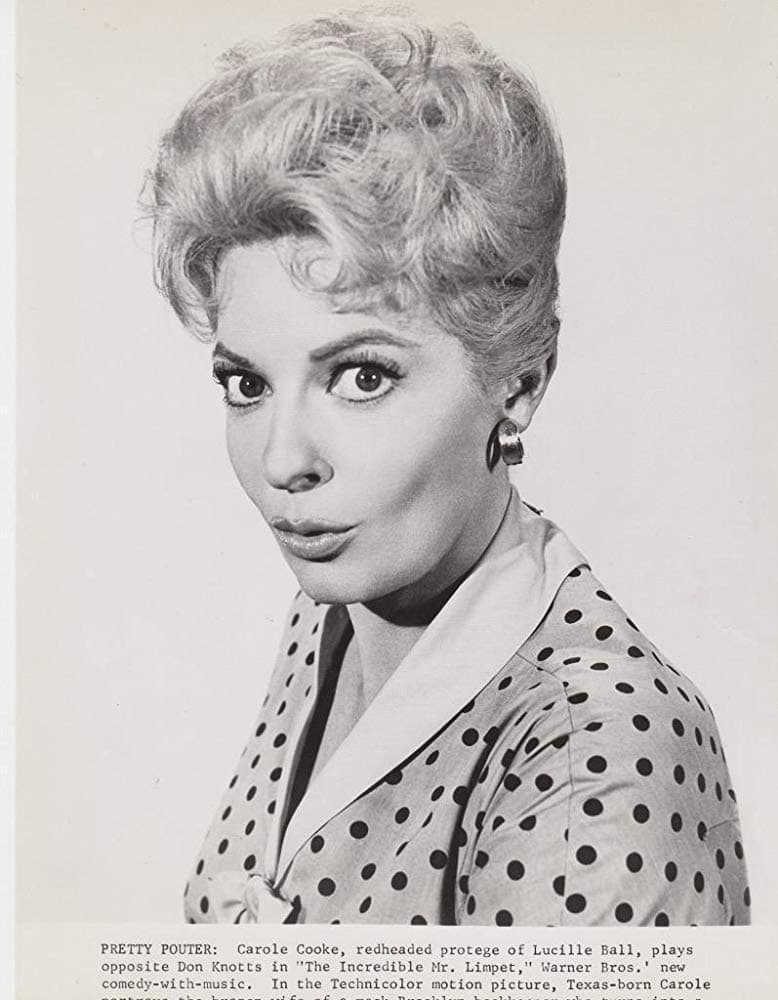 photo source: IMDB
Carole Cook has been acting since 1956 in TV, movies, and musical theatre. Cook recently turned 96 years old and has taken a bit of a break. Her last acting credit is from 2018 in the movie Still Waiting in the Wings.
Reportedly, Cook was a protégé of actress and comedian Lucille Ball and made several appearances on many of Ball's shows. Cook's real name is Mildred and Ball supposedly gave her the stage name "Carole" in honor of Ball's friend Carole Lombard, who died in 1942.
Did You Know?
In her personal life, Carole Cook is an activist, primarily an LGBTQ+ and AIDS activist/supporter.
---
8. Mike Nussbaum (December 29, 1923 – Present)
Age (as of March 2020): 96 years, 2 months, 21 days
Birthplace:  Chicago, Illinois, USA
Years Active:  1969 – Present
Notable Works:  Fatal Attraction (1987); Field of Dreams (1989); Racing Demon (1997); and Men in Black (1997)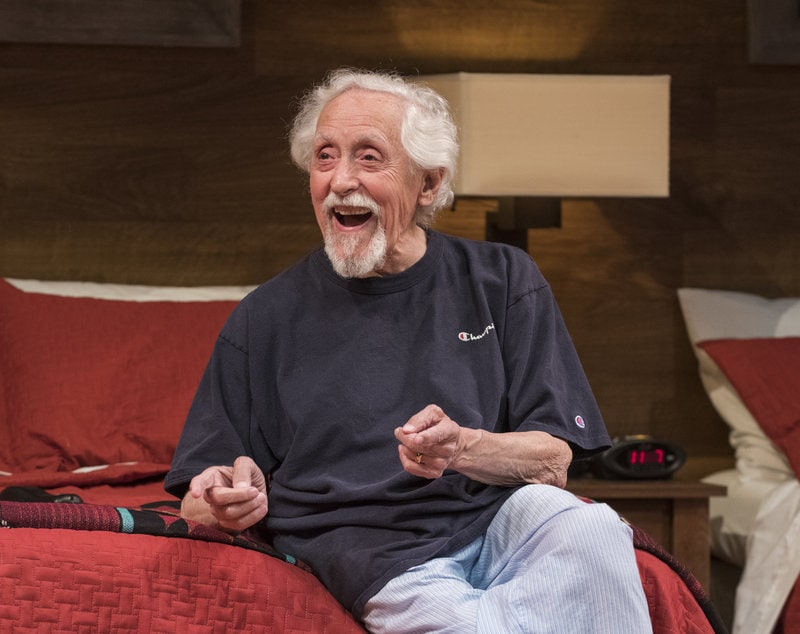 photo source: NPR
Mike Nussbaum's career might not be quite as long as some of the other actors on this list, but he is still very active today. Nussbaum's most recent acting credit is from 2020 for a film called Tom of Your Life, which hasn't been released yet.
In addition to a long list of film and TV credits, Nussbaum is a stage actor. Nussbaum starred in the new production of "Hamlet" at Chicago Shakespeare Theater in 2019. Despite being over 96 years old, Nussbaum looks like he isn't ready to slow down.
Did You Know?
Mike Nussbaum won a Drama Desk Award for his performance in David Mamet's Glengarry Glen Ross in 1984.
---
7. Gloria Henry (April 2, 1923 – Present)
Age (as of March 2020): 96 years, 11 months, 17 days
Birthplace:  New Orleans, Louisiana, USA
Years Active:  1947 – 2005; 2012
Notable Works: Keeper of the Bees (1947); and Dennis the Menace (1959 – 1963)
photo source: Wikimedia Commons
Gloria Henry is best known for her roles as Alice Mitchell, the mother of the titular character from the Dennis the Menace TV series, which aired from 1959 to 1963. Prior to Dennis the Menace, Henry had a few film and television roles, but nothing major.
After Dennis the Menace was canceled in 1963, Henry appeared in a few movies and shows from time to time. Henry did not act for several decades before returning to film in 2005 in Her Minor Thing. After the movie, Henry took another long break and her last acting credit is for a minor role in Parks and Recreation in 2012.
Did You Know?
Gloria Henry's real name is Gloria Eileen McEniry, which alludes to her Scottish and Irish ancestry.
---
6. Larry Storch (January 8, 1923 – Present)
Age (as of March 2020): 97 years, 2 months, 11 days
Birthplace:  New York, New York, USA
Years Active:  1939 – Present
Notable Works: F Troop (1965 – 1967), The Great Race (1965), and the Voice of Koko the Clown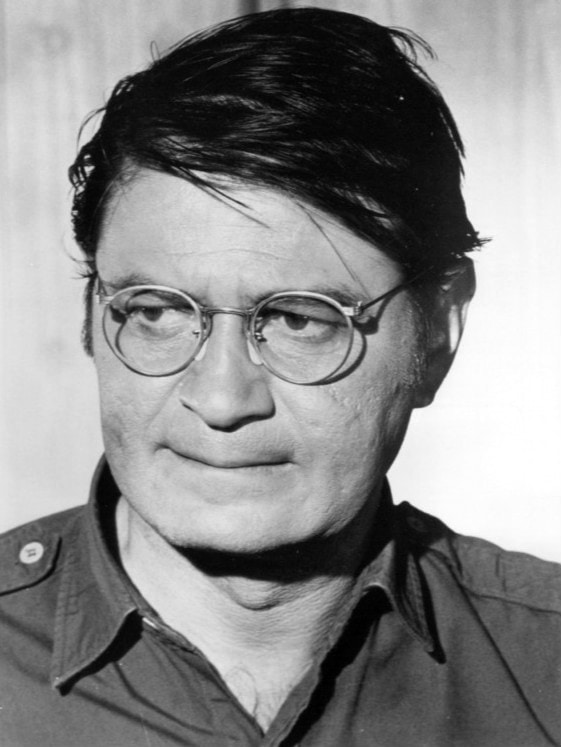 photo source: Wikimedia Commons
Larry Storch has never been a major film star, but has had a long career in television, Broadway, and voice acting. Originally, Storch was a stand up comedian who developed a popular comedy act. One of Storch's first television appearances was on The Ed Sullivan Show in the late 1940s. This led to more TV appearances and Storch even starred in his own variety show for one summer.
Storch is perhaps best-known for his voice work on classic animated shows and films, including The Batman/Superman Hour, The Pink Panther, The Brady Kids, Scooby-Doo, Koko the Clown, and The Adventures of Batman (Storch was the first actor to ever voice the Joker). Outside of voice acting, Storch's most famous live-action role was on the F Troop, which ran from 1965 – 1967.
Did You Know?
Larry Storch served in the United States Navy during World War II on the submarine tender USS Proteus with fellow actor Tony Curtis.
---
5. Joan Copeland (June 1, 1922 – Present)
Age (as of March 2020): 97 years, 9 months, 18 days
Birthplace:  New York City, New York, USA
Years Active:  1945 – 2011
Notable Works: The Goddess (1958); The Edge of Night (1959 – 1960); Armstrong Circle Theater (1957 – 1962); How to Survive a Marriage (1974 – 1975); and Jungle 2 Jungle (1997)
photo source: IMDB
Like many older actresses, Joan Copeland began her career in theatre before transitioning to television and film. Copeland made her professional stage debut in 1945 as Juliet in Romeo and Juliet at the Brooklyn Academy of Music. She went on to appear star in several Broadway plays.
In the early 1950s, Copeland made several guest appearances on various TV shows. Copeland also starred in several soap operas. Her movie career was sporadic and Copeland never had a led role. Copeland typically had prominent secondary roles. Copeland's last acting credit is in a short from 2011 and the Mafia II video game from 2010.
Did You Know?
Joan Copeland is the younger sister of famous American playwright Arthur Miller.
---
4. Carl Reiner (March 20, 1922 – Present)
Age (as of March 2020): 98 years old
Birthplace:  The Bronx, New York, USA
Years Active:  1947 – Present
Notable Works: Your Show of Shows (1950 – 1954); The Dick Van Dyke Show (1961 – 1966); and the Oceans's film series (2001 – 2007)
photo source: Wikimedia Commons
Carl Reiner is considered one of the greatest comedic talents of all time and is not just an actor, but a writer and director as well. Reiner started acting when he was 17 and spent years performing with various theater companies. In 1949, Reiner landed his first television job when he worked on The Admiral Broadway Revue with comedian Sid Caesar. This program was turned into Your Show of Shows, which is considered the precursor to Saturday Night Live. Reiner received three Emmy nominations for his work on Your Show of Shows.
While Reiner went on to star in and write for several TV programs, he is probably best known for his work on The Dick Van Dyke Show, which was based on Reiner's experience as a television writer. Over his career, Reiner has won nine Emmy Awards and one Grammy. He is also the father of well-known actor and director Rob Reiner.
Did You Know?
Carl Reiner became the oldest nominee in Emmy history in 2018 when he was nominated in the Outstanding Narrator category for his work on the documentary If You're Not in the Obit, Eat Breakfast.
---
3. Betty White (January 17, 1922 – Present)
Age (as of March 2020): 98 years, 2 months, 2 days
Birthplace:  Oak Park, Illinois, USA
Years Active:  1939 – Present
Notable Works: Life with Elizabeth (1953 – 1955); The May Tyler Moore Show (1973 – 1977); The Golden Girls (1985 – 1992); and Hot in Cleveland (2010 – 2015)
photo source: Biography
Considered one of America's greatest treasures,
Betty White
is the oldest actress on this list and had the longest television career of any actor, male or female. White started her television career in the late 1930s and took whatever small roles she could get, she even worked as an assistant for a local television station. In 1953, White caught her big break when she starred in and produced her first television series,
Life with Elizabeth
– White was one of the first female producers in Hollywood.
Life with Elizabeth helped White gain some recognition but she did not rise to stardom until she was cast as Mary Tyler Moore's co-worker on The Mary Tyler Moore Show. White won two Emmys for her work on the show. In the 1980s, White hit sitcom gold when she starred as Rose Nylund on The Golden Girls. This is the role that White is most famous for and The Golden Girls is one of the most beloved sitcoms of all time. White's early success and sharp wit and humor has led to her long career, which has not slowed down at all.
Did You Know?
So far, Betty White has received eight Emmy Awards, three American Comedian Awards, three Screen Actors Guild Awards, and a Grammy Award.
---
2. Earl Cameron (August 8, 1917 – Present)
Age (as of March 2020): 102 years, 7 months, 11 days
Birthplace:  Pembroke, Bermuda – has been a long time resident of England
Years Active:  1951 – Present
Notable Works: Pool of London (1951); Simba (1955); Thunderball (1965); The Interpreter (2005); and Inception (2010)
photo source: IMDB
While he may not be a household name like some of the other actors on this list,
Earl Cameron
  is known for being
Britain's first black movie star
. Even though it didn't seem like it at the time, Cameron's first major film role in
Pool of London
in 1951 helped paved the way for other black British actors.
Pool of London
was the first British film to show a mixed-race relationship, which mirrored Cameron's own marriage to a white British woman.
Although Pool of London and Cameron were well received by critics and the British public, there were very few roles for a black actor at the time and Cameron only played small roles whenever he could. However, Cameron's success picked up when he started working outside of the British film industry and he landed a part in the James Bond film Thunderball (1965). While he may not have rose to leading man status because of the limitations imposed on him by the industry, Cameron made a lasting impact and shows no signs of slowing down.
Did You Know?
Earl Cameron has appeared in several British science fiction TV shows, including Doctor Who, The Prisoner, and The Andromeda Breakthrough.
---
1. Norman Lloyd (November 8, 1914 – Present)
Age (as of March 2020): 105 years, 4 months, 11 days
Birthplace:  Jersey City, New Jersey, USA
Years Active:  1932 – Present
Notable Works: Saboteur (1942); Spellbound (1945); Alfred Hitchcock Presents (1955); St. Elsewhere (1982); and Dead Poets Society (1989)
photo source: Wikimedia Commons
At 105 years old,
Norman Lloyd
is the oldest living actor in the world, who is still active in the industry.
Lloyd started his career in the 1930s as a stage actor at Eva Le Gallienne's Civic Repertory in New York. A few years later Lloyd was part of the original company of the Orson Welles – John Houseman Mecury theatre. Working with Welles helped Lloyd's career take off and he soon began a long professional association with Alfred Hitchcock when he played the titular role in
Saboteur
.
Since then, Lloyd has never stopped working and has appeared in numerous films and television series. Lloyd has also worked as a director and producer. Besides his work with Hitchcock, Lloyd is best-known for his role as Dr. Daniel Auschlander on St. Elsewhere – Lloyd appeared in nearly every episode over the show's six-season run. Most recently, Lloyd joined the show Fly as Captain Edwin "Red Ed" Swan, but the show is currently still in development.
Did You Know?
For a time, Norman Lloyd was one of the actors on the Hollywood blacklist, which barred screenwriters, actors, directors, musicians, and American entertainment professionals from working during the late 1940s – late 1950s because they were accused of having Communist sympathies or ties.