Child prodigies have always existed in history. One of the most famous ones is surely Mozart. This young talent started to play music on the harpsichord at the tender age of four and composed his first simple melodies the following year. Another great young musician is Liszt, known for his Hungarian Rhapsody. He performed his first major concert at the age of eleven!
But we don't have to go back to the 18th century to find the best child prodigies! Many current artists, known worldwide for their amazing paintings, have started at an incredibly young age!
We decided to create a list of the nine youngest artists in history who are still working on their art these days. These kids had their first solo exhibition before they celebrated their 10th birthday and have made millions of dollars with their art.
9. Victoria Yin (1997 – present)
First Exhibition Age: 8 years old
Birthplace: Boston
Began To Paint Age: unknown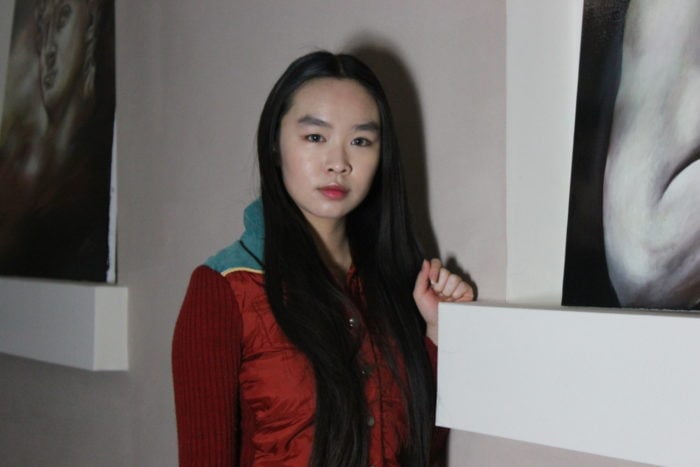 photo source: modernmastersarts.com
Victoria Yin is an American painter who had her first exhibit at the age of eight in the New England Area. Throughout the years, her work has been displayed at the Akron Art Museum, Beck Center for the Arts, and World Art Museum in Beijing. Her paintings are frequently exhibited in galleries all over China and the US.
In 2018, Victoria graduated with a B.A. with Honors in Literary Arts and a B.A. in Visual Art. Throughout her career, she also won the Roberta Joslin Prize for Excellence in Art.
Did You Know?
Victoria is also a great poet, and her collection of 100 poems known as A Mind's Journey-age 7 to 15 was published by Xinhua Publishing in 2013.
---
8. Alexandra Nechita (August 27, 1985 – present)
First Exhibition Age: 8 years old
Birthplace: Vaslui, Romania
Began To Paint Age: 2 years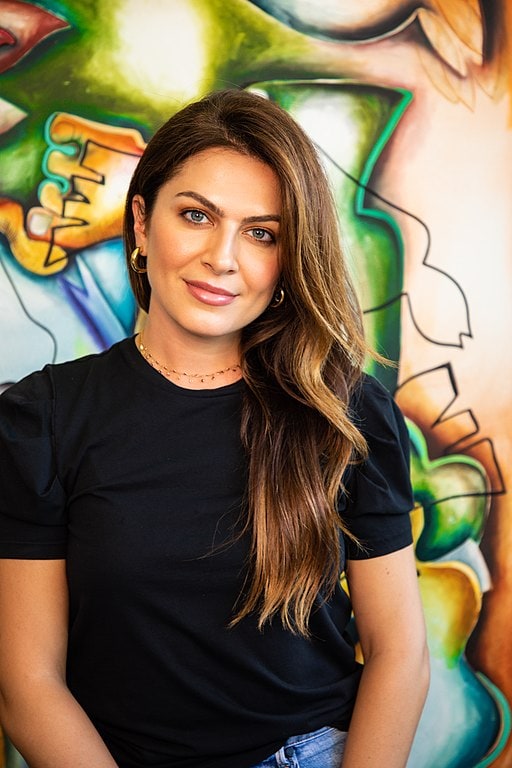 photo source: Wikimedia Commons
Alexandra Nechita is a cubist painter who held her first solo exhibition at the tender age of eight at Whittier, Los Angeles County.
The first years of Alexandra's life were particularly tough. She was born three months after her father had managed to escape Communist Romania. Unfortunately, Alexandra and her mother had to wait two extra years before being able to join him in the US and settle in California.
In 1995, when she was just ten, she moved to Paris to work at the Mourlot Studio, a commercial print shop founded in 1852. In 1996, Alexandra had already had 16 solo exhibitions and sold more than $1.5 million in sales.
In the next few years, she became famous as the 'Petite Picasso'. She was invited as a guest to The Oprah Winfrey Show and was seen next to celebrities such as President Bill Clinton.
Did You Know?
In 1997, Alexandra was also chosen to design the 39th Annual Grammy Awards Program.
---
7. Autumn De Forest (October 27, 2001 – present)
First Exhibition Age: 8 years old
Birthplace: Los Angeles
Began To Paint Age: 5 years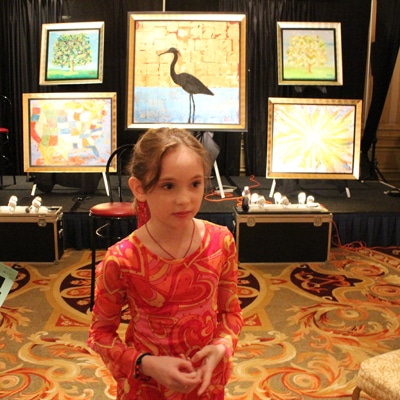 photo source: Wikipedia
Autumn De Forest is an American painter currently living in Nevada. Her paintings were sold for a total of $7 billion, and she was mentioned in Forbes and Huffington Post.
Both Autumn's parents are artists. Her mother is a former actress and model, while her father is a composer. According to her parents, Autumn began experimenting with paintbrushes at the age of only five, while her dad was staining some wooden furniture.
As soon as they saw her passion for painting, her parents started to encourage her and turned her father's music studio into an art studio.
At the age of seven, Autumn decided she wanted to exhibit her pieces. The following year, she managed to sell over $100,000 in paintings within 16 minutes at an auction!
Did You Know?
Hamzah said her art is inspired by artists such as Picasso, Andy Warhol, and Georgia O'Keeffe.
---
6. Kieron Williamson (August 4, 2002 – present)
First Exhibition Age: 7 years old
Birthplace: Holt, Norfolk, England
Began To Paint Age: unknown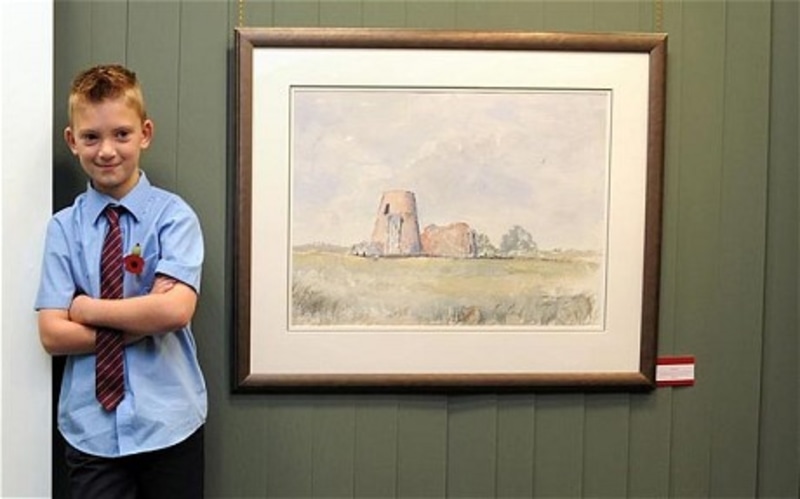 photo source: artlistings.com
Kieron Williamson became extremely famous at the age of seven when his second exhibit sold out within 30 minutes for a total of £150,000. Most of his paintings portrayed the places in which he grew up, such as Norfolk coastline. He mostly uses watercolors, oil, and pastels, and he's famous for his use of perspective and shading.
Thanks to his talent, Kieron soon became a world-renowned artist. In 2019, clients from all over the world camped outside the gallery in Holt, for three days before the opening of his exhibition! This young artist sold so many paintings that just after three years into his career, he was able to buy a new house for his parents.
Most of his paintings are now sold for more than £45,000, and celebrities all over the world are requesting specific pieces of art.
Did You Know?
Even though Kieron is now known worldwide as mini-Manet, his parents are still trying to hold on to normality and make sure he's not getting exploited.
---
5. Hamzah Marbella (March 31, 2001)
First Exhibition Age: 5 years old
Birthplace: Philippines
Began To Paint Age: 2 years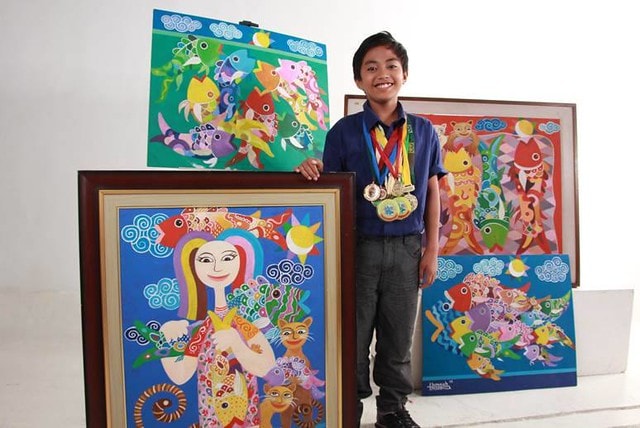 photo source: chuvaness.livejournal.com
Hamzah Marbella is a talented young artist from the Philippines. He sold one of his first paintings at the age of five at the crazy price of HK$60,000, approximately 7,500US $.
Throughout his career, Hamzah won several awards. For instance, he received the Outstanding Artist Awards and the Arts and a Certificate of Recognition at the UN International Children's Art Competition.
Up till now, this young boy has produced more than 300 pieces of art, some of which have been displayed at the headquarters of the United Nations in NYC. Hamzah is also the youngest member of the Artists Associations of the Philippines.
Did You Know?
Not many people know that Hamzah has a photographic memory that helps him greatly in his work.
---
4. Wang Yani (May 2, 1975 – present)
First Exhibition Age: 4 years old
Birthplace: Guangxi, China
Began To Paint Age: 2.5 year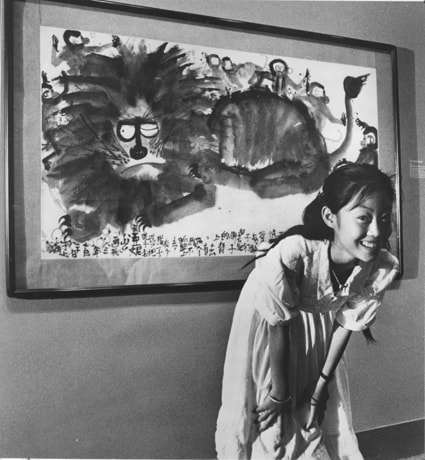 photo source: gcpawards.com
Wang Yani began to paint when she was only two and a half. Her first exhibition was held in China when she was only four, and one of her works appeared on a postage stamp four years later. She became famous worldwide because of her paintings portraying animals ranging from monkeys to lions and dragons.
Wang Yani exhibited her works in a museum in London at the age of fourteen and soon after her paintings were displayed at the Arthur M. Sackler Gallery at the Smithsonian Institution. When she was sixteen, six books had already been written about her story.
During her teen years, she also won a scholarship to study art in Germany. She, therefore, moved to Europe, and from 1996 onwards, she attended the Academy of Fine Arts in Munich. Since then, her works have been displayed in several exhibitions in Germany, including the Galerie Jaspers.
Did You Know?
Wang married another artist, photographer Wu Min-an.
---
3. Marla Olmstead (February, 2000 – present)
First Exhibition Age: 3 years old
Birthplace: Johnson City, New York
Began To Paint Age: 1 year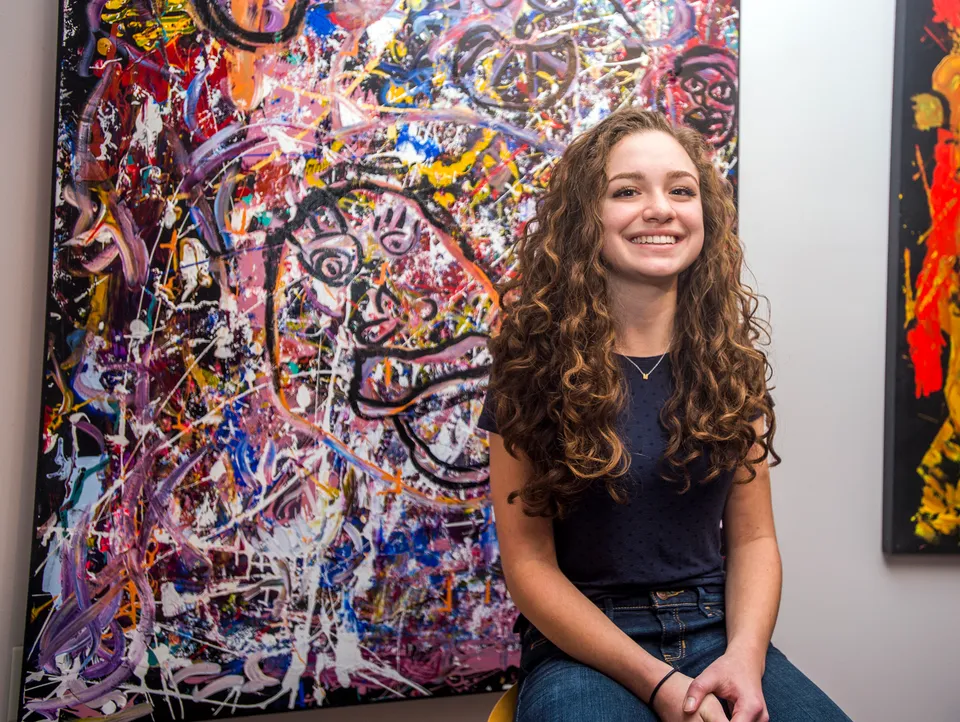 photo source: pressconnects.com
Marla Olmstead is known for her stunning paintings resembling the work of Kandinsky and Pollock. She held her first exhibition at the age of three at Binghamton, New York coffeehouse.
Marla soon attracted the attention of huge magazines such as the New York Times and The Times as her works were sold all over the world for ten of thousands of US dollars.
In 2005, an American weekly primetime newsmagazine television program, known as 60 Minutes II, was released showing the young artist's story. The program was controversial as it seemed to suggest that Marla's father was actually behind the paintings.
Did You Know?
A second documentary, directed by Amir Bar-Lev, was released in 2007, but Marla never saw it. According to her, the director had edited the film in order to portray both her and her family in a bad light.
---
2. Aelita Andre (January 9, 2007 – present)
First Exhibition Age: 2 years old
Birthplace: Australia
Began To Paint Age: 9 months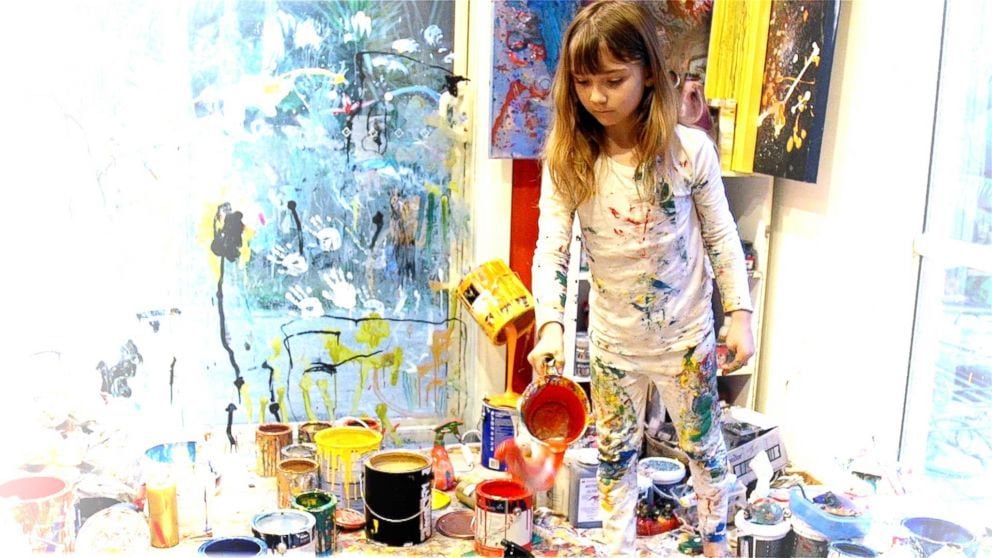 photo source: abcnews.go.com
Aelita Andre was born in 2007 and had her first professional exhibition at the age of only two. She's known all over the world for her Surrealistic paintings, similar to the works of ​​Kandinsky and Klee.
Aelita started to paint before she could even walk, inspired by her parents, both of which are artists. According to her parents, Aelita grew up watching them working on their canvas.
This young artist uses acrylic on canvas with occasionally added objects such as toys, ranging from plastic butterflies, dinosaurs, and penguins, as well as other random items, including microscopes.
Aelita had her first solo exhibition, The Prodigy of Color, in NYC, Chelsea, in June 2011, when she was only four years old. The exhibition was incredibly successful as nine out of the 24 paintings displayed were sold, with prices ranging from $4,400 to $10,000. Following this exhibition, the press started to nickname the young artist 'The Pee-wee Picasso'.
Did You Know?
At the age of two, Aelita sold one of her first paintings at the impressive price of $24,000.
---
1. Arushi Bhatnagar (June 1, 2002 – present)
First Exhibition Age: 1 year old
Birthplace: India
Began To Paint Age: 4 months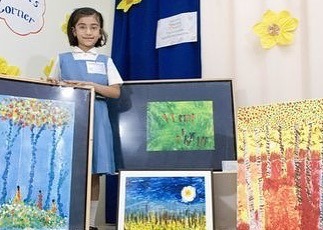 photo source: facebook.com
Arushi Bhatnagar is the youngest artist as she had her first solo exhibition when she was only 344 days old. She started to paint at the age of four and has set the Guinness World Record for the youngest professional artist.
Arushi held her first exhibition at Kalidas Akademi, Ujjain, where she displayed 52 paintings. As of today, Arushi has created more than 3000 works of art. She also has made 15 solo exhibitions and participated in a group one. Throughout her career, Arushi received 12 awards and 25 honors.
Her paintings have been sold all over the world in countries such as the US, Italy, Hungry, and India. One of her works is currently exhibited at the prestigious art Gallery of the President of India.
Did You Know?
Arushi's first sold painting was bought at the price of 5000 Rupee, approximately £65.