Although many people predicted that physical print books would die out as digital and audio books became more popular, print books have proven their resilience and are once again popular, especially because of the ongoing COVID-19 pandemic. While it may be easy and convenient to just buy a book online, one of the best places to get a book is in a bookstore, especially an historic one. The oldest bookstores on this list have been in operation for well over a century and have survived the many changes of the book industry. A few of the stores on this list have closed in recent years because of the global economic recession, but they are still fondly remembered.
As of July 2020, the information on this list is as accurate as possible and will be updated as needed.
10. Strand Book Store
Year Opened: 1927
Location: New York City, New York, USA
Still in Operation: Yes
Founder: Benjamin Bass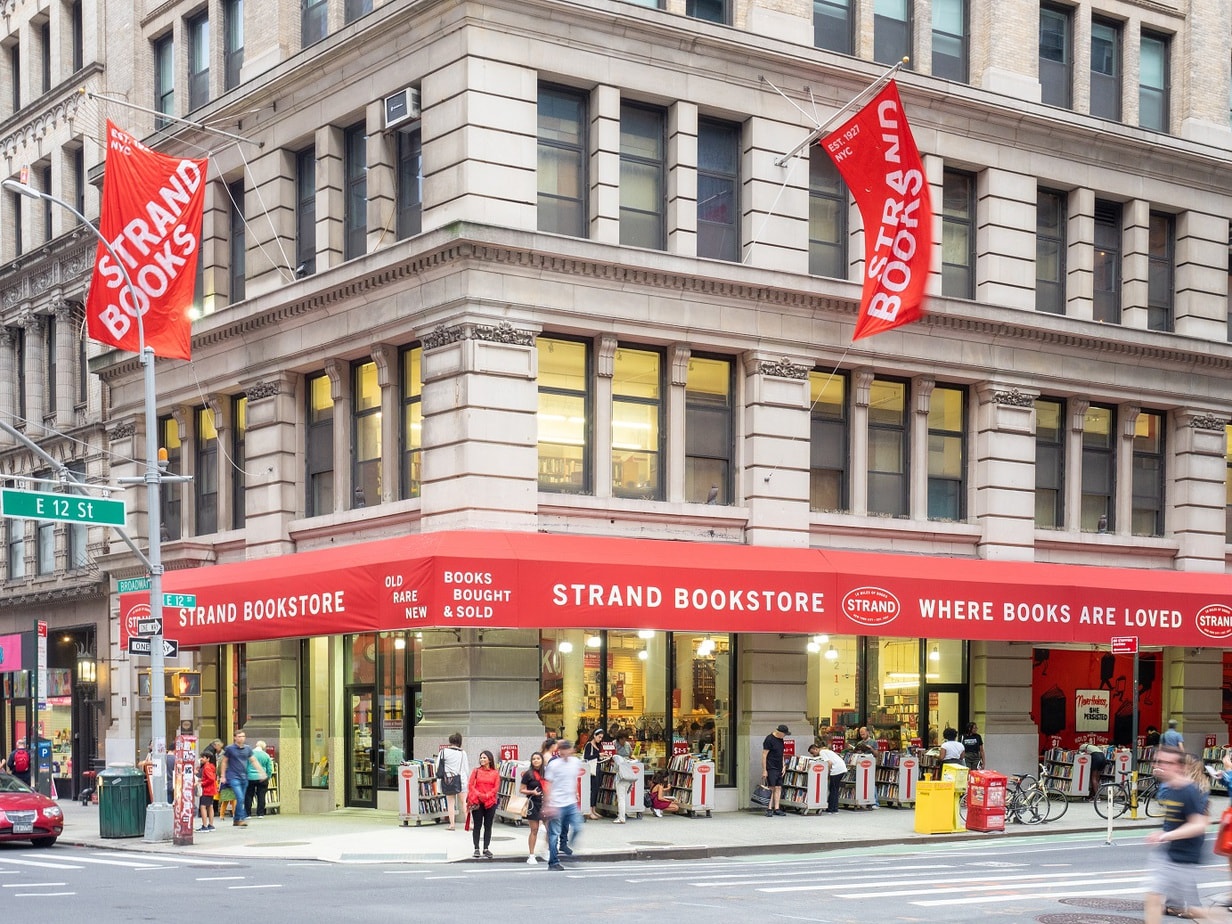 photo source: Wikimedia Commons
Strand Book Store is the second oldest bookstore in New York City and the third oldest in the U.S. The store was opened by Benjamin Bass in 1927 on what was then called "Book Row." Like many of the bookstores on this list, the Strand is still owned and operated by its founding family, the Basses. Fred Bass, Ben Bass' son, moved the Strand to its current location on the corner of 12th Street and Broadway in 1957. Today, Nancy Bass Wyden, Fred's daughter, runs the Strand Book Store and is responsible for many of the store's modern changes like its famous tote bags.
Did You Know?
The Strand Book Store's slogan is that it holds "18 miles of books," but the store is actually so massive that it actually sells "23 miles" of books.
---
9. Argosy Book Store
Year Opened: 1925
Location: New York City, New York, USA
Still in Operation: Yes
Founder: Louis Cohen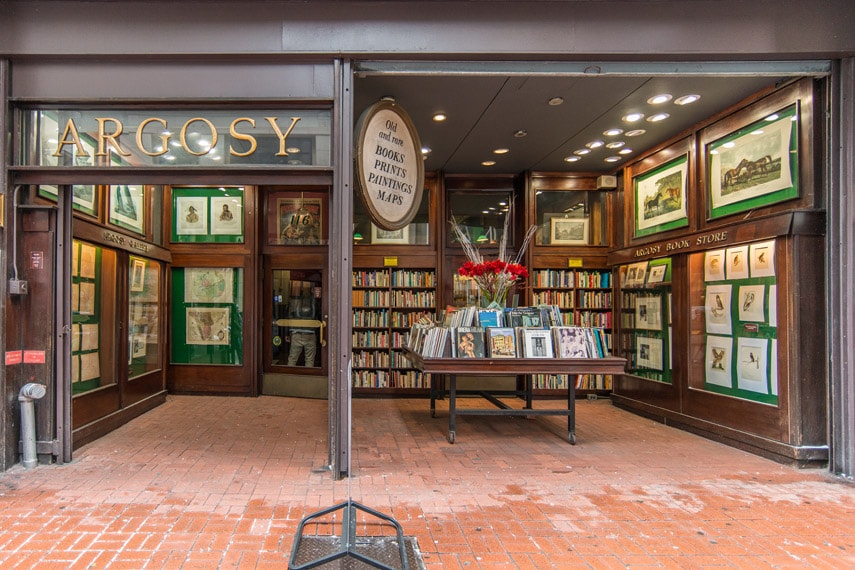 photo source: sideways.nyc
Argosy Book Store
is the oldest bookstore in New York, which is home to hundreds of independent bookstores. Argosy was founded by Louis Cohen in 1925 and is still run by members of the Cohen family. Unlike some of the other bookstores on this list that sell a bit of everything, Argosy specializes in selling rare and old books, prints, paintings, and maps. Argosy is home to many rare, limited edition and first edition copies of items. At one time, Argosy had a a document signed by Thomas Jefferson that depicted the boundaries of Washington, as it was set to be the nation's capital.
Did You Know?
Argosy Book Store are founding members of the Antiquarian Booksellers Association of America, and belong to the International League of Antiquarian Booksellers and the Appraisers Association of America.
---
8. Dom Knigi
Year Opened: 1919
Location: St. Petersburg, Russia
Still in Operation: Yes
Founder: Petrograd State Publishing House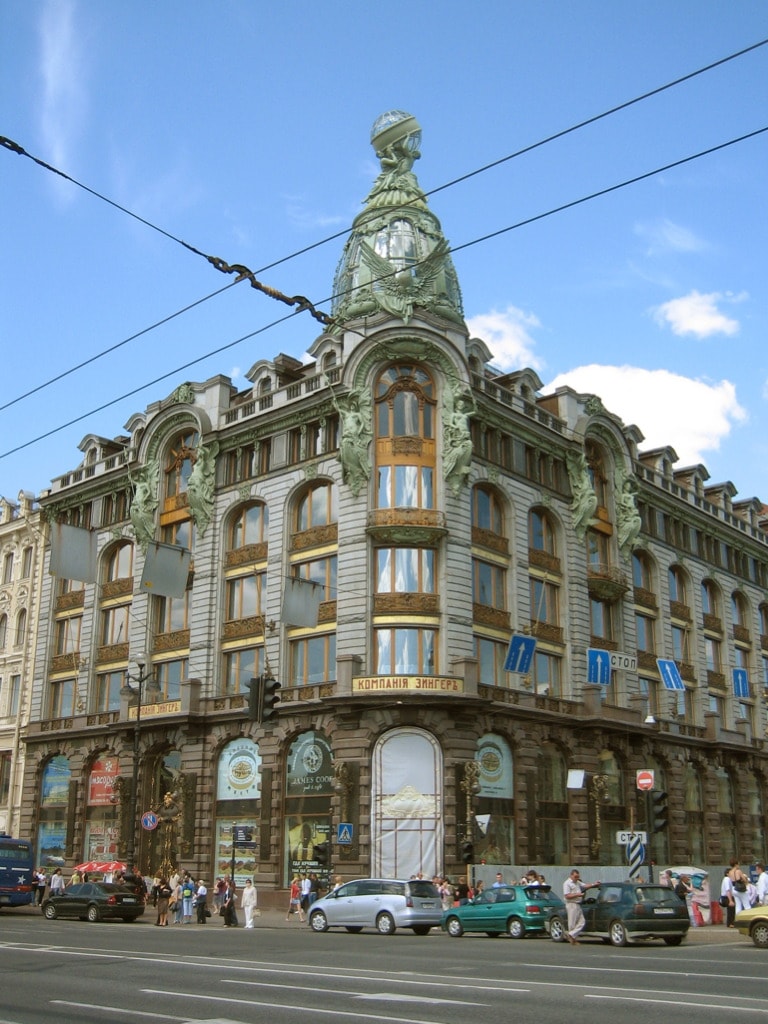 photo source: Wikimedia Commons
Dom Knigi
aka "The House of Books" is Russia's oldest and largest bookstore. The old bookshop is located in St. Petersburg's historic Singer House, a beautiful Art Nouveau building that is designated as a Russian cultural heritage site. While the Singer House dates to 1904, Dom Knigi was established in 1919 when the building was given to the Petrograd State Publishing House. Over the years, other businesses have come and gone from the Singer House, but Dom Knigi has always managed to survive.
Did You Know?
In 2004, Dom Knigi underwent a $1 million renovation that set out to preserve and restore its historic interiors and add some modern touches like elevators and additional staircases.
---
7. Eleftheroudakis
Year Opened: 1898
Location: Athens, Greece
Still in Operation: No, closed in 2016
Founder: Kostas Eleftheroudakis
photo source: Culture Trip
Eleftheroudakis is another old historic bookstore that wasn't able to stay open as the book industry changed and the global economy suffered, especially in Greece. Closed in 2016, Eleftheroudakis was the oldest bookstore in Greece and dates back to 1898. Eleftheroudakis eventually grew into a book chain around Greece and the last store on Panepistimiou Street in Athens, had been in operation since 1995. Like some of the other old bookstores that closed on this list, Eleftheroudakis sold books online for a while.
Did You Know?
Eleftheroudakis became Greece's go-to store for books that were translated into Greek and for several decades – before the internet – if a book couldn't be found at Eleftheroudakis it meant that it hadn't been translated into Greek.
---
6. Livraria Lello
Year Opened: 1881
Location: Porto, Portugal
Still in Operation: Yes
Founder: José Lello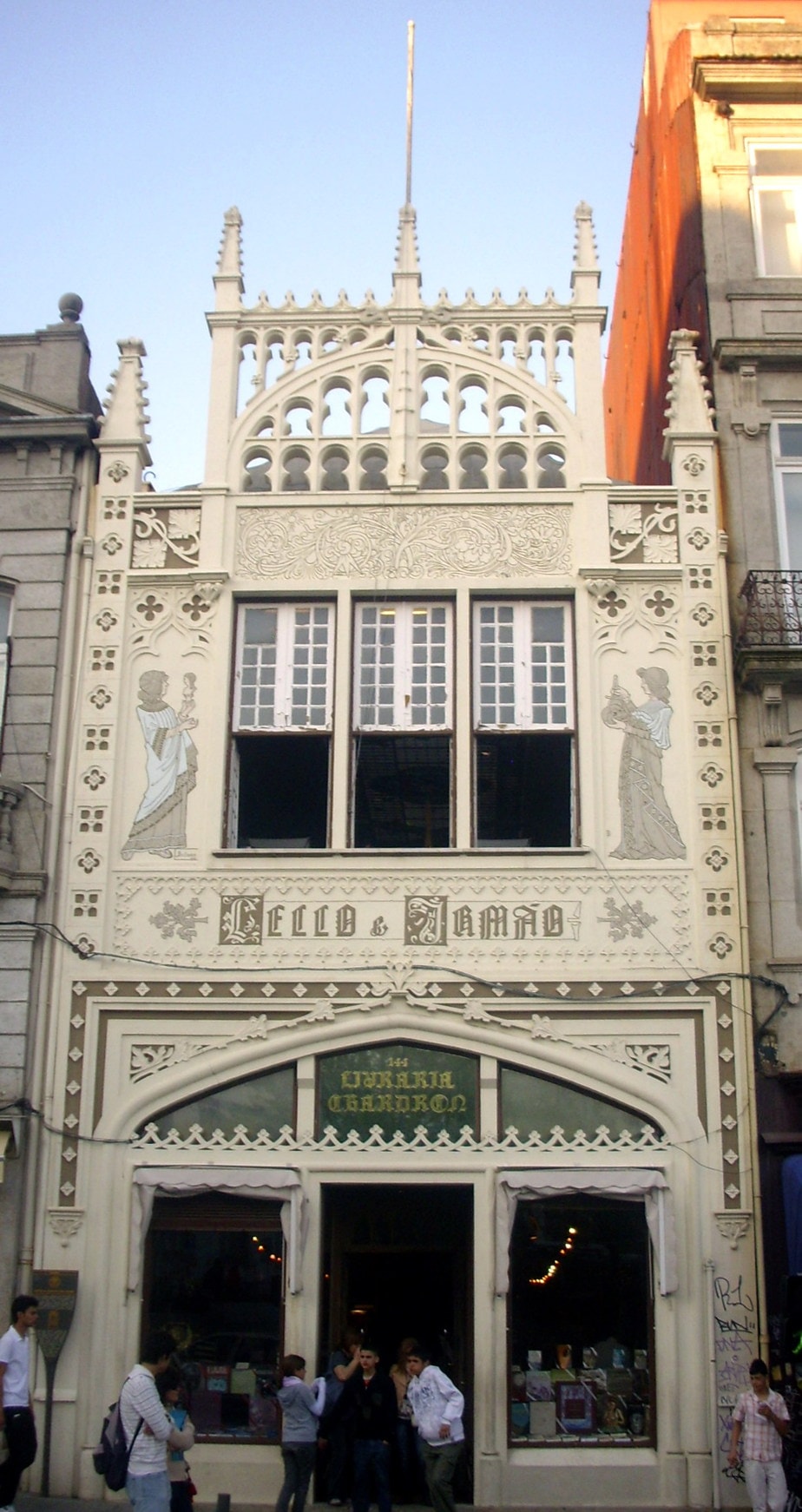 photo source: Wikimedia Commons
Livraria Lello dates back to 1881 when José Lello made his lifelong dream of being a bookseller come true. A few years later, José Lello's brother António Lello joined the business and the brothers moved the bookstore to its current location in 1894. The Lello brothers spent the next several years transforming the shop into the masterpiece that it is today. Engineer Francisco Xavier Esteves is designed Livraria Lello's striking interior.
Did You Know?
Due to its history and beauty, Livraria Lello is a popular tourist spot and was frequented by JK Rowling while she lived in Porto – the bookshop heavily inspired Rowling's Harry Potter books.
---
5. Greene's Bookshop
Year Opened: 1843
Location: Dublin, Ireland
Still in Operation: No, closed in 2007
Founder: John Greene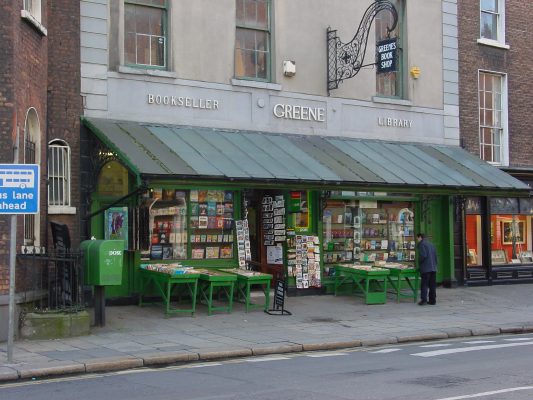 photo source: Twitter via Irish Literary Times
Before closing down in 2007, Greene's Bookshop in Dublin was the oldest bookstore in Ireland. Unfortunately, Greene's could not survive the economic recession and made the tough decision to shut down the 164-year old shop. For awhile after closing, Greene's stuck around by selling books online (we were unable to find Greene's website so the company may not be operating at all). Greene's was originally opened in 1843 by John Greene, but had been owned Herbert H. Pembrey's family since 1912.
Did You Know?
Greene's Bookshop was home to many old and rare books, including Captain Cook's Voyages and an Irish printing of Dr Johnson's Dictionary, which were published before Greene's was even opened – these rare books were moved to safe location after Greene's shut down.
---
4. Librairie Galignani
Year Opened: 1801
Location: Paris, France
Still in Operation: Yes
Founder: Giovanni Antonio Galignani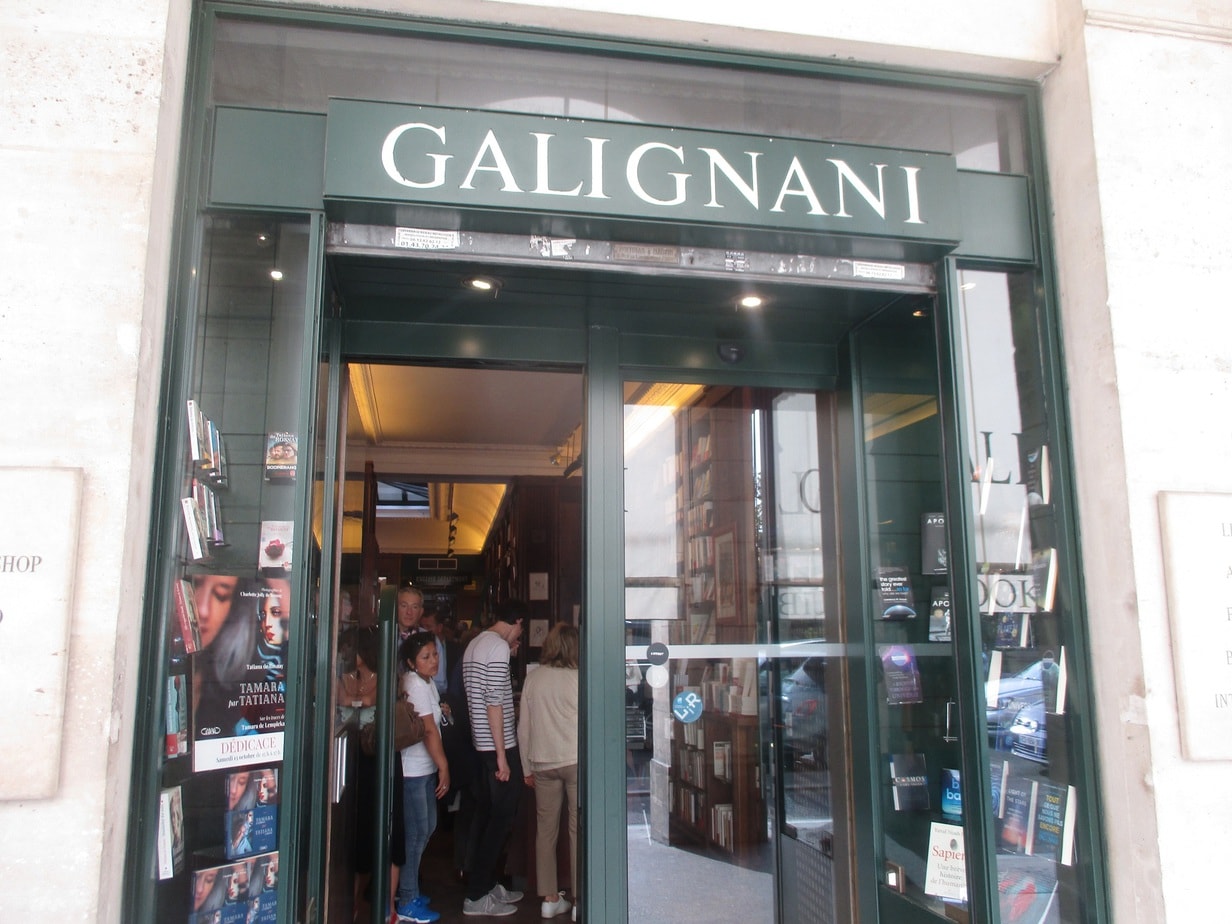 photo source: Wikimedia Commons
Librairie Galignani is the oldest bookstore in France and was established by Italian bookseller Giovanni Antonio Galignani in 1801. The Galignani family had been involved in the book trade since the printing press was invented and Giovanni carried on this family tradition when he moved to Paris. Librairie Galignani was moved to its current location in 1856. In 1882, when Giovanni Galignani died, he left the bookstore and his entire business to his nephew Charles Jeancourt-Galignani. Charles' direct descendants still own Librairie Galignani today.
Did You Know?
The oldest known Galignani book is a Latin grammar book that was printed by Simone Galignani in 1520.
---
3. Hatchards
Year Opened: 1797
Location: Piccadilly, London, England
Still in Operation: Yes
Founder: John Hatchard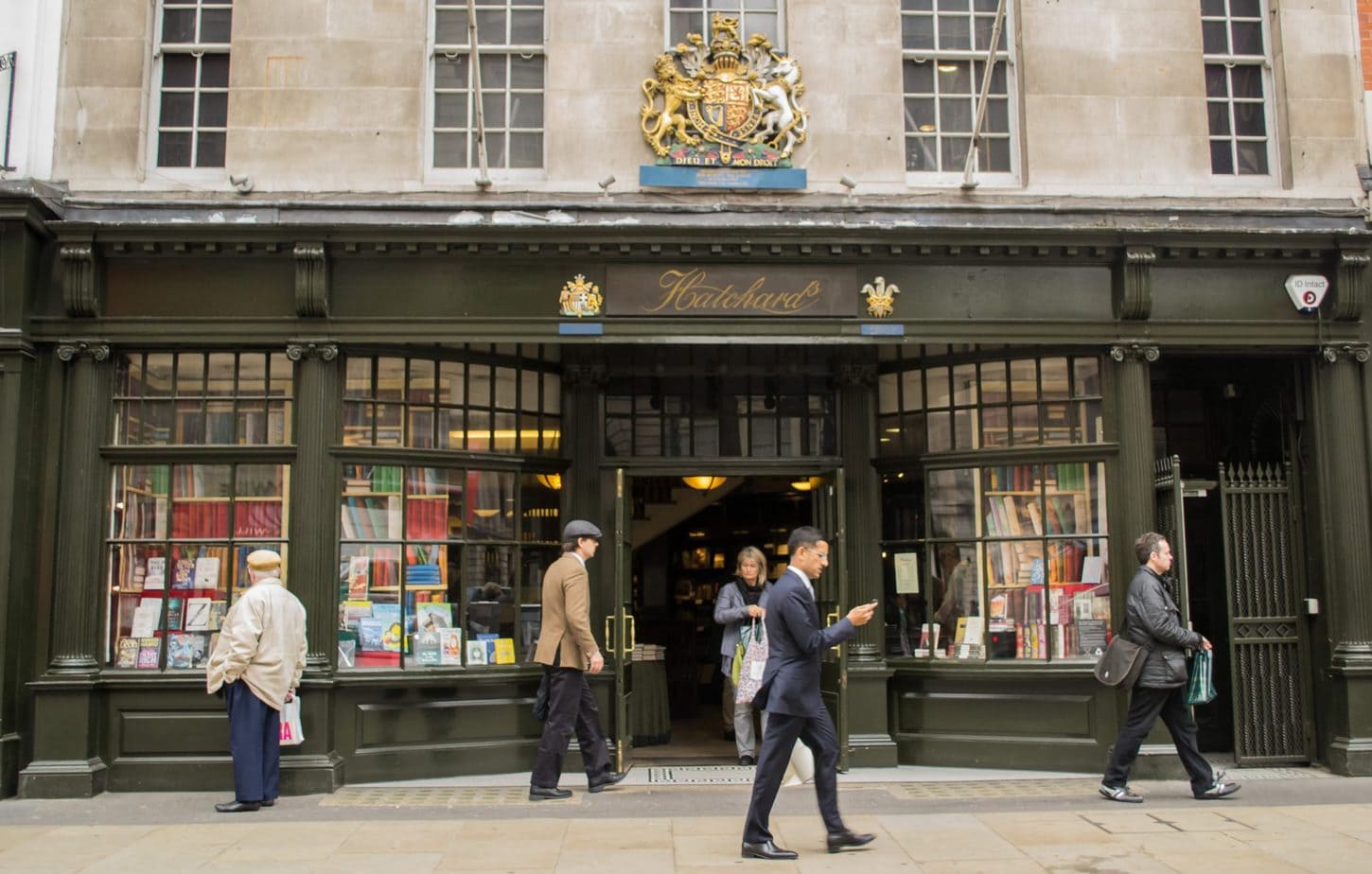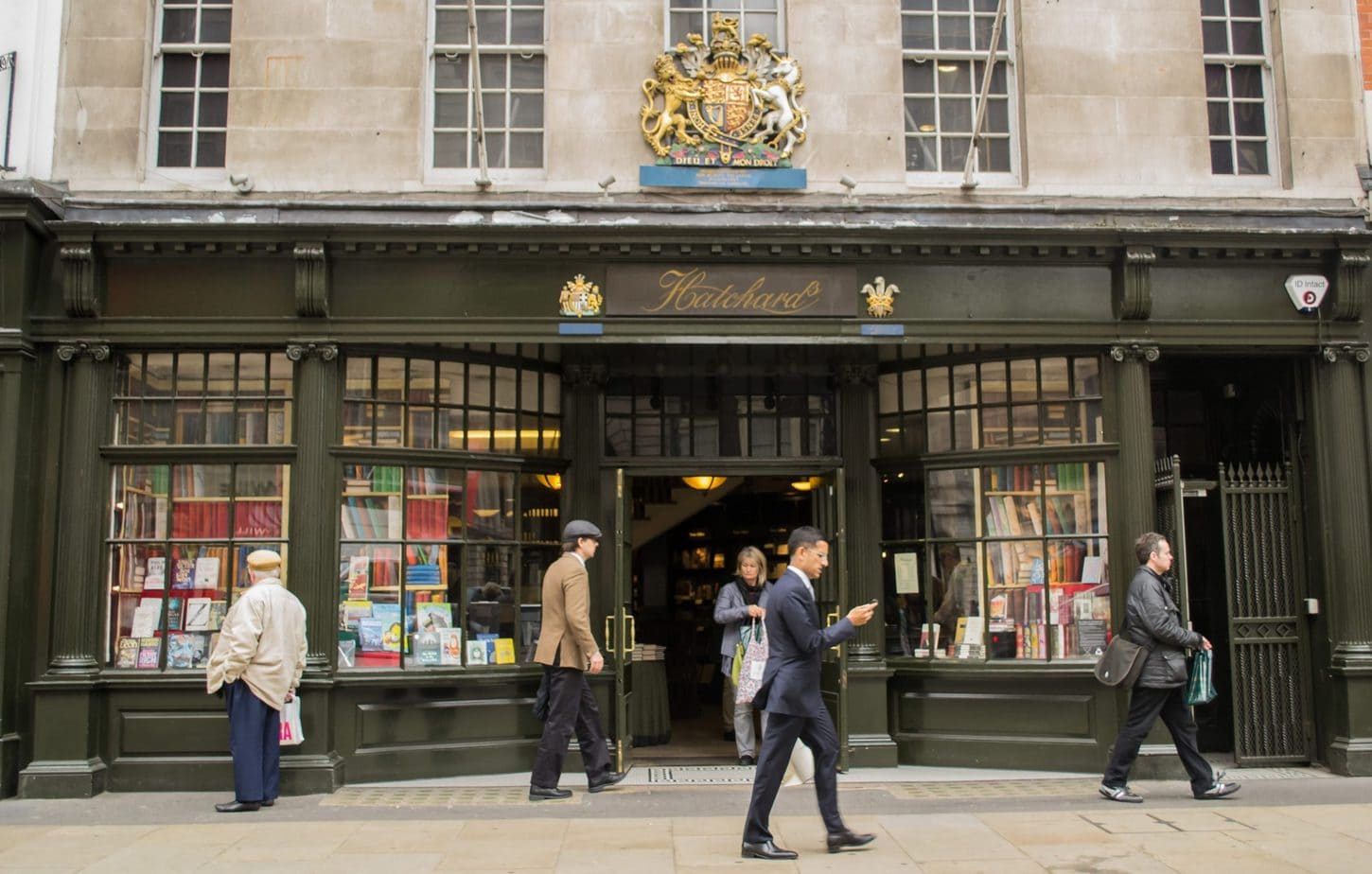 photo source: Wikimedia Commons
Hatchards was opened in 1797 by English publisher and bookseller John Hatchards; it is the oldest bookstore in London. The bookstore has always been in Piccadilly, though not at the same exact location – Hatchards was moved once in 1801 to its current spot. Not only is Hatchards a London an iconic London institution, it has a high-profile reputation and holds three Royal Warrants of Appointment, which are issued to those who supply goods or services to a royal court or certain royal personages.
Did You Know?
The three Royal Warrants were issued to Hatchards by Queen Elizabeth II, the Duke of Edinburgh (Prince Philip), and the Prince of Wales (Prince Charles).
---
2. Moravian Book Shop
Year Opened: 1745
Location: Bethlehem, Pennsylvania, USA
Still in Operation: Yes
Founder: Samuel Powell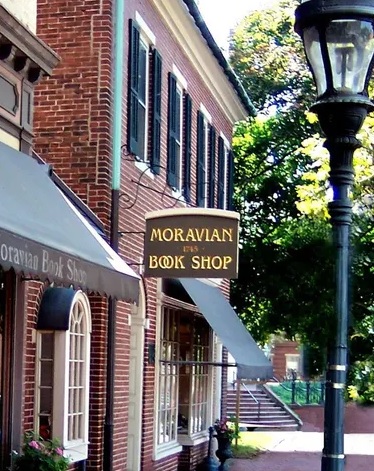 photo source: The Guardian
The Moravian Book Shop is the oldest operating bookstore in America, dating back to 1745. The shop was founded by Samuel Powell under the orders of Bishop Augustus Spangenberg of the Moravian Church. Moravian Book Shop remained owned and operated by the Moravian Church until 2018 when it was turned over to Moravian College, which is part of the "Moravian Family." Although the Moravian Book Shop is now owned by Moravian College, its day-to-day operations are handled by Barnes & Noble College Booksellers.
Did You Know?
In 2015, the Moravian Book Shop opened a second location in Center City Allentown, but the shop did not last long at all and closed two years later.
---
1. Livraria Bertrand
Year Opened: 1732
Location: Lisbon, Portugal
Still in Operation: Yes
Founder: Pedro Faure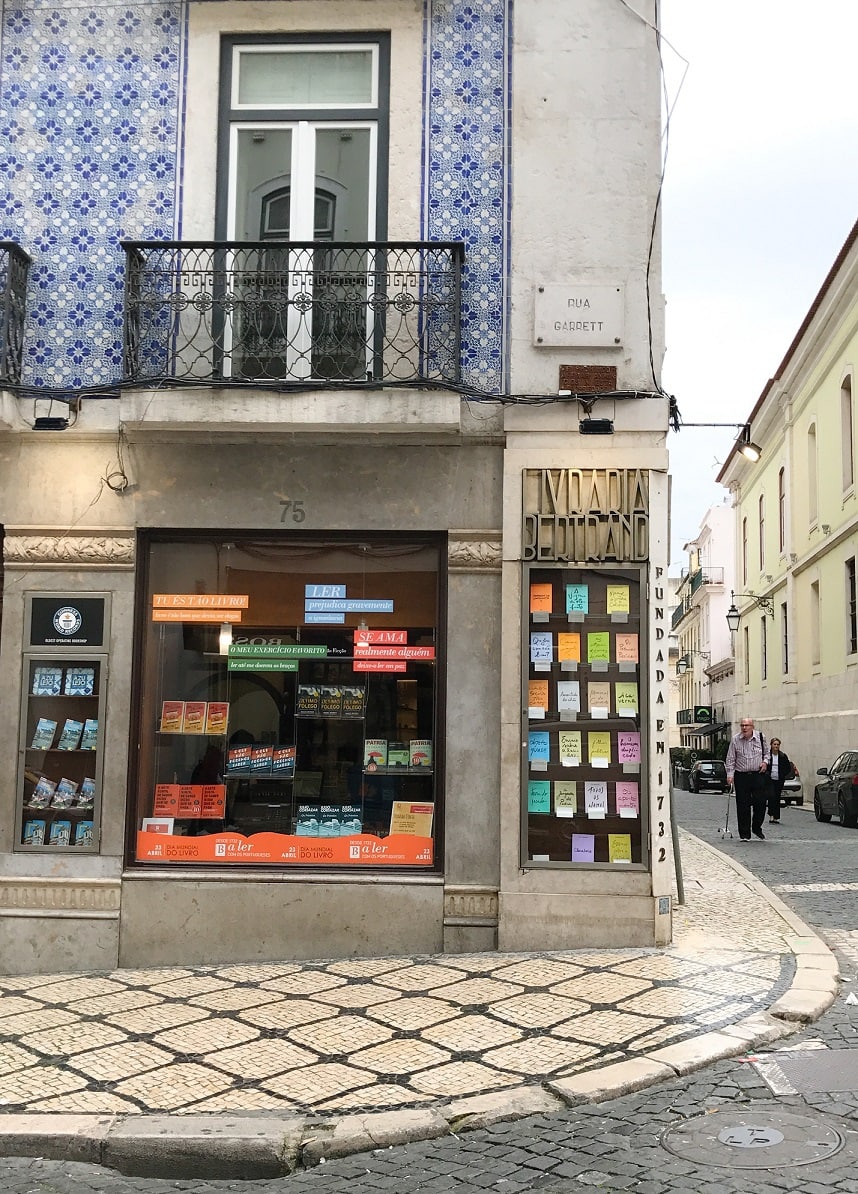 photo source: Wikimedia Commons
Livraria Bertrand
has been in operation since 1732, making it the oldest bookstore in the world. While Livraria Bertrand has grown into a chain of bookstores around Portugal, the original store in Lisbon's Chiado neighborhood is still standing – there are some sources that say the store moved to its current location in1755. In 2016, Livrara Bertrand received the title of World's Oldest Operating Bookstore from the Guinness Book of World Records. As one of Portugal's oldest literary institutions, Livraria Bertrand has been frequented by numerous famous authors, including Alexandre Herculano, Fernando Pessoa, Eca de Queiros, Antero de Quental and Ramalho Ortigão.
Did You Know?
Livraria Bertrand was founded by French bookseller Pedro Faure, who brought his son in law, Pierre Bertrand and his brother Joseph Bertrand, into the business in 1747. After Faure's death in 1753, the bookstore took on the Bertrands' name.
OTHER POSTS YOU MAY BE INTERESTED IN