Tortoises have one of the longest lifespans of any animal, with the average ranging anywhere from 50 to 100 years. Even tortoises kept as pets can live for about 30 – 40 years and decades longer with proper care. All of the tortoises on this list were at least 100 years old, but most of them were nearly 200 years old when they died. Two of the tortoises are currently still alive and may even surpass the oldest tortoise on this list someday. These tortoises managed to live such long lives because they were well cared for and loved.
8. Lonesome George (c.1910 – 2012)
Oldest Age Reached: Exact age unknown – estimated between 80 – 100 years old
Last Location: Charles Darwin Research Station, Galápagos Islands
Species: Pinta Island Tortoise (Chelonoidis abingdonii)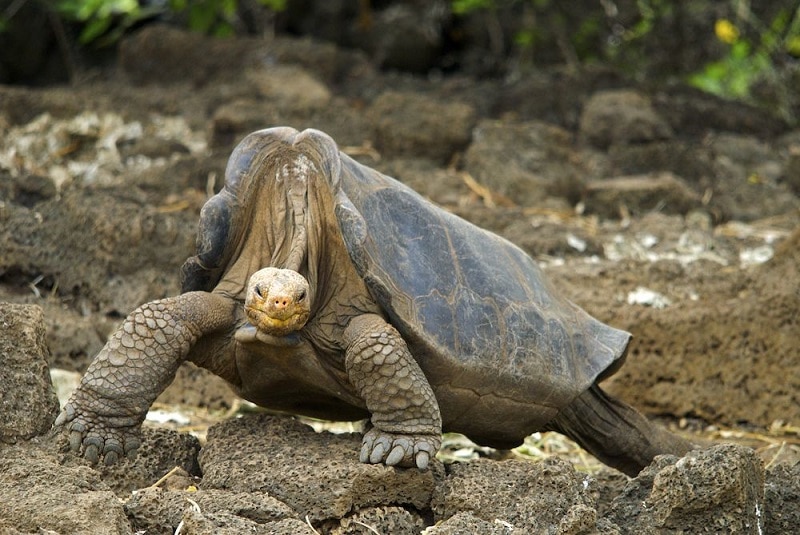 photo source: Wikimedia Commons
Although all of the tortoises on this list were famous to some extent, Lonesome George is probably the best-known. George earned his nickname, Lonesome, because he was the last known Pinta Island tortoise. He became a symbol of the conservation efforts in the Galápagos Islands and was loved by many people around the world. George's exact age was unknown, but he was estimated to be between 80 – 100 years old.
For several decades, there were many attempts to mate George with females from similar tortoise species. Unfortunately, the mating attempts were unsuccessful even though two different females had laid eggs – none of the eggs were viable. George died in the summer of 2012 and his taxidermied body is on display in an exhibit dedicated to his life at the Charles Darwin Research Station, which had been his home since 1972. In 2015, scientists in Ecuador and the U.S. said that they had found a species tortoise living on another island in the Galápagos with a 95 percent DNA match with George. They are hoping to use the new tortoises to restore the Pinta Island tortoise species as well as the Floreana Island tortoises, which were last seen by Charles Darwin.
---
7. Thomas (c.1882 – 2013)
Oldest Age Reached: 130 years old
Last Location: Guernsey
Species: Hermann's Tortoise (Testudo hermanni)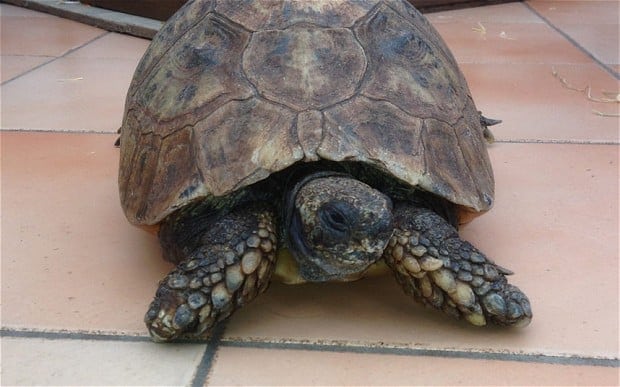 photo source: The Telegraph
After the death of Timothy (another long-lived tortoise on this list) in 2004, Thomas was known as Britain's oldest resident. Like several of the female tortoises on this list, Thomas has a traditionally masculine name because she was initially misidentified as a male. Thomas had celebrated her 130th birthday in late 2012 before dying a few months later in the spring of 2013. Her owner, June Le Gallez, had to put Thomas down after her leg was bitten by a rat.
Le Gallez inherited Thomas in 1978 from her cousin Grace Hilditch. Hilditch had received Thomas a gift from her father in 1922. He was friends with a reptile keeper at the London Zoo who said that Thomas was 40 years old, putting her birth date sometime around 1882. Le Gallez also has two other tortoises, Gorky and Carstaias, who are both 50 years old at the time of Thomas' death.
---
6. Timothy (c.1844 – 2004)
Oldest Age Reached: 160 years old
Last Location: Powderham Castle, Devon, England
Species: Spur-thighed Tortoise (Testudo graeca)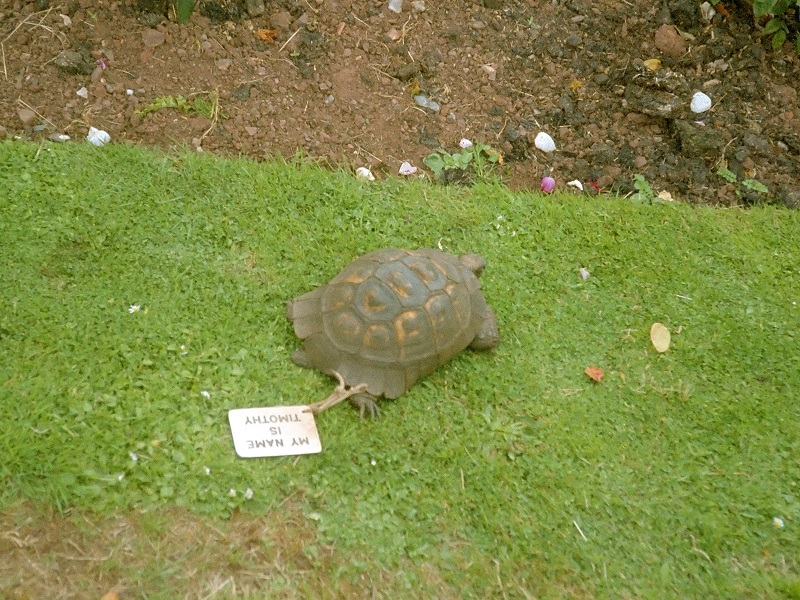 photo source: Wikimedia Commons
In addition to her old age, Timothy was known for being the last survivor of the Crimean War before she died in 2004. She was also considered Britain's oldest resident while she was still alive. Despite her name, Timothy was a female tortoise; people were unable to properly identify a tortoise's sex in the 19th century.
Before peacefully spending the rest of her life with the Earls of Devon at Powderham Castle in England, Timothy lived an adventurous life. She was believed to have been born in Turkey and was found aboard a Portuguese ship in 1854. After that, Timothy served as the mascot of several ships under the United Kingdom's Royal Navy. Timothy was aboard the HMS Queen during the first bombardment of Sevastopol in the Crimean War. She managed to survive the attack and was moved to a few more ships before retiring from her naval service around 1892.
---
5. Esmeralda (Unknown – Present)
Oldest Age Reached: over 170 years old
Last Location: Bird Island, Seychelles
Species: Aldabra Giant Tortoise (Aldabrachelys gigantea)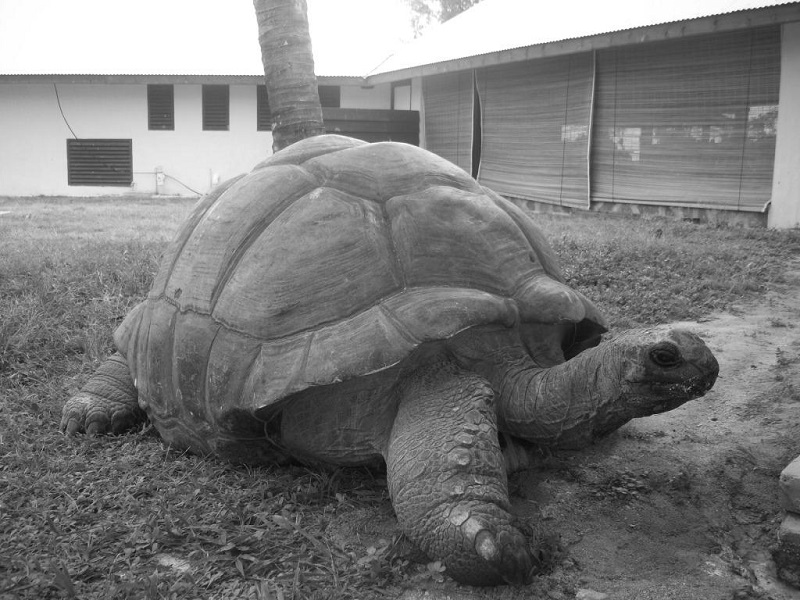 photo source: Wikimedia Commons
Esmeralda is currently one of the oldest living tortoises in the world. Although there is no information about his exact age or date of birth, Esmeralda is reportedly in his 170s. He is one of several Aldabra Giant Tortoises freely roaming around on Bird Island in the Seychelles. Tourists are even welcome to take as many pictures as they want with the old and giant tortoise.
Esmeralda may not be the oldest living turtle, but he is the heaviest living turtle on record. He was weighed in the 1980s by the Royal Zoological Society and was about 298 kg (656.978 lb). The last time he was weighed in 2002, he broke his own record and tipped the scale at 363 kg (800 lb). Esmeralda is listed at the heaviest living tortoise in the wild by the Guinness Book of World Records.
---
4. Harriet (c.1830 – 2006)
Oldest Age Reached: 175 years old
Last Location: Beerwah, Queensland, Australia
Species: Galápagos Tortoise (Geochelone nigra porteri)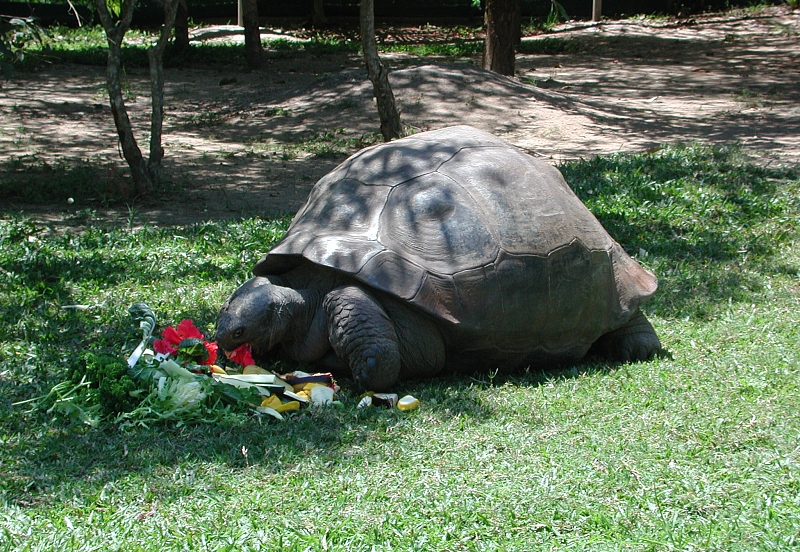 photo source: Wikimedia Commons
Despite the lack of concrete evidence, it was widely believed that Harriet the Giant Galápagos Land Tortoise was one of the tortoises collected by Charles Darwin from the Galápagos Islands in 1835. Harriet was supposedly picked up by Darwin and taken back to England aboard the HMS Beagle and eventually ended up in Australia sometime around 1860. She was donated by John Clements Wickham to the City Botanic Gardens in Queensland after he retired.
Several researchers have poked holes in Harriet's story and no one really knows for sure how she ended up in Australia. There is also evidence that Harriet came from an island that Darwin never visited. Harriet was acquired by Steve Irwin in 1987 and spent the rest of her life at the Australi Zoo as a beloved national icon. She was about 175 years old when she died.
---
3. Jonathan (c.1832 – Present)
Oldest Age Reached: 185 in late 2017
Last Location: Plantation House, Island of Saint Helena
Species: Seychelles Giant Tortoise (Aldabrachelys gigantea hololissa)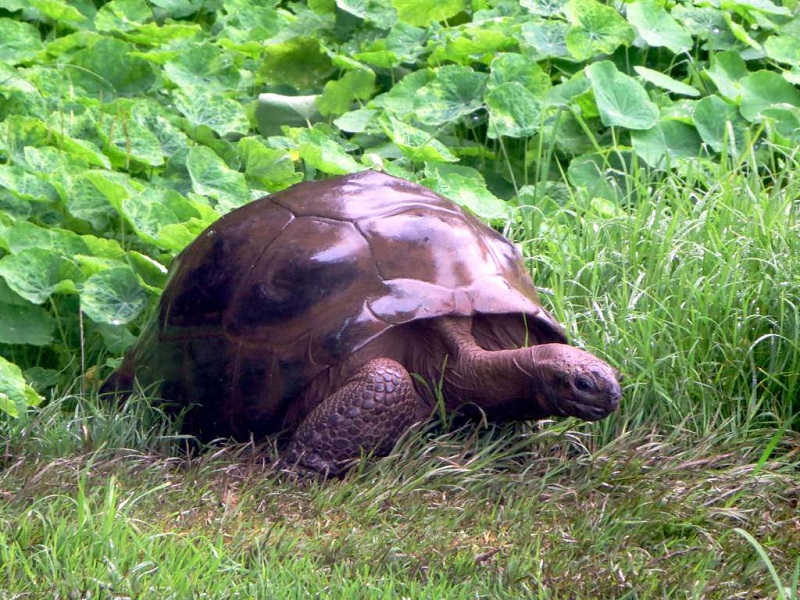 photo source: Wikimedia Commons
Jonathan is currently the oldest living tortoise in the world. In late 2017, it was reported that he was still alive and about 185 years old. Last year, the international media also revealed that the tortoise that Jonathan has been mating with since 1991 was actually a male and not a female like their keepers originally thought.
Jonathan first arrived at Saint Helena in 1882 and was a gift for the governor of the island at the time. He was believed to be about 50 years old when he arrived on the island. In 2016, Jonathan's diet was changed to help him reclaim his health and vitality. He now has a more nutritious diet that includes apples, carrots, cucumbers, banana, and guava. The new foods have increased Jonathan's caloric intake and have made his, previously soft and blunt beak, strong and sharp.
---
2. Tu'i Malila (c.1777 – 1965)
Oldest Age Reached: 188 years old
Last Location: Royal Palace of Tonga
Species: Radiated Tortoise (Geochelone radiata)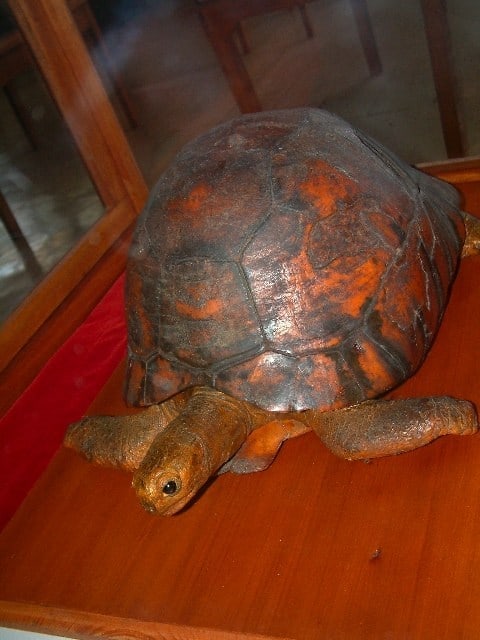 photo source: thegoodturtleblog.wordpress.com
Although another tortoise is reportedly the oldest ever, Tu'i Malila officially holds the title according to the Guinness Book of World Records. According to records, Tu'i Malila was hatched sometime around 1777 and then gifted to the Tongan royal family later that year by the famed Captain James Cook when he visited the island of Tonga. Although this is the story that is widely used when telling Tu'i Malila's story, other sources say that the King George Tupou obtained the tortoise from a ship that docked at the Ha'apai Islands in the first half of the 19th century.
Regardless of Tu'i Malila's origin, the tortoise enjoyed a long and peaceful life being cared for by the Tongan royal family. In 1953, during Queen Elizabeth II's Royal Tour of Tonga, Tu'i Malila met the Queen as he had become an iconic part of Tonga's royal family. Today, Tu'i Malila's preserved body is on display at the Tongan National Center on Tongatapu.
---
1. Adwaita (c.1750 – 2006)
Oldest Age Reached: 250 years old
Last Location: Alipore Zoological Gardens in Kolkata, India
Species: Aldabra Giant Tortoise (Aldabrachelys gigantea)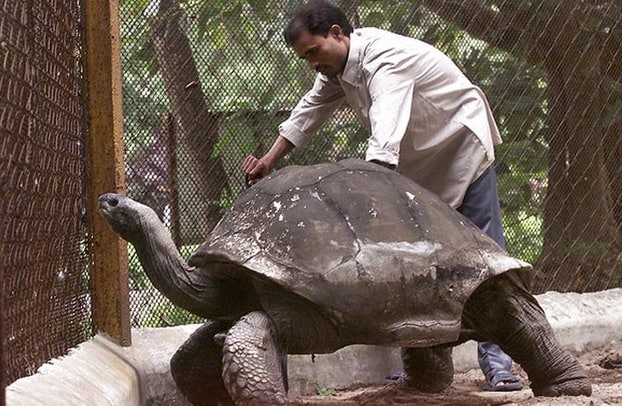 photo source: steemit.com
Prior to his death, Adwaita was believed to be the oldest tortoise in the world. Although Adwaita's exact age was never confirmed, officials from the Alipore Zoological Gardens in Kolkata, India — where Adwaita spent most of his life — believe that he was about 250 years old when he died. According to the zoo's records, he came into their care in 1875 and was previously owned by Lord Robert Clive of the East India Company.
Adwaita was supposedly born sometime around 1750 and was one of four tortoises brought back to India by British sailors from the Seychelles islands as a gift for Lord Clive. The other three tortoises died and Adwaita lived a nice life in Lord Clive's garden before moving to the zoo. Adwaita's shell cracked in 2005, causing the exposed flesh to become infected. He eventually died from the infection and liver failure on March 22, 2006.
OTHER POSTS YOU MAY BE INTERESTED IN