If you're not super immersed in the world of dogs, you might've read the term "Puggle" and thought, huh?
These dogs are a hybrid breed – an adorable and lovable cross between a Pug and a Beagle. If this is the first time you're hearing about Puggles, it's probably because they are a more recent addition to the dog world, bred with the best of the Pug and the Beagle to reduce common health and behavioral issues of the two.
Playful, intelligent, and highly sociable, Puggles make for excellent companion animals. They also have approximately the same lifespan as other dogs their stature – 10-15 years.
In this list, we'll be exploring eight of the oldest-known Puggles out there. Since this is still a relatively new breed, most research is pulled from personal accounts (or social media) of Puggle owners.
Let's get started!
8. Henry
Sex: Female
Age: 10 months
Born: 2005
Still living: No (presumed)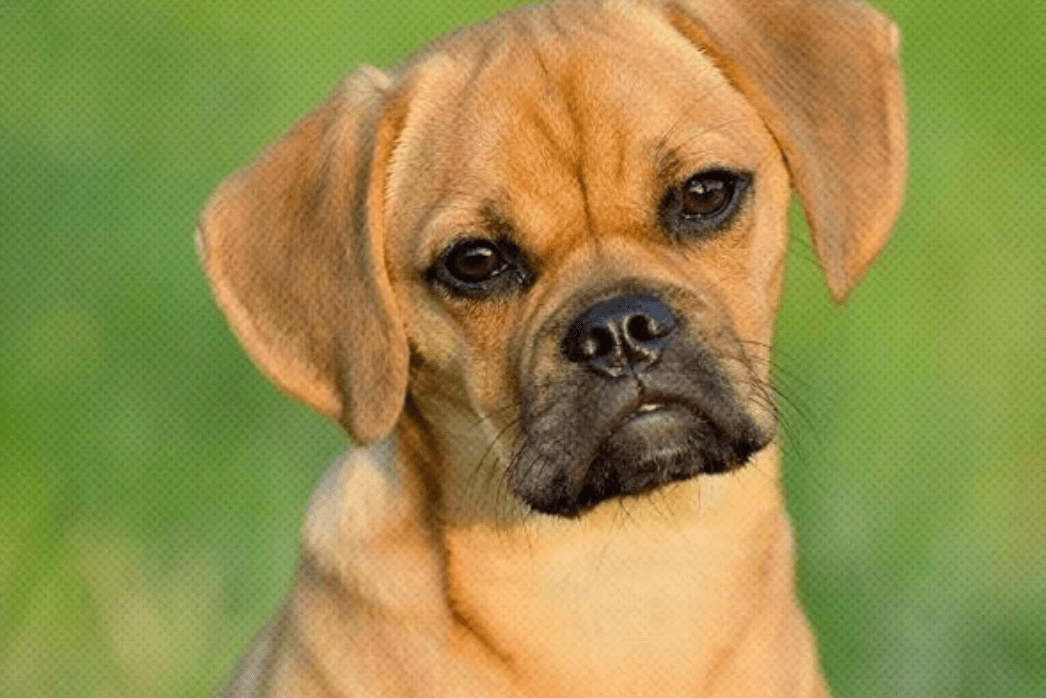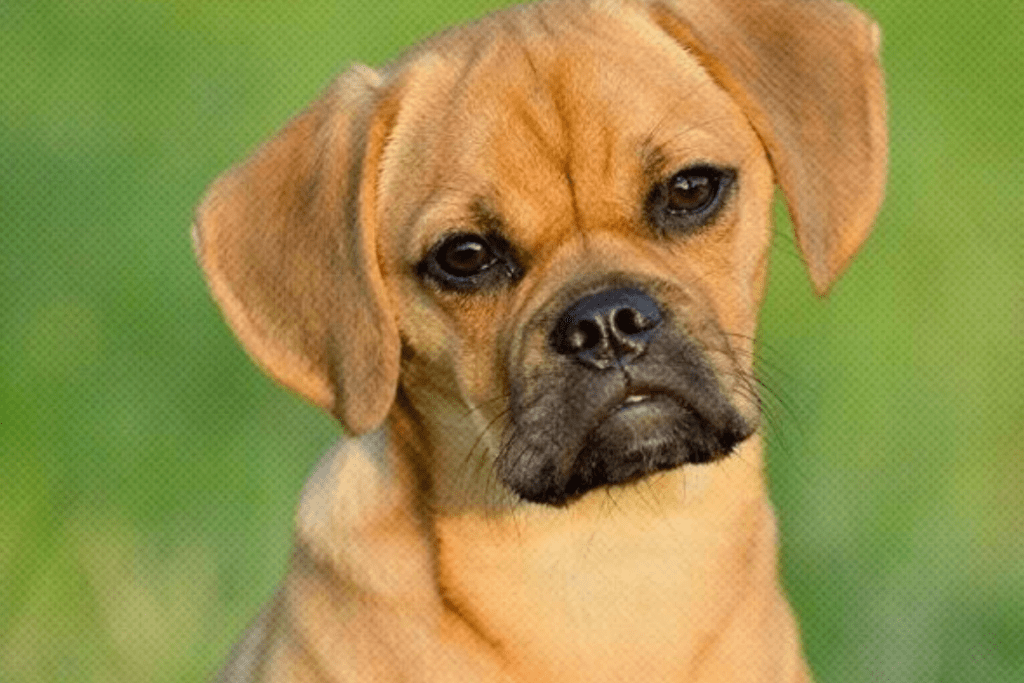 photo source: breedingbusiness.com
With the male name "Henry," the 10-month-old female Puggle made an appearance in a New York Times article in 2005. The pup was adopted by a Brooklyn College student, Siri Worthington, from a couple who lived in her apartment.
Henry's original adoption price had been $1,000 from Puppy Paradise in Mill Basin, and Worthington took her off their hands not long after. She'd watched the dog while they were at work several times, and thought she'd known what she was getting into; less than one month after adopting Henry, however, Worthington was considering giving Henry up due to typical "destructive" puppy behaviors.
"She takes all the fun out of owning a dog," Worthington reportedly said. Honestly? Henry probably deserved a better owner than the 25-year-old student. Hopefully, that's exactly what the pup got!
Did You Know?
When you breed a Puggle with another Puggle, you don't actually get a Puggle – you get a second generation Puggle, which often results in more genetic variation than breeding a Pug and a Beagle.
---
7. Malven
Sex: Male
Age: 2 years
Born: 2019
Still living: Yes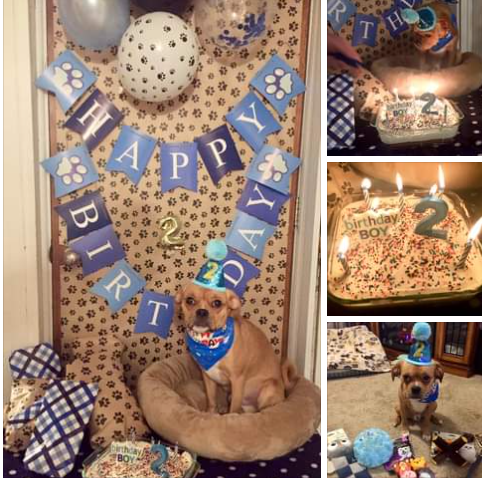 photo source: Facebook
Malven the Puggle turned two years old just over the Thanksgiving weekend! His owner posted about his birthday bash on a popular Puggle Facebook page, attracting many comments and well-wishes for the pooch in the comments.
With a cake, decorations, and party hat, Malven had a more festive birthday than some people have! Being two years old makes him roughly 14 or so in human years, so hopefully he enjoys many fun birthday parties to come.
Did You Know?
A Puggle's mother is almost always the Beagle, of the two dogs that are bred. This is because breeders have learned that mating a male Beagle and female Pug can wreak havoc on the female's health, often even resulting in death.
---
6. Nova-Dazzle
Sex: Female
Age: 3 years
Born: 2018
Still living: Yes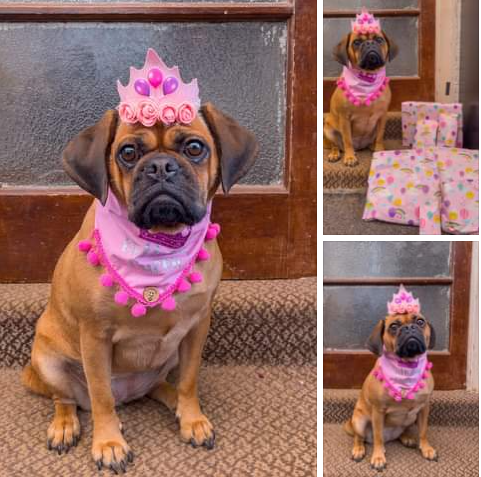 photo source: Facebook
It appears that Malven wasn't the only Puggle celebrating a birthday over the Thanksgiving holiday. This little gal, Nova-Dazzle, turned three years old on November 23, and was celebrated with lots of pink goodies and gifts!
Nova-Dazzle's owner, Hayley White, is absolutely obsessed with the Puggle, and regularly posts photos and photoshoots of her on Facebook. White has posted that she is most appreciative of Nova-Dazzle's presence in her life during hard times, emphasizing that being her dog mom is a true source of happiness.
Did You Know?
The first Puggle was bred in the 1980s, and the term for the dog was coined by Wisconsin breeder, Wallace Havens. However, the Puggle is not recognized as a formal dog breed by prestigious organizations, such as the American Kennel Club.
---
5. Doc
Sex: Female
Age: 10 years
Born: 2011
Still living: Yes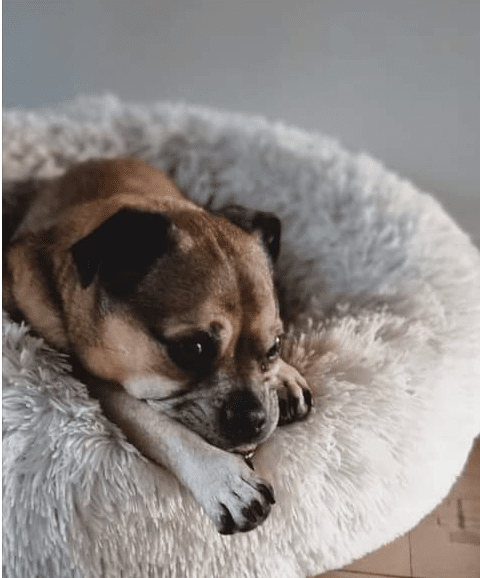 photo source: Facebook
Doc the Puggle is ten years old as of November 25, 2022, making her a senior dog and definitely on the older side for a Puggle!
With an average lifespan of 10-15 years for her breed, Doc could have another good five or so years left in her. Her owners seem to love her lots, so between genetic makeup and good companionship, this 10-year-old pooch will hopefully enjoy several more years of a happy life!
Did You Know?
As you might've guessed from an earlier item in this list, Puggles can be pretty pricey for a dog that is technically not a purebred. In fact, their average price runs from $800 to $1,800 (from top breeders).
---
4. Charlie
Sex: Male
Age: 13
Born: 2008
Still living: Yes (presumed)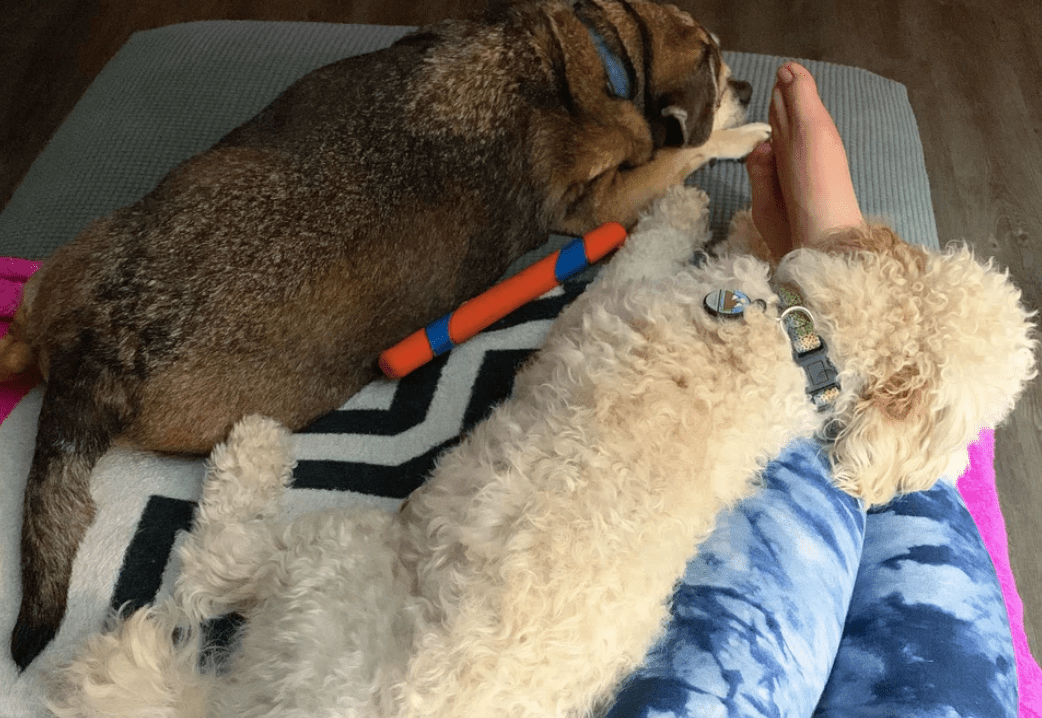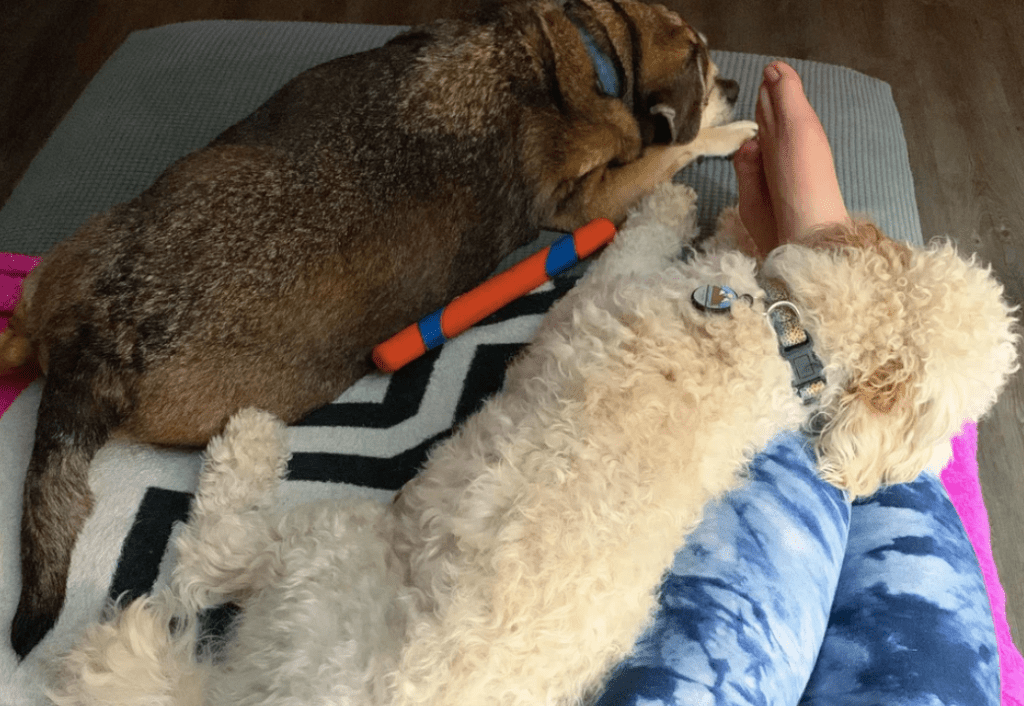 photo source: Reddit
Charlie is shown with his best friend in the picture above!
The 13-year-old Puggle quickly befriended a 1-year-old Labradoodle that his family adopted, and the two have become inseparable. Charlie's owner shared the post on Reddit earlier this year, so though he's getting on in age, he's hopefully still doing well and enjoying his new "brother's" company!
Did You Know?
Puggles shed a lot, thanks to their thick double coats. Their top coat is comprised of long hair that is shiny and smooth, while the undercoat tends to be short and dense.
---
3. Duke
Sex: Male
Age: 14 years
Born: 2007
Still living: Yes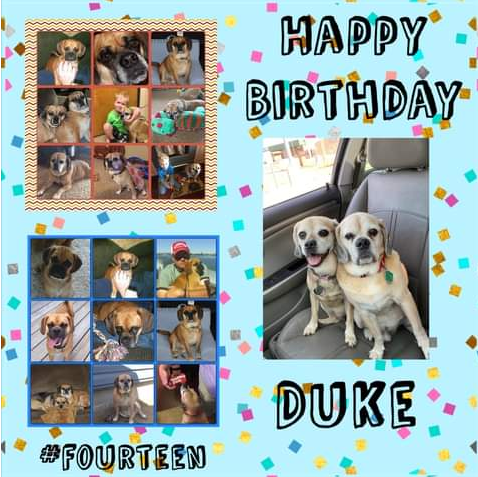 photo source: Facebook
It was just a few days ago that one of the oldest Puggles out there – Duke – turned fourteen years old! His owner promptly created this photo collage and posted it to the Puggle Facebook page in celebration of the dog's age.
Duke clearly comes from a Puggle-loving household, as he seems to have a companion of the same breed pictured next to him in the car. His owner is constantly posting photos of the dog on social media, which is probably a good indication that this pooch has gotten a lot of love throughout his fourteen years!
Did You Know?
Puggles, like their father the Pug, are known to suffer from respiratory issues due to their brachycephalic anatomy (the pushed-in nose effect, vets have noted, is a respiratory nightmare).
---
2. Ally
Sex: Female
Age: 14.5 years
Born: 2007
Still living: Yes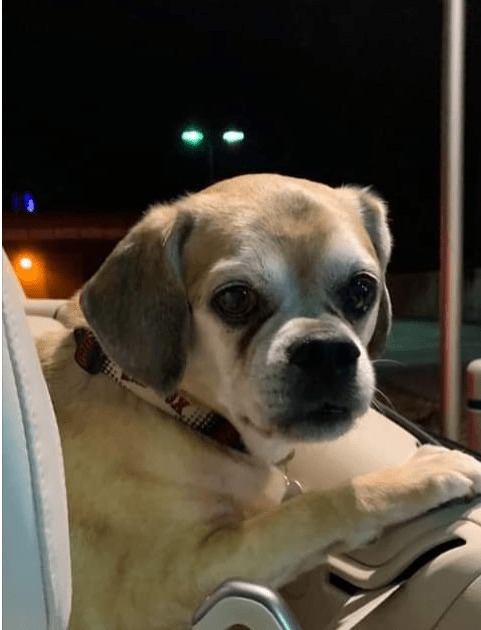 photo source: Facebook
This photo of Ally the Puggle was taken and shared to the Puggle Facebook page quite recently. She is 14.5 years old, and even at her old age enjoys going for rides in a convertible!
Fourteen and a half is quite an old age for any dog, and undoubtedly, Ally is one of the oldest Puggles out there at the moment. Still, she's not the oldest. That title goes to the next and last furry friend on this list!
Did You Know?
Puggles have a sweet and family-oriented temperament, which means they can make great dogs for households with children. They are sociable, and crave lots of attention and love!
---
1. Baxter
Sex: Male
Age: 16 years
Born: 2005
Still living: Yes (presumed)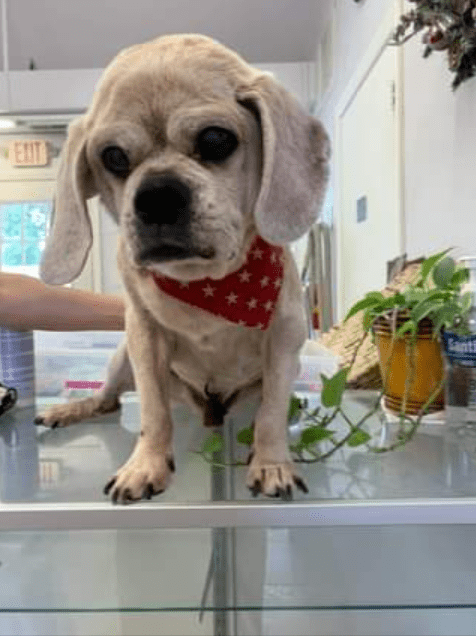 photo source: Facebook
Baxter is the oldest known Puggle to date. At 16 years old, he does not hold an official record, but he is the oldest we've found in our research.
According to Baxter's parents, the dog is still kicking, and age has only slowed him down a bit. The social media post that mentions his age has gotten a lot of attention from other Puggle owners who've lost dogs at an old age, all wishing him well.
We can't be sure that Baxter is still alive, as the post was published earlier this year. However, we hope he'll continue on to see 17!
Did You Know?
Puggles, like many other dogs, are not the best dog to keep in a house with a cat. Because they have the genes of a hunting dog, it's likely that cats will provoke this natural instinct, which could create serious stress for both Puggle and cat.
OTHER POSTS YOU MAY BE INTERESTED IN