Chimpanzees, also known as apes, are a type of primate. They are the closest living relatives to humans and are extremely important to our understanding of human evolution.
Chimpanzees are born with a fully functional brain and nervous system. The brains of chimpanzees are well developed, but they have less gray matter than humans. It is thought that the lifespan of chimpanzees depends on their diet and environmental conditions.
However, some research suggests that chimpanzees may live longer than expected. If you are fond of the idea of human evolution, this article might be just right for you. The list below shows the oldest chimpanzees that have ever lived and some interesting facts about them.
11. Sarah Anne
Age: 59
Country: United States
Sex: Female
Still Alive: No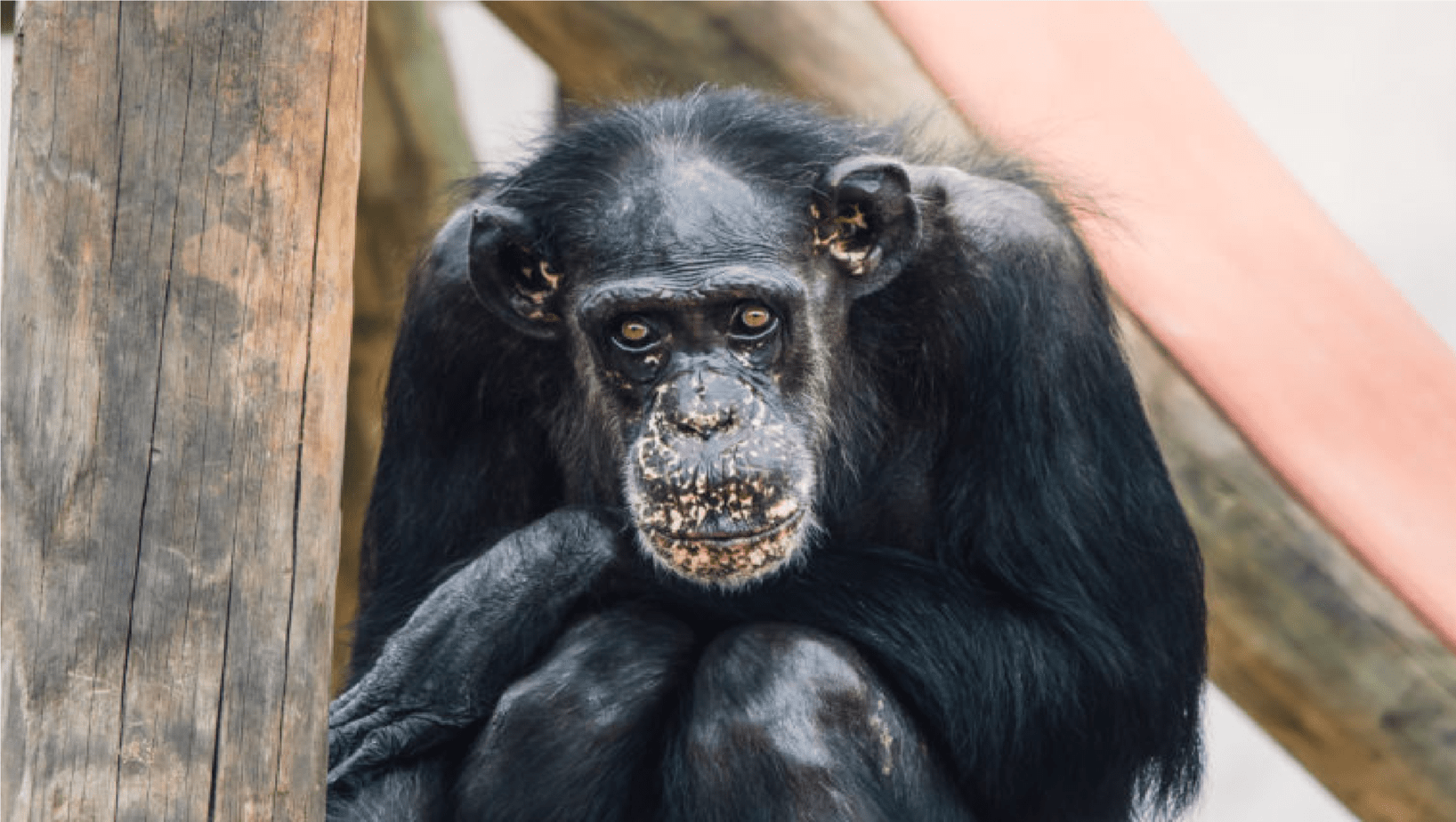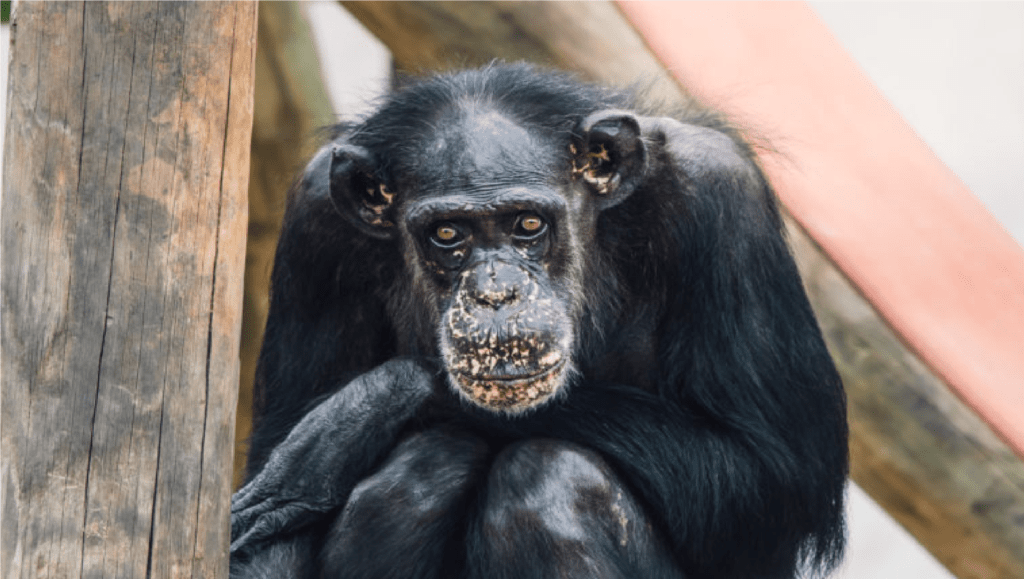 photo source: Chimp Haven
Sarah Anne, the oldest inhabitant of Chimp Haven, passed away just before turning 60. When Sarah Anne first arrived at Chimp Haven in 2006, she quickly established herself as one of the sanctuary's most adored characters thanks to her intellect, sassy attitude, and regal demeanor.
Prior to moving to Chimp Haven, Sarah Anne took part in one of the earliest studies on the learning of nonhuman ape language, where she developed her symbolic token-based communication skills.
Did You Know?
She always took her favorite cozy blankets with her wherever she went and frequently wrapped herself in them since she never traveled without them.
---
10. Mama
Age: 59
Country: Netherlands
Sex: Female
Still Alive: No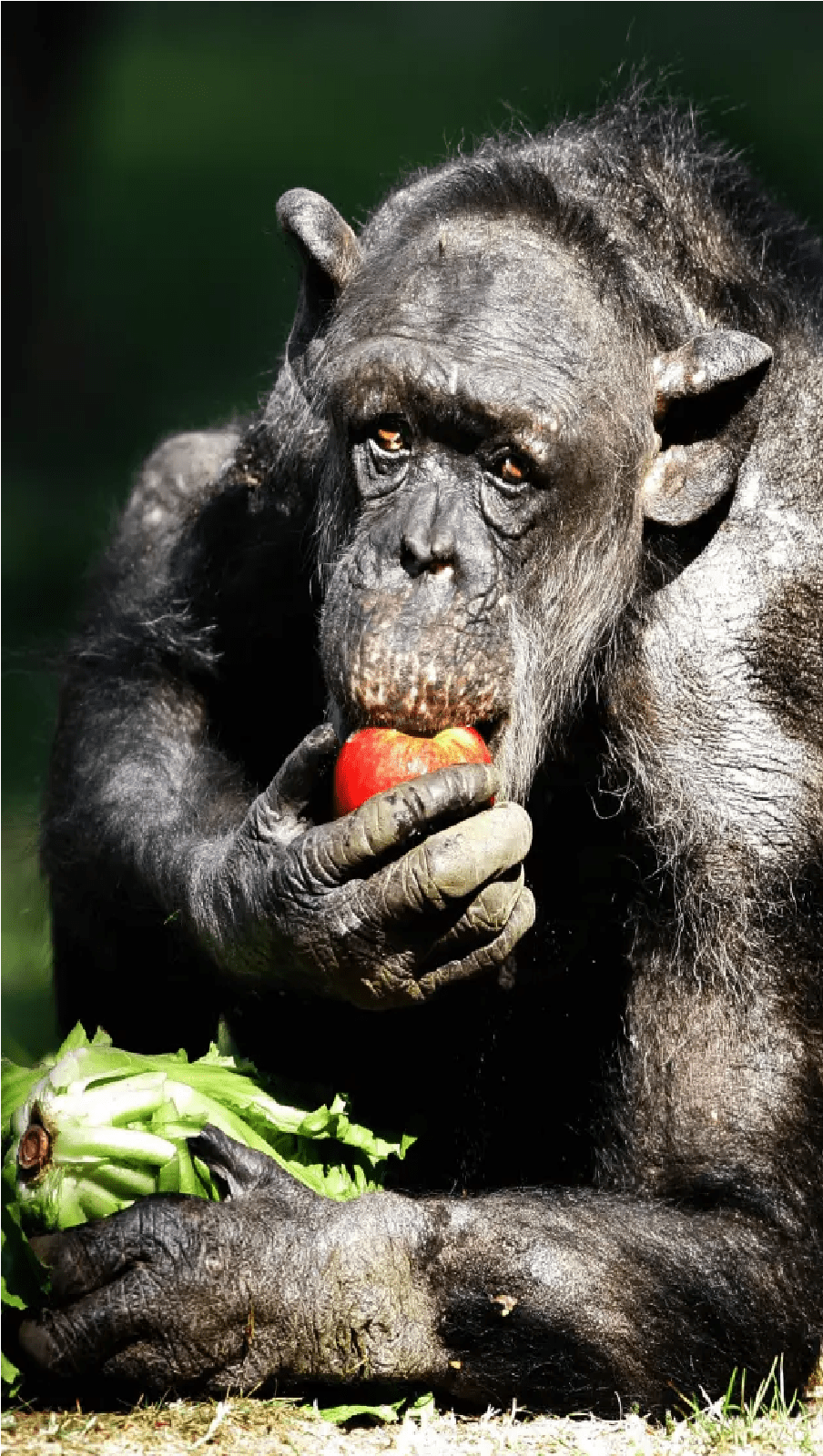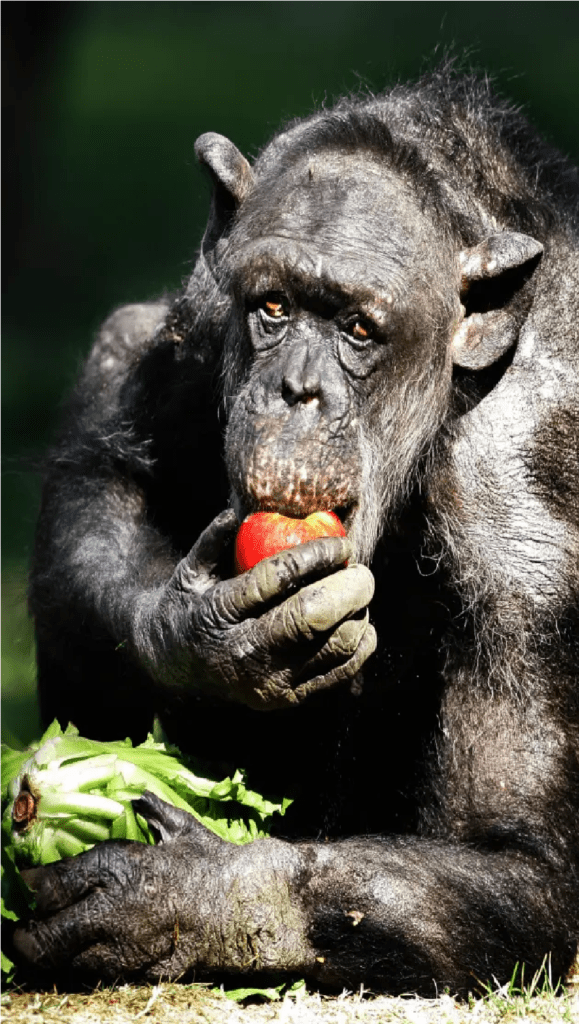 photo source: The Sun
Mama passed away at the Royal Burgers' Zoo in the Netherlands when she was 59 years old. In the Netherlands, she was the oldest chimpanzee. According to some estimates, Mama was born in the wild in 1957 and spent several years living at the Leipzig German Zoo in Germany.
Mama and the chimpanzee females Gorilla and Franje traveled to Arnhem in 1971 to establish the new chimpanzee colony that would go on to gain international fame.
Did You Know?
As she grew older, Mama's peer group came to value her capacity for compromise and her position as a dispute mediator.
---
9. Gamma
Age: 59
Country: United States
Sex: Female
Still Alive: No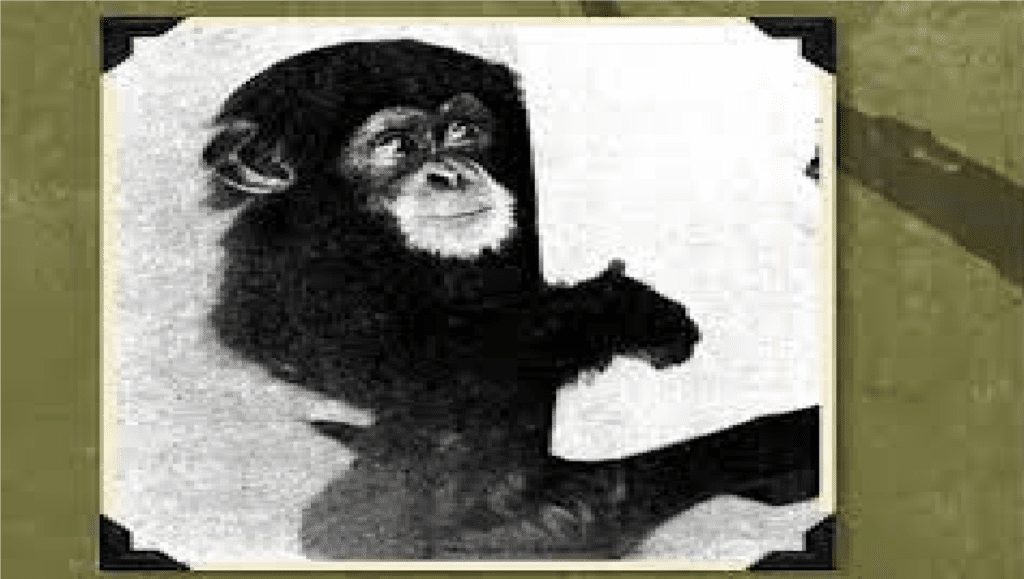 photo source: first100chimps.wesleyan.edu
Gamma the chimpanzee was born in 1953 in what is now the Democratic Republic of Congo. She was captured as a young child and brought to the United States, where she lived at a zoo in New Orleans. In 1966, she was transferred to the Yerkes National Primate Research Center in Atlanta, Georgia.
Gamma was one of the first chimpanzees to be used in biomedical research. She participated in a number of studies on the effects of infectious diseases on primates. In addition, she was part of a long-term study on the social and cognitive development of chimpanzees.
Gamma retired from research in 1997 and spent the rest of her life at the Yerkes Center. She died in 2012 at the age of 59.
Did You Know?
She was one of the first chimpanzees to be born in Robert M. Yerkes' primate facility.
---
8. Fifi
Age: 60
Country: United States
Sex: Female
Still Alive: No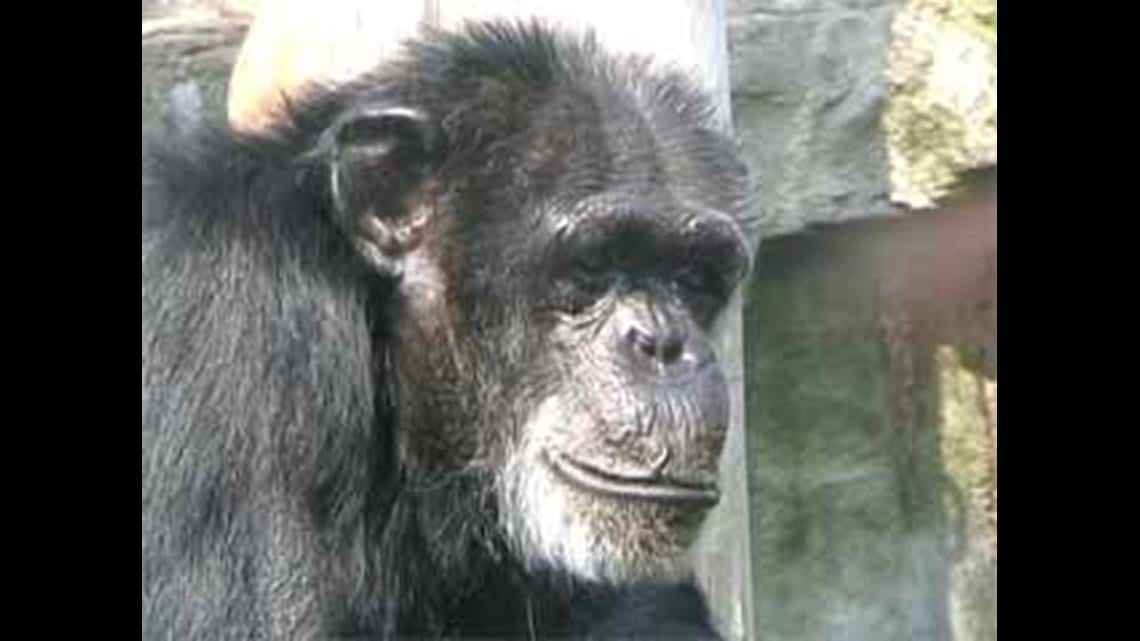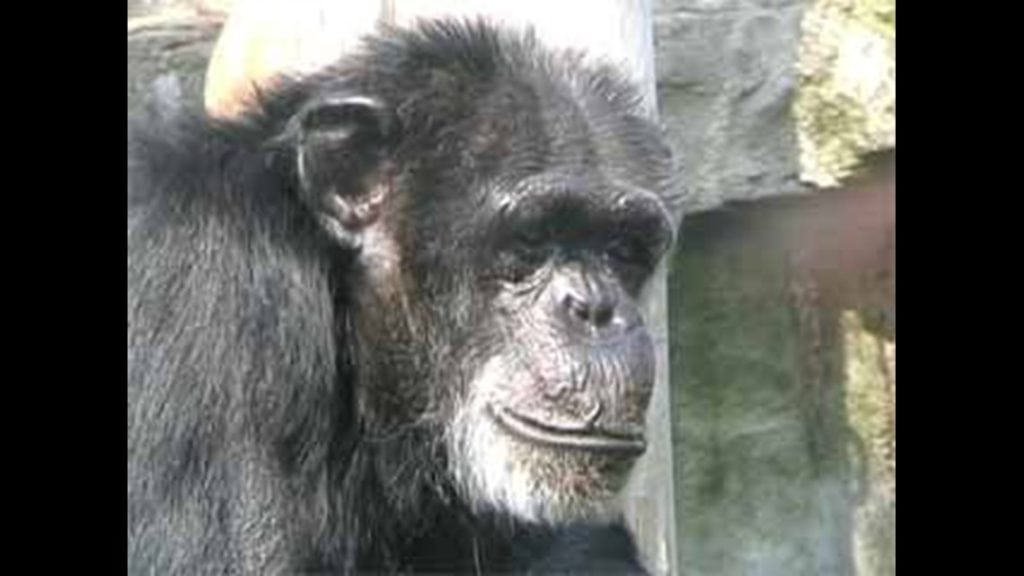 photo source: wtol.com
Fifi was an inquisitive, energetic adolescent chimpanzee. However, as she grew older, she had few acquaintances and rarely sought out social interaction.Fifi's mother Flo was actually the only trustworthy friend she had.
Fifi was the only female chimpanzee who, at the age of 10, was particularly good at throwing, even if her aim was subpar. In 2004, Fifi vanished and was quickly thought to be dead. She was the only remaining Gombe chimpanzee from Dr. Goodall's early research days.
Did You Know?
Nine children were born to Fifi over the years.
---
7. Coco
Age: 60
Country: United States
Sex: Female
Still Alive: No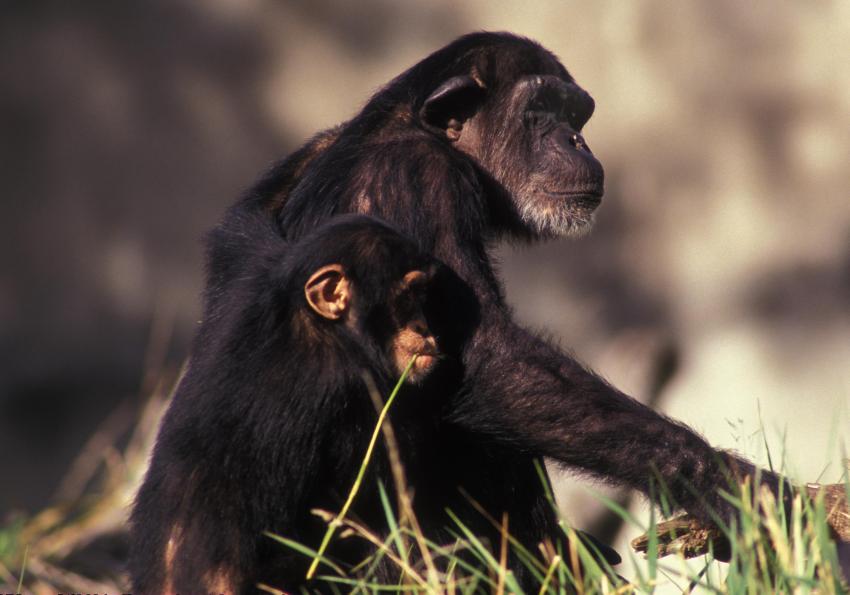 photo source: Oregon Zoo
One of the oldest chimpanzees in the whole U.S. zoo population, Coco, was about 60 years old and the oldest animal in the Oregon Zoo.
In 1961, her owner brought her to the United States through the (at the time legal) pet trade after being born in the wild sometime around 1952, and in 1961, she was donated to the zoo.
The treatment that caretakers and veterinary professionals provide for animals that are nearing the end of their lives was emphasized in a March Oregonian article on Coco and other senior residents of the Oregon Zoo.
Did You Know?
Coco participated in a research study that altered the upbringing of chimpanzees raised in zoos in the 1970s. About half of the breeding population of chimpanzees in the United States at the time had been born and nurtured in Portland, and scientists started to wonder why chimpanzees throughout the rest of the nation weren't reproducing more.
---
6. Garbo/Grandma
Age: 62
Country: United States
Sex: Female
Still Alive: No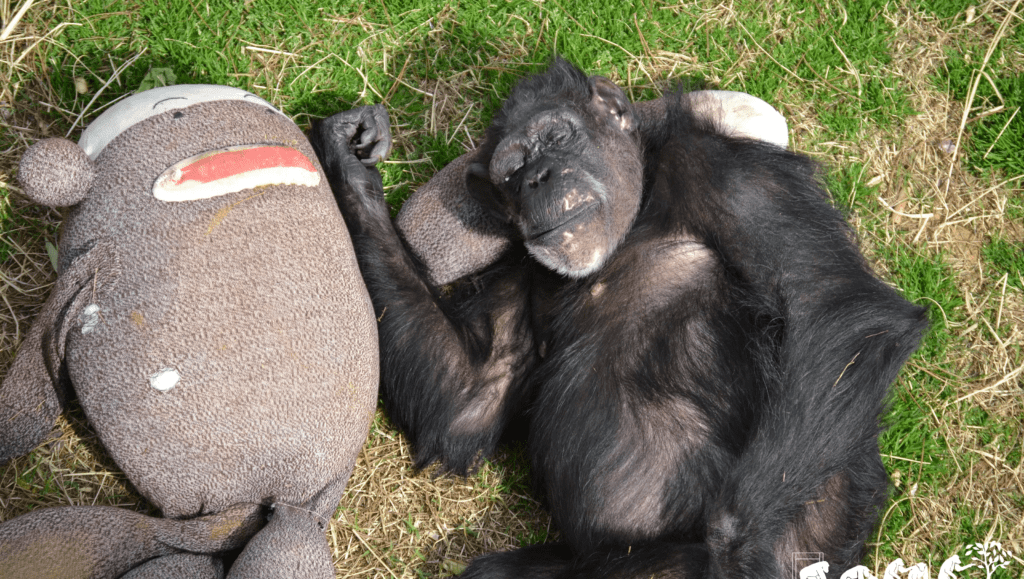 photo source: Shreveport Times
April 21, 2005 marked Grandma's arrival in Chimp Haven. She was born in a research facility in 1953, and the initial 100 chimpanzees employed in scientific studies included her parents.
Grandma took on the role of mother to young chimps throughout her time in captivity. She carried on playing that part after moving to Chimp Haven, where she frequently appeared with one of her numerous plush toys.
Did You Know?
Grandma will always be remembered for her unique ability to make everyone smile as they passed by.
---
5. Blossom
Age: 62
Country: Scotland
Sex: Female
Still Alive: No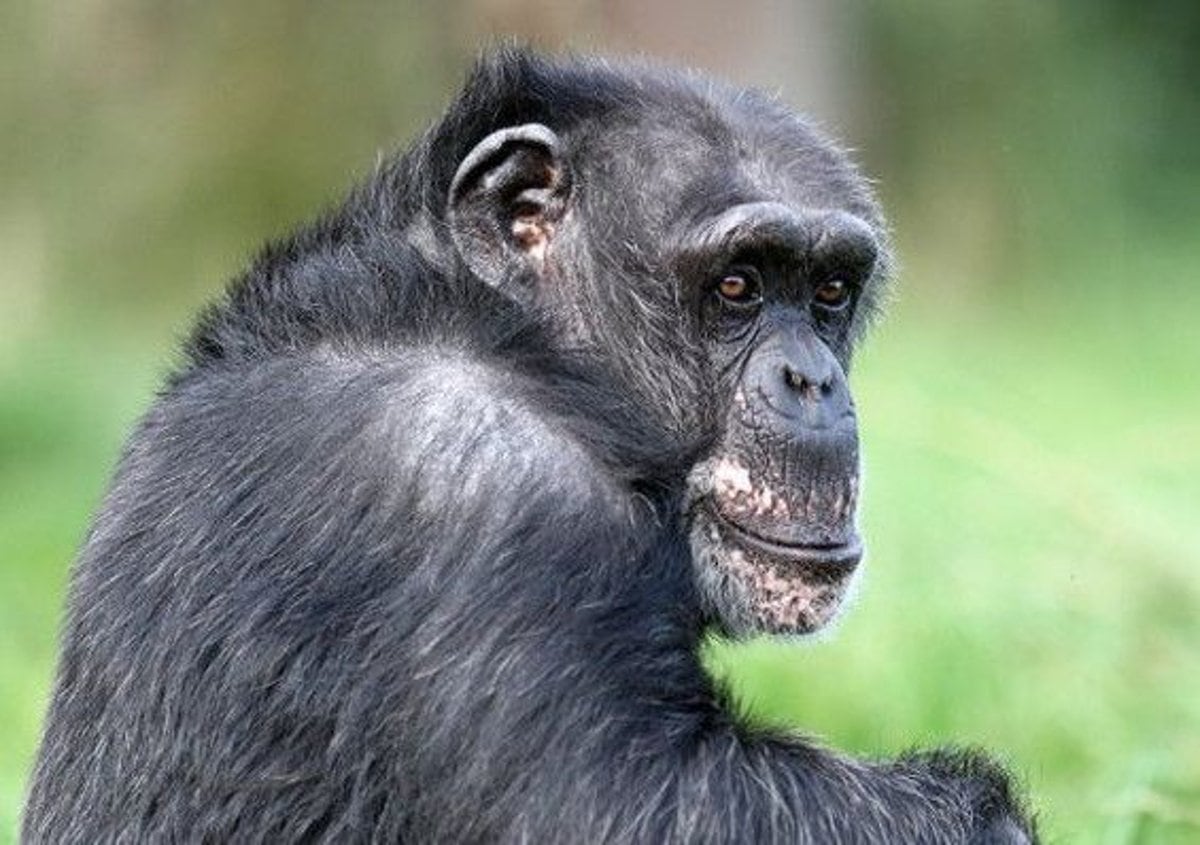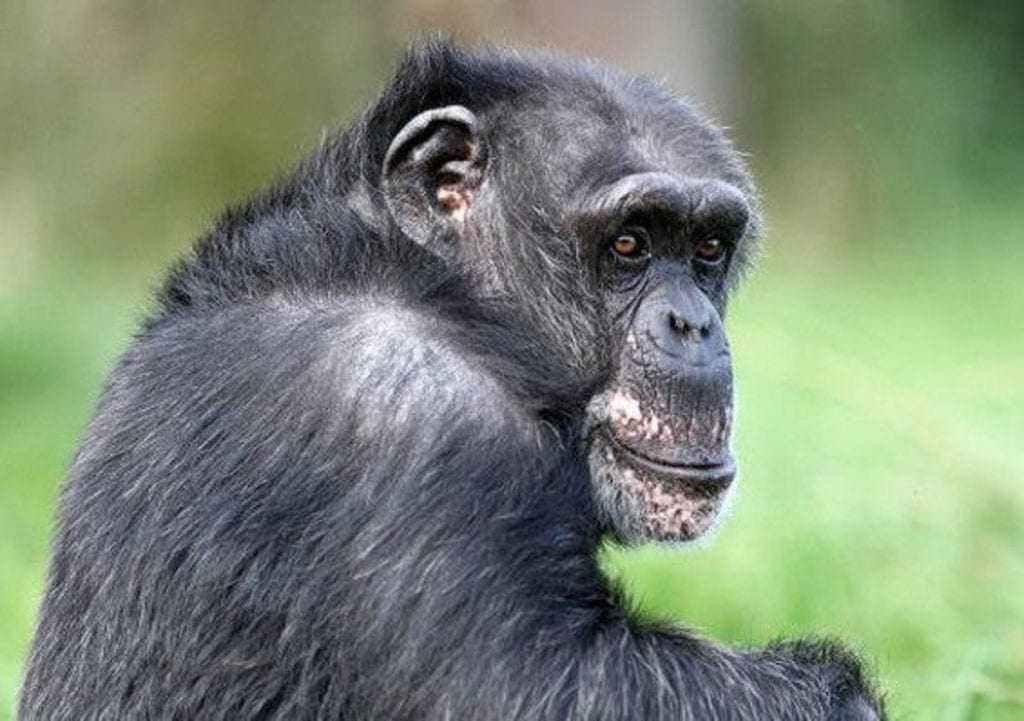 photo source: The Scotsman
The Scottish park posted a photo of Blossom along with a statement on Facebook on Wednesday, informing people of her passing. Blossom's precise age was unclear, although at the time of her adult admission to the Safari Park in 1972, it was assumed that she was in her mid-sixties.
She left her 28-year-old son Chippie, who became famous after he made headlines in 2001 for swiping a staff member's phone and calling the safari park.
---
4. Gregoire
Age: 66
Country: Republic of Congo
Sex: Male
Still Alive: No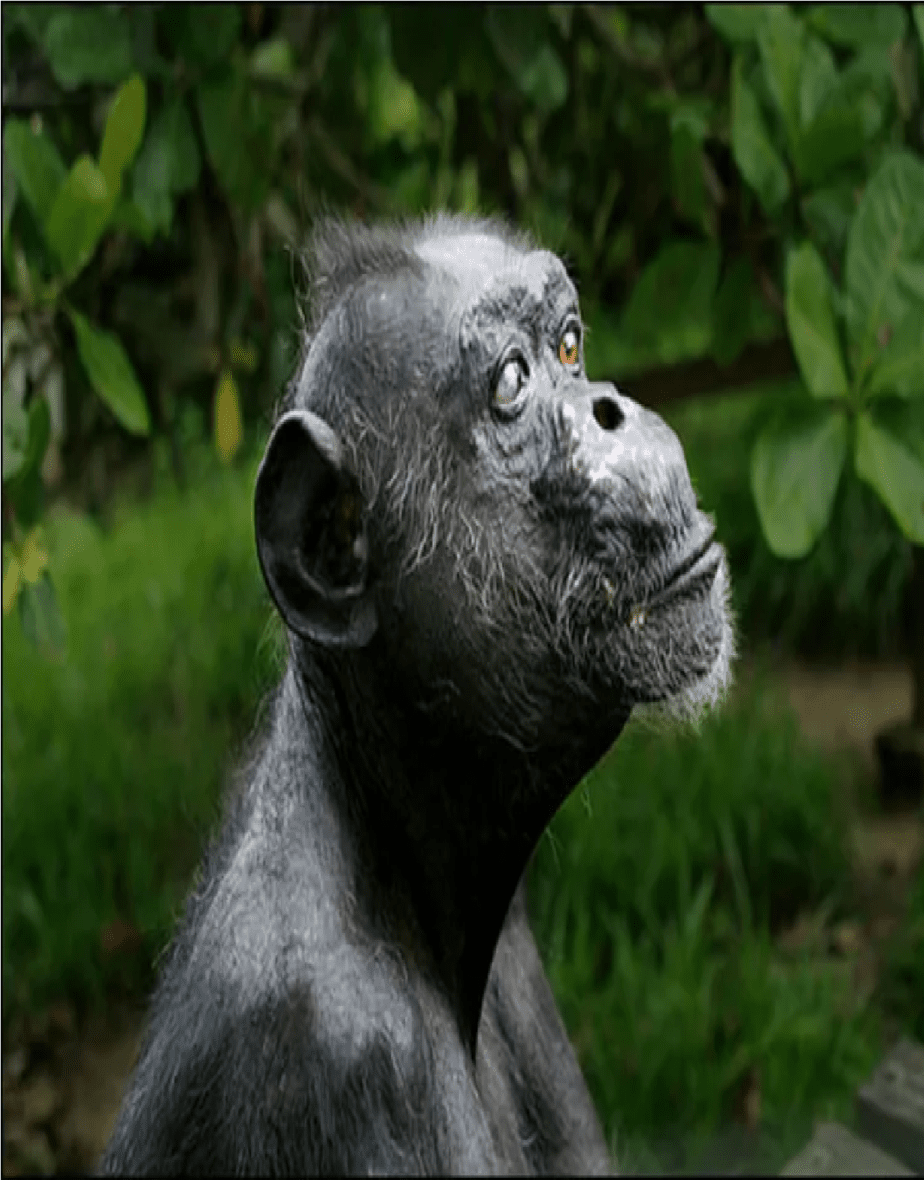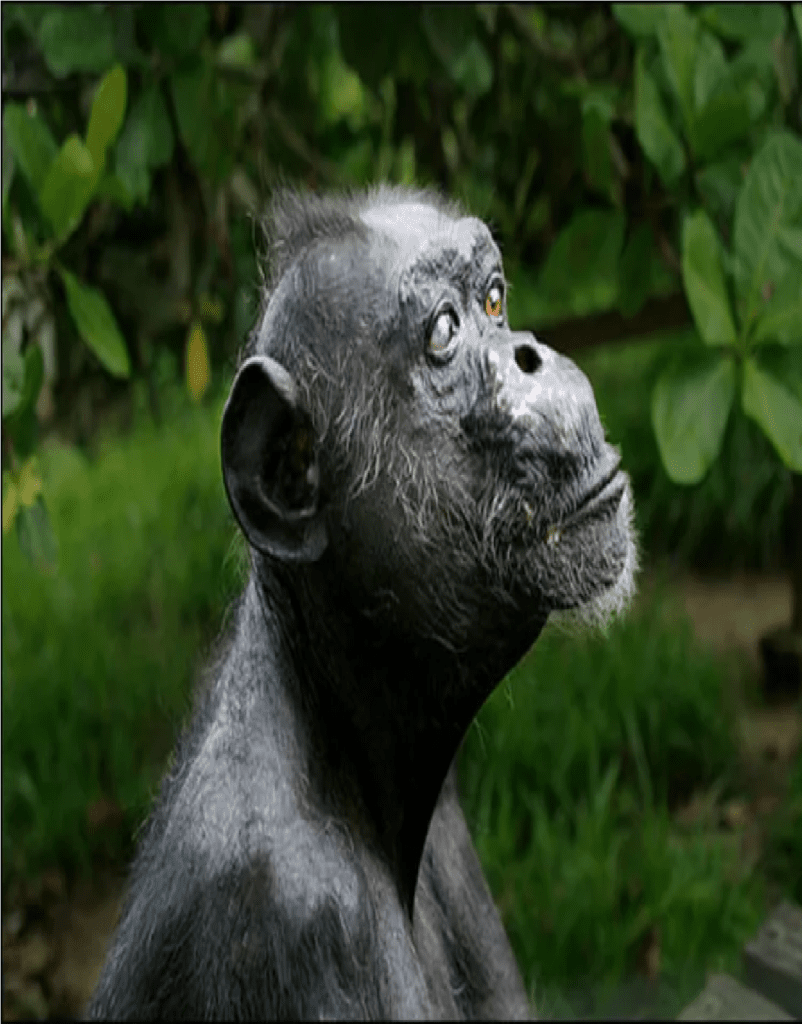 photo source: nbcnews.com
Gregoire, the oldest chimpanzee in Africa and a well-known figure in the whole Republic of Congo, passed away quietly on December 17 at the Tchimpounga Chimpanzee Rehabilitation Center, where he lived.
For the last 11 years, Gregoire resided at the refuge for abandoned chimpanzees. He was a strong, loving chimpanzee who had endured an airlift during a civil war in addition to more than 40 years of being kept in a barren cage for exhibition alone. Because of the loving attention of the sanctuary personnel and Jane Goodall's original intervention, his last years were quiet and happy.
Did You Know?
He was very lonely and bored when Jane first met him in 1990. He was also malnourished and bald.
---
3. Susie
Age: 68
Country: United States
Sex: Female
Still Alive: Yes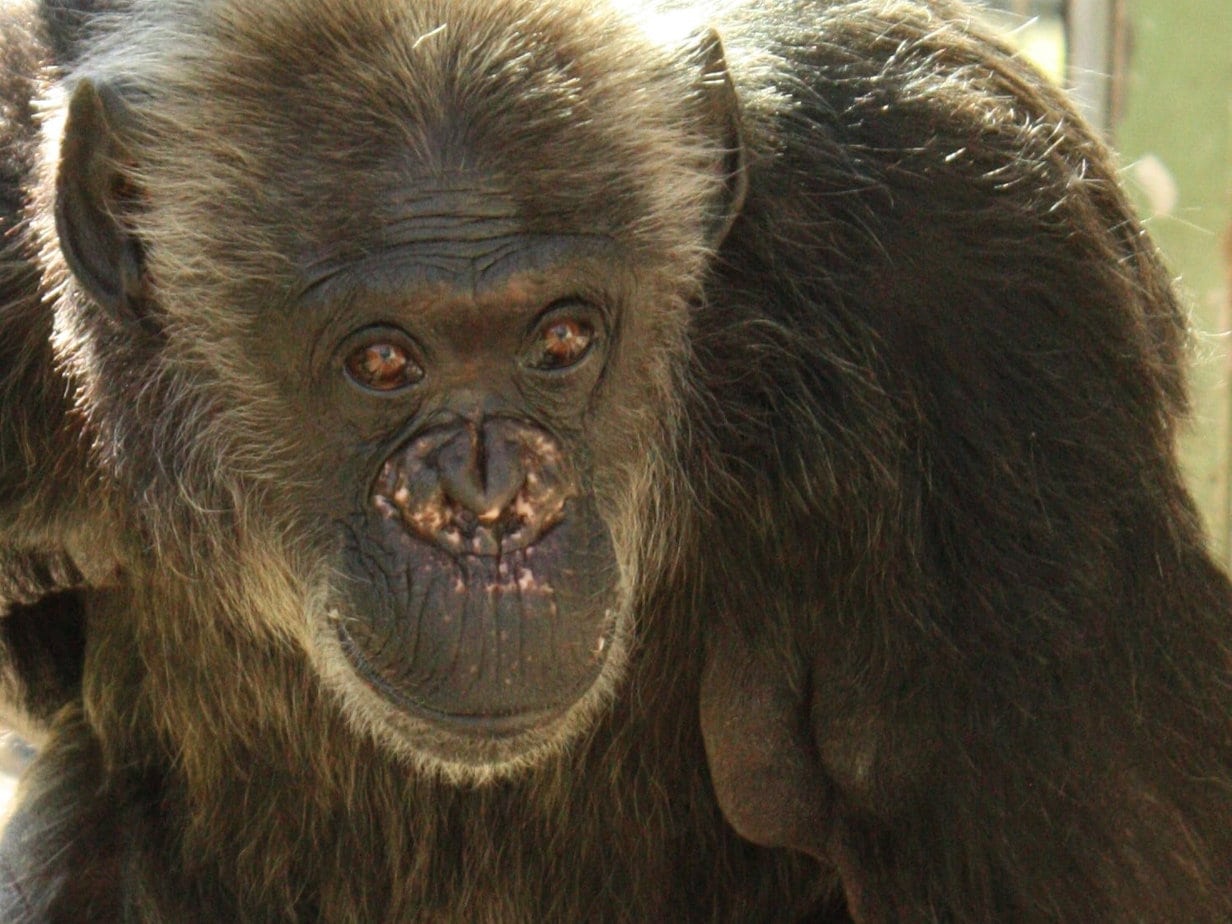 photo source: Wildlife Welfare
At the Sunset Zoo in Manhattan, the oldest chimpanzee known to exist today, is having the time of her life. In June of this year, Susie turned 68. Susie has surpassed the average lifespan of chimpanzees in the wild, which is 40 years, and she also holds the record for being the oldest chimp to give birth, at 56 years old.
Susie enjoyed special gifts, such as little birthday cupcakes, as she and her chimpanzee pals celebrated her birthday.
---
2. Joao
Age: 78
Country: Mozambique
Sex: Male
Still Alive: Yes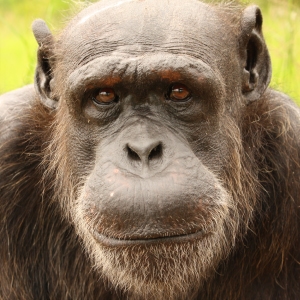 photo source: Chimp Eden
When they were still young, Joao and a female chimpanzee from a circus in Mozambique were donated to the Maputo Zoo. Unfortunately, Joao's friend passed away, and the war started before the zoo could get another chimpanzee. Joao then spent the next 45 years living a lonely life.
In the enclosure next door, a group of yellow baboons taught him how to communicate. Joao was fed and cared for by kind members of the neighborhood throughout his stay at the zoo.
Did You Know?
The role of the infants' surrogate mother, which is unusual for an adult man, is played by Joao.
---
1. Little Mama
Age: 79
Country: United States
Sex: Female
Still Alive: No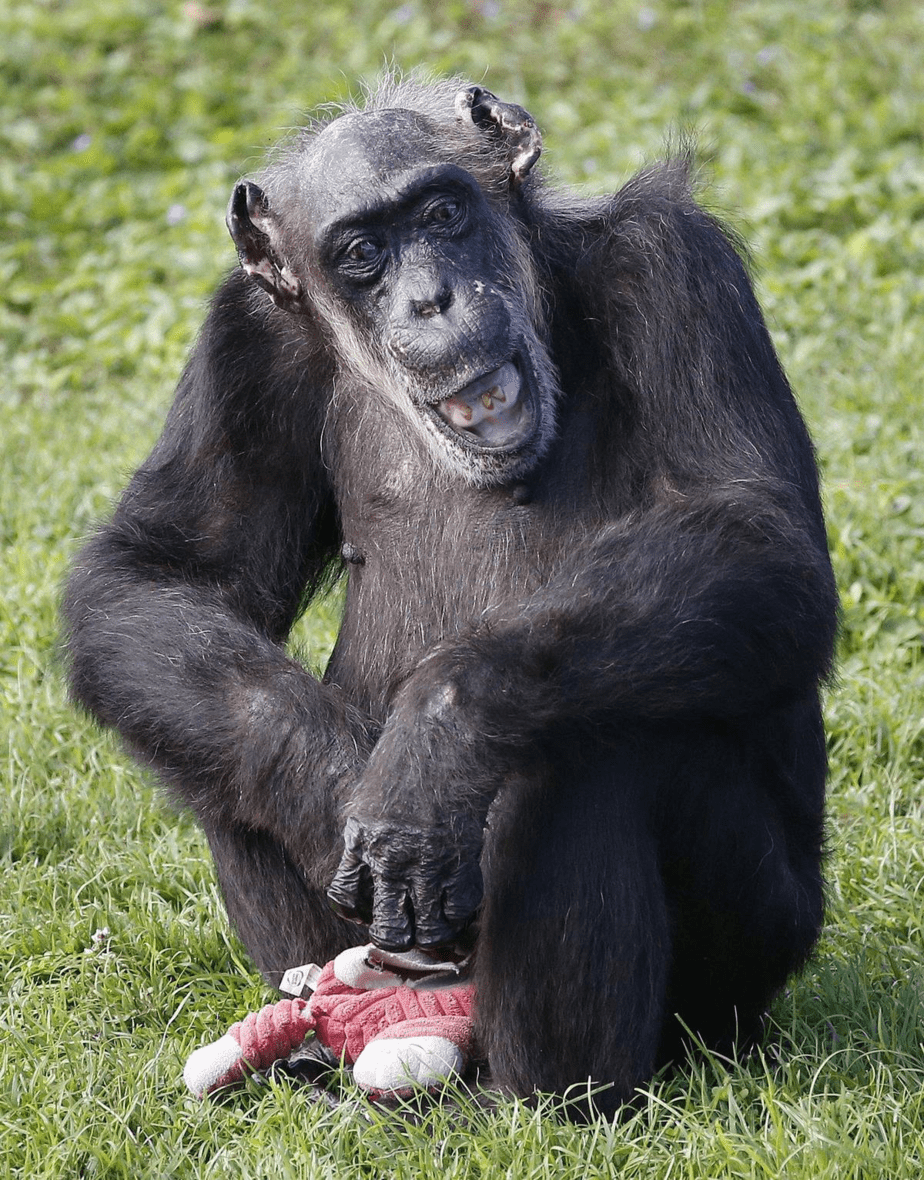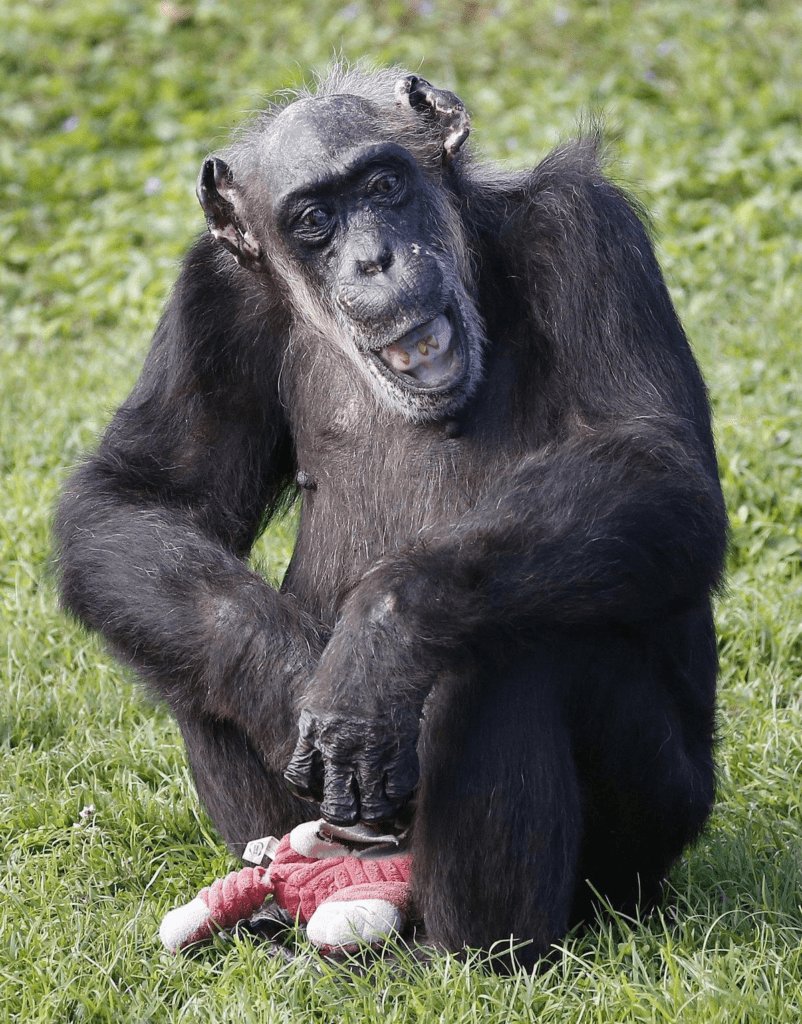 photo source: Sun Sentinel
In the company of her family group of 8 other chimpanzees, her staff, and other visitors, Little Mama died at Lion Country Safari when she was in her late 70s. According to records, Little Mama was the world's oldest chimpanzee.
Little Mama arrived in Loxahatchee in 1967 after being born in Africa somewhere around 1938.
Little Mama didn't appear to be her age, despite the fact that she may have been the oldest chimpanzee still alive during her time in captivity. According to the press statement, she was a wonderful ambassador for her species, had a little height, and usually carried a plush animal with her.
Did You Know?
The crew kind of made Mama's birthday party a yearly Valentine's Day tradition.