The average lifespan of a domestic horse is between 25 to 33 years, which is longer than a lot of other domesticated animals. These days, horses are living longer lives as their care keeps on improving. All of the horses on this list have far exceed the average life expectancy and almost all of them lived to be at least 45 years old. Some of them defied the odds and lived long even though they had periods in their lives when they were abused. Thankfully, all of the abused horses on this list were rescued and spent the rest of their days living peacefully.
8. Prospect Point (1978 – 2016)
Oldest Age Reached: 38 years old
Country of Origin:  born in Kentucky, but ended up in South Carolina, USA
Breed:  Thoroughbred
Last Owner:  Gail Earle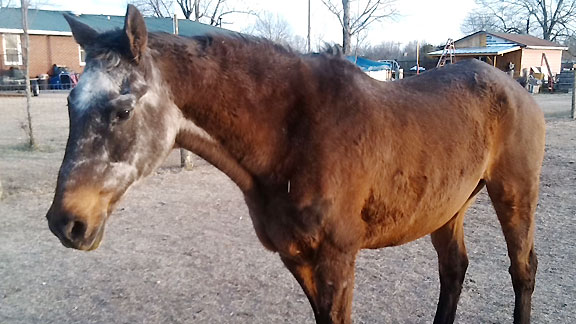 photo source: behindthebitblog.com
Prospect Point is considered to be the oldest Thoroughbred ever on record. His records were well-kept and his life can be traced back all the way to his birth. He was born in 1978 in Kentucky Forest Retreat Farms and Lloyd I. Miller. Prospect Point had a nice pedigree and was sired by First Dawn, an unraced minor stallion bred by the great Ogden Phipps. He was also related to horses who won several championships.
During his racing career, Prospect Point was owned by Claudie M. Godsey and he started in 72 races, won seven times, finished in second eight times, and finished third in ten races. Prospect Point earned $28,553 in prize money. After Prospect Point retired from racing in 1985, he was acquired by Gail Earle a few years later. Earle used Prospect Point as a hunter-jumper until 1993, when he developed lameness issues. He was ridden until he was 32 years old and then became a pasture horse. Prospect Point was euthanized in late 2016 after his health suddenly began to deteriorate.
---
7. Magic (1969 – Unknown)
Oldest Age Reached: 46 years old in 2015 (last known information from this date)
Country of Origin:  Fallbrook, California, USA
Breed:  Polish Arabian
Last Owner:  Bob and Mary Manns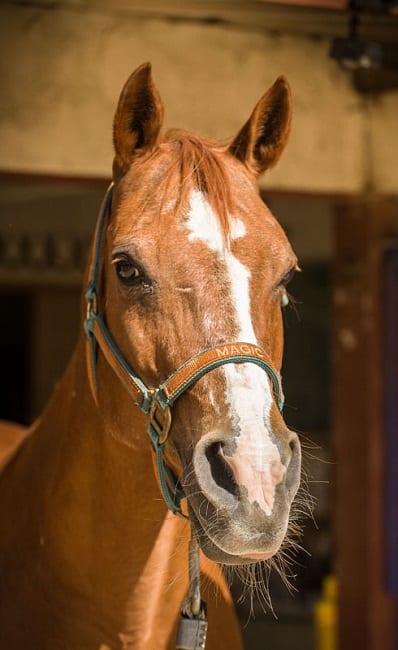 photo source: www.horseandman.com
In 2015, Magic the horse celebrated her 46th birthday. She is owned by Bob and Mary Manns and lives on their ranch in Fallbrook, California. Although the section about Magic on the Manns' website hasn't been updated since 2015, she may still be alive and would be turning 49 on June 15th. So for now, Magic is still the oldest living Polish Arabian horse.
The Manns say that they are surprised by Magic's longevity, even though Polish Arabians tend to live longer than other breeds. They added that she is still in peak health and you wouldn't know she was an old horse just by looking at her. Magic is still strong enough to give riding lessons to kids who are learning to ride for the first time. Before living a more peaceful life, Magic was competed as a professional barrel racer and pole bender. She most recently competed in 2011 at the Valley Center Vaqueros Club where she took home seven awards.
---
6. Orchid (1964/1965 – 2015)
Oldest Age Reached: 49/50 years old (sources differ)
Country of Origin:  Brentwood, Essex, England
Breed:  Thoroughbred Arabian-Cross
Last Owner:  Remus Memorial Horse Sanctuary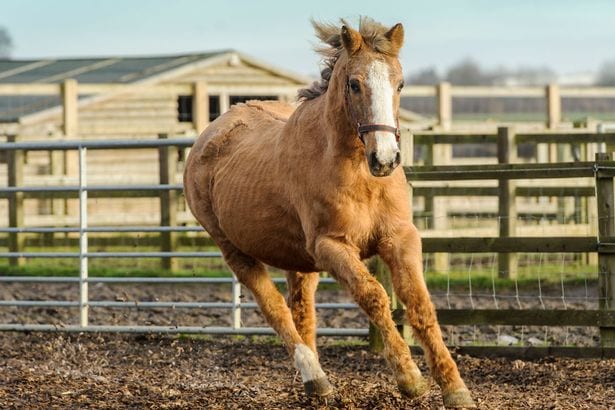 photo source: The Mirror
Orchid is the oldest female horse in the world. She was 49 or 50 years old (different sources list different ages) in late 2015 when she passed away. The neglected and abused broodmare spent the rest of her life peacefully living at the Remus Memorial Horse Sanctuary. She was rescued a year before she died and enjoyed her final days after the sanctuary's staff improved her health. Unfortunately, Orchid died after she was unable to recover from a colic episode.
Although Orchid was nearly blind at the end of her life, she still enjoyed physical activities like galloping, bucking, and rolling. According to one source, equine dental specialists determined that Orchid was about 48 years old when she was rescued by the Remus Memorial Horse Sanctuary. Her caretakers said that she enjoyed eating cabbage and was able to live a relaxed, stress-free life at the sanctuary.
---
5. Scribbles (1958 – Unknown)
Oldest Age Reached: 51 years old in 2009 (last known information from this date)
Country of Origin:  Cornwall, England
Breed:  Unknown pony
Last Owner:  Alison Eathorne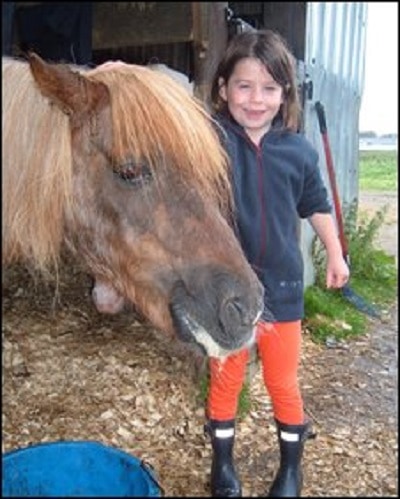 photo source: BBC News
Scribbles is another old pony, whose owner, Alison Eathorne, hoped would make it into the Guinness Book of World Records. In 2009, Eathorn submitted Scribbles' was featured in the English media for her quest to get Scribbles recognized as the world's oldest pony. At the time, and from what we could find, the record still belongs to Sugar Puff, who is also on this list.
Eathorne acquired Scribbles in 2002 after he retired due to old age. He had previously worked as a riding pony for 24 years at Strawberry Gardens Riding School in Camborne, England. Scribbles was already 20 years old when he was purchased by Jill Power for the riding school in 1978. The last articles about Scribbles came out in 2009 and there it is currently unknown if he is still alive. At the time, Eathorne said that Scribbles was still fairly healthy.
---
4. Shayne (1962 – 2013)
Oldest Age Reached: 51 years old
Country of Origin:  Brentwood, Essex, England
Breed:  Irish Draught
Last Owner:  Remus Memorial Horse Sanctuary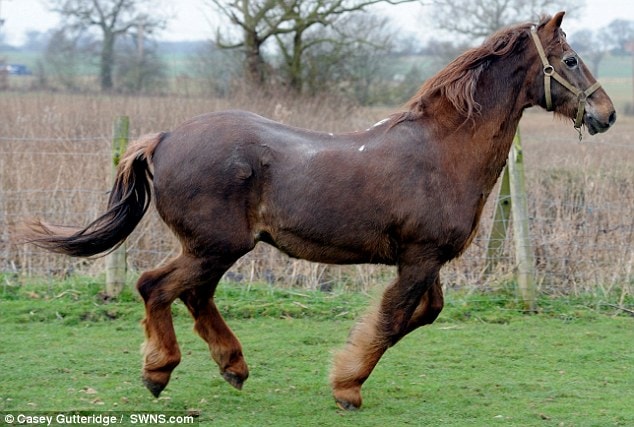 photo source: The Daily Mail
Shayne garnered media attention in 2012 – a year before he died – after his owners at the Remus Memorial Horse Sanctuary in Essex thought about submitting Shayne to the Guinness Book of World Records. At the time, Guinness officials said that Shayne's owners were welcome to submit him for review as no one has laid claim to the title of world's oldest horse since Badger, who was also 51, died in 2004. Shayne never made it into the book and Badger still officially holds the record.
Shayne was brought to the Remus Memorial Horse Sanctuary in 2007 after enjoying many years with his previous owners in Chingford, Essex. He enjoyed his retirement at the sanctuary before he collapsed and was unable to stand again in early 2013. The staff at the sanctuary decided to put Shayne down so he could rest. Sue Burton, founder of Remus Memorial Horse Sanctuary said that Shayne was a happy boy who lived a long life because he was well-loved and not overworked.
---
3. Badger (1953 – 2004)
Oldest Age Reached: 51 years old
Country of Origin:  Cardigan, Pembrokeshire, Wales
Breed:  Arab-Welsh Cross
Last Owner:  Julianne Aston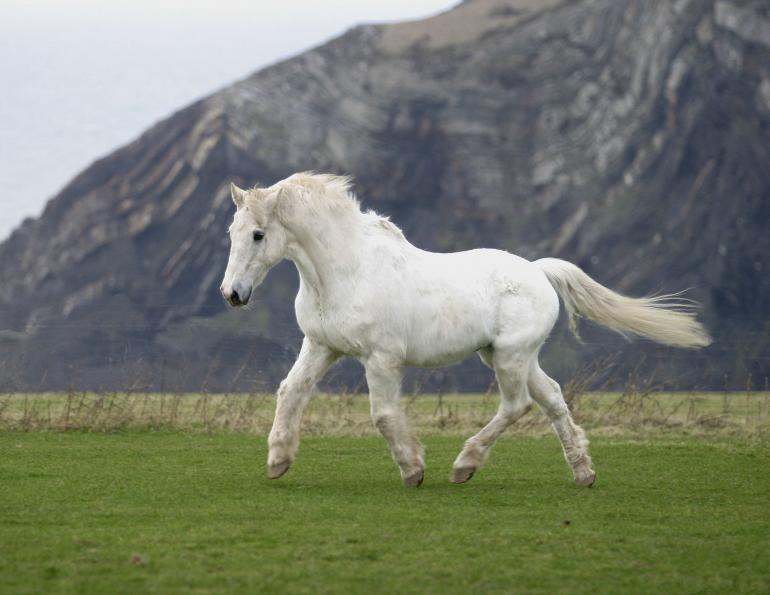 photo source: horsejournals.com
Although there are a few horses who are reportedly older than Badger, he is still officially listed as the world's oldest horse by the Guinness Book of  World Records. Badger was 51 years old when he passed away in 2004. He spent his final days at the Veteran Horse Society in Wales, which was founded by Julianne Aston. Aston rescued Badger from a livery yard, where he was treated poorly, about a year before he died and managed to nurse him back to health. She said that he was on the brink of starvation when her team found him and Aston said she has no idea how Badger survived such rough conditions in his old age.
According to Badger's records, he was born in Wales sometime in 1953 and was first owned by a Welsh riding instructor who entered him in a horse show under the name Little Boy Blue. He had two more owners before being left at the livery yard in 1997.
---
2. Sugar Puff (1951 – 2007)
Oldest Age Reached: 56 years old
Country of Origin:  West Sussex, United Kingdom
Breed:  10 high hand Shetland-Exmoor
Last Owner:  Sally Botting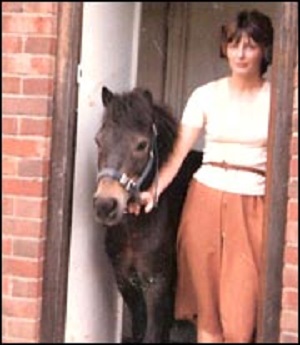 photo source: horseandhound.co.uk
According to the Guinness Book of World Records, Sugar Puff is the oldest pony on record. The pony was about 56 years old when he had to be put down in 2007 after suddenly collapsing. Sugar Puff's owner, Sally Botting, said that he had been fine in the morning, but that his body had suddenly shut down and there was nothing the vet could do.
Botting has owned Sugar Puff since he was 29 years old and she taught her daughter Claire how to ride on him. Sugar Puff's owner has fond memories of the beloved pony stating, "He was a safe, reliable pony – we used to teach children to ride on him at school fetes. He was also an old hand at gymkhana and Pony Club. He was a fun pony – he used to come into the house at Christmas."
---
1. Old Billy (1760 – 1822)
Oldest Age Reached: 62 years old
Country of Origin:  Woolston, Lancashire, England
Breed:  Unknown English Stallion
Last Owner:  Mersey and Irwell Navigation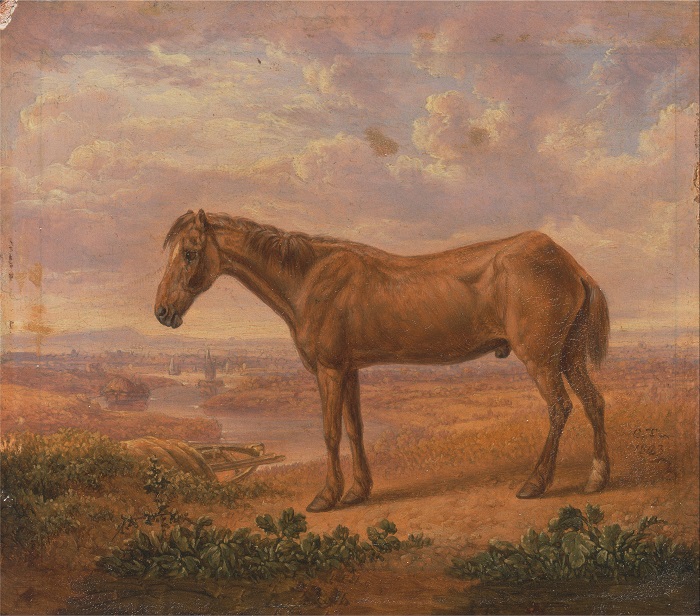 photo source: Wikimedia Commons
Old Billy is considered the oldest horse to ever live in the world. He was born sometime in 1760 in Woolston, Lancashire, England. Old Billy was owned by Mersey and Irwell Navigation and spent his life working as a barge horse, dragging barges in the canals from the shore. Billy surpassed the average horse's life expectancy and continued to work even as his back became bent.
Due to his old age, he became a local celebrity and an artist named W. Taylor painted a portrait of Old Billy. To honor Old Billy, his skull was sent to the Manchester Museum and his taxidermied skin was stuffed and gifted to the Cecil Higgins Art Gallery & Bedford Museums. Both parts of his head are still on display at the museums today.